Pod systems are e-cigarettes or mods that use a prefilled cartridge, called a pod, that holds the e-liquid. Rather than needing to refill tanks or change coils, the pod is self-contained and is simply inserted into the device. If you are looking for a pod/mini vape or a Juuling alternative, then consider getting yourself a STIG disposable Pod.
STIG Pods offer the vaping community a practical yet enjoyable companion that is extremely portable with a pre-charged battery and a pre-filled e-liquid tank, providing you with a vaping solution for any situation. The STIG Pod is simply a more accessible vaping experience and the ultimate advantage to a seamless transition from smoking to vaping thanks to its optimal nicotine strength that lends the same type of satisfaction that you're looking for, with the addition of some extra, exceptional flavor.
STIG Pods offer the vaping community an effortless vaping experience, with no buttons or complicated settings, providing instant incredible flavor with on draw activation. These pocket-sized pods are almost weightless, allowing you to take it with you wherever you go. Each pod comes with 1.2 ml of saltnic liquid, featuring 6.0% of nicotine by volume. Every pod's battery comes fully charged, and each pod has enough SaltNic e-liquid to easily replace an entire pack of cigarettes.  Each pod is approximately equivalent to 20 cigarettes.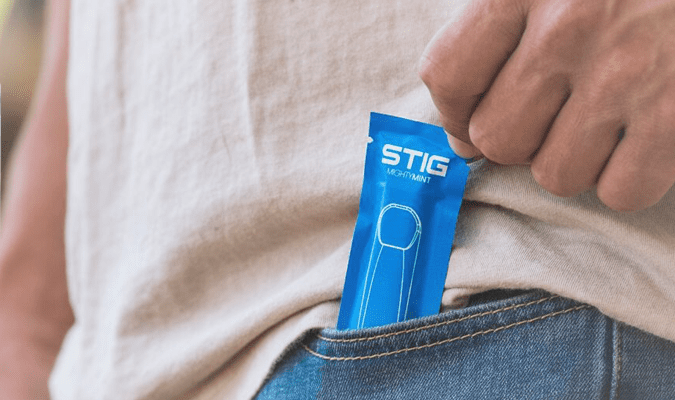 Each STIG Pod comes wrapped in a little bag, and also comes with a little mouthpiece cover that seals the top of the Pod. When using one of these Pods, you can be assured you'll definitely feel the nicotine; it's certainly there. Whenever you take a little drag out of the Pod, a little LED light will light up at the bottom of the device. If the device happens to run out of battery that same LED light will blink 3 times, letting users know the battery is dead. The vapor production is pretty good, considering this is a disposable Pod.

STIG Pods are currently available in 5 different flavors: Tropical Mango, Mighty Mint, VGOD Cubano (Cuban cigar flavor topped w/ Vanilla custard flavor), VGOD Lush Ice (Watermelon flavor + Menthol flavor), and VGOD Mango Bomb (Mango flavor + Menthol flavor).
If you're interested in ordering one or more STIG Pod packs, each pack contains 3 disposable Pods (this means each pack is equivalent to a whopping 60 cigarettes) and goes for $20 each. You can order these packs at STIG Pods online story, on this page.