Nanoleaf is a Canada-based company that started their new Canvas product on Kickstarter. The Canvas is a new, modular lighting system designed to turn walls into illuminated murals that light up a whole room.
The Nanoleaf Canvas is the company's latest line of unique, customizable lighting systems. The Nanoleaf Canvas Smarter Kit comes with 9 Light Squares. These light squares can be plastered across a wall and light up in any number of ways. The company suggests that buyers use the panels to "re-create the look of a sunrise in the morning" or create "rippling water effects after brushing your hand against the panels". Yes, they are motion sensitive.
Inside the Nanoleaf Canvas Smarter Kit users will find: 1 Control Square (also works as a Light Square), 8 Light Squares with offset Linker slots, 1 Power Supply Kit (World Voltage, 120vac ~ 240vac), 9 Linkers for connecting the Light Squares and Control Square, 28 double-sided adhesive mounting tape, and the Quick Start Guide.
The Nanoleaf Canvas features Multi-touch control, allowing users to operate the Light Squares by touching them with their palm. The modular offset design with mechanical linkers allows users to create nearly any shape they choose. The LED Light Squares feature high-efficiency and long-life LED lighting; creating lighting that will help reduce energy consumption and save some money. There's also an integrated audio sensor, which makes the LED Light Squares react to sound, creating new levels of music or gaming immersion.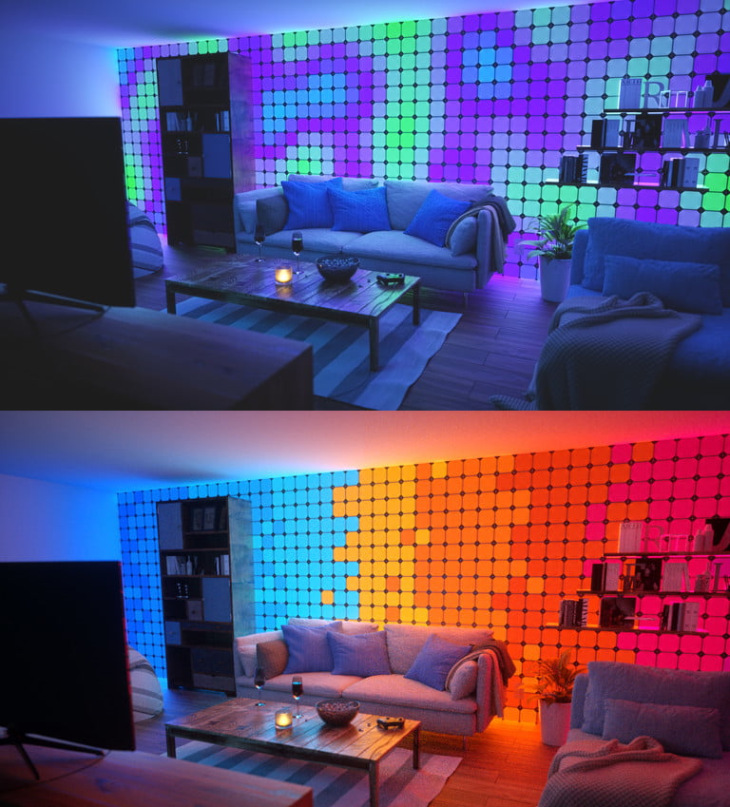 The Nanoleaf Canvas is also compatible with popular smart home platforms, allowing users to infinitely personalize their lighting experience. Packed with high-tech features, the Light Squares can be easily integrated with your smart home, including compatibility with: Apple HomeKit + Siri, Google Home + Google Assistant, Amazon Alexa, If This, Then That (IFTTT), Nanoleaf API, and the Nanoleaf Smarter Series App (which requires Android 5+ or iOS11.3+).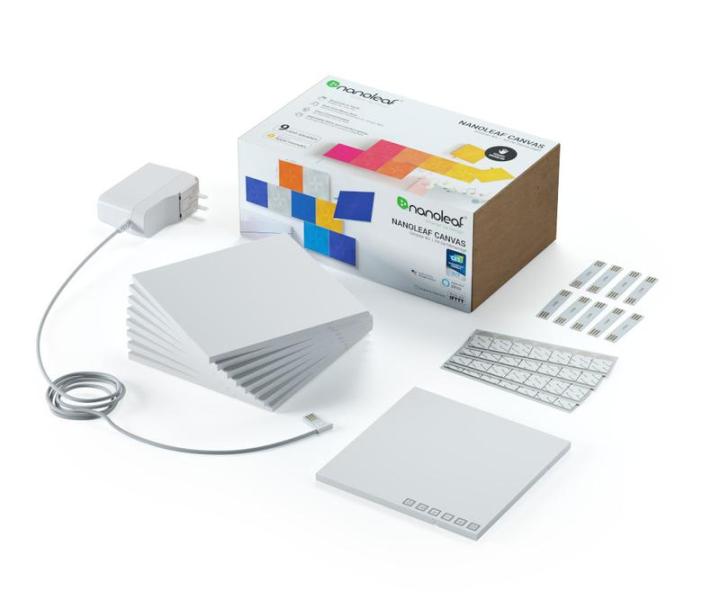 With the Nanoleaf Canvas, users can easily create their own lighting masterpiece. The Nanoleaf Canvas is made up of touch-controllable LED Light Squares that connect together along any side to create any design users desire. The Nanoleaf Canvas LED Light Squares can be used to create clever "smart art" decoration above a sofa or colorful party walls in any recreational room, adding some extra life to the enclosure. Ultimately, users can easily create colourful wall decor to add ambience to any room, integrate stylish color-changing lights with their smart home, wake up gently with personalised light alarms, and many other creative looks.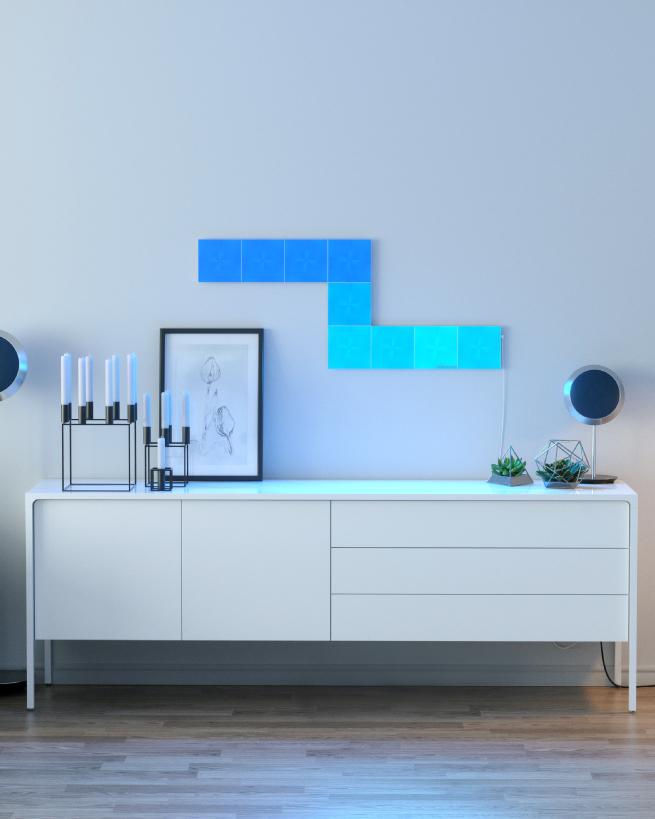 It's important to note that if you're looking to set up a big wall piece using the Nanoleaf Canvas Light Squares, an additional Power Supply is required for every 25 Light Squares. If you're looking to start or grow your illuminated wall, you can get one (or more) Nanoleaf Canvas Smarter Kit(s) (containing 9 Light Squares) for $200 each. You can find the Nanoleaf Canvas Smarter Kit at Nanoleaf's online shop, on this page.