If you're looking for a secure digital storage solution, take a minute to look at Apricorn's latest secure storage solution. Apricorn, Inc. is an American private company that was established in 1983. The company designs and manufactures computer storage products, utilities and accessories, and is headquartered in Poway, California, United States, but is also branched in Canada. The Apricorn Aegis Fortress L3 Encrypted Portable 2TB SSD – USB 3.1/3.2 is Apricorn's most secure digital storage solution.
The Apricorn Aegis Fortress L3 is an encrypted USB 3.1 and 3.2 Solid-State Drive that uses 100% real-time military grade AES-XTS 256-bit Hardware Encryption. This solid-state drive can securely encrypt, store and protect your data while following military standards. The device is also certified to FIPS 140-2 (U.S. government computer security cryptographic modules standard) Level 3 compliant Tamper proof & evident design. This includes all of the electronics, the drive, the entire internal structure and the enclosure's fasteners.
WHAT'S IN THE BOX?
The Apricorn Aegis Fortress L3 Encrypted 2TB SSD comes in a sturdy, blue cardboard box that features a simple Binary-Code design. Within the box users will find: the Apricorn Aegis Fortress L3 Encrypted 2TB SSD, two included interchangeable USB 3.1 / 3.2 Cables (making it compatible with all USB connector types – USB ports 1.0, 2.0 , 3.0), an included storage/carrying pouch (to take it with you while traveling), and a Quick Start Guide.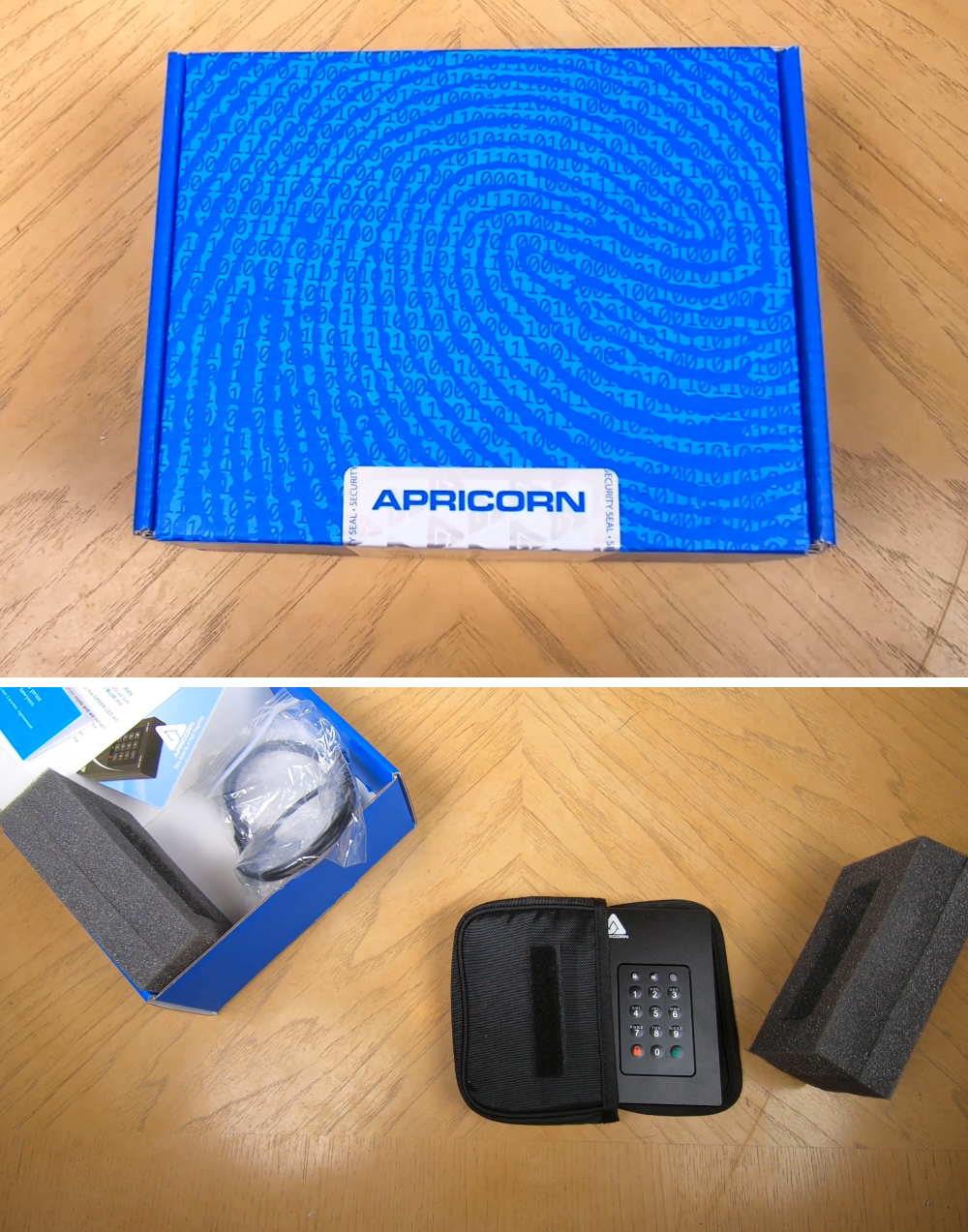 The Apricorn Aegis Fortress L3 Encrypted SSD features a tough aircraft-grade 6061 aluminum alloy enclosure that's sealed with tamper resistant/evident uni-directional breakaway security fasteners that are cemented in place with hardened epoxy. Its polymer-coated membrane-style keypad is wear-resistant to prevent revealing the drive's most commonly used buttons.
The device featured LED Key Press Indicator includes 3 built-in LEDs: top-left (Red LED with Locked Padlock symbol); top-middle (Green LED with Unlocked Padlock symbol); and top-right (Blue LED with Admin Mode (A) symbol). The Apricorn Aegis Fortress L3 Encrypted SSD is rated both dust and water resistant thanks to its durable aluminum alloy housing and membrane keypad, meaning that protecting your data goes well beyond encryption.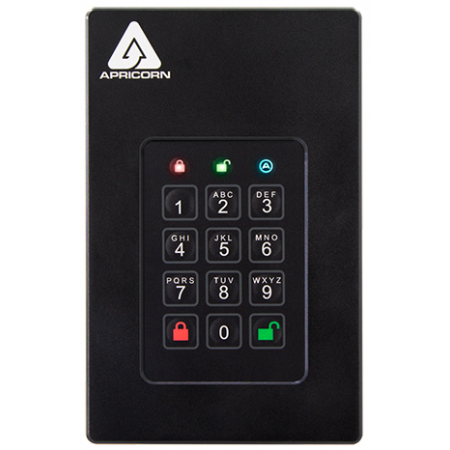 Its new chipset delivers SSD write speed increases of up to 150% and read speeds of up to 180% in comparison to previous Aegis Fortress models, which translates it to up to 180 MB/sec.
The device features software-free setup and operation, making it completely cross-platform compatible and OS agnostic, meaning that it thrives with Windows, Linux, Mac, Android, Symbian and Chrome. It also thrives where software-authenticated encrypted devices can't function, such as embedded systems and equipment in possession of a powered USB port and storage file system but no keyboard.
HOW DO YOU UNLOCK IT?
The Apricorn Aegis Fortress L3 Encrypted SSD is unlocked by entering a PIN on its build-in keypad, and it will remain invisible to the OS until unlocked. The embedded keypad circumvents all hardware and software key logging attempts to capture passwords by excluding the host system from the authentication process. Users can visually confirm successful button presses via the device's LEDs.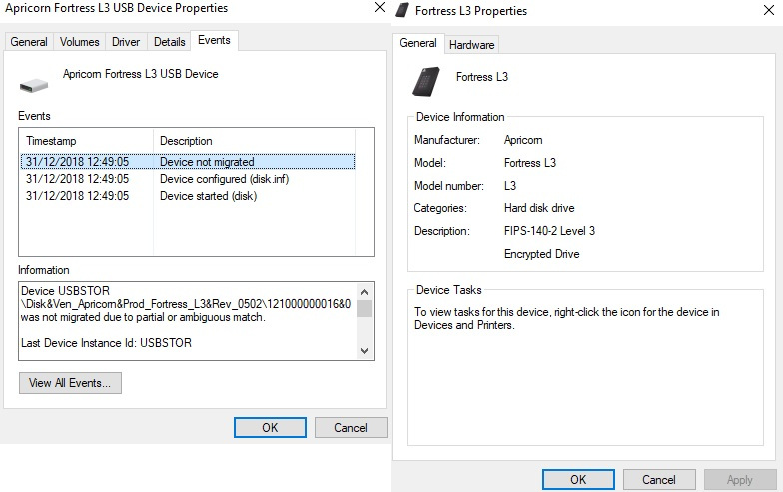 The Apricorn Aegis Fortress L3 Encrypted SSD features a Global Read-Only Mode where all access settings are controlled by the Admin, and a User Read-Only Mode for controlling individual settings. This portable encrypted SSD also features Unattended Auto Lock, meaning users can program the length of time of inactivity permitted before the SSD locks itself. The SSD will also automatically lock once disconnected from a computer's USB port or the power to that USB port is interrupted.
The Lock Override feature allows the SSD to remain unlocked during USB Port Re-Enumeration (Virtual Machine, Remote Boot). Lastly, the Drive Reset Feature allows users to reset their SSD to default settings as many times as they wish, clearing both the User and Admin PINs, destroying all the data, and creating a new randomly generated encryption key.
PROGRAMABLE PINS AND PIN FEATURES
A Unique PIN must be established during the Apricorn Aegis Fortress L3's setup to eliminate Factory Default PIN vulnerability, since factory preset default PINs serve as unlocked backdoors that can easily be used by hackers to access the stored data. The admin can also setup one additional user PIN during the initial configuration so that extra users can access the device's data. The device can also be deployed in a state of User Forced Enrollment, where the intended user must first establish his or her own PIN prior to using the device.
The Apricorn Aegis Fortress L3 Encrypted SSD features an Admin Mode (Device Configuration) and a User Mode. The Admin mode controls the universal programmable settings of the device and can only be accessed with the Admin PIN. The User mode is limited to basic external drive functions like read /write, unlock / lock, etc, and can also be accessed with the admin PIN.
The Apricorn Aegis Fortress L3 SSD also features Data Recovery PIN creation. This means that if a User PIN is forgotten, Recovery PINs can be programmed by the admin at any time, which will permit access to the device's data by creating a new state of User Forced Enrollment while leaving the Admin PIN and the drive's data intact. After a User PIN is generated, access to the drive is restored for the user and that new User PIN serves to replace the previous forgotten one.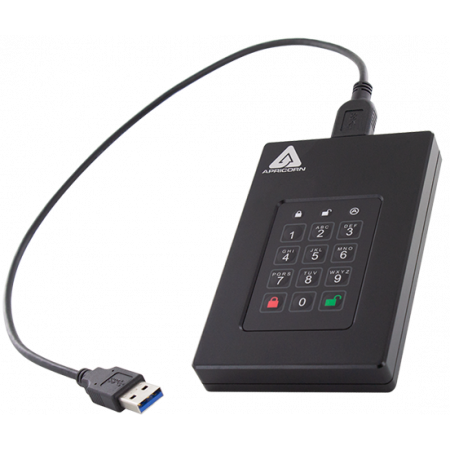 There are also Programmable PIN Lengths. It's the Admin that designates the Minimum and Maximum PIN Lengths (between 7 and 16 Characters). Keep in mind that the longer the PIN is, the more secure the data on the device becomes. In cases where the User sets up his or her own PIN from User Forced Enrollment, the Admin can set an enhanced User Password Length Requirement as part of the overall security policy.
The Apricorn Aegis Fortress L3 SSD featured Brute Force Hack Defense Mechanism lets users select the number of consecutive Invalid PIN Attempts permitted (programmable between 4-20). This means that if the device comes under a physical brute force attack, your data is protected. If the programmed number (4-20) of consecutive incorrect password entries has been attempted, the device will delete its own encryption key and destroy the ability to decrypt its stored data.
Lastly, the Self-Destruct PIN feature lets users program and activate a PIN that performs a Crypto-Erase and becomes the new Access PIN. This is the Apricorn Aegis Fortress L3's last line of defense for data security when the device's physical security is at risk.
FINAL THOUGHTS
The Apricorn Aegis Fortress L3 Encrypted SSD is Apricorn's fastest, most secure, and most rugged 256-bit AES XTS encrypted USB external drive to date, and was designed to meet NIST's highest level of FIPS validation (140-2, level 3) attainable for portable devices.
It's small enough to fit inside a pocket or briefcase, and tough enough to go anywhere thanks to its resilient design, making it perfect for traveling and field applications. This secure data storage solution is tamper-evident and well protected against physical damage.
If you're interested in getting the Apricorn Aegis Fortress L3 Encrypted Portable 2TB SSD, each 2 TB SSD is currently going for $339. However, if you are looking for smaller or bigger storage size solutions, Apricorn also has other models (500GB, 1TB, 3TB, 4 TB, 5 TB, 512GB SSD, 1TB SSD, 2TB SSD, 4TB SSD, 8TB SSD, and 16TB SSD). You can find the Apricorn Aegis Fortress L3 available at Apricorn's official website, by clicking here.