The gaming mechanical keyboard market is so heavily saturated and always will be, and with the likes of Corsair, Razer, and Logitech dominating this market, other companies really have to bring something new to the table to grab gamers' attention. One simple, yet appealing way to do this is with a new keyswitch. This brings us to the Roccat Vulcan 120 Aimo Gaming Mechanical Keyboard, which aims to please gamers with their new Titan gaming keyswitch.
The Roccat Vulcan 120 Aimo Gaming Mechanical Keyboard is a precision gaming tool that lets you sense its performance from the first glance and the first key stroke. It was developed by following the renowned principles of German design and engineering, making it one of the best gaming keyboards that ROCCAT has ever built.
The Roccat Vulcan 120 Aimo Gaming Mechanical Keyboard is the first keyboard to feature ROCCAT-developed Titan Switches. These switches were designed from the ground up, and were built for gamers that craved for a key stroke that was swift and precise while still being tactile. As well as a tactile and silent 1.8mm actuation point with a 3.6mm travel distance, the switches feature structural housing to reduce wobble while being pressed. They bring electrical contact bouncing to a minimum, allowing firmware to recognize input 20% faster. The key caps are also ultra-light, meaning 50% lighter than standard, which allows for that rapid response.
Roccat's Vulcan 120 Aimo Gaming Mechanical Keyboard is built to last. Its featured anodized aluminum plate reinforces the Vulcan's structural integrity and protects it against wear and tear. The keyboard also comes with a detachable palm rest, that together with the low-profile keyboard's design helps to improve ergonomics, making it suitable for long periods of game time. The keyboard measures 9.25 inches long by 18.18 inches wide by 1.25 inches tall (23.50 x 46.20 x 3.20 cm) and weighs 40.56 oz. (1150 g). The keyboard's USB cable measures 70.86 inches (1.8 m).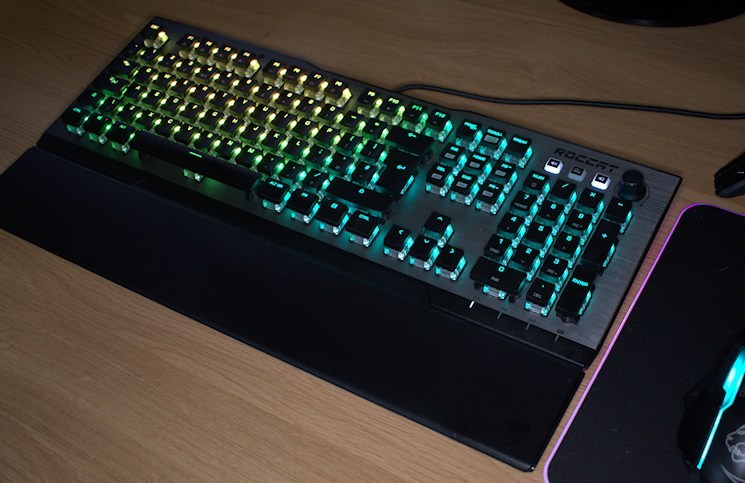 The key caps are specially designed for easy maintenance. They match the spacing and surface area of traditional caps but feature a shortened height to make cleaning easy, complementing the Titan Switch's dust-resistant housing perfectly.
The keyboard also features AIMO ILLUMINATION, providing the best possible platform for the AIMO lighting engine. Each switch features an individually configurable, long-life LED capable of displaying 16.8M colors in a variety of special effects. Transparent switch housing means the multicolor lighting shines impressively and is spread evenly from every key. AIMO represents both a lighting engine and an eco-system at once. Its functionality grows based on the number of AIMO-enabled connected devices. The keyboard reacts organically based on your usage, presenting state-of-the-art illumination scenarios without the need for configuration. Users can also easily cycle between lighting schemes by holding the Function (FN) key and pressing F1, F2, F3 or F4.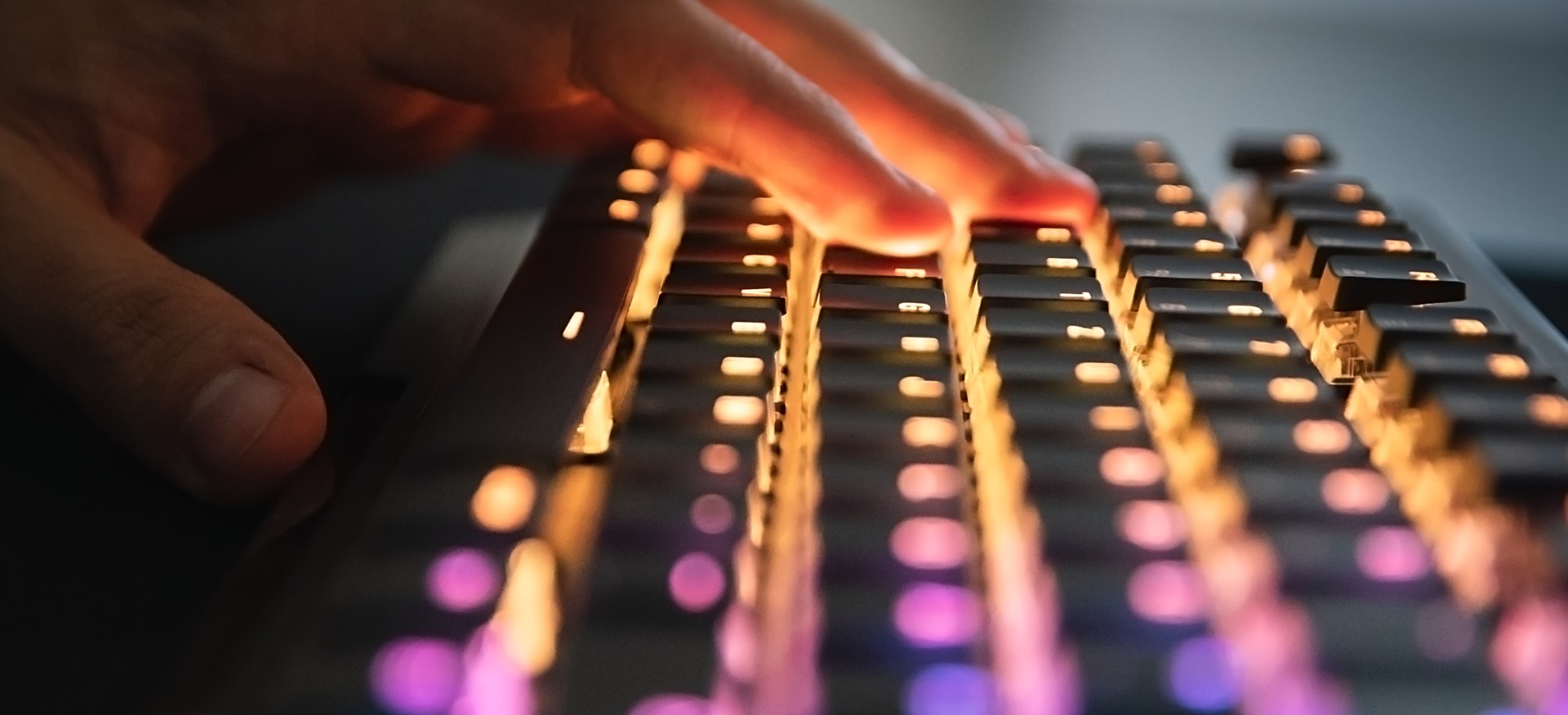 While its detachable palm rest adds a subtle level of comfort and support that's ideal for gamers who tend towards lengthy sessions to increase their performance, the included mixer-style media keys and wheel offer sophisticated functions as well as some extra comfort.
The keyboard is compatible with Windows 7, Windows 8, and Windows 10, and requires a USB 2.0 Port, as well as an Internet connection for driver installation. The keyboard features 512kb integrated macro & settings memory, and all of its keys are remappable, meaning that if you play a ton of different games you're able to program the same keys with different actions for different games. The keyboard also comes equipped with a 32-bit ARM Cortex-M0 based processor.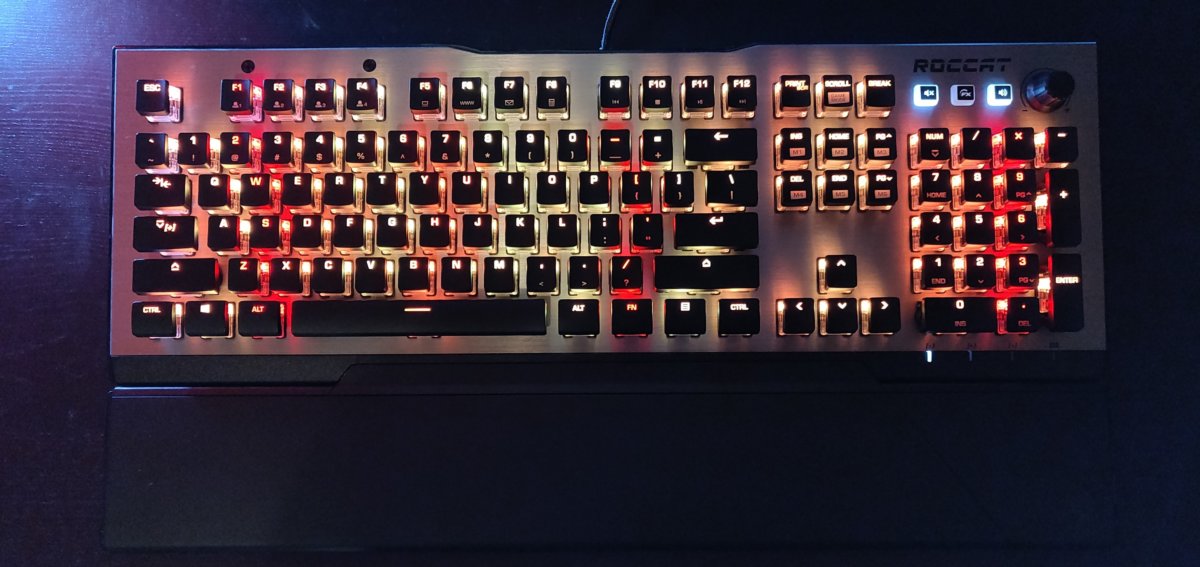 The Roccat Vulcan 120 AIMO is one of the best gaming keyboards ever made. It's a joy to game and type on, and it has a stunning design that proves that gaming peripherals can be stylish while packing many functionalities at the same time.
If you're interested in getting the Roccat Vulcan 120 Aimo Gaming Mechanical Keyboard, it's currently priced at $160 and you can find it on Roccat's official website, on this page.
Lastly, consider having a look at Roccat's full line on Gaming Peripherals, which you can do by clicking the provided link.