When going to the beach or swimming pool we can't stop worrying about someone messing with our stuff. But not anymore, thanks to The Beachsafe. The Beachsafe is a portable lockable safe that you can use to store and secure all of your precious belongings, making it the perfect secure storage solution for when you're not around.
The Beachsafe is a patent-pending, personal safe designed product for use at the beach or by the pool. The device is proudly made and manufactured in the USA by Tech Products Co., Midland Park, NJ.
Tech Products Co. is a full-service organization equipped to supply all necessary components to take your vision from a concept to a finished product. The company counts on a team of professional inventors with engineering excellence and proven track record to tackle the most demanding projects.

The Beachsafe measures 10.5 inches long by 7 inches wide by 2.6 inches tall. This secure storage solution is constructed from durable, water-resistant ABS plastic and is equipped with a built-in charger (perfect to recharge your smartphone or any other device while in the beach or swimming pool) and cooling fan, protecting your belongings not only from the weather, but from loss or theft as well.
This safe storage device comes with a high-quality, commercial grade, 4-digit re-programmable combination lock and a stainless-steel securing cable, and together they provide convenience and peace-of-mind to any user.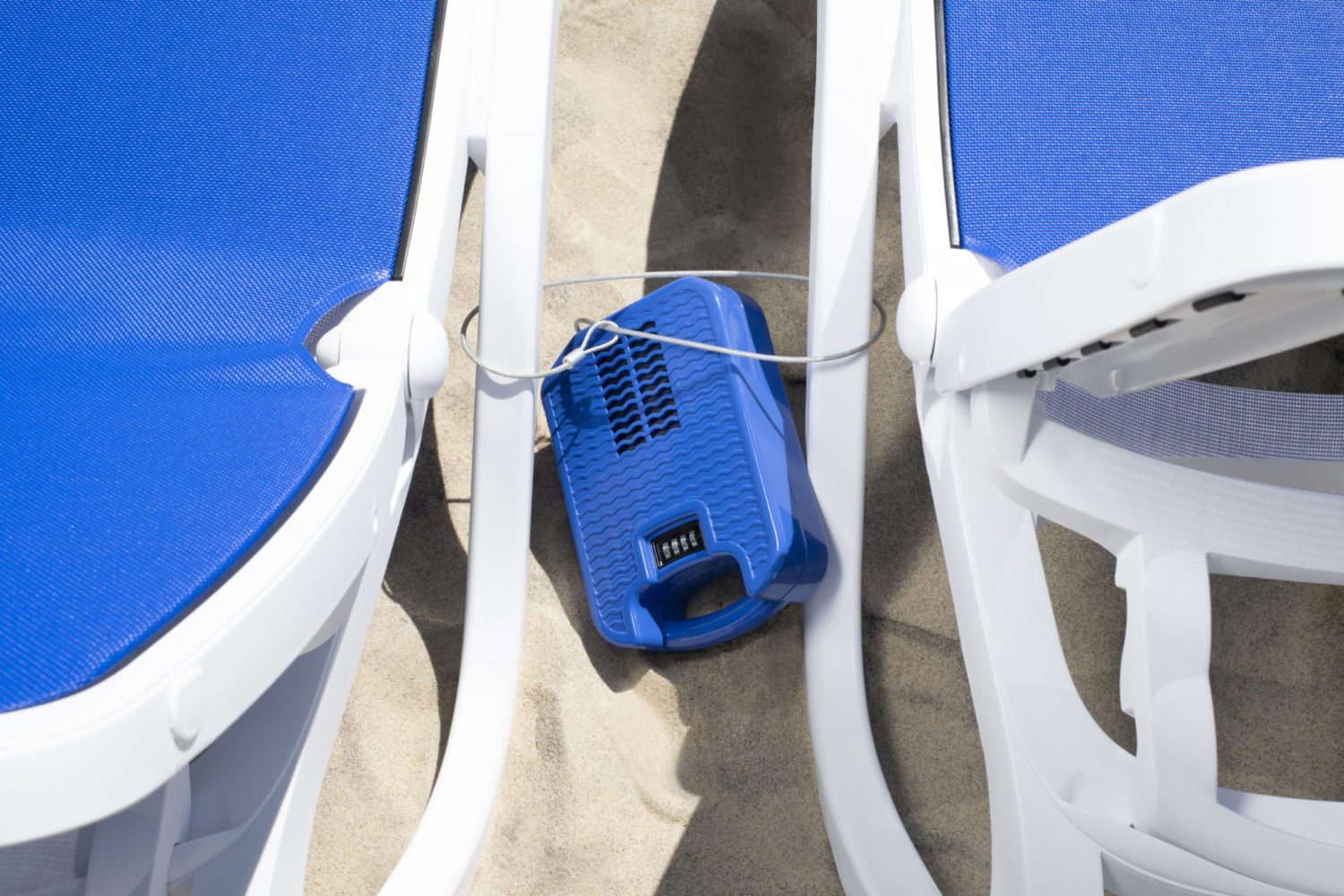 The Beachsafe should be handled with care and used only as directed. While this product is water-resistant, keep in mind that exposing the interior components to moisture and water will result in those components getting damaged. Removing or tampering with the concealed battery, solar panel or built-in cooling fan will void the product warranty. It's also important to note that the device should be kept away from small children.

The generous interior is roomy enough for wallets, watches, smartphones, jewelry, keys, sunglasses, and many other valuables. The Beachsafe's built-in cooling fan helps maintain a safe temperature for all of your electronics, which means that you'll never miss a photo again due to an overheated phone. The Beachsafe also comes with securing bands that'll keep your credit cards, identification, and cash secure, which can also be used as an easy way to keep your charging cables out of the way.
The Beachsafe is an amazing secure storage solution to use either at the beach or at the swimming pool. The fan keeps your smartphone cool and you're able to recharge your phone even when away from home. You're able to leave your valuables behind and go enjoy a dive or a nice walk in the sun, all of that without becoming worried that you'll come back and everything will be gone. It's also extremely easy to set up your 4-digit re-programmable combination.

The Beachsafe is currently available in four different colors: Blue, Yellow, Green, and Orange. The Beachsafe was previously priced at $100, but it's now currently discounted, going for $60 (saves you $40). The Beachsafe is shipped free throughout the United States. If you're looking to get it, you can find it at The Beachsafe's official website, on this page.