Every pet owner knows just how heartbreaking it can be to leave their furry friend(s) at home alone. It's always a worrying and stressful situation as soon as you step out of the door. However, there's a gadget out there that can give every pet owner some very welcomed peace of mind; the Petcube Play 2 Smart Pet Camera.
The Petcube Play 2 is an interactive smart pet camera that allows you to always stay connected to your pet, wherever you are. It's Wi-Fi enabled, comes equipped with an interactive Laser Toy, and it's even Alexa enabled.
The Petcube Play 2 is based on the original model, the Petcube Play, but it's an amazing upgrade when compared to its predecessor. How amazing, you ask? Its Amazon Alexa integration offers its users some quality of life features, and playing with the laser is much smoother than in the original model. The company also improved its the set-up experience tremendously – while the original Petcube took forever to connect to a Wi-Fi network, this newer model can be set up extremely fast, and will be running in just a few minutes.
So, let's take a fully detailed look at what the Petcube Play 2 Smart Pet Camera has to offer.
DESIGN & SPECS
The Petcube Play 2 is made of high-quality aluminum and hard plastic, featuring a sturdy build that's made to last, making it "entirely pet-proof". This means that even if your pet gets a bit too excited and manages to toss this bulky cube to the floor, the Petcube Play 2 can withstand any moderate fall. The device measures 3.6 inches long by 3.2 inches wide by 3.6 inches tall (90.1 X 81.45 X 90.1 mm) and weighs around 2 pounds.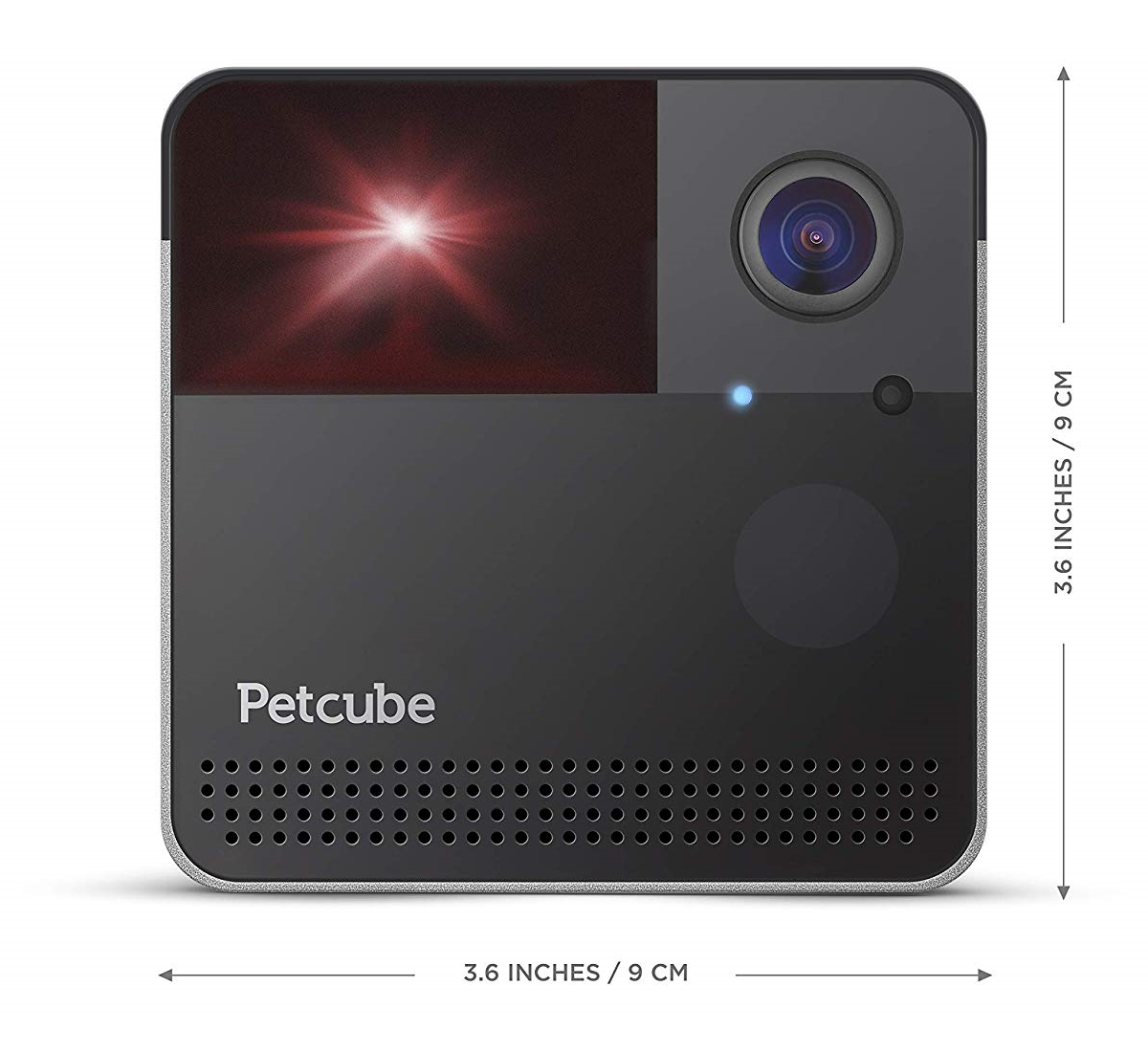 The company states that the Petcube Play 2 displays "Unparalleled beauty, inside & out", and that's not an understatement. With its minimalist design, the Petcube Play 2 can easily fit into any interior. The cube's white/black faces look "modern enough" to make it merge seamlessly with any wall background and/or surrounding furniture, making it the perfect addition to any household.
The Petcube Play 2 can be connected to power via a USB cable, and its USB port can be found at the back of the device, near the lower left corner (on the back side).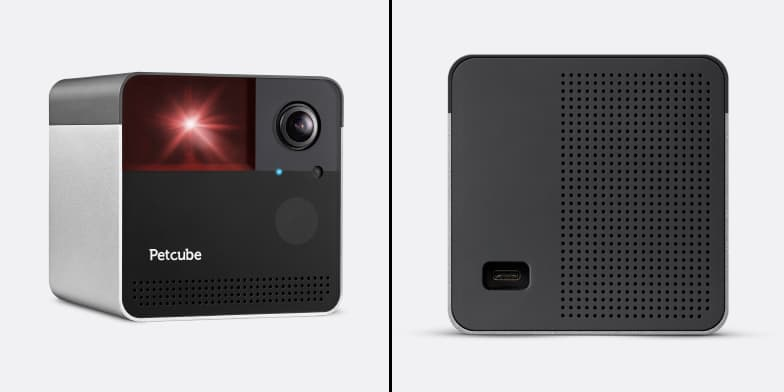 The Petcube Play 2 comes equipped with a 1080p HD, 180° ultra-wide-angle lens camera that offers up to 4x digital zoom and features automatic night vision. The Play 2 is also voice enabled, coming equipped with a two-way speaker that allows you to talk with your pet from anywhere.
It also comes equipped with a 3R class laser (class 2 in EU) that's commonly found in laser pointers and computer mice. The Petcube Play 2's laser is safe for both human and animal eyes. This is the interactive laser you'll use via the Smartphone App to play with your pet when you're away from home (more on that in the Smartphone App section).
SETUP, CONNECTIVITY & SECURITY
As said before, the company focused hard on improving the Petcube's set-up experience. This newer model (Petcube Play 2) can be set up in just a few minutes, and will be running in no time.
Setting up the device is extremely simple and only takes around 2 minutes. Connect it to power via the included USB cable (78.7 inches/ 2 meters) and power adapter, download and pair it up with its companion App, and voilà. It's ready to be used.
The Petcube Play 2 Pet Camera's data transmission is performed via the proven TLS (Transport Layer Security) protocol with 128-bit encryption. TLS is used worldwide to provide communication security between clients and server applications, ensuring your connection remains private, while also providing both integrity and protection for your data.
The firmware distribution is secured via the signed updates. This means that all the data stored on your Petcube Play 2, as well as in the company's cloud is always safe.
WHAT'S IN THE BOX?
Inside each package, users will find: one Petcube Play 2 device, a USB cable (78.7 inches/2 meters), an included Petcube power adapter, and a Quick start guide.
FEATURES
24/7 High-Quality Video (w/ Night vision) & Two-Way Speaker
The 1080p HD, 180° ultra-wide-angle lens camera allows you to see your pet at any time of the day via the Smartphone App. Yes, at any time of the day. This means that even if you get stuck at work until when it's already dark, you'll be able to see your furry friend(s), because the camera also features night vision.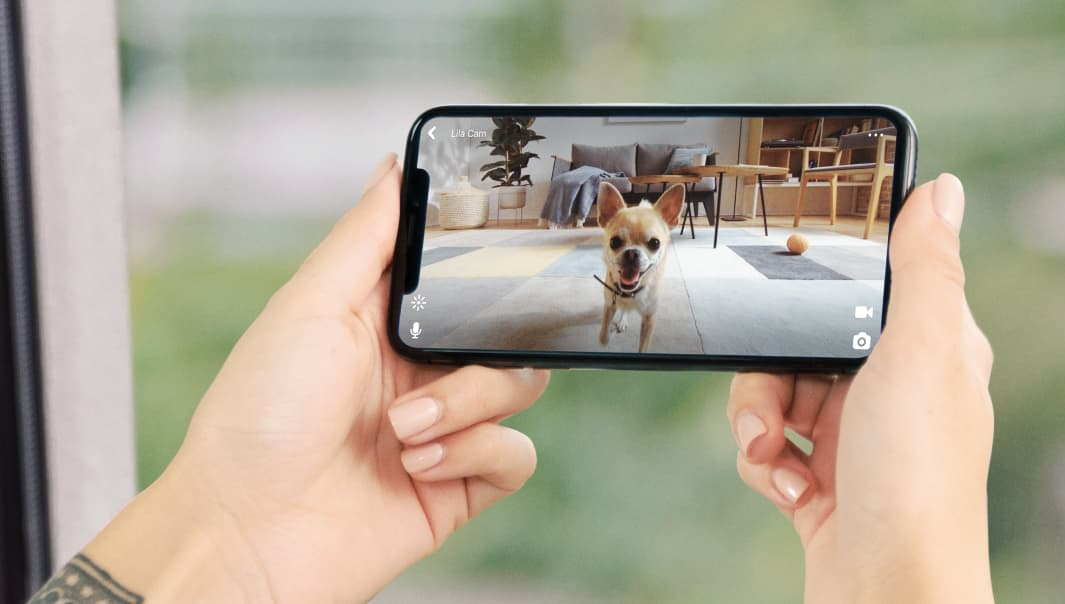 Don't forget there's also a two-way speaker integrated (as stated before), which allows you to listen to your pet(s) and vice-versa. Allowing your pet(s) to listen to your voice can help to reduce the separation anxiety, and the same goes for the Laser Game (which is coming right up). According to the company, pet parents can enjoy "duplex sound" with the Petcube's 4-microphone array and speaker bar.
Pet-Safe Laser Game
One of the Petcube Play 2's best features is its laser game. By using the companion App you can play chase with your pet at any time, which also helps them to be more active at different times of the day. Not only does this reduce the separation anxiety between you and your pet(s), but also allows you to stay connected throughout the day, helping you to keep your pet(s) active and in shape. A pet chasing a laser is always a healthy pet!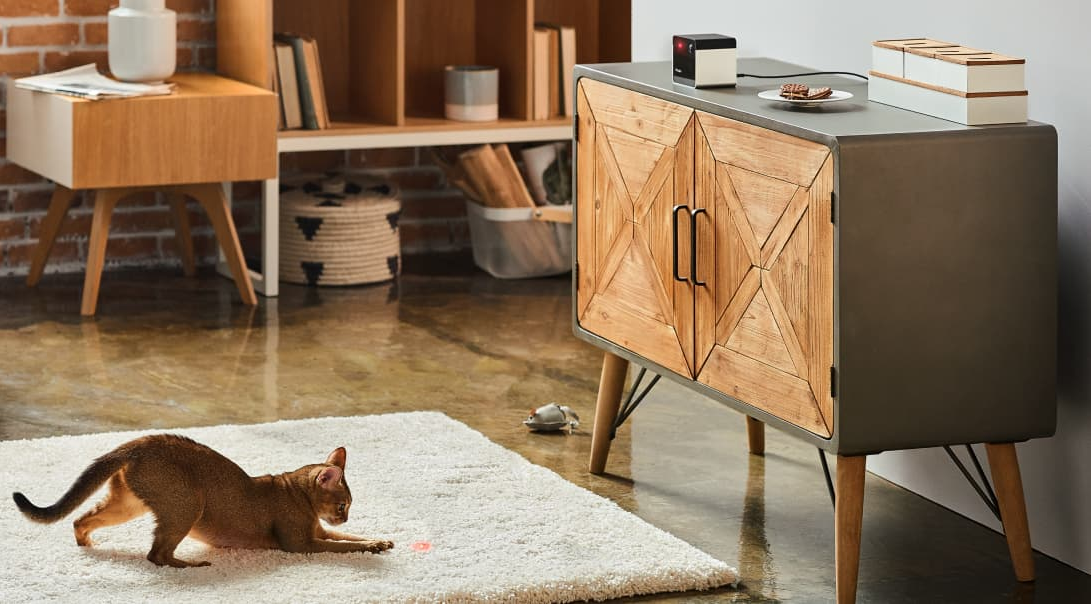 After connecting to the App, users can freely control the laser pointer integrated into the device. The laser is extremely smooth and is very accurate. It doesn't seem to show any flaws, brakes, or any bugs/glitches, working flawlessly. It will surely provide you and your pet with endless hours of fun while playing "fetch".
Audio & Movement Detection
While the Petcube's 180° ultra-wide-angle lens camera and two-way speaker allow you to see your pet, these can also offer you the ultimate monitoring tool.
It's important to note that Smartphone App also allows you to set-up and configure Smart Alerts and Smart Filters, but this is not included in the Basic Subscription Plan (free). However, the premium plans are not super expensive, meaning that if you're looking to get the most out of the Petcube Play 2, you should consider one of the two premium plans (more on that at the end of the article).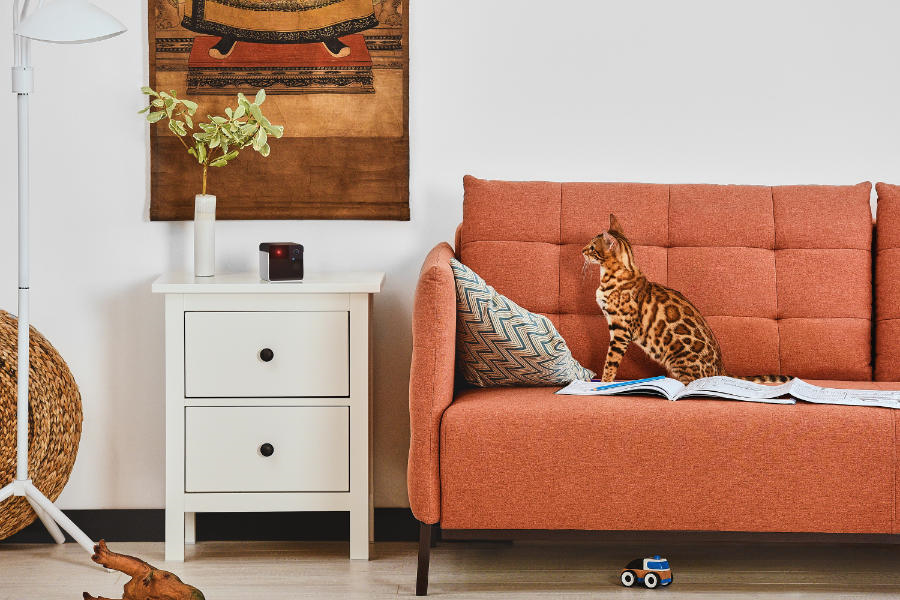 Having the ability to get audio and movement alerts offers all pet owners the ultimate peace of mind, mainly because no working person can watch a livestream of their pet(s) throughout the day at all times.
The Petcube will notify pet owners in real time about "potentially dangerous events" thanks to its audio and movement sensors. And that's not all of it, the device can even tell the difference between pets and people, so no matter what type of intruder tries to get into your household, you'll always be instantly notified.
Thanks to the Petcube's sound and motion detection, you'll never miss a moment.
Amazon Alexa Integration
With its Amazon Alexa integration, the Petcube Play 2 is bound to make your everyday life much, much easier. Pet owners can play music for their pet(s), order their pet's favorite treats, or even find the nearest vet.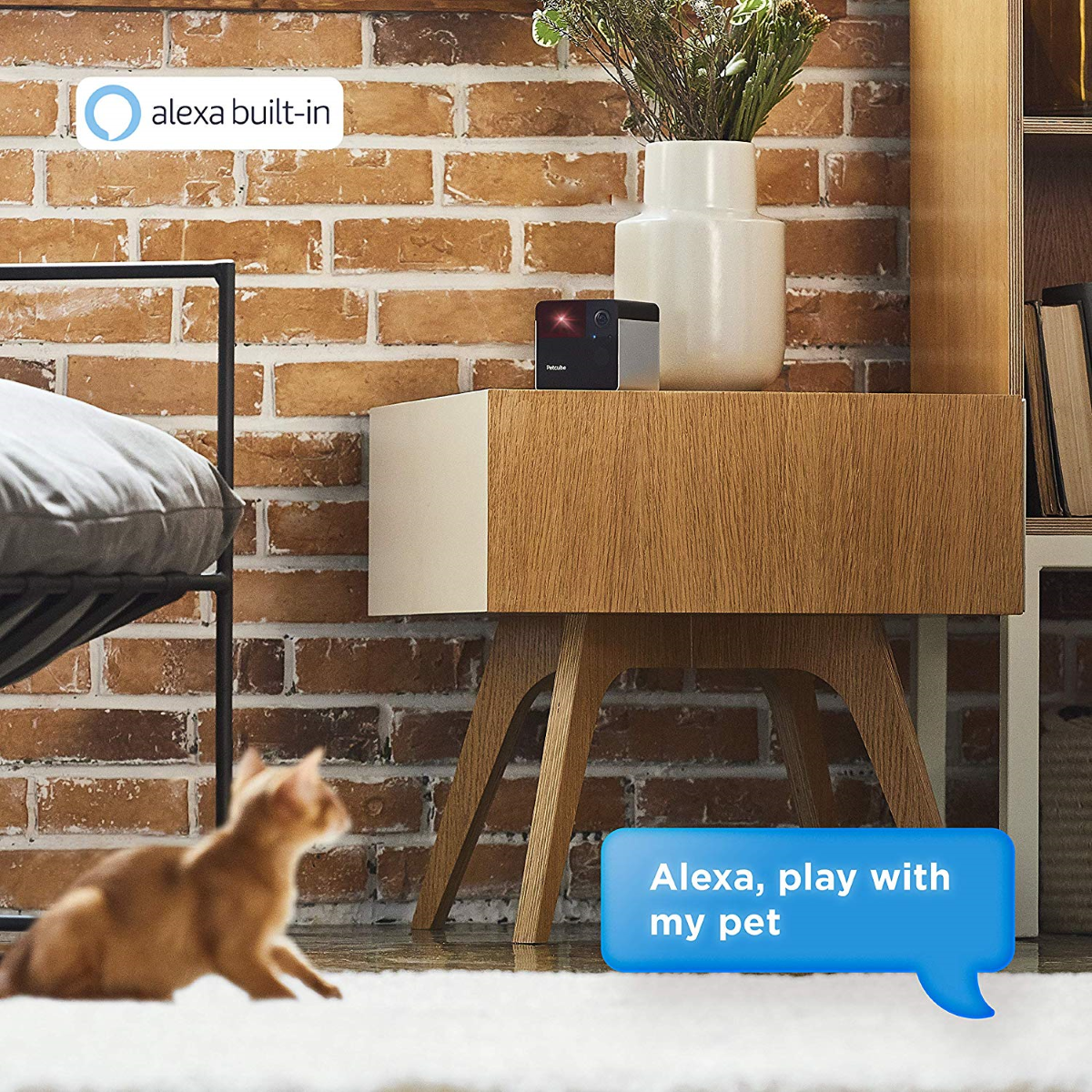 But the best part is that pet owners can even use this pet camera as a smart speaker. All you have to do is activate your voice assistant and you'll be able to access over 80,000 Alexa skills.
THE SMARTPHONE APP
The Smartphone App works with any device that's running iOS 10.3.3 or above, or Android 7.1.2 or any newer version (supporting 2.4GHz and 5GHz WiFi). The Petcube App is totally free, and is available on the App Store and on Google Play.
The App is very intuitive and easy to use and features a great user interface. However, the "action" icons are just a tiny bit too small to be clicked, but can still be understood/seen with ease.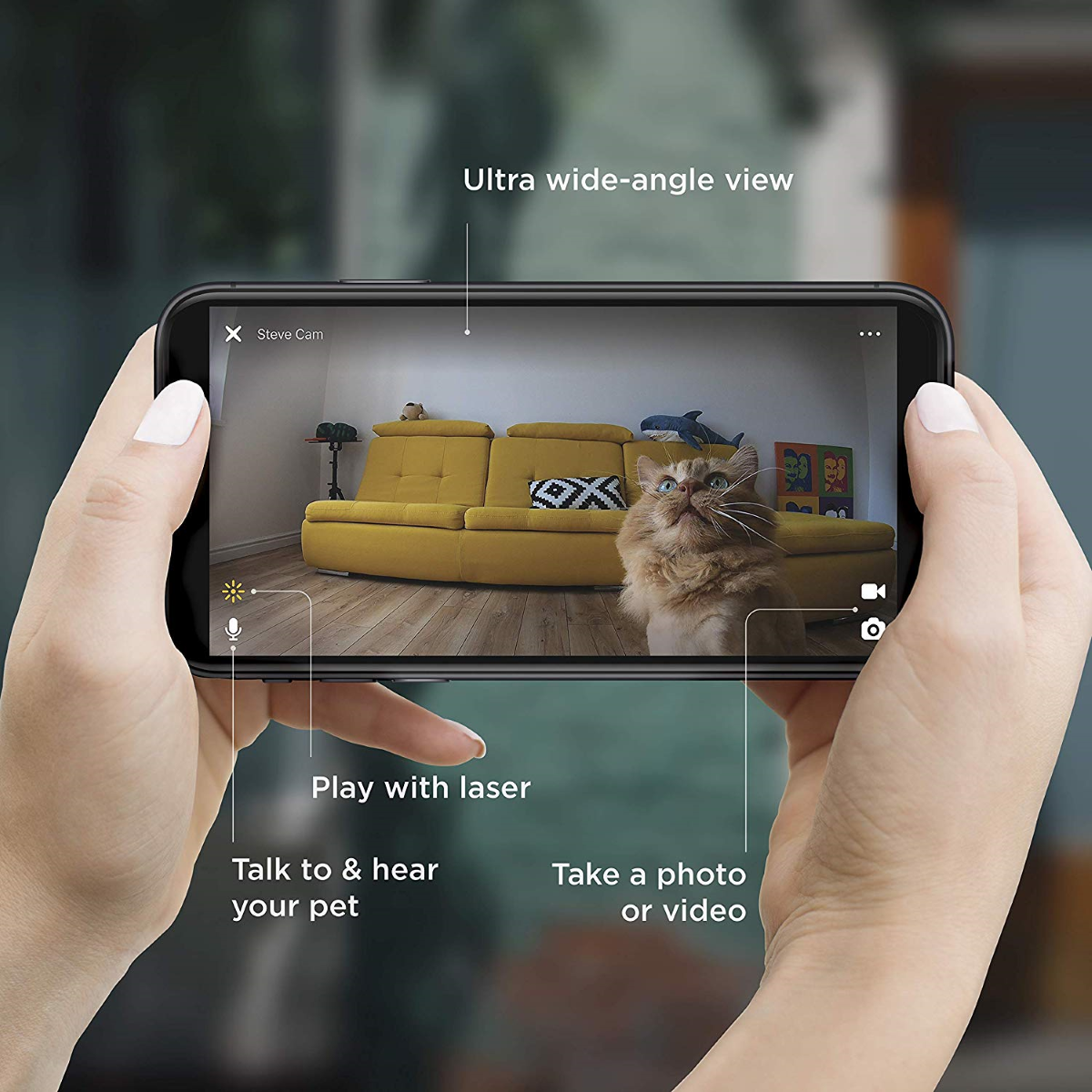 With the App users can connect to the device via their smartphone and check its video feed. As said before, the camera can be zoomed-in up to 4x within the App, helping you understand what's going on around your pet's playground. The Petcube App also allows you to control the laser and play the laser game ("fetch") with your dog or cat, which is a great alternative tool to keep your pet(s) entertained and active.
FINAL THOUGHTS
The Petcube Play 2 Smart Pet Camera is a great Wi-Fi enabled Pet Camera for cat and dog owners. Its 1080p HD, 180° camera and interactive Laser Toy allow you to see, talk to, and exercise your pet remotely, while also easing up the separation anxiety.
Together with its Alexa integration, the Petcube Play 2 is one of the best smart pet cameras available on the market. However, it would be cooler if it would also come with a "treat-toss" feature like the Furbo Dog Camera, which could be used as a reward for the laser-game.
So, if you and you're pet(s) just hate staying away from each other, the Petcube Play 2 is a great smart pet camera to consider buying. It offers you the possibility to check up on your pet(s) and stay connected 24/7 to make sure everything is alright, but also features a laser game that you can play with your furry companion(s) at any time.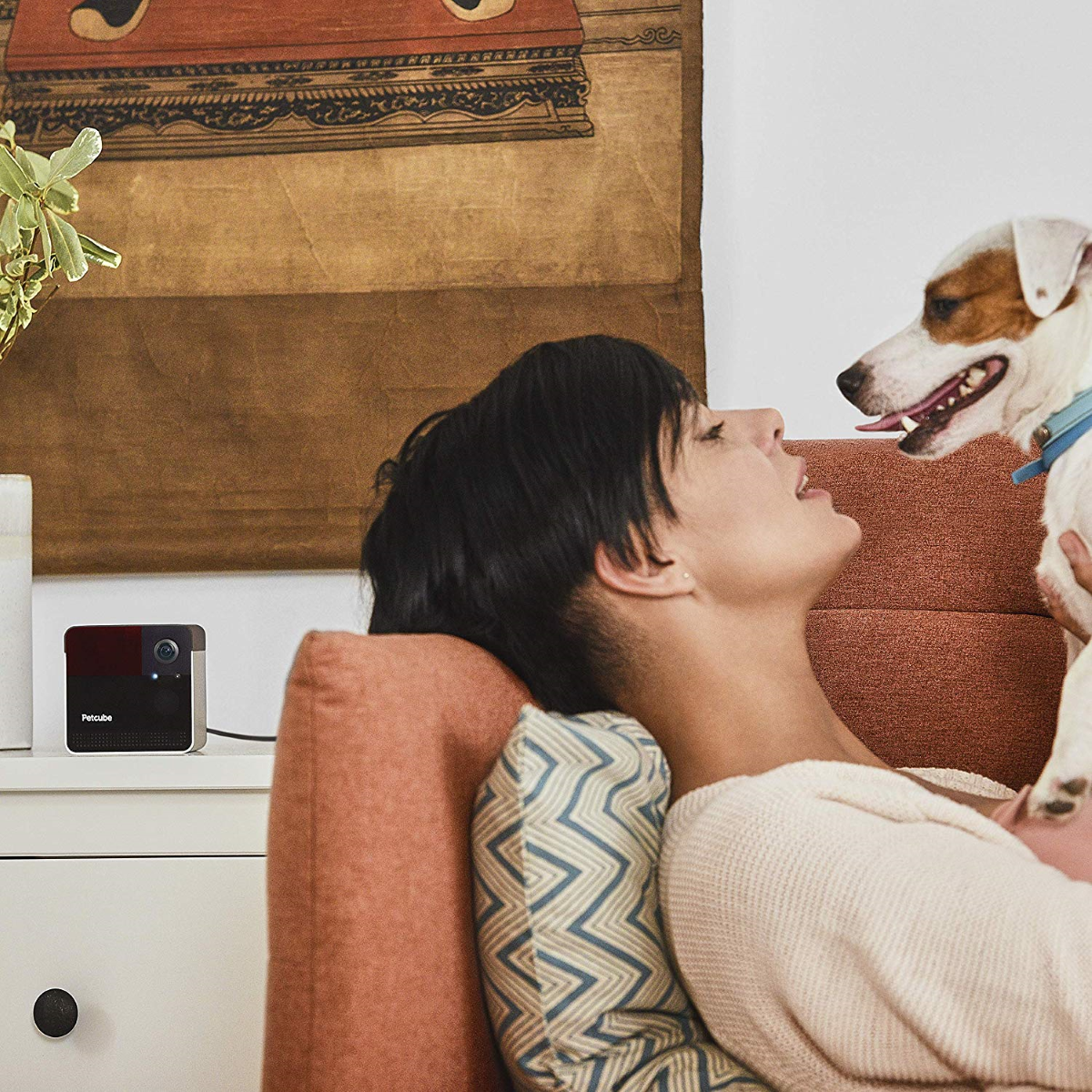 Keep in mind that the Petcube Play 2 allows you to set-up and configure Smart Alerts and Smart Filters, but only if you subscribe to one of the two premium plans. The Basic Subscription Plan only offers you 24/7 live video streaming, allows you to play with the laser, and use the Alexa integration.
Clicking here will allow you to check on the two premium plans ("Optimal" and "Premium"), which allow you to set up the Smart Alerts/Filters, have video history storage, record video clips, and even have a ton of pet product discounts (Health Products, Services, Entertainment, Gadgets & Home, and Pet Food Products).
If you're interested in buying the Petcube Play 2 Smart Pet Camera, each unit is currently going for $200 and you can get it at Amazon (Petcube's official partner). You can get yours by clicking and accessing this Amazon link.