Smart vacuum cleaners are autonomous robotic vacuum cleaners that feature intelligent programming and limited vacuum floor cleaning systems. This brings us to the Tineco Pure One S12 Plus, Tineco's new Cordless Smart Vacuum Cleaner that's based on the original Tineco Pure One S12.
If you're looking for a new Smart Vacuum Cleaner that's capable of helping you out with your house cleaning, take a look at what the Tineco Pure One S12 Plus has to offer.
When compared to its little brother (the original Tineco Pure One S12), the Tineco Pure One S12 Plus is smarter, deeper, quieter, and even offers its users longer cleans. Check out its detailed review below to see the "Smart Difference" and understand exactly what you're getting.
TECHNICAL SPECS
First of all, let's talk about one of the Tineco Pure One S12 Plus' best features; its all-in-one LED display. This LED display is extremely complete, showing you all the necessary information you need, including: dust amount, battery level, suction power, malfunction, and more.

The device provides you with every little detail on its digital display as well as your cleaning status, which will be clear at a glance, allowing you to monitor everything as you clean.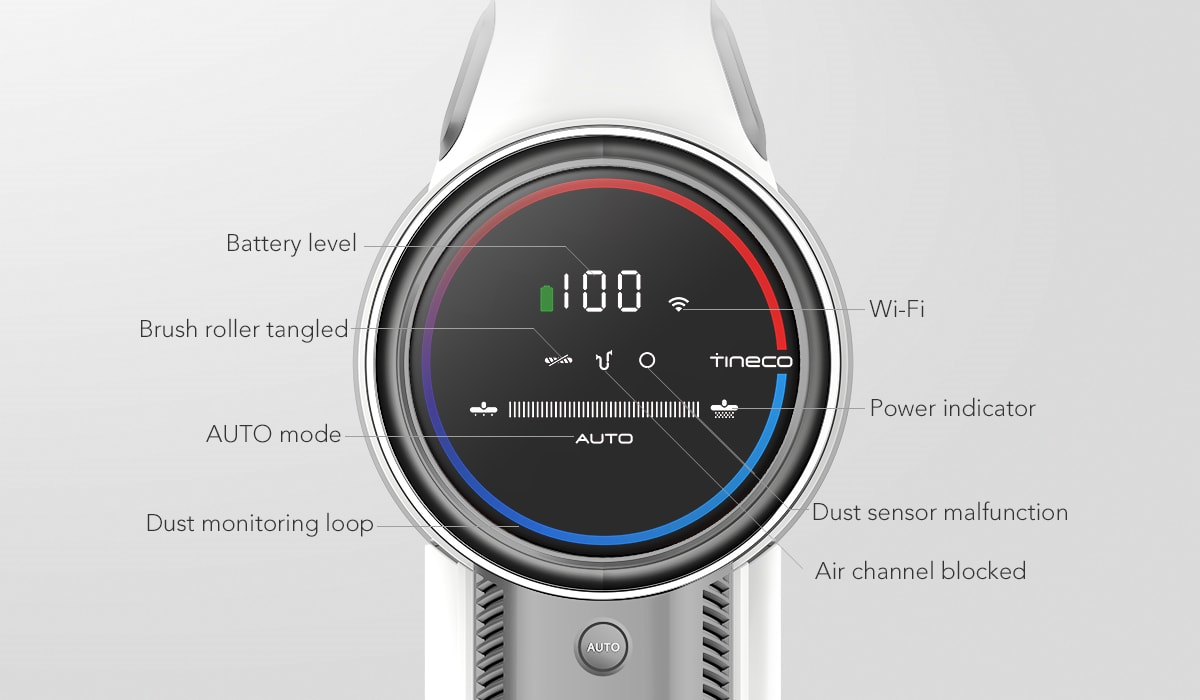 The Tineco Pure One S12 Plus also comes equipped with two different power brushes that allow for multi floor cleaning: a direct-drive LED multi-tasker power brush, and a LED soft-roller power brush. This offers you double care for different floor types, and together with its high torque motor the Pure One S12 Plus ultimately offers a deeper cleaning of your household.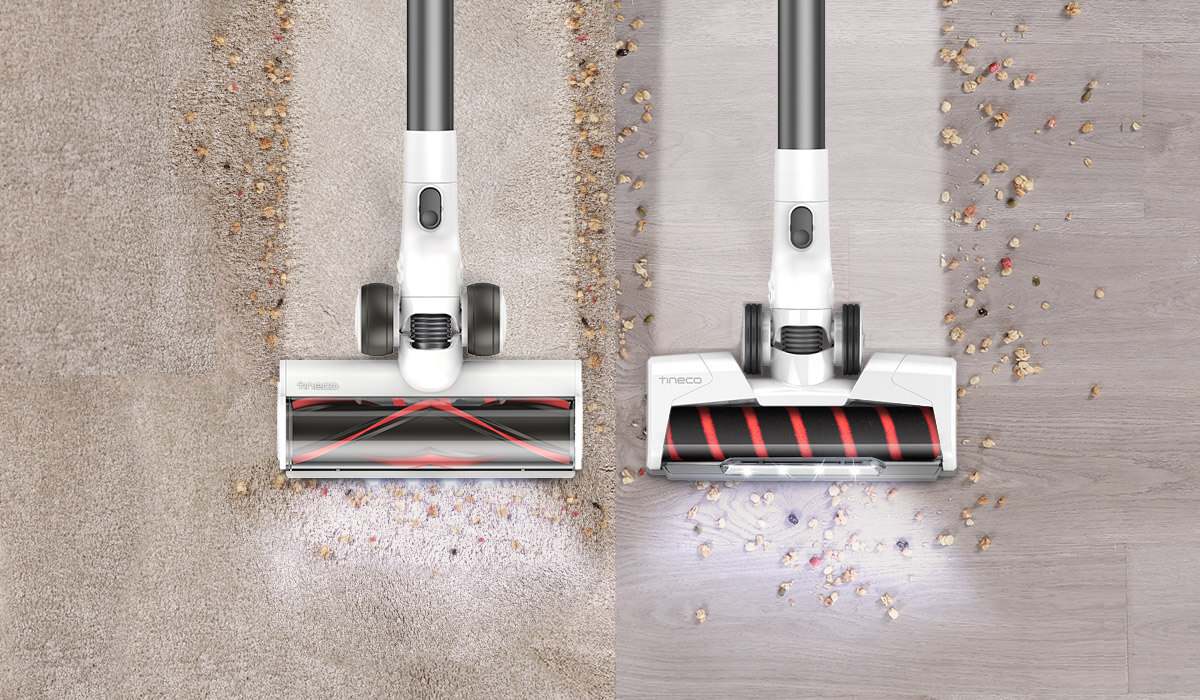 Right below its super-complete LED display you'll find an integrated capacitive touch screen that puts suction power control right at your fingertips. Not only can you switch from AUTO to Manual mode as you please, but you'll also be able to swipe on the power control slider to adjust suction at any time with only one fingertip.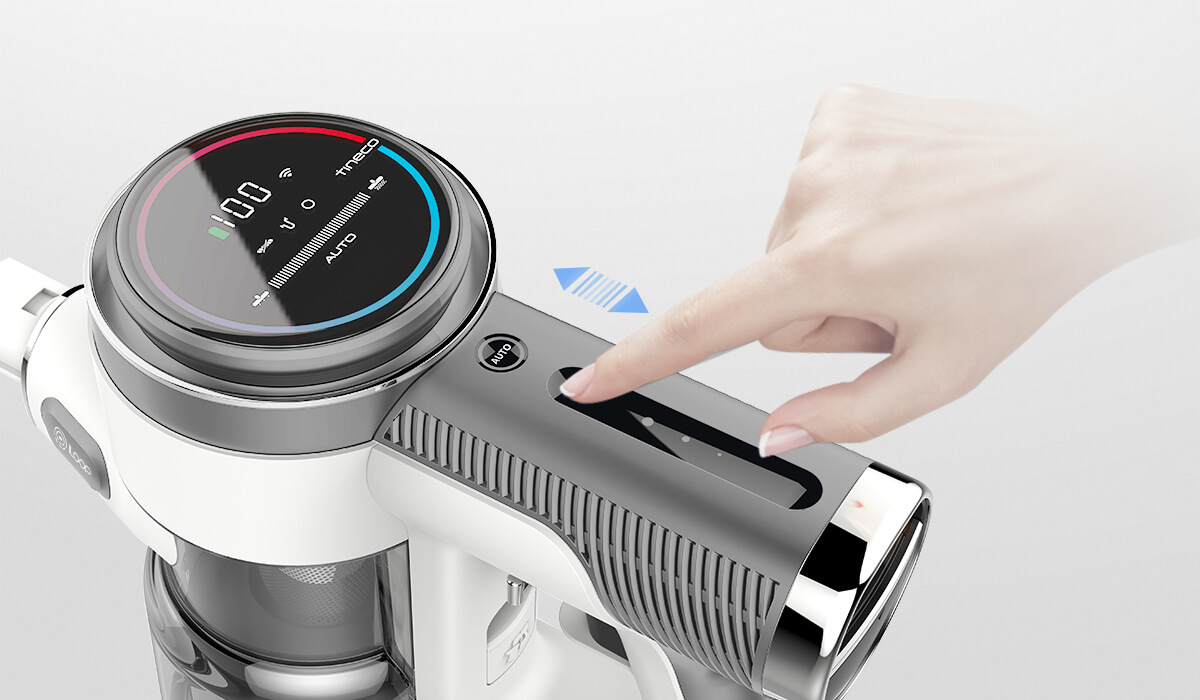 This smart vacuum cleaner features 6 times more rating power and max suction power than ordinary DC motor cordless vacuums (respectively 500W/150W), offering its users an ultra-quiet yet strong suction, making the Pure One S12 Plus effective for a deep, thorough cleaning.
The Pure One S12 Plus also comes with an integrated iLoop Dust Sensor that can detect the dust amount and adapt suction power automatically in real-time. Together with the S12 Plus' 150W super-strong suction you'll be able to clean deeper than ever, meaning you'll easily pick up every dust, hair, pollen and dander that are hidden in your blanket, carpet, and even plush toys.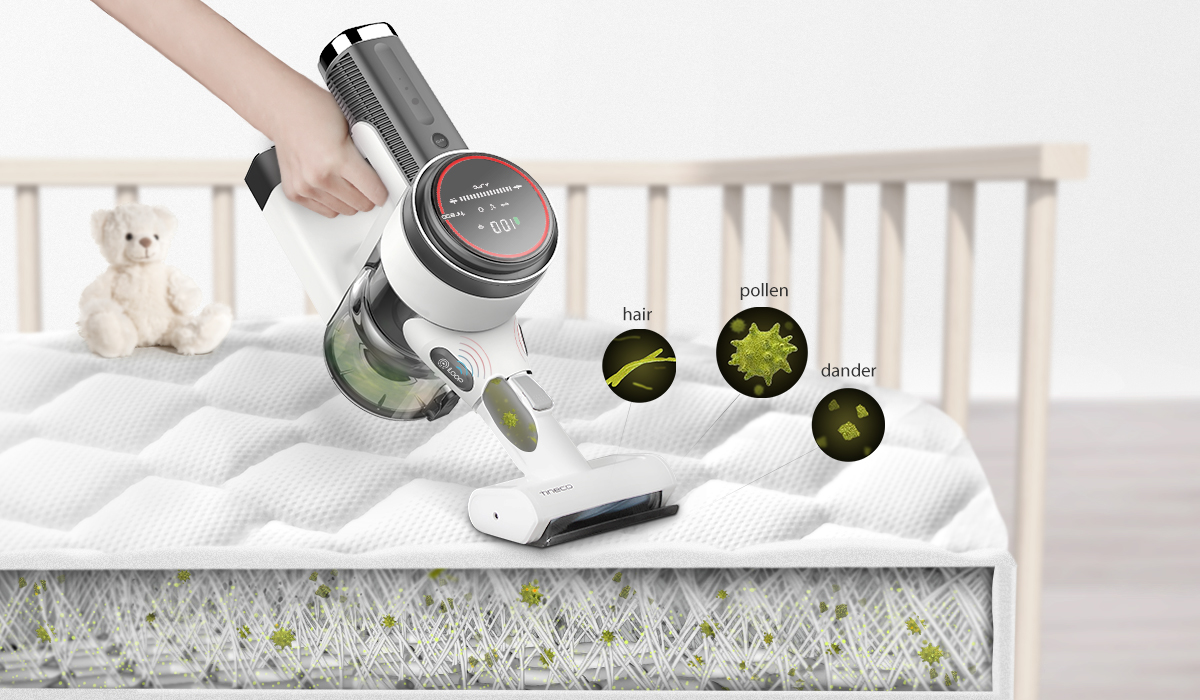 Lastly, the device comes equipped with two 2500mAh Detachable Li-ion Batteries that offer up to 100 minutes of runtime.
WHAT'S IN THE BOX?
The Pure One S12 Plus is an extremely complete set for vacuum cleaning. Counting all of its bits and bobs, there are a total of 13 accessories. You can check all of them in the comprehensive picture embedded below.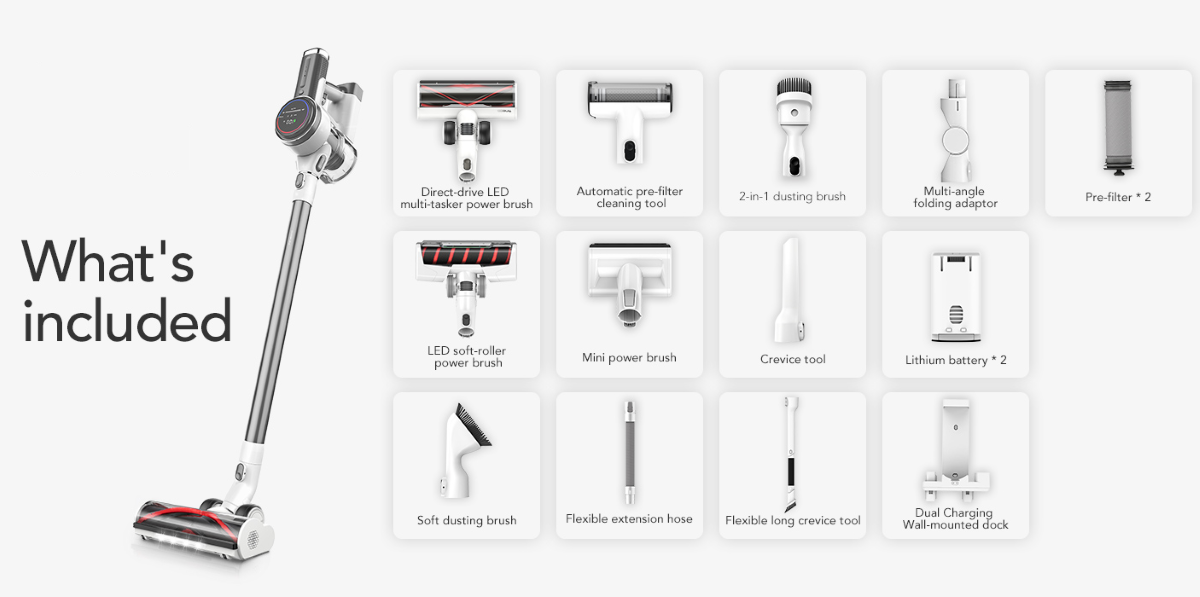 One of its best and most important accessories is its dual charging wall mount, which also works as a storage unit for 3 of its accessories. The wall mount holds both the device and the 3 accessories for battery charging and easy storage respectively, saving you some space and keeping your home tidy and neat.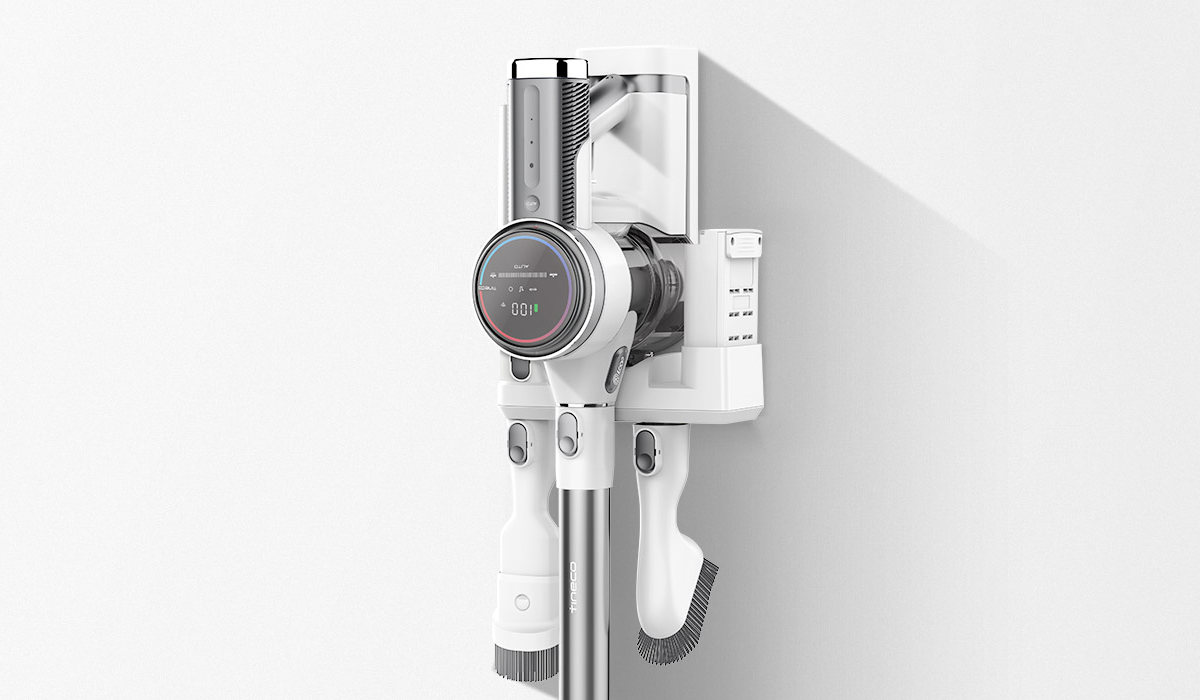 FEATURES
Smart Suction Control
As said before, its iLoop™ Dust Sensor is what offers you deeper cleans. With it you're able to easily detect hidden dust, and the suction power will be adjusted automatically in real-time, which allows you to enjoy hassle-free and effortless cleaning.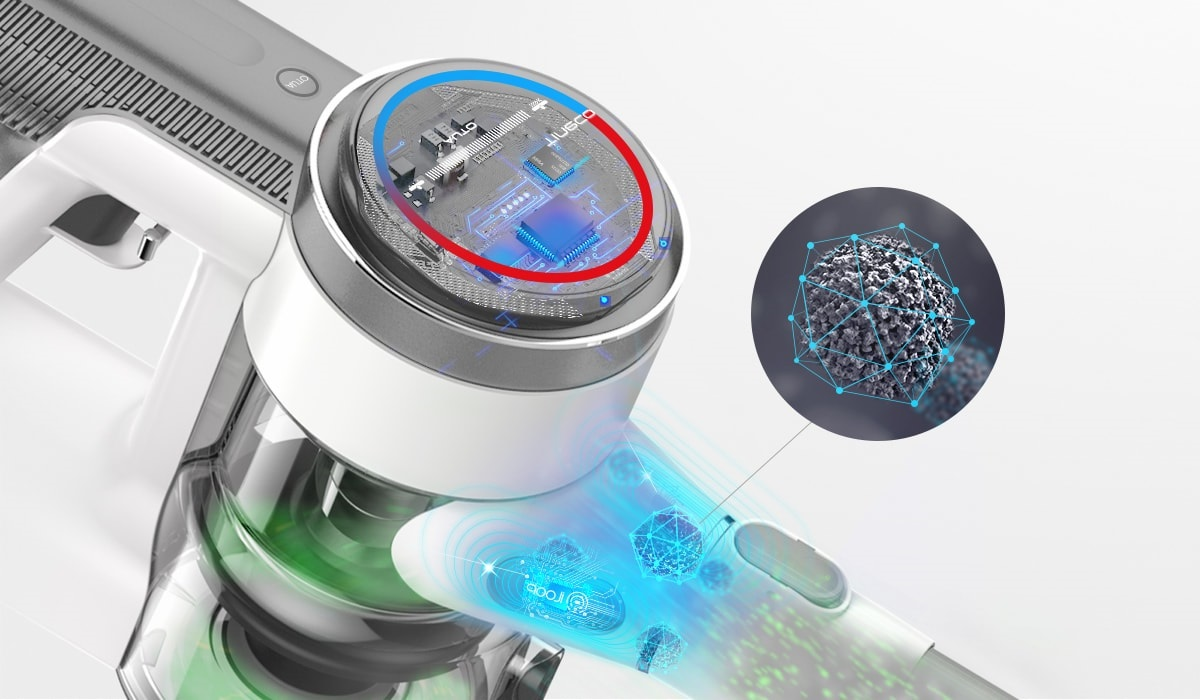 Smart Battery Management
The Pure One S12 Plus Smart Vacuum Cleaner also features Smart Battery Management via its two detachable, dual-charging 2500mAh li-ion batteries. This allows you to reach up to 100 mins of runtime, which is the longest runtime offered by any smart vacuum cleaner available on the market, making the Pure One S12 Plus perfect for your whole house cleaning.
Smart Noise Optimization
The Tineco Pure One S12 Plus motor's noise is controlled to as low as 71dB(A), making the device capable of working at sound rates that are low enough to prevent babies and pets from getting scared and/or waking up.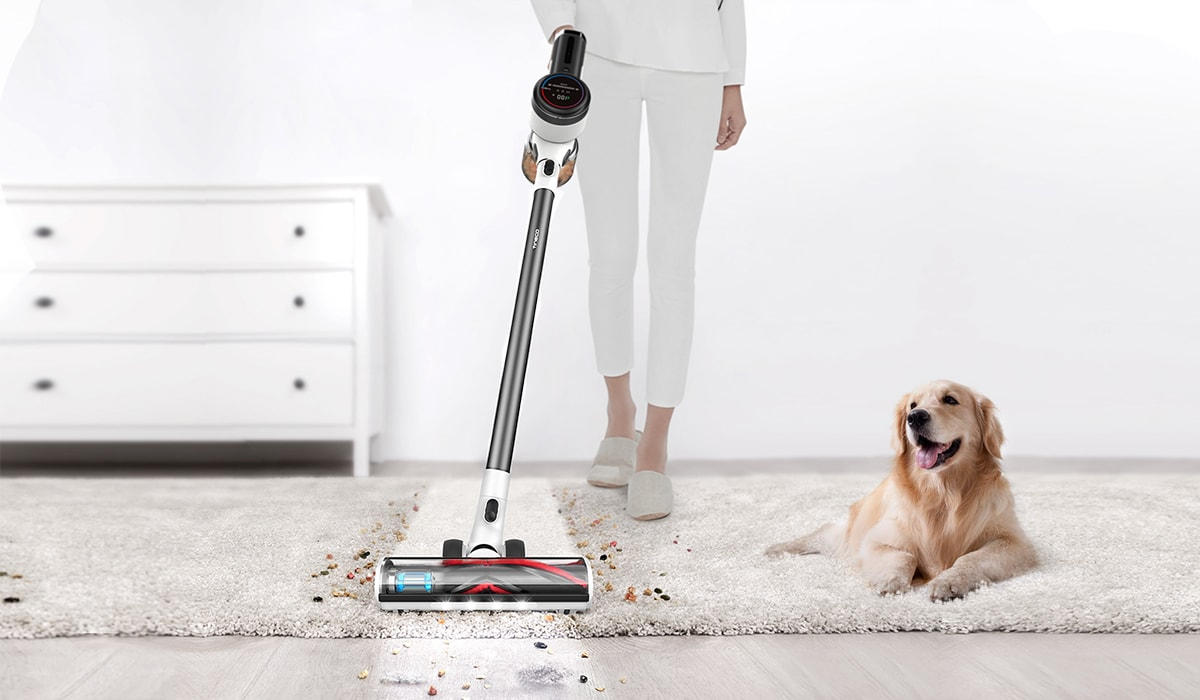 Smart Filter with Self Cleaning
The Pure One S12 Plus features a Smart Rinse-free Filter Cleaning Tool that helps to extend the filter's service life and provide persistent suction, ensuring a stable and longer durability for your vacuum cleaner.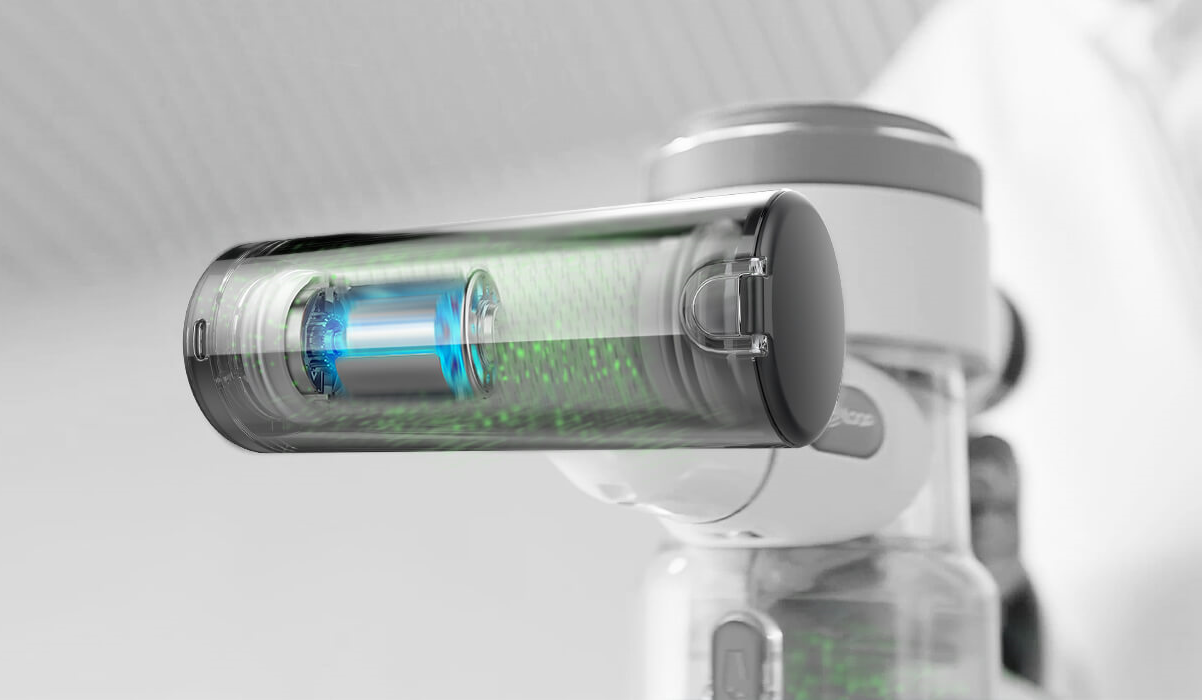 Smart App Integration
The Pure One S12 Plus offers you an advanced cleaning experience by connecting it to the Tineco Smartphone App. Within the App you can easily monitor your real-time performance, receive reminders, and even keep track of your cleaning report. This way you can keep track of your cleaning and generate real-time updates and a full report.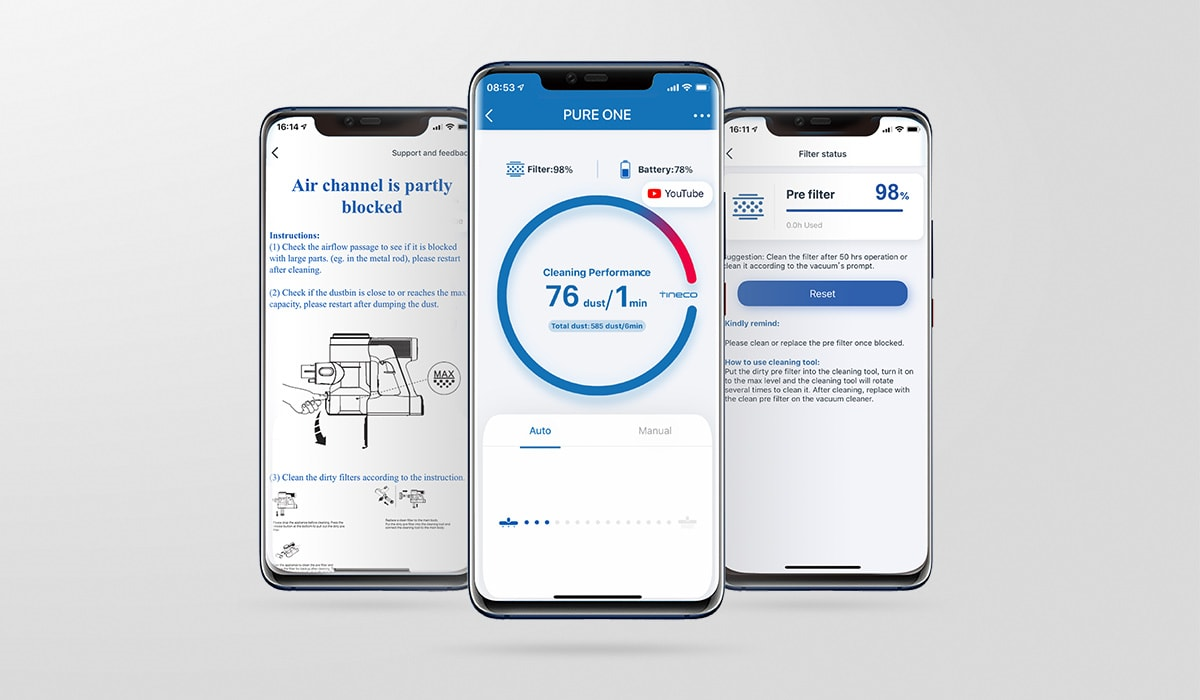 The App also includes troubleshooting and support for any issues that might come up.
FINAL THOUGHTS
The Tineco Pure One S12 Plus Cordless Smart Vacuum Cleaner is a super-complete smart vacuum cleaner that packs a ton of features. The device is powered by built-in artificial intelligence, which easily makes it go from a traditional, functional device to a smart one, allowing you to live easy and enjoy more time of your life.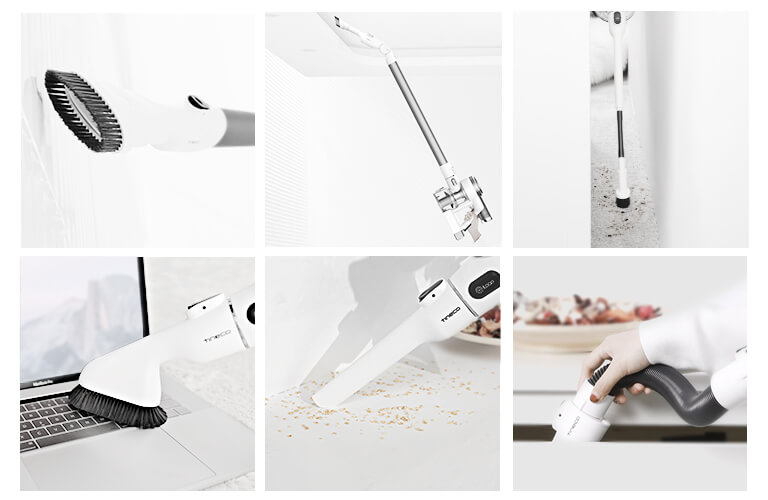 With it you can clean your entire house with ease, allowing you to reach the unwanted dust in every nook and cranny, while also letting you save time to focus your energy on the people and things you love. Its two best features are definitely the integrated all-in-one LED display and the offered maximum 100 minutes of runtime.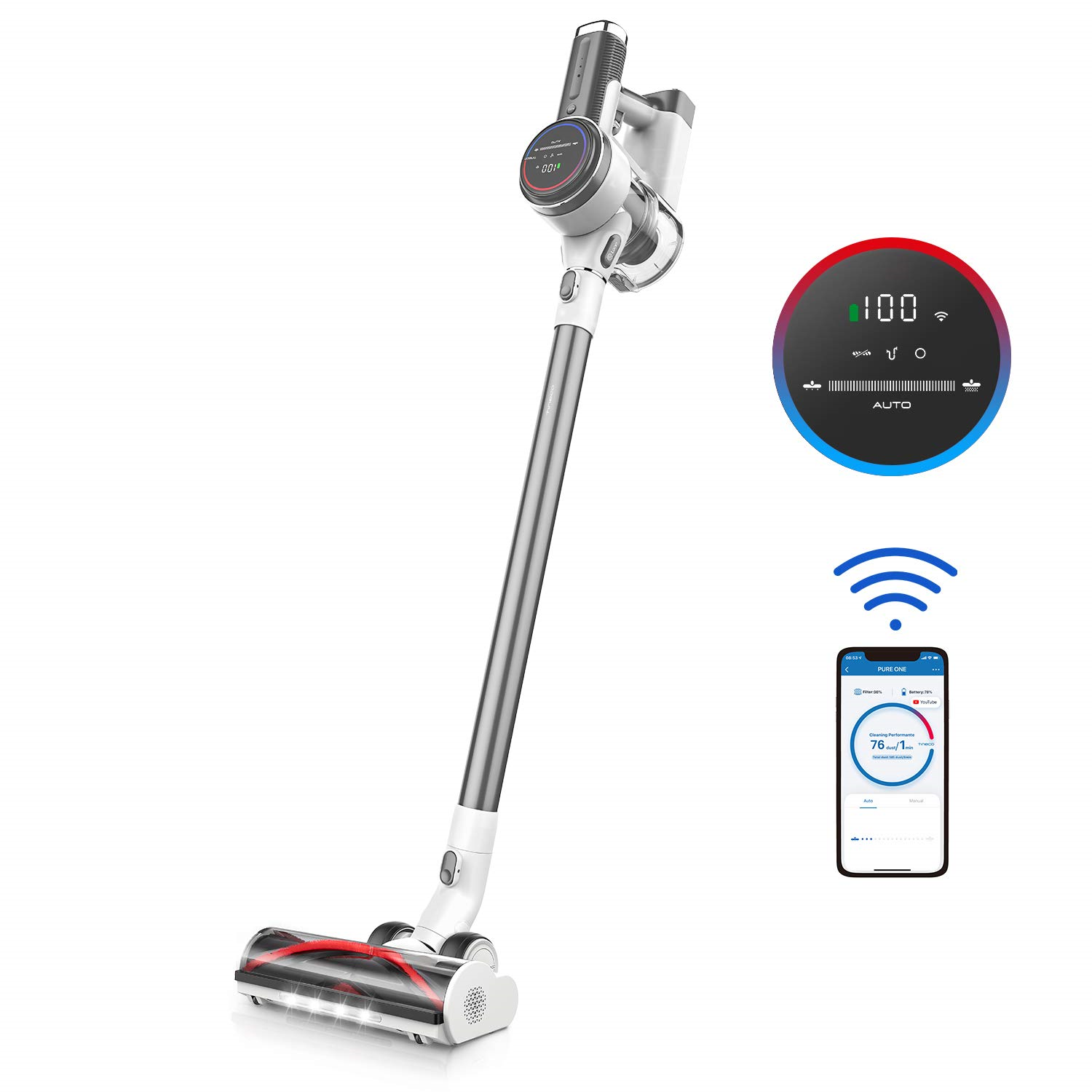 The Tineco Pure One S12 Plus Cordless Smart Vacuum Cleaner is only available in one model: Metallic-Grey.
If you're interested in getting yours, each package comes with the device and its 13 accessories, as well as with a 2-year worry-free warranty. You can get yours directly from Amazon (who's partnered with Tineco) by clicking this link.