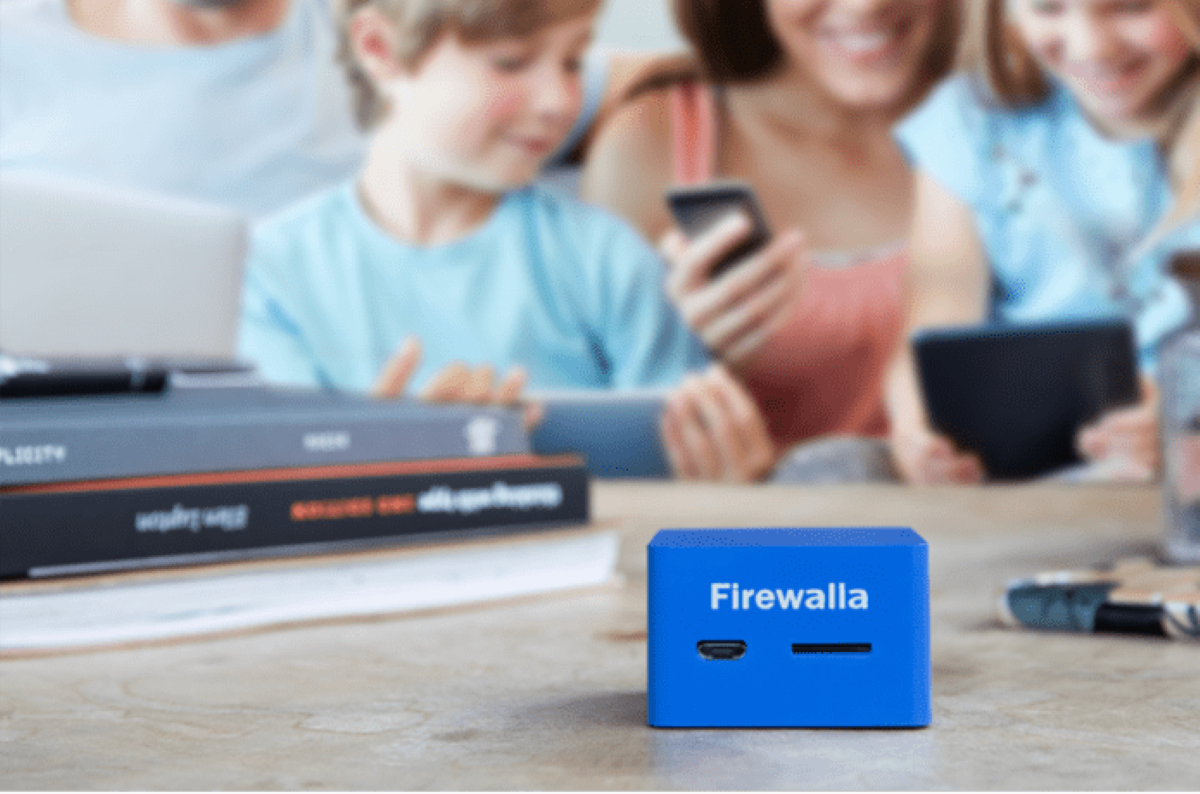 If you're looking for a smart cybersecurity solution that's capable of protecting any devices connected to your home network and/or business network, then take a look at the Firewalla Blue Firewall Device.
While most smart home devices on your smart home might be high-quality products that work great, as soon as they are connected to your home network they are at risk of getting hacked, and the same goes for any business networks; especially when it comes to small businesses. That's where the Firewalla Blue Firewall Device comes in.
The Firewalla Blue is a smart cybersecurity device that's connected to any home or business network, giving home/business owners visibility, protection and control of any smart devices connected to that same network. Smart devices like smart video doorbells, smart locks and smart thermostats will all be secure under the Firewalla Blue's "surveilling eye", and that also goes for your kids' personal devices (computers, smartphones, tablets, etc), protecting them from any malicious links they might try to access.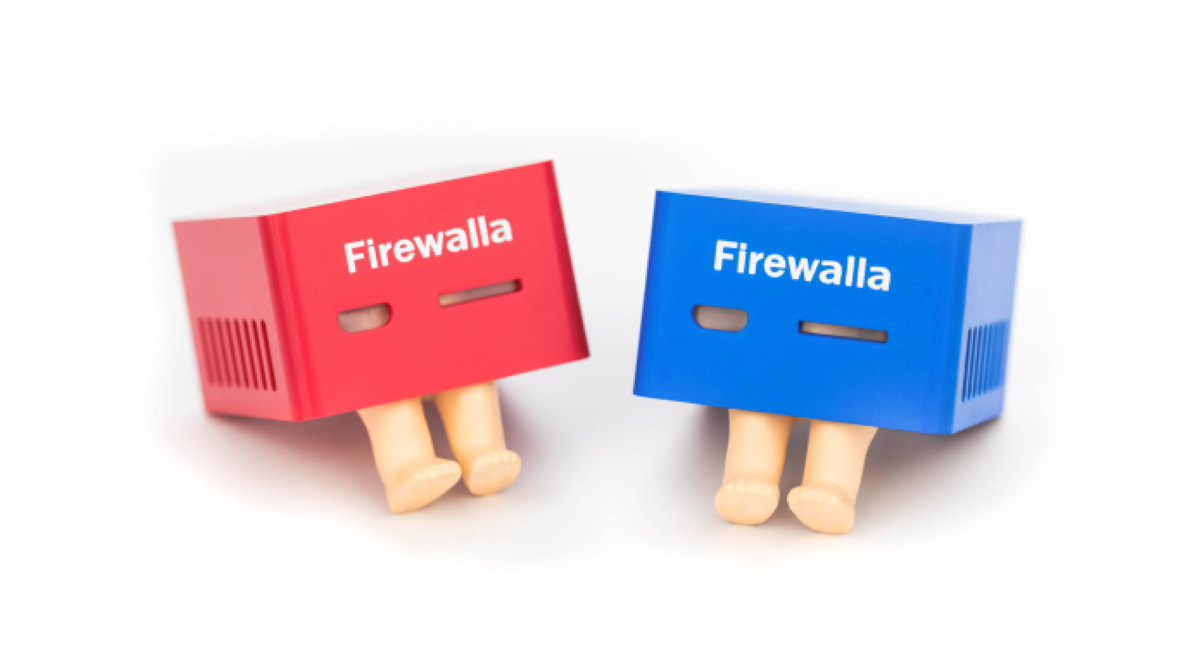 The Firewalla Blue packs a ton of features that make it able to easily protect an entire network. While the company already released a more affordable model in the past (Firewalla Red), the Firewalla Blue has twice the RAM and a more powerful CPU, making it a better choice for networks with higher connection speeds. The Firewalla Red only offers 100Mbit of Network Processing Speed (Software Packet Processing), while the Firewalla Blue will allow all of its security features to run at network processing speeds that are greater than 500 Mbits.
Let's have a fully detailed look at the Firewalla Blue and see what it has to offer.
DESIGN & SPECS
The Firewalla is a small, pocket sized hardware solution that measures 1.8 inches long by 1.8 inches wide by 1.2 inches tall (4.57 x 4.57 x 3.05 cm). The unit's sides are cut-out to allow air ventilation.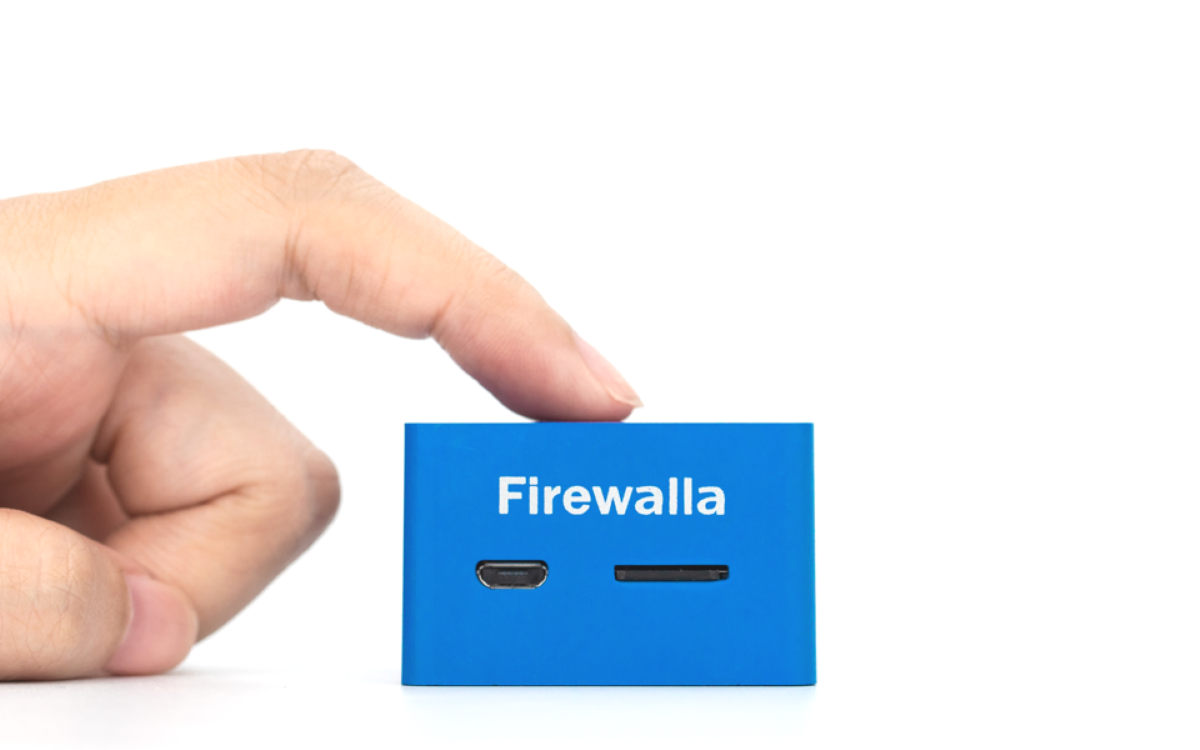 This tiny all-in-one firewall device features a USB port and an Ethernet port on one side, and a micro-USB port and microSD slot on the opposite side. The Ethernet port is used to connect the Firewalla Blue to your router. The micro-USB port is used to power the device via the included power adapter. Its microSD slot is used to read the 16GB microSD card, which holds the latest software for the device.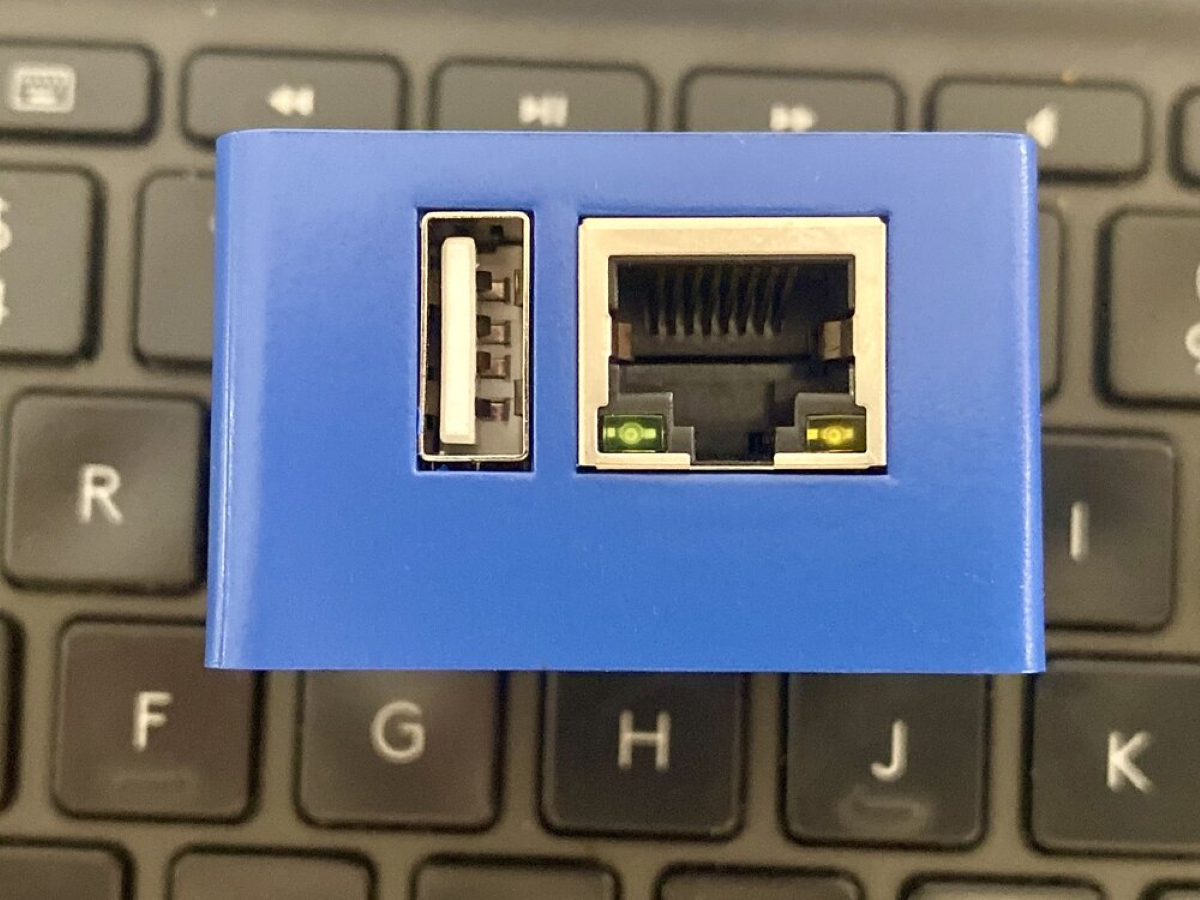 The Firewalla Blue Firewall Device also comes equipped with a 64bit Quad-Core ARM 1.0 GHz CPU and a 1024 Megabyte DDR RAM (Memory). As stated before, the device offers Packet Processing Speeds above 500 Mbits, making it ideal for high-speed networks, internet professionals, and any small businesses. The device also features a VPN Encryption Speed of 70 MB (way more than the Firewalla Red's VPN Encryption Speed of 28 MB).
While the Firewalla Red's Active Protect feature would only protect your network against 1.000 default entries, the Firewalla Blue comes with a way better Active Protect feature – a much more advanced block list that protects your network against 10.000 default entries – 10 times more than the Firewalla Red.
As stated before, the device gives you total network security, providing insight into what's on your network, with features such as showing what computers and mobile devices are doing, Active Protect (its first used feature), Ad-Blocking, simple Parental Controls, and even its own built-in VPN Client and VPN server, which you can use to program the device. The device also includes Intrusion Prevention and detailed reports about Bandwidth Usage. (We'll discuss each feature with detail later on).
WHAT'S IN THE BOX?
Inside the box users will find: their Firewalla Blue device, one Ethernet Cable, one USB Power Cable, a USB based Power Adapter (US style only), and two documents for the included one-year manufacturer warranty and the 30-day return policy.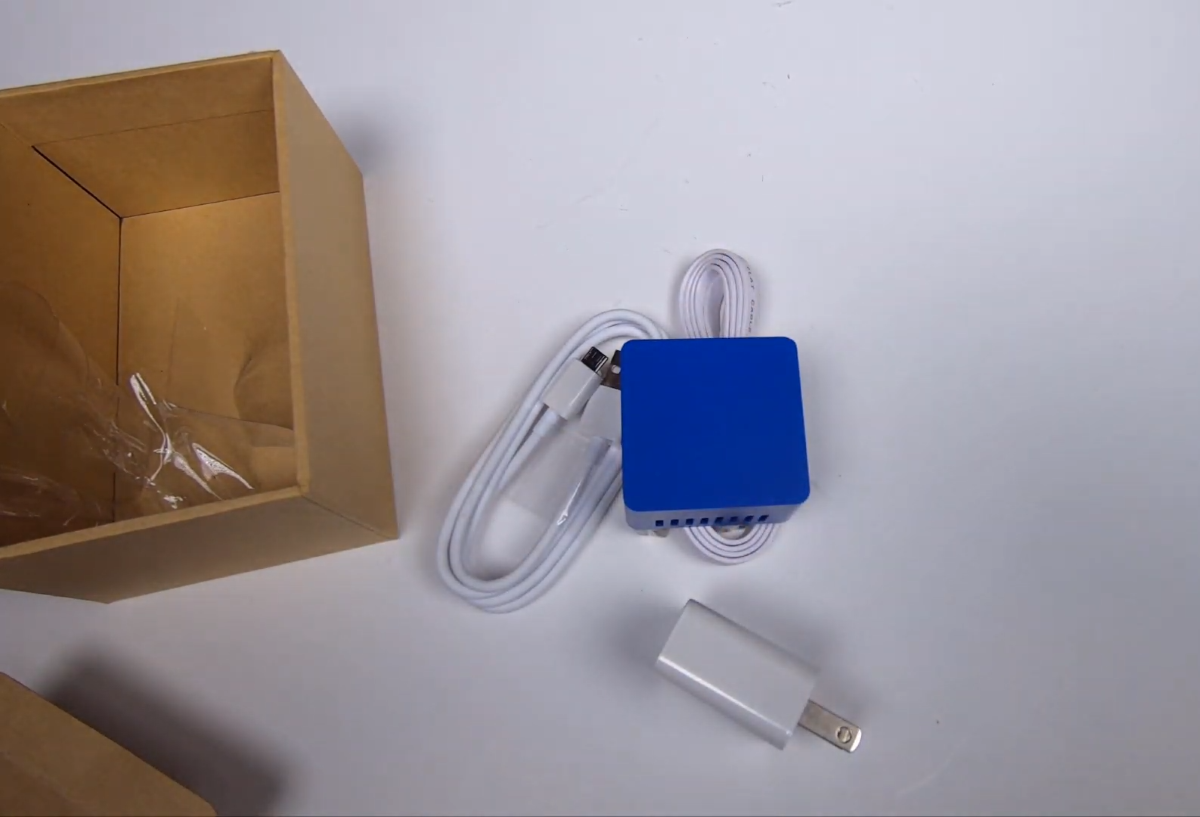 HOW TO SETUP/INSTALL?
Installing the Firewalla Blue is extremely simple. After unboxing your Firewalla Blue and included cables, connect your Firewalla Blue to your primary router (your home/business network) by using the included Ethernet cable.
It's important to note that when using multiple routers you should connect your Firewalla Blue to the same router that provides internet access to your iPhone.
Then connect your Firewalla Blue to any power source via its included USB Power Cable. Either use the included USB power adapter or connect it to your router's USB port (the device needs at least 1-amp (A) current).
After that just download the App (available for iOS and Android), launch the App on your smartphone and sign in as a new user. Lastly, all you have to do is scan the licensed QR code, which can be found at the bottom of your Firewalla device.
After all this is done, you'll be able to monitor and manage your device from anywhere in the world with military strength encryption.
FEATURES
Active Protect
When launching your Firewalla Blue for the first time, the device will immediately secure your network with its Active Protect feature, automatically blocking any dangerous connections, including incoming attacks and outgoing attempts to access dangerous domains. The device will also raise alarms about any suspicious events and keep track of all network activity.
By using the Firewalla App you can configure these alarms and choose what actions are taken in the future.
These alarms can include new devices connecting to your network (unknown devices trying to access your network can be blocked), exposed ports on any smart device, and reports from the Safe Search feature.
Anyone that's experienced with computers can extend the Active Protect feature further by using their own blocking/allowing rules. Users can easily block specific web content by type (gaming, social media, video sites, porn, P2P or gambling), prevent access to specific domains and IP addresses, or even disable internet access from a device entirely. Rules can also vary by time (restricted internet access from Monday – Friday for example, or X-Y) and be applied to specific devices.
Safe Search
Safe Search is a feature used by major search engines like Google Search, YouTube, Bing, and DuckDuckGo to filter adult content out of search results. If anyone enters an inappropriate or suggestive phrase in the search bar, the results will be filtered for offensive content.
This will generate reports of "Gaming Activity" and "Video Activity", like when your kids try to access Steam, Netflix and YouTube. Tapping Allow or Block within the Smartphone App for each action will allow you to configure Firewalla on how to treat these events in the future, like preventing your kid(s) from playing games on a specific device.
If you're not interested in a particular type of alarm, like Gaming or Video Activity alarms, you can tell Firewalla to ignore those so you can focus on the events that you really care about.
Ad-Blocker
Firewalla Blue Firewall Device comes with its own built-in ad blocker, which makes sure that you don't see ads and ads don't see you. While website ads and trackers have been frustrating internet users for years, the Firewalla Blue will help you put a stop to that.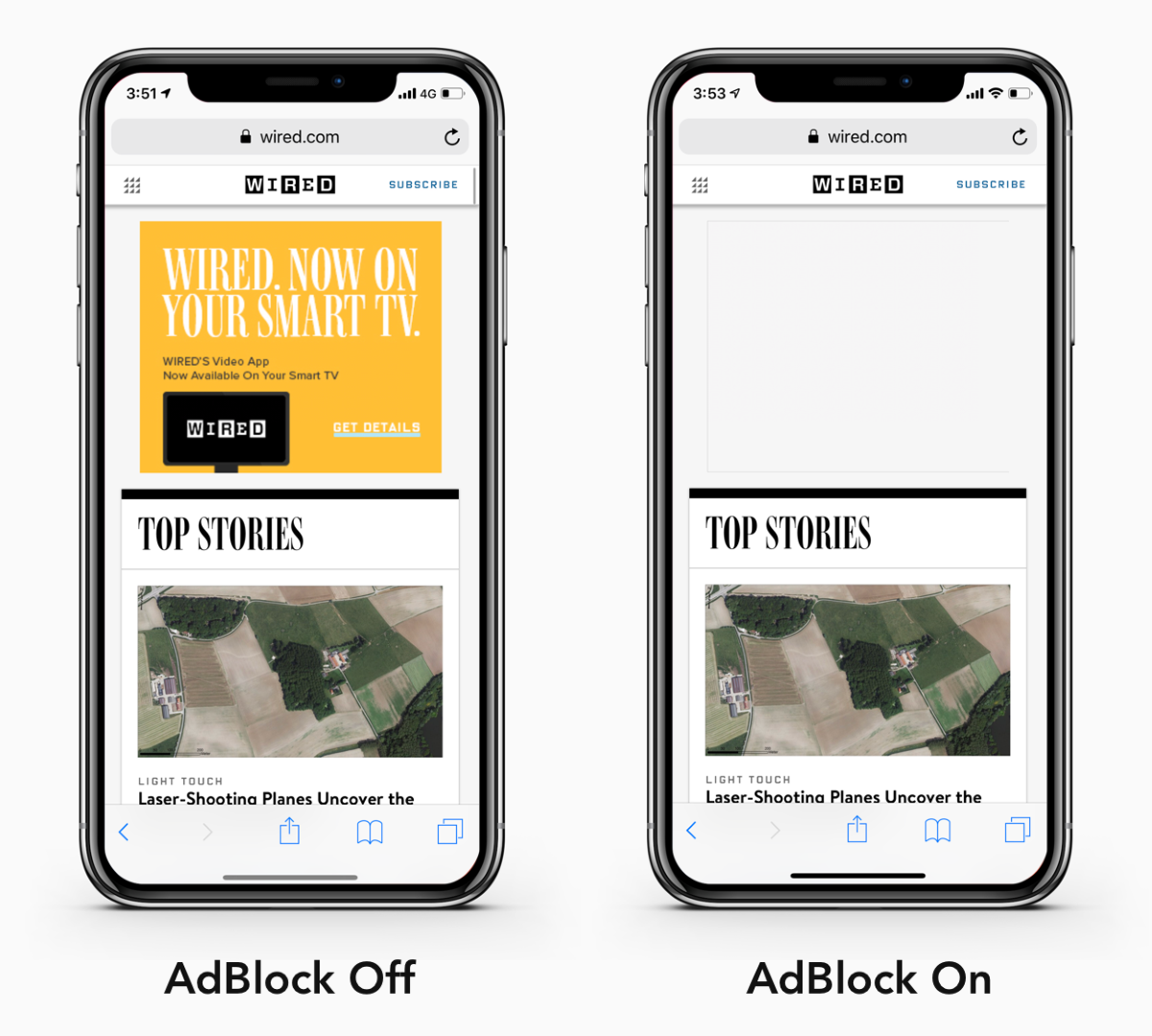 Users can block ads across all devices, while the DNS cache will speed up browsing on all of your devices.
Parental Controls & Family Protect
The Firewalla Blue offers simple Parental Controls that you can use to protect your kids, making parenting an easy task. Sure, parenting is a tough job, but with the Firewalla Blue things will get easier.
With a simple tap of a button parents will be able to restrict internet access, stop any devices from playing online games (Steam, etc), block social networking (Facebook, Twitter, etc), monitor online activity (device monitoring), receive online activity alerts (as explained before), and block malicious and adult content to keep your kids safe.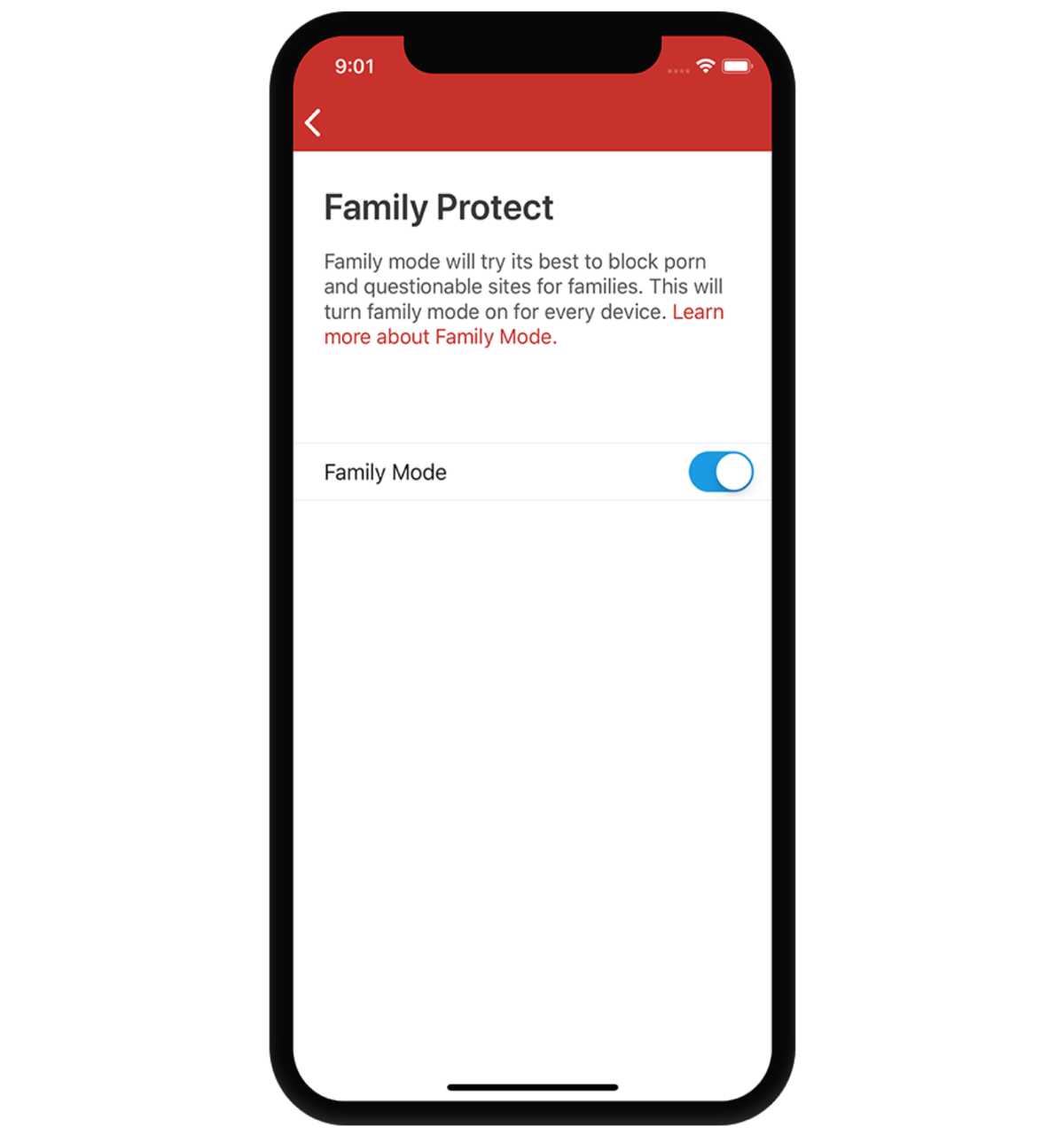 Enabling the Family Protect (Family Mode) will trigger the Firewalla Blue to turn on Family Mode for every device connected to the same network.
OpenVPN server and VPN Client
OpenVPN server
Firewalla Blue also comes with its own Firewalla OpenVPN server, a VPN server that runs inside of your home or business without charging a monthly fee. With it, users can protect themselves, their families and business, and even keep all of their own data private when using public Wi-Fi, with no bandwidth throttling associated with the process.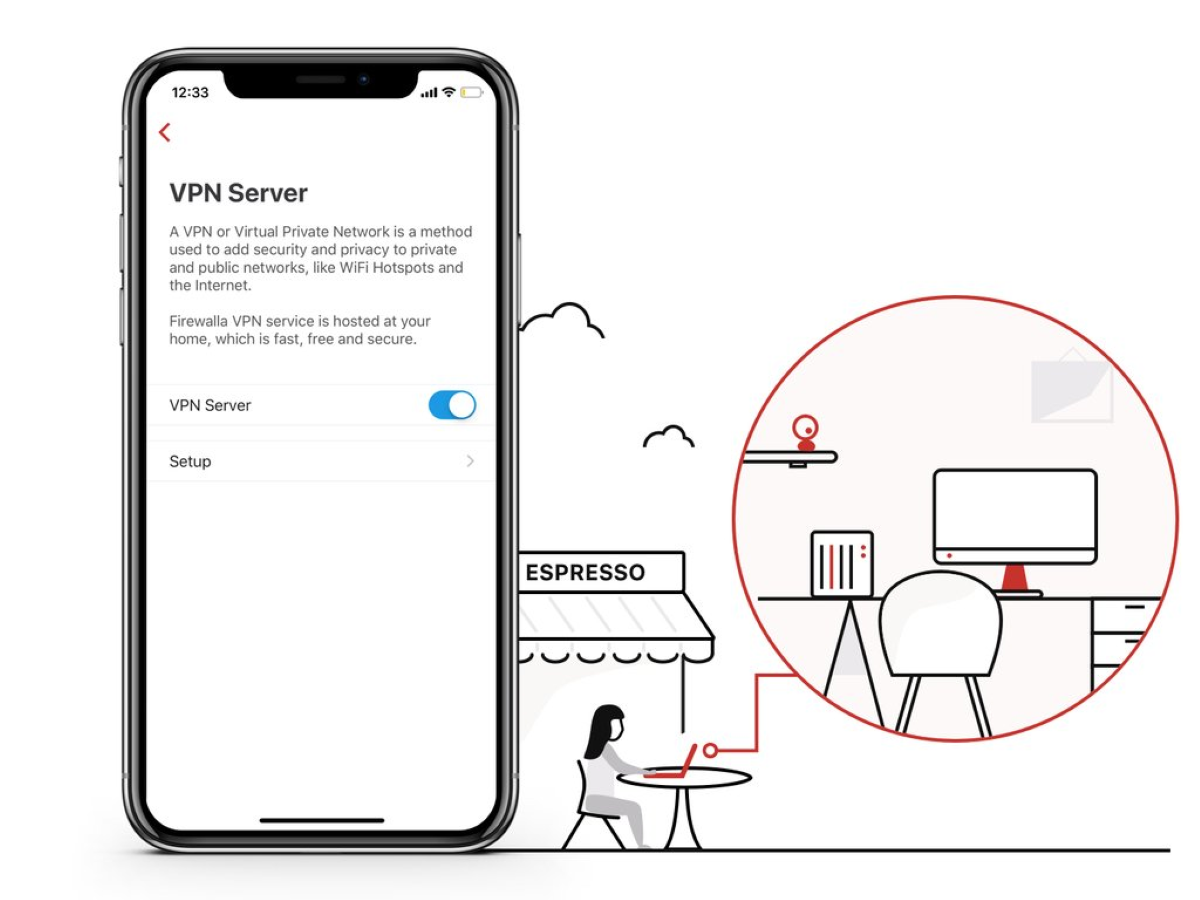 This means that users can surf the web virtually "at home" from anywhere and ultimately bypass internet filtering and monitoring when traveling. As said above, the best part is that no monthly fees are included.
VPN Client
By using Firewalla's VPN Client you'll be able to connect any devices in your network to many OpenVPN based services. Users can connect any IoT devices like Apple TV to third-party VPNs, remotely connect their home devices to another Firewalla, and even connect two sites together with a site-to-site VPN, allowing them to access devices securely in both ways.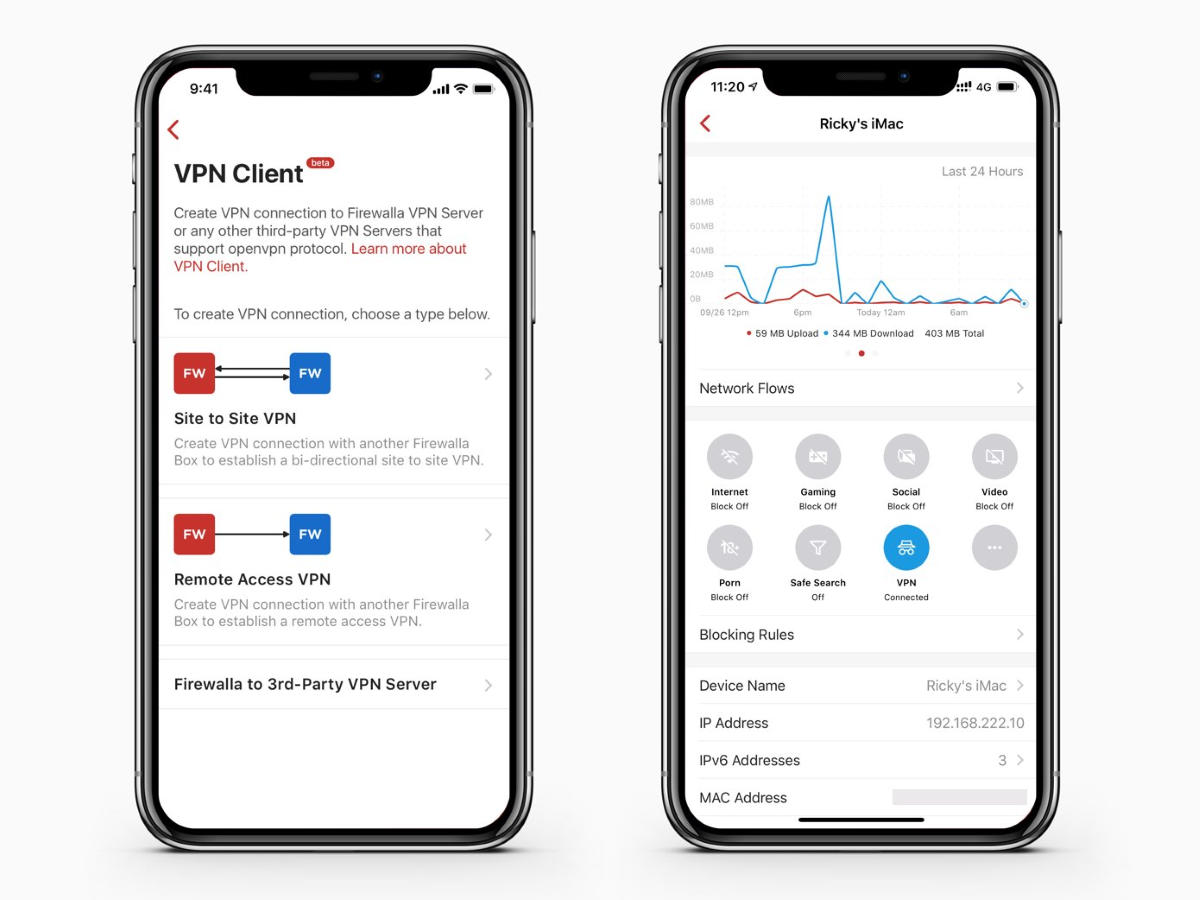 Bandwidth Usage Insights
The firewall device also features Firewalla Deep Insight, which provides detailed summaries of internet usage time. This allows you to dig deep into any device and see the IP or domain address consuming bandwidth and stop it.
Firewalla owners can get hourly, daily, and monthly bandwidth usage summaries, and that includes specific device bandwidth usage stats.  After identifying which domain is consuming the bandwidth owners can simply tap to block internet access.
FINAL THOUGHTS
The Firewalla Blue is a security suite for your entire network. This smart firewall device features Active Protect, Ad-Blocking, Parental Controls, Safe Search filters, and its own built-in VPN Client and VPN server. This gives you total network security and provides you with detailed information about what's on your network.
The device can easily block access to malicious links on all of your smart devices while constantly monitoring your network to alert you about any suspicious Apps, including Intrusion Prevention and Bandwidth Usage.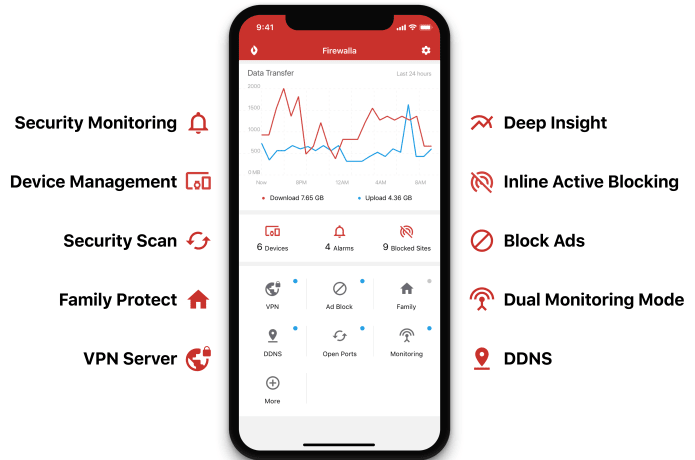 Its simple Parental controls and Safe Searching features keep your kids away from the worst of the web, while built-in ad-blocking speeds up browsing on all your devices.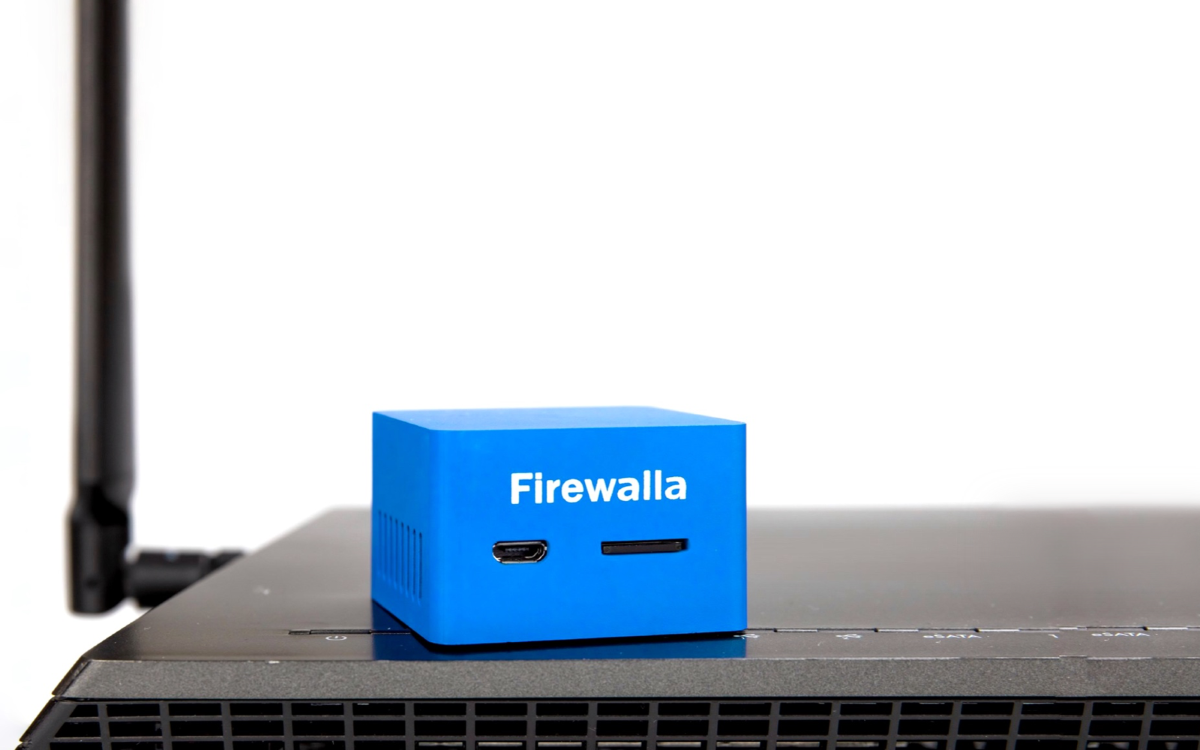 If you're interested in getting the Firewalla Blue Firewall Appliance, each unit is currently discounted from its normal price of $199, currently going for $179 (saves you $20). Each purchase comes with a 1-year manufacturer warranty and can be returned within the first 30 days. You can order yours online right now, by accessing the official shopping page, which you can access by clicking this link.
If you would prefer a cheaper but weaker solution (for slower internet connections – 100 Mbps or under), then you could always go for the Firewalla Red, which is discounted from its normal price tag of $129, currently going for $100 each (saves you $29). You can get it by accessing this link.