The Google Pixel 3A is a lightweight version of the original Google Pixel 3 Smartphone, featuring the same camera, but missing some features. However, it's still reasonable for everyday tasks, failing only at more demanding ones like heavy-duty gaming, so it came at a much cheaper price than the original Pixel 3. With 2020 closing in, it seems like Google will take the same route with its Google Pixel 4, bringing a brand-new Pixel 4A Smartphone during 2020. Which brings us to the Google Pixel 4A leaked images, which were recently shared on a tweet by Twitter user @OnLeaks, as well as shared on Indian tech website 91Mobiles.
And here comes my last late #Christmas gift in form of your very first and early look at the #Google #Pixel4a!
360° video + gorgeous 5K renders + dimensions, on behalf of my Friends over @91mobiles -> https://t.co/rsvRkjVOln pic.twitter.com/sqG6J5knSR

— Steve H.McFly (@OnLeaks) December 28, 2019
GOOGLE PIXEL 4A SMARTPHONE – DESIGN
Overall, the design shows that the Google Pixel 4A will be smaller in size thanks to the narrower bezels relative to the Pixel 3A. The upcoming Pixel 4A will measure 2.73 inches long by 5.76 by inches wide by 0.32 inches tall (69.5 x 144.2 x 8.2mm) when resting on top of a flat surface – 0.35 inches (9mm) tall if counting with the rear camera's slight bump.
FRONT SIDE
According to both leak sources, the upcoming Google Pixel 4A Smartphone will be the first smartphone in the Pixel line to feature a hole-punch front camera (located in its top-left corner). Featured at the front, the Pixel 4A will also pack a bigger flat display screen of around 5.7~5.8 inches (slightly larger than the 3A's 5.6 inches display screen), as well as some thinner bezels when compared to its predecessor. A thin earpiece can also be seen right above the display.

It is still unclear if the Pixel 4A's handset will support Project Soli's Motion Sense technology for gesture controls that Google highlighted on its Pixel 4 line, especially since the Pixel 4A's limited bezel design features bezels that are narrower than the ones on the original Pixel 4.

BACK SIDE
Around the back of the Pixel 4A we can see a matte finish back, as well as a protruding camera hump/block that's devoted to the rear camera. This camera layout is very similar to the one featured on both the Pixel 4 and iPhone 11 smartphones – however, this time around there is only a single sensor and a LED flash. Twitter user @Onleaks did state that there will be more sensors housed within the camera module. A traditional physical fingerprint sensor and Google's classic big "G" logo can also be found on the back.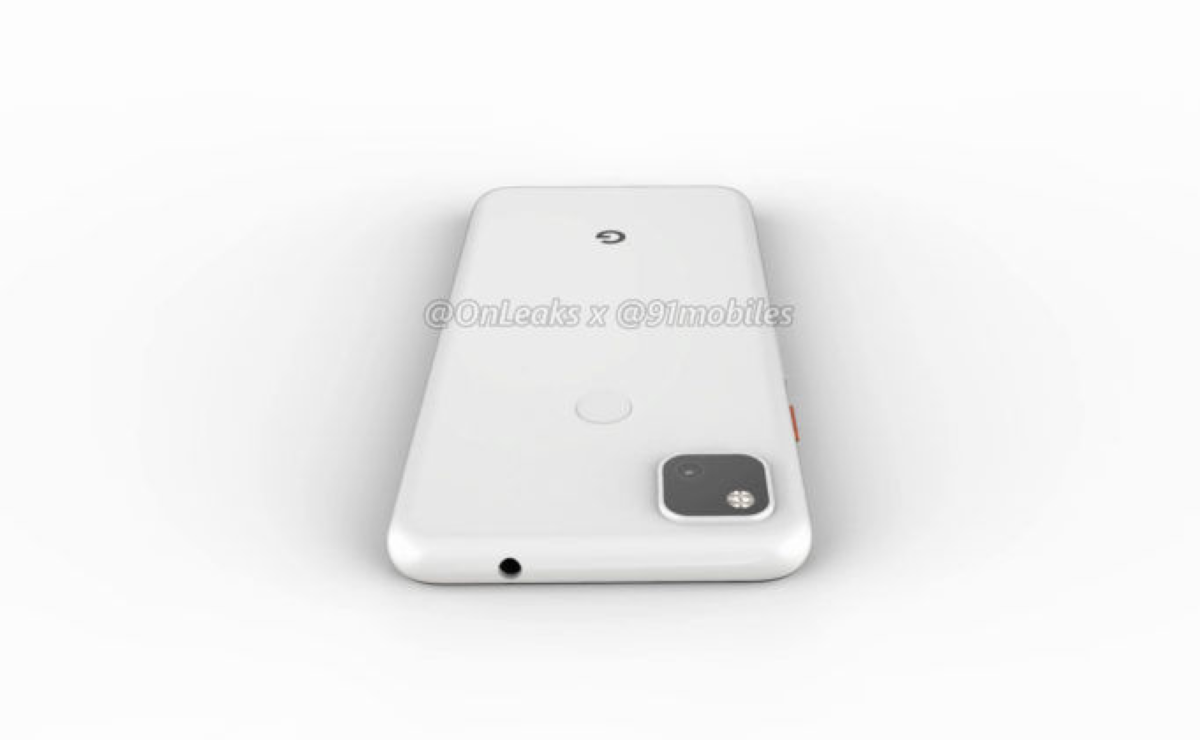 It is also unknown if the upcoming Google Pixel 4A will have two rear cameras like the Pixel 4 or if this presumably cheaper variant will only have one sensor.
RIGHT, LEFT, TOP & BOTTOM EDGES
On the phone's right edge we can see a classic Volume Rocker Button and an orange-colored Power Button. The opposite side – the phone's left edge – is completely empty.
At the top edge we can see A 3.5mm audio jack, while at the bottom edge of the phone we can find the USB Type-C port and speakers, which are positioned around it.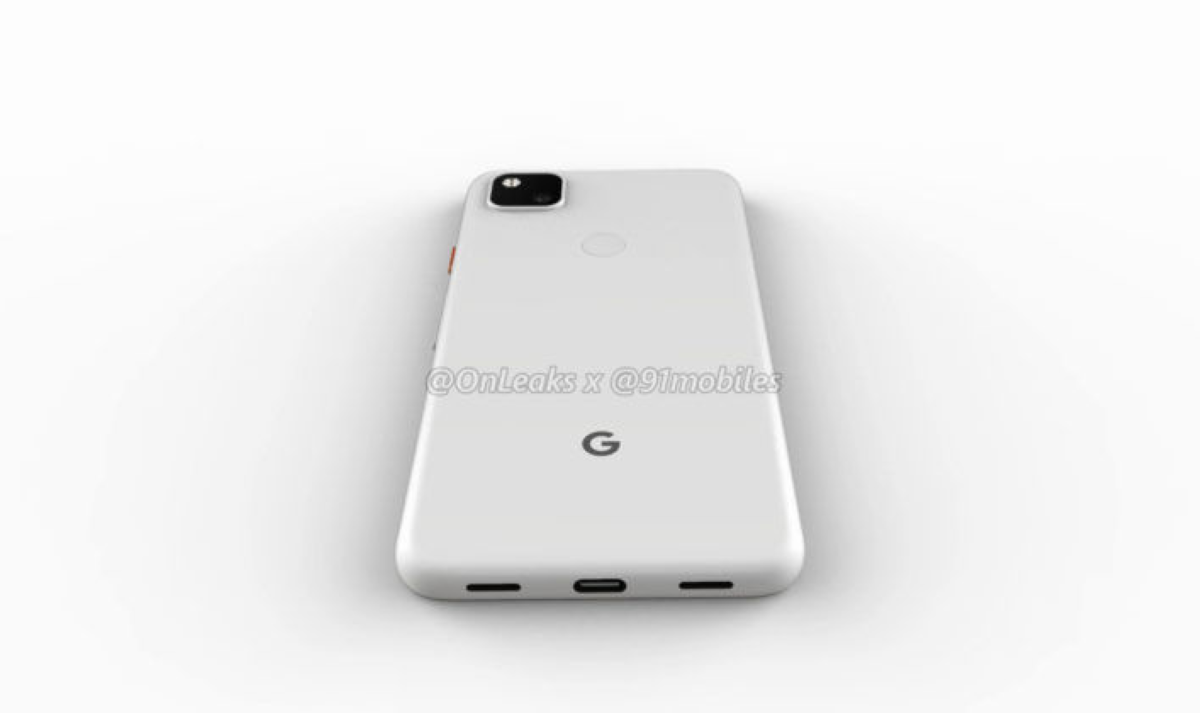 FINAL THOUGHTS
There is not a lot more information available about the Pixel 4A and 4A XL, but it's expected that the two upcoming models will be launched at Google I/O 2020 developer conference, which would mean a launch in the first half of 2020.
Both models will probably come in the classic White and Black colors, as well as in Purple, although the company may decide to add one or two more new colors to keep the new models interesting. Orange would definitely be a cool main color for a special version, swapped with the main usual White body's color, which could then be used for the side buttons.
Supposedly, the smartphone will come with at least 4GB of RAM and 64GB internal storage, as well as a mid-tier chipset – maybe the Snapdragon 730 or 765.
Google Pixel fans and potential future owners can also expect to see the new models featuring a a 12.2MP camera on the back and maybe even 5G support, mainly because this next-gen tech is planned to be launched globally during 2020.