This one is great for music lovers that can't go one day without music in their lives. If you're looking for a new smart speaker for yourself, or maybe even for a loved one that's passionate about music, then the Como Audio Solo Smart Speaker would be a great addition to your house, or even be a great Valentine's Day gift.
The company – Como Audio – has recently released a Valentine's Day Limited Edition of its Solo Wireless Smart Speaker.
Roughly translated, "Solo" in Italian means "alone". However, when listening to Como Audio's Solo music you'll feel anything but that (loneliness), because the Solo Smart Speaker unlocks a brand-new world of musical entertainment.
The Como Audio Solo Smart Speaker features many different music sources including FM radio, internet radio, Bluetooth streaming, and Wi-Fi connectivity, allowing you to tune to an Internet radio station at any time from the other side of the globe, enjoy over 35 million songs from Spotify Connect, or stream your favorite music via Bluetooth wireless technology.
With the Solo as your music concierge you'll never have to worry about getting a new smart speaker ever again, as this one even integrates Voice Assistant features like Voice Assistant Support to Amazon Alexa (via the Amazon Dot) and the Google Assistant (via Google Chromecast), allowing you to control the Solo with voice commands.
Let's take a detailed look at the Como Audio Solo and check both its specs and all its cool features.
DESIGN & SPECS
The Como Audio Solo is a sturdy smart speaker that measures 9.45 inches long by 4.72 inches wide (5.13 inches wide (130.5 mm) when including its antenna) by 4.92 inches tall (5.19 inches tall (132 mm) when including its feet) (240 x 120 x 125 mm), weighing 4.2 lbs. (1.91 kg).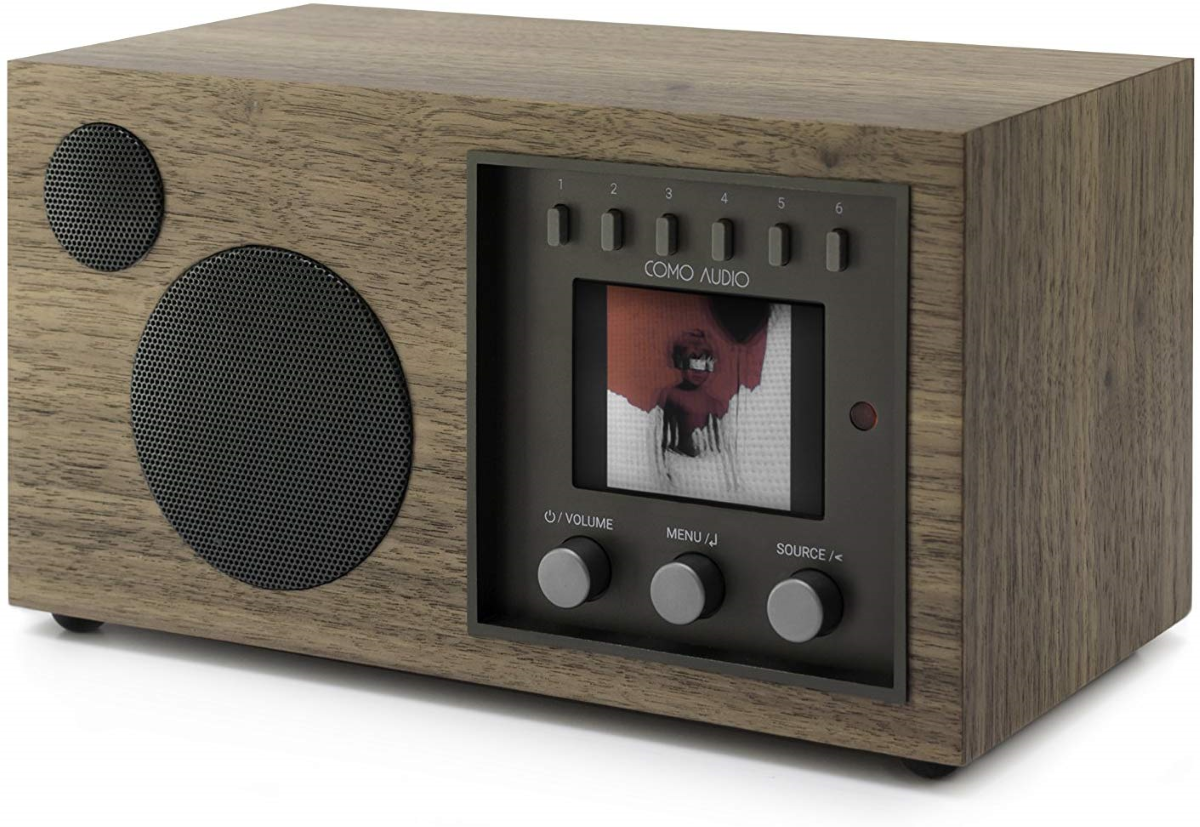 The Solo's stylish design features furniture-grade, real wood veneers and multi-layered piano gloss finishes, as well as anodized/painted metal knobs and control panels that contribute to its sophisticated look. You can choose from a total of 5 different color models, including Como Audio's Valentine's Day Limited Edition to complement your house's décor.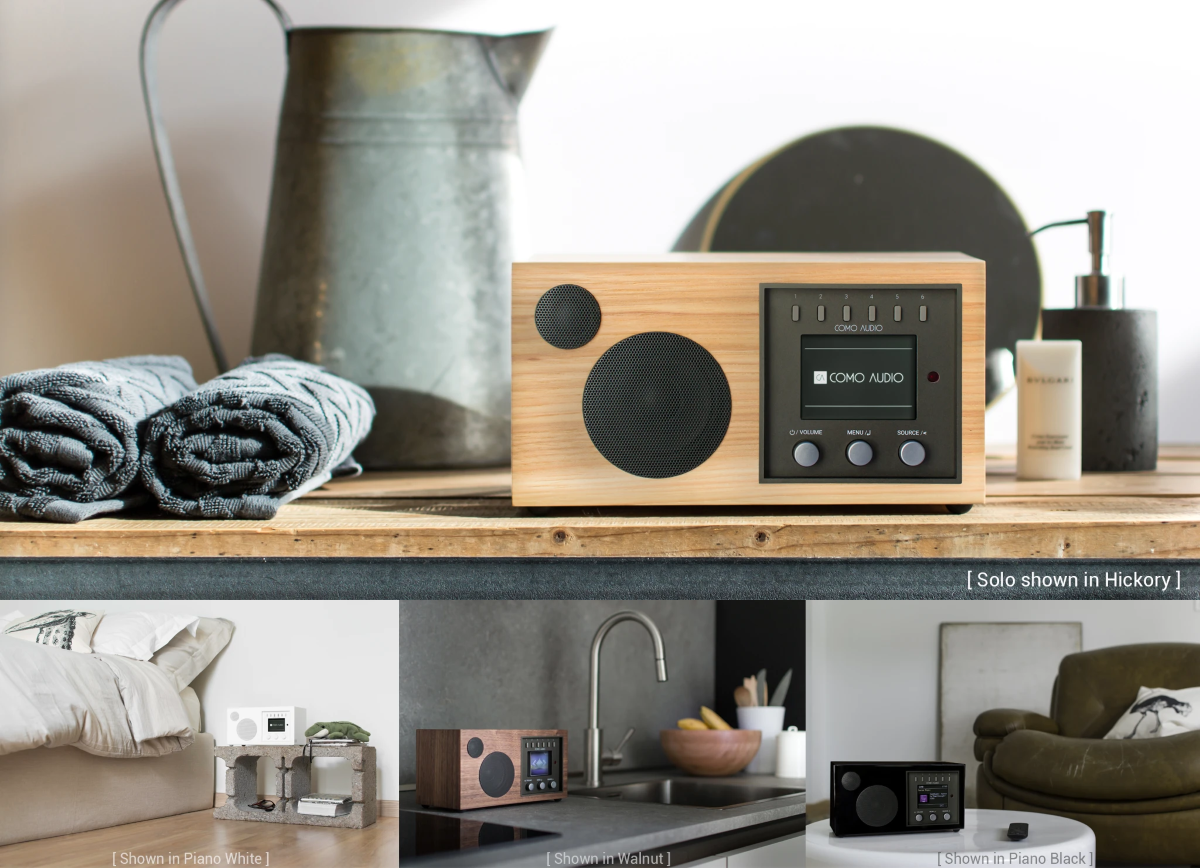 The Solo Smart Speaker was also designed to deliver the best sound quality – it was designed with a nearly 1/2″ thick MDF enclosure that dampens extraneous vibration and yields consistently high-quality sound.
The Solo comes equipped with 19mm soft dome tweeters that ensure extended high-end response, while its custom 3″ long-throw, 4-layer voice coil woofers result in exceptional bass. The Solo's tuned rear bass port(s) offer efficient bass response and extended range. Its class D digital amplifier delivers 30 watts per channel RMS, making it enough power to faithfully reproduce your favorite tunes and fill a room with beautiful, high-quality sound. Thanks to its Custom Digital Signal Processing, the Solo Smart Speaker can easily bring its users a very accurate sound reproduction.
The Solo also offers multi-format media support as it can easily read and navigate through multiple file formats including AAC+, MP3, WMA, WAV, FLAC, and ALAC.
The Solo's adjustable EQ provides bass, treble, balance, and loudness controls, allowing you to tailor the sound to your liking.
The Como Audio Solo also comes equipped with a built-in large color display that gives you full access to a wealth of functions and information, featuring an easily navigable, multi-language interface.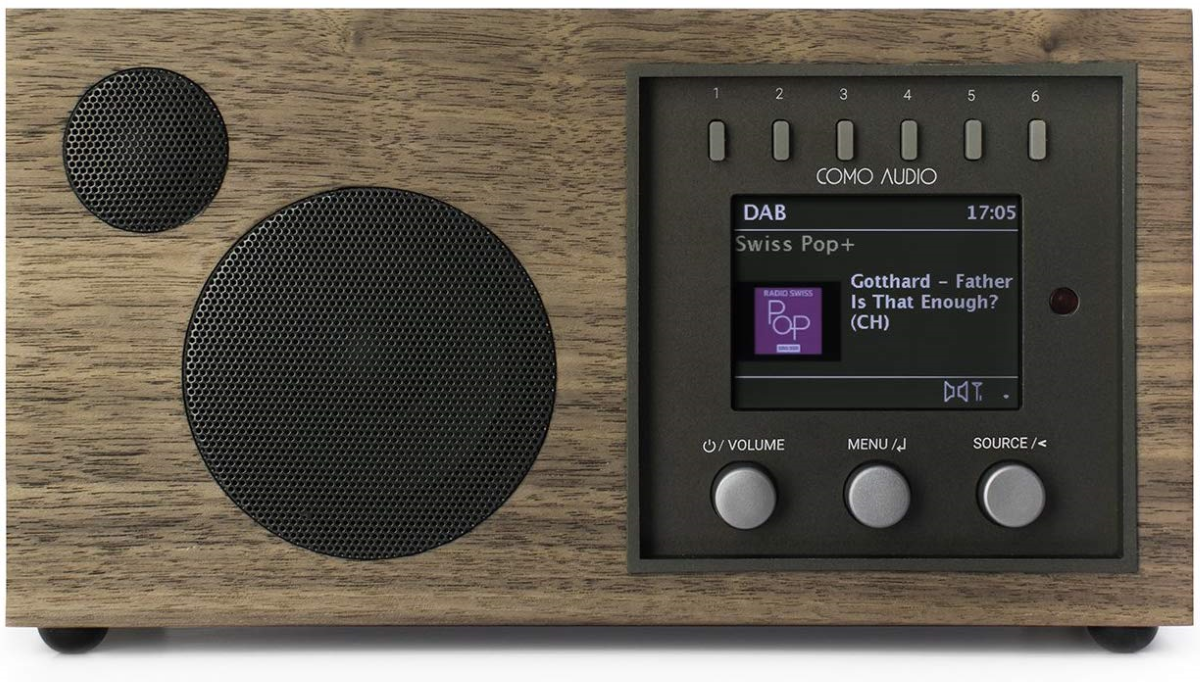 Its 2.8″ TFT (thin-film-transistor) LCD display will reproduce your Spotify albums while showing their album cover art as well as any station logos from the Internet radio stations you select, all in full color, unlike monochrome LCDs. There's also a backlight adjustment that allows you to control the brightness of the LCD display.
The Solo also comes with an on-unit control panel, featuring multi-purpose knobs and buttons on its display panel that offer users direct control over the system without having to use the App or the included Remote-Control (both discussed further ahead).
This smart speaker is also energy efficient, consuming up to 1.5 watts when in standby mode, or 22 watts when you have it at full volume (and 23 watts with the Como Audio Ambiente connected to it).
The Solo features an internal power input of 100-240V, 50-60Hz when using the included power cord, as well as a 20VDC/3A input for use with an external adapter (which is not included) instead of using the proprietary power cord.
With the included handheld, ergonomically styled Remote-Control users have another way of controlling many of the Solo's major functions.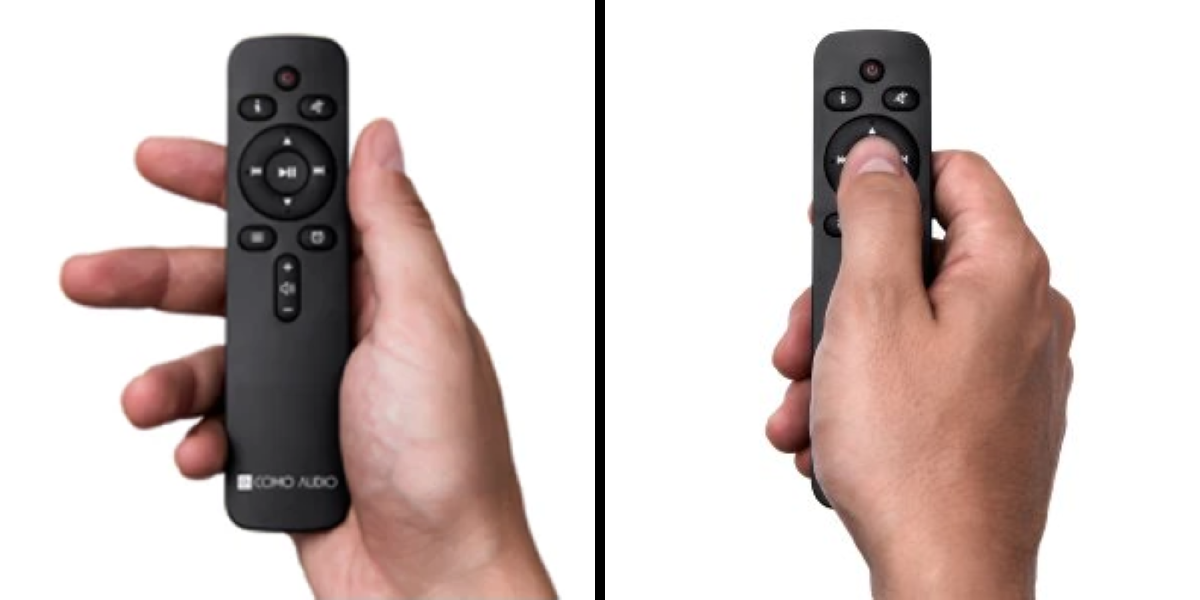 CONNECTIVITY
The Como Audio Solo Smart Speaker features both Bluetooth Connectivity (Bluetooth 4.1) and Wi-Fi Connectivity, supporting the most common Wireless Standards (802.11 a/b/g/n), as well as connectivity with 2.4/5GHz routers and WPA2.
The Solo also features a USB Input for music playback from a USB flash drive or other mass storage devices, but you can also use it to recharge many smartphones.
This Smart Speaker also comes equipped with Stereo Headphone & Line Outputs, which allow you to listen to your music system over headphones, or output your music to an alternate media device (any other speakers, etc.) if you choose to do so.
Furthermore, the Solo also comes with an Optical Hi-res Input to connect audio from a TV for superior high-quality sound, as well as two Hi-Res 3.5mm Auxiliary Inputs that support up to 24 bit/192KHz.
WHAT'S IN THE BOX?
Inside each package users will find: their Como Audio Solo Smart speaker, the included Remote-Control, the included power cord to power up the device and a User's Manual.
FEATURES
Multi-Room Support for Multiple Music Systems
The Como Audio Solo also features Multi-Room Support for multiple music systems, allowing you to place other Como Audio products throughout your home and control all of them via the Smartphone App (Como Control App – discussed at the end of the article).

This means that you'll be able to have up to five (x5) units per group and up to five (x5) groups per home depending on your Wi-Fi network, all with support to one-touch streaming and Hi-Fi sound.
5 Different Music Sources (Bluetooth, Direct Wi-Fi, FM Radio, Internet Radio, Spotify)
Bluetooth Streaming
With the Solo's Bluetooth Streaming users can enjoy Bluetooth 4.1 A2DP with aptX audio. This way, users can enjoy wireless music streaming with their Solo displaying artist and song information (if available) while its aptX audio codec allows for CD-like sound quality from enabled devices.
The Solo's Bluetooth Connectivity also kicks-in as an alternative music source in case that your Wi-Fi network suddenly becomes unavailable.
The Solo also supports NFC (Near Field Communication), eliminatings the need for traditional Bluetooth pairing and connecting. All you have to do is place your NFC-compatible smartphone above the Solo's NFC logo and you're ready to jam to your favorite tunes.
Direct Wi-Fi Streaming
The Solo also features Wi-Fi Connectivity, allowing you to wirelessly stream music from any enabled computer via your existing Wi-Fi network, which also excludes the need for any separate bridges or modules.
FM Radio
Thanks to the Solo's external FM antenna you can easily tune to your favorite local radio station, while its FM RDS (Radio Data System) provides song and artist information, as well as radio station information (when available), which will all be displayed in the Solo's full-color LCD display.
Internet Radio
With the Solo's Internet Radio, you'll have access to over 30.000 free online radio stations and Podcasts from around the world.
Spotify Connect
The Solo Smart Speaker also features Spotify Connect, giving you full access to over 35 million songs directly from Spotify's servers.
This means that you won't have to use your smartphone or tablet to connect to Spotify when you're at home, which ultimately results in uninterrupted music while allowing you to maximize the battery time of your portable devices (smartphones, tablets, smartwatches, etc.).
Six Independent Presets & Online Radio Stations "My Favorites" List
The Solo also supports up to six different Presets, allowing you to save your favorite stations and media sources, and instantly select them regardless of what source you are in.
All you have to do is select one of your favorite stations or media sources with the push of a single button and the Solo will power on and start rocking your tunes.
The Solo also features a "My Favorites" List that provides almost unlimited storage for your favorite Internet stations.
Classic Alarm Clock Functionality
The Solo Smart Speaker also features an analog clock display, which you can also switch to digital at any time, if you prefer it. This brings you Dual Independent Alarms that come with scheduling options, snooze, and a sleep timer. There are multiple alarm source options, including Internet radio, FM, and more.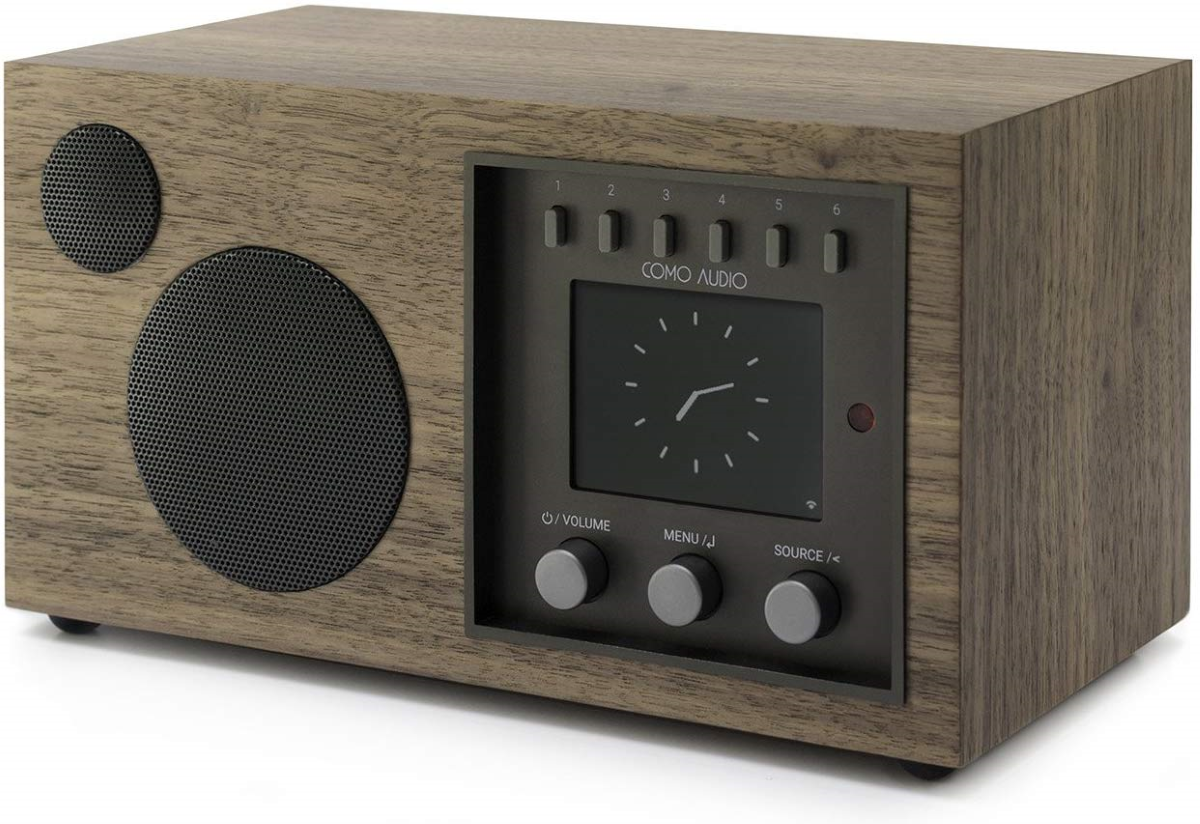 Thanks to its Wi-Fi Connectivity, the Solo Smart Speaker will automatically update the clock's time and date.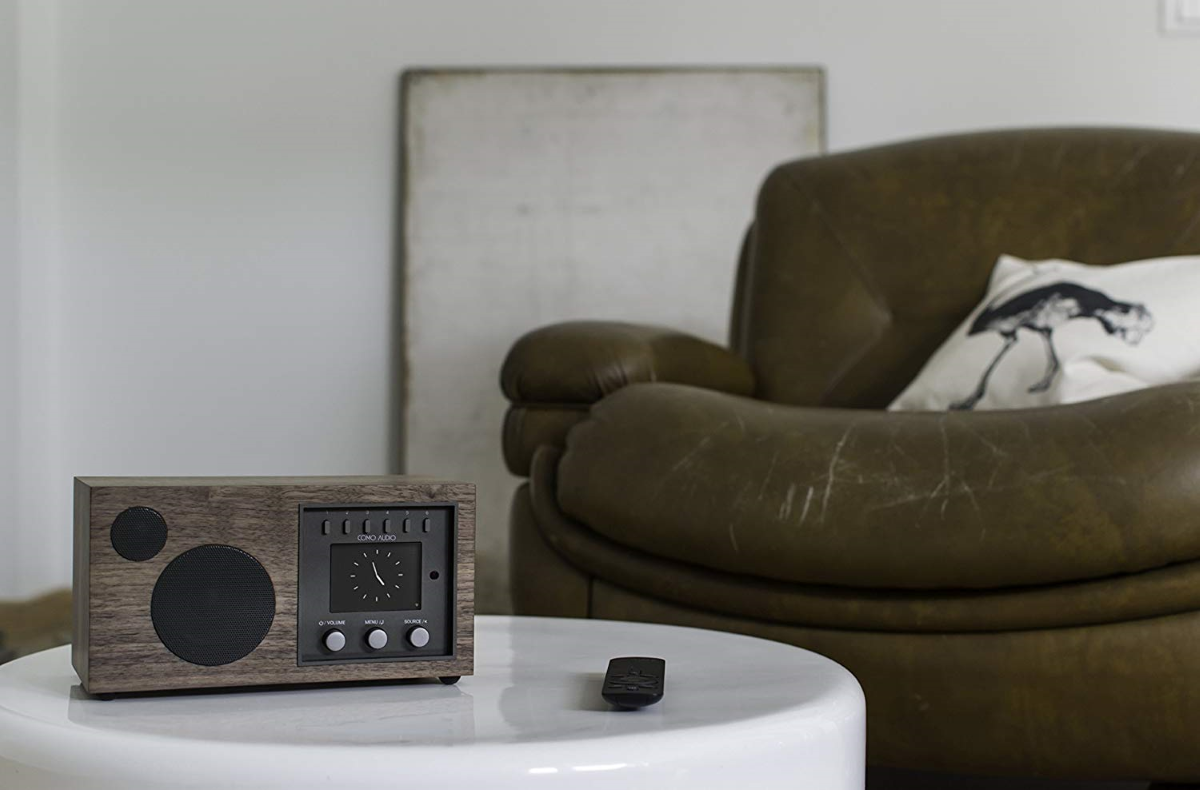 Voice Assistant Support
When connected with other Voice Assistant-enabled devices the Solo also brings you voice commands to control your favorite tunes.
The Solo is Google Chromecast- and Amazon Dot–ready. Just connect Google's dongle with an audio cable to the Solo's Aux input or connect an Alexa-enabled device (like the Amazon Dot) to the Solo wirelessly (via Bluetooth).
COMO CONTROL SMARTPHONE APP
With the Como Control App (which is free for both iOS & Android) users can use their smartphone or tablet to change volume, source, presets, equalization, tune stations, and control multi-room functions.
FINAL THOUGHTS
The Como Audio Solo Smart Speaker lets you listen to your favorite tunes via Bluetooth, Direct Wi-Fi, FM Radio, Internet Radio, and Spotify Connect, all without ever needing a smartphone or device for most of its functions.
As you can see, this Smart Speaker is probably one of the best on the market, packing a ton of cool features. The speaker features a stylish design and integrates a full-color LCD display and an easy-to-use interface that features multi-purpose knobs and buttons.
There are five different color models currently available: the Valentine's Day Limited Edition (Piano White and Pink), Walnut, Hickory, Piano Black, Piano White.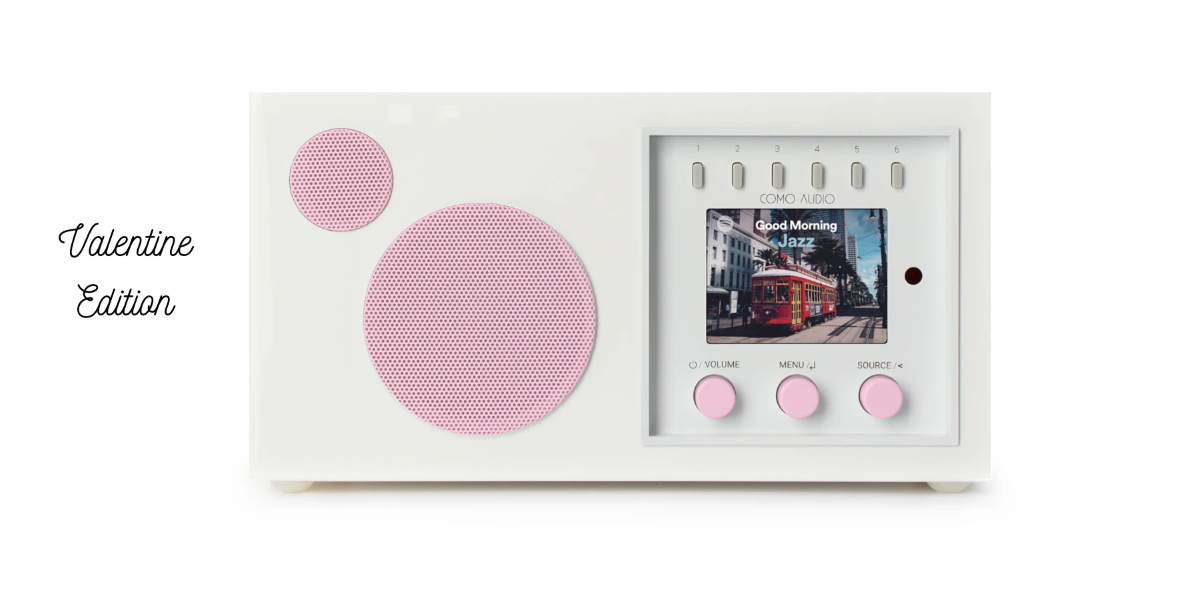 If you're interested in buying the Como Audio Solo Smart Speaker, the Walnut color model is currently going for $299, while all other four color models (including the Valentine's Day Limited Edition) are going for $349 each, and each unit also comes with a 2-year warranty.
You can get your Solo Smart Speaker online by ordering it directly from Como Audio's corresponding shopping page, which you can access by clicking this link.