If you're looking for some great dog apparel to help you train your dog, then the Paw Lifestyles Dog Treat Training Pouch is the perfect dog owner gear to do just that.
Whether you're looking to train your dog for potty time when going outside for your daily walk or when exploring the outdoors, or just training your dog for good behavior when going for a walk in the park, the Paw Lifestyles Dog Treat Training Pouch is all you need.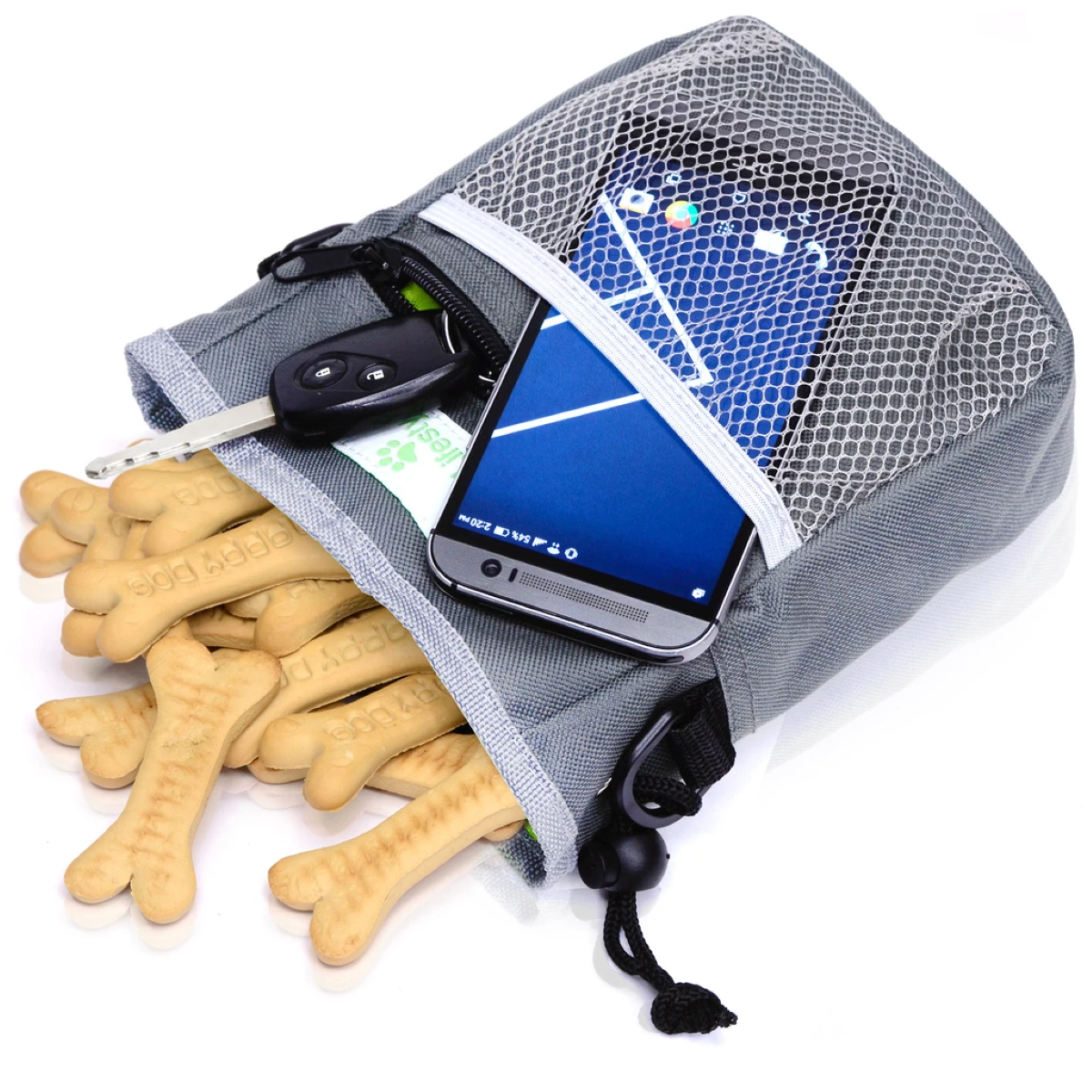 This dog pouch is an all-in-one lightweight training pouch that adds a new level of freedom and enjoyment when taking your dog on a walk or a trip to the dog park.
With this handy dog treat pouch you'll never have to clumsily search for treats again when you're looking to reward your dog for his good behavior. The Paw Lifestyles Dog Treat Pouch allows you to focus more on your dog and less on searching everywhere for treats, you dog's toys, or even your own personal items.
Let's take a detailed look at the Paw Lifestyles Dog Treat Training Pouch and check everything it has to offer.
DESIGN & SPECS
The Paw Lifestyles Dog Treat Training Pouch measures 5 inches long by 2.5 inches wide by 7 inches tall and it is extremely lightweight, weighing just 6.4 oz.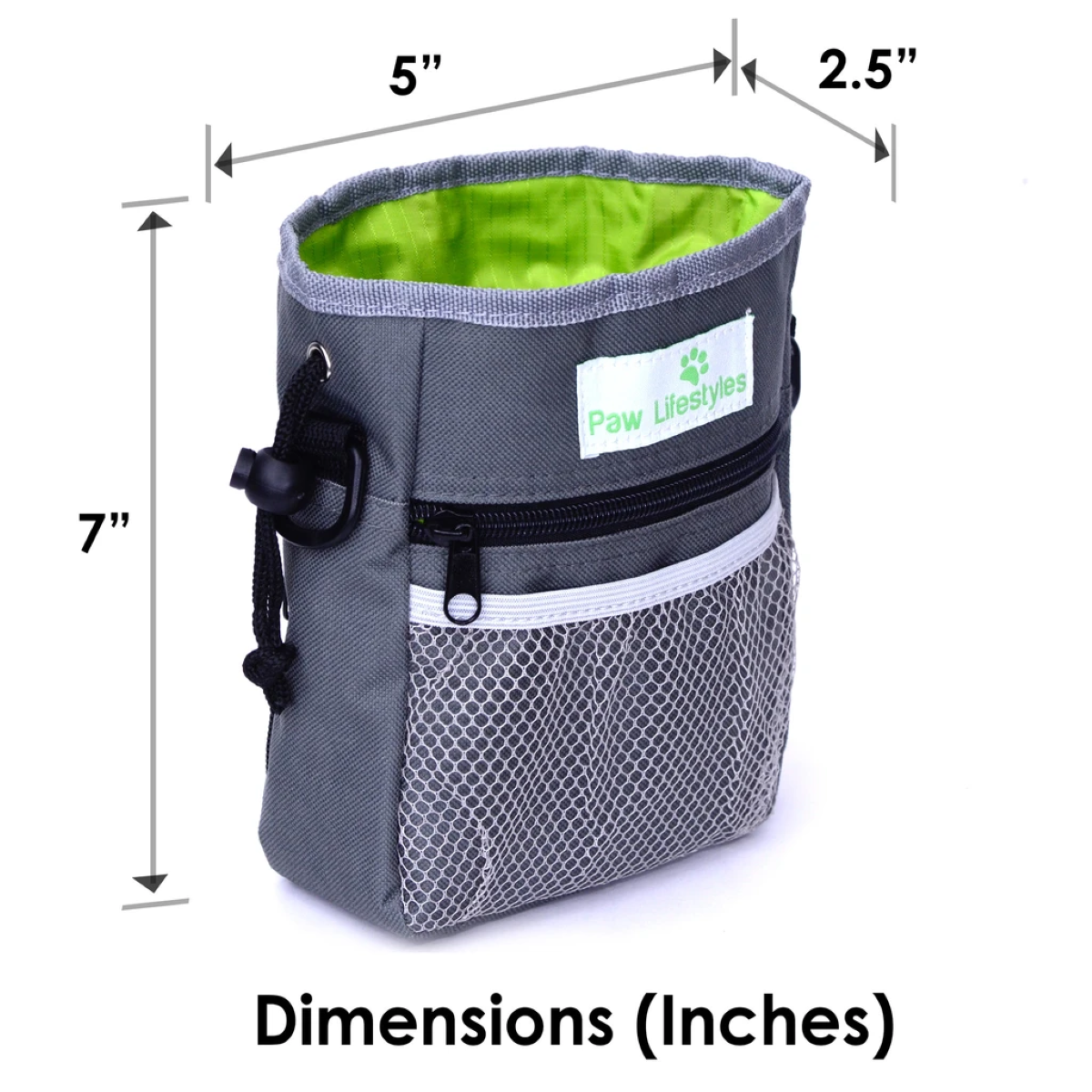 This dog pouch is also extremely durable and is constructed of lightweight rugged nylon that stands up to sun, rain and snow alike, withstanding any weather conditions like a true champ.
The dog pouch features a unique and cleaver design that's focused on convenience. The pouch comes with a total of 4 storage compartments and also includes a dog poop bag dispenser (located at the back).
At the very front of the pouch there's a high-quality mesh for easy storage, followed by a weatherproof zippered storage compartment (closer to the middle) for some small personal items (like a smartphone, earbuds, money, car keys and/or house keys, etc.), keeping their items completely safe from all weather elements (rain, sun, etc.).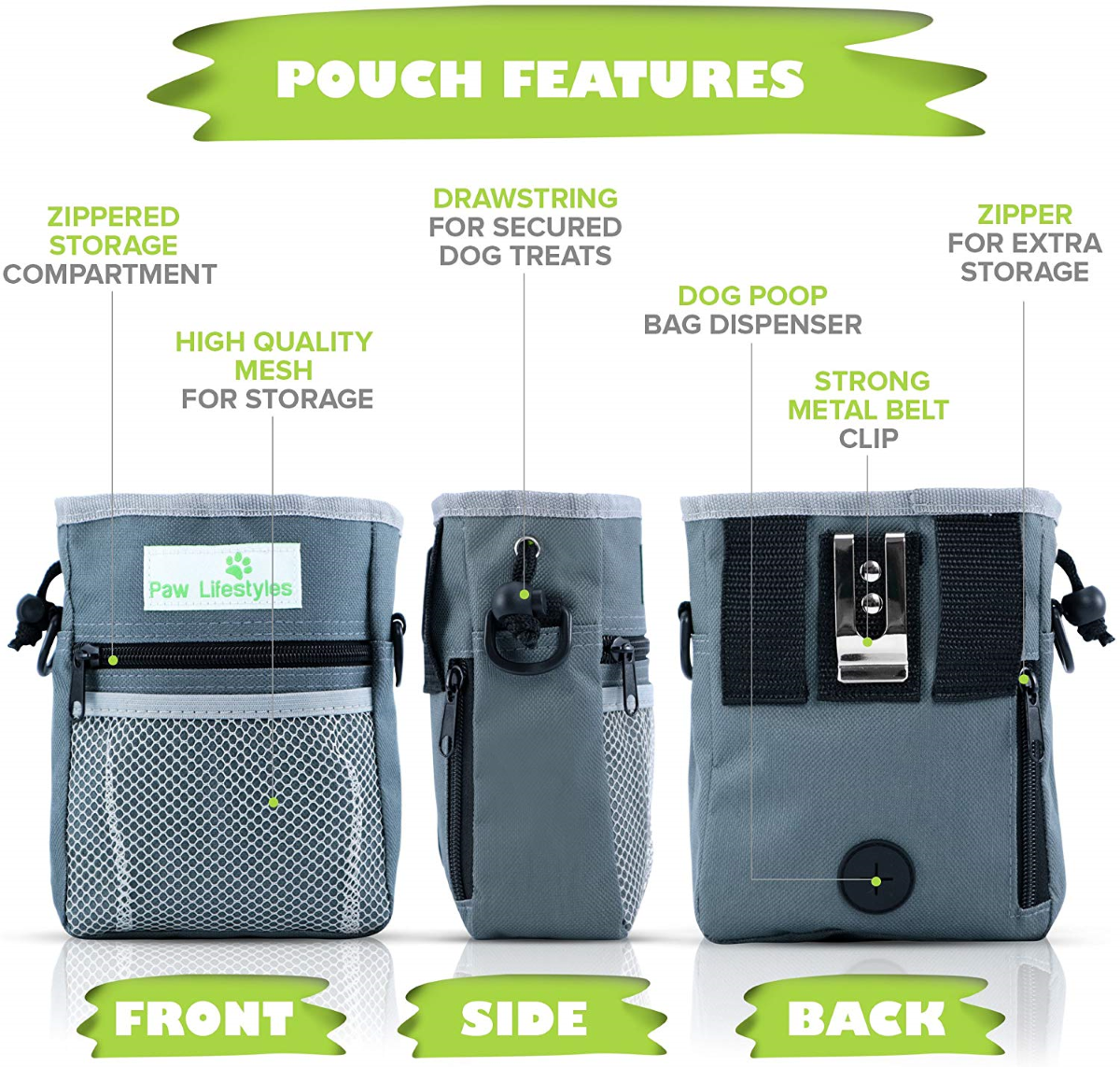 At the middle, owners can find the pouch's perfectly sized storage compartment, which lets them carry their dogs' favorite snacks, toys, kibble, and accessories.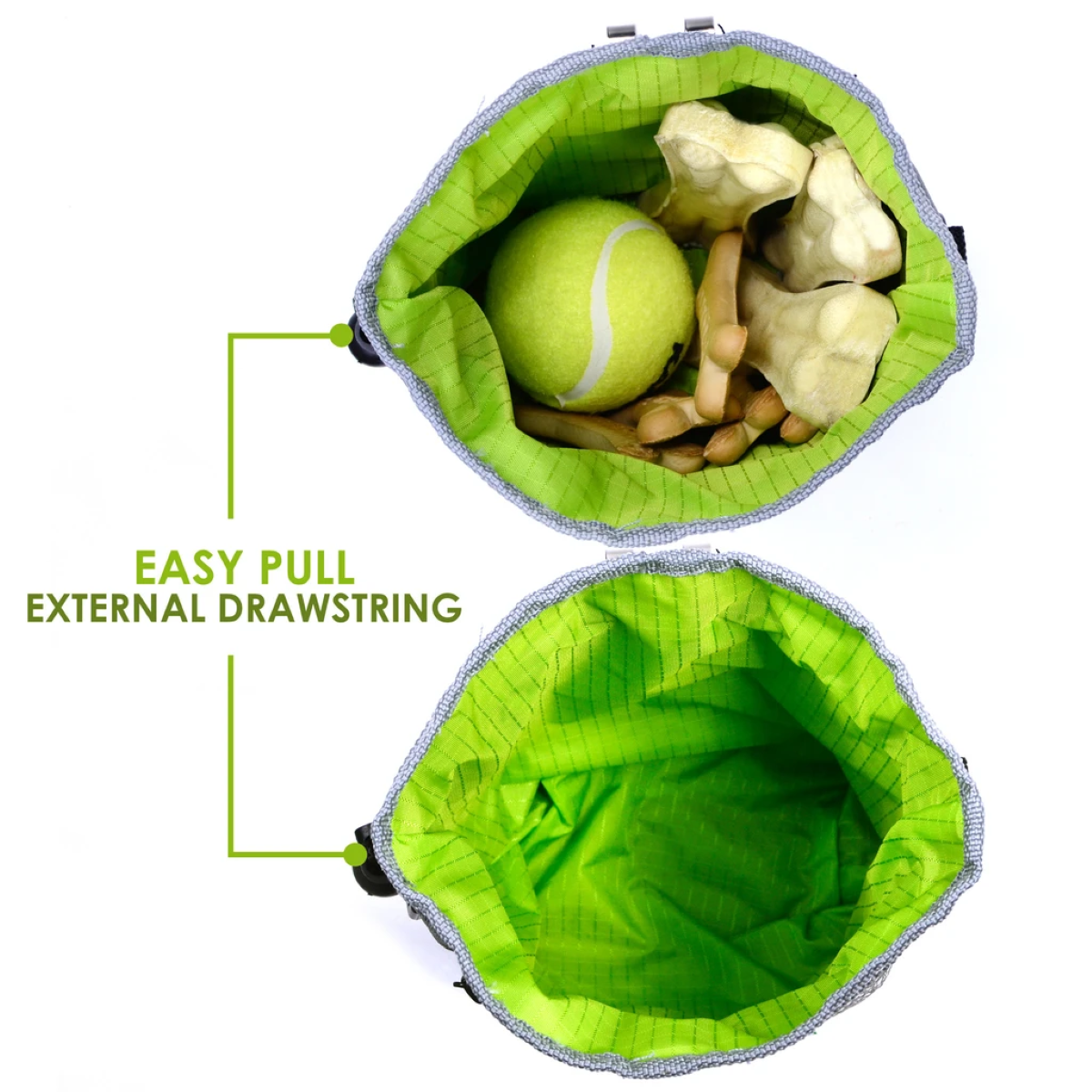 This specific compartment can be closed with the pouch's easy-to-pull external drawstring, allowing dog owners to securely close or open the top of the pouch to keep their items secure.
The middle compartment is also reversible for cleaning purposes, and it's inner material – weatherproof bright green lining nylon fabric – is water-proof and extremely easy to clean, allowing owners to keep their dog's treats dry and fresh.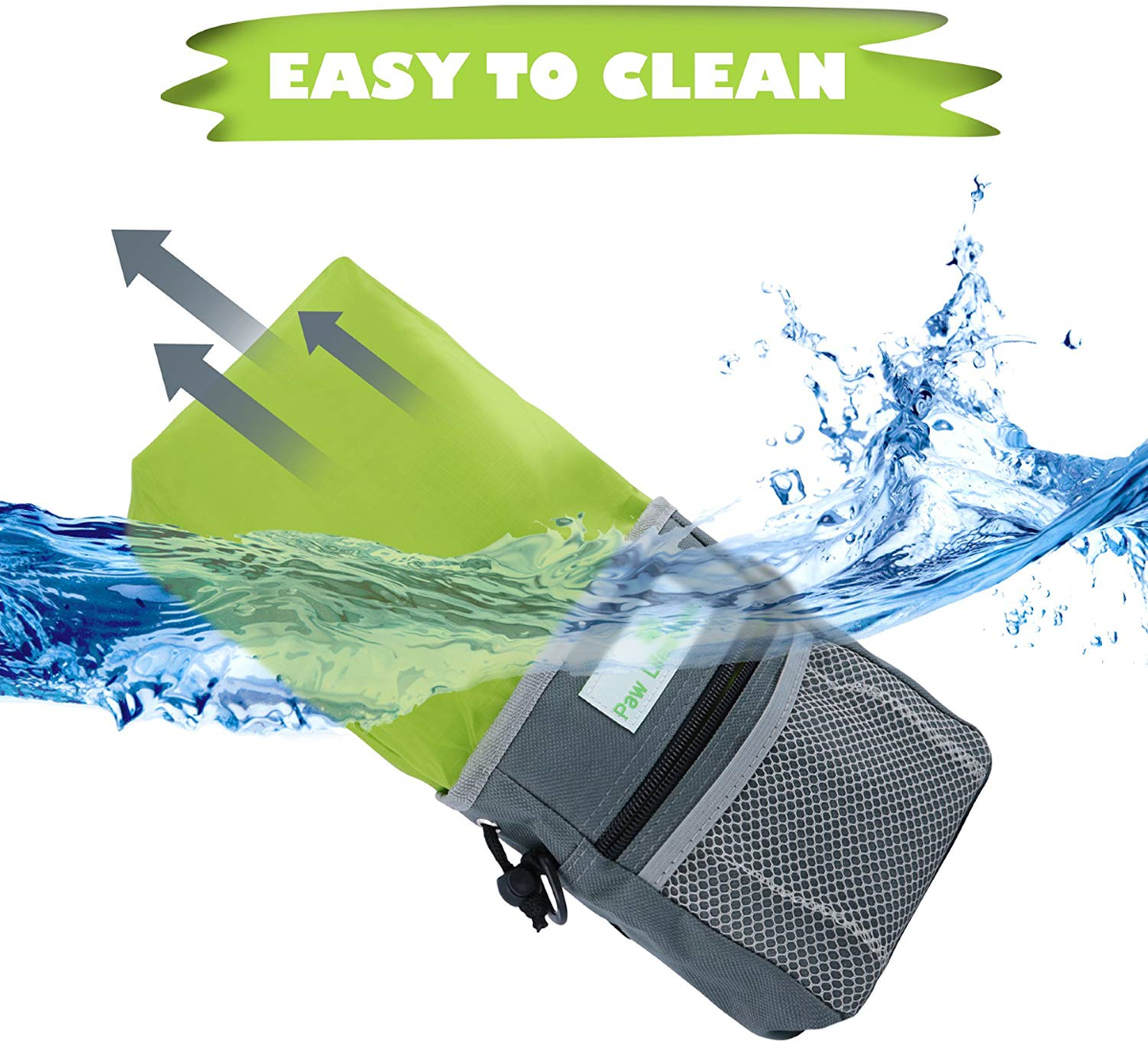 At the back of the pouch, dog owners will find the pouch's high-quality metal clip, which allows them to attach the pouch safely and securely to their belt, as well as an easy-to-use poop-bag-dispenser that can be accessed by a zippered storage compartment (on its side) to store some fresh doggy waste bags for later use.
FEATURES
3 EASY WAYS TO WEAR – QUICK TREATS & WASTE BAG ACCESS
Dog owners can choose from 3 different ways on how to wear their Paw Lifestyles Dog Treat Training Pouch. The dog treat pouch attaches securely around your waist, belt, or shoulder, giving you access to dog treats and kibble right when you need them.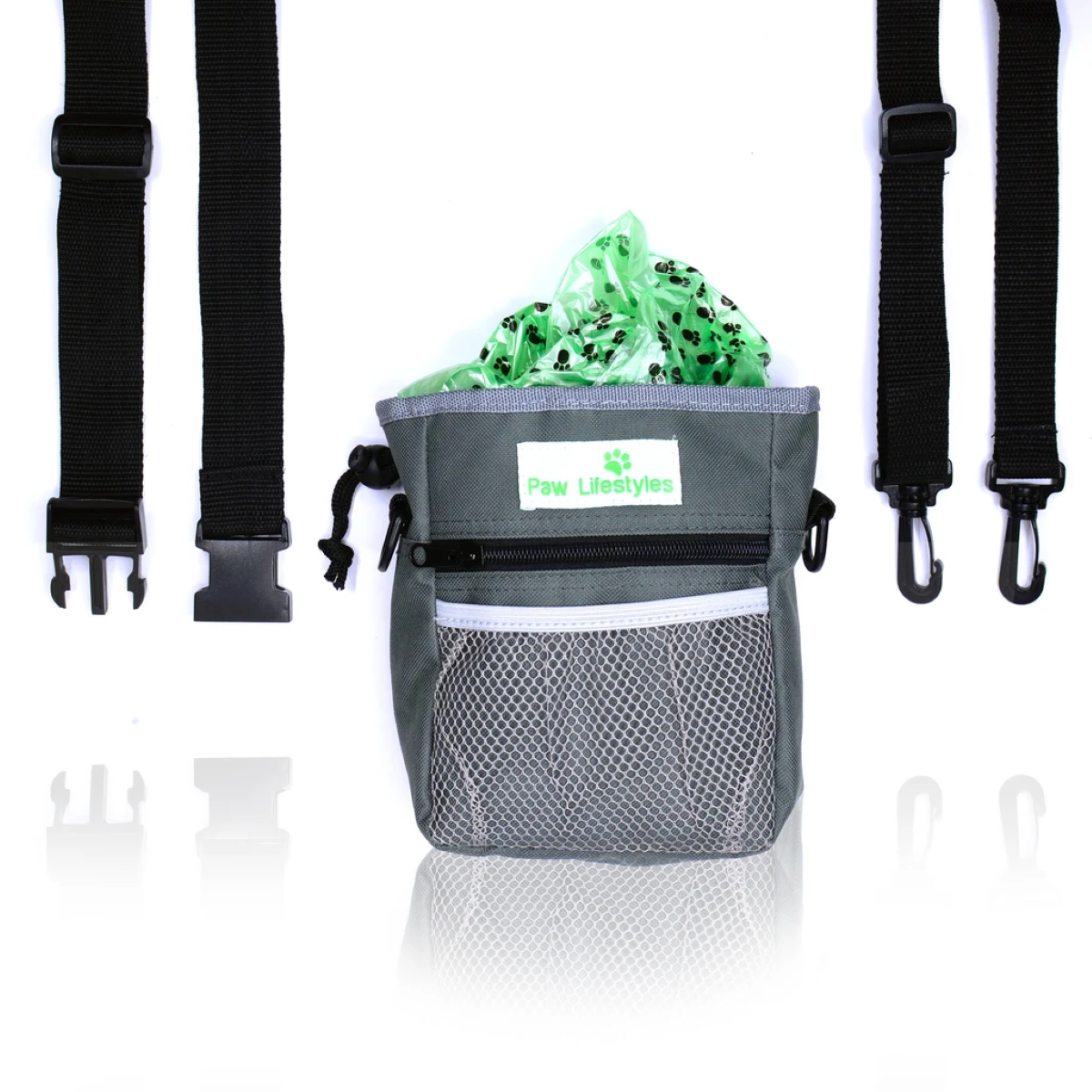 Dog parents can wear the pouch by using its included removable 48″ adjustable waistband to wear it around their waist, use the pouch's strong metal belt clip to wear it attached to their belt, or use the pouch's included removable shoulder strap to wear it around their shoulder.
Owners can also easily tie off their waste bag and hang it on one of the pouch's two handy D-rings or use those to hang their dog clicker (dog training tool for positive reinforcement).
FINAL THOUGHTS
The Paw Lifestyles Dog Treat Training Pouch is the perfect, all-in-one, lightweight dog treat training pouch for all dog lovers, coming with a convenient built-in dog poop bag holder and a weatherproof compartment for your personal items.
The pouch's main compartment is extremely easy to clean and can easily and securely hold generous amounts of your dog's favorite treats, toys, kibble and accessories, coming equipped with an easy-to-pull convenient drawstring to keep its contents protected from all weather conditions.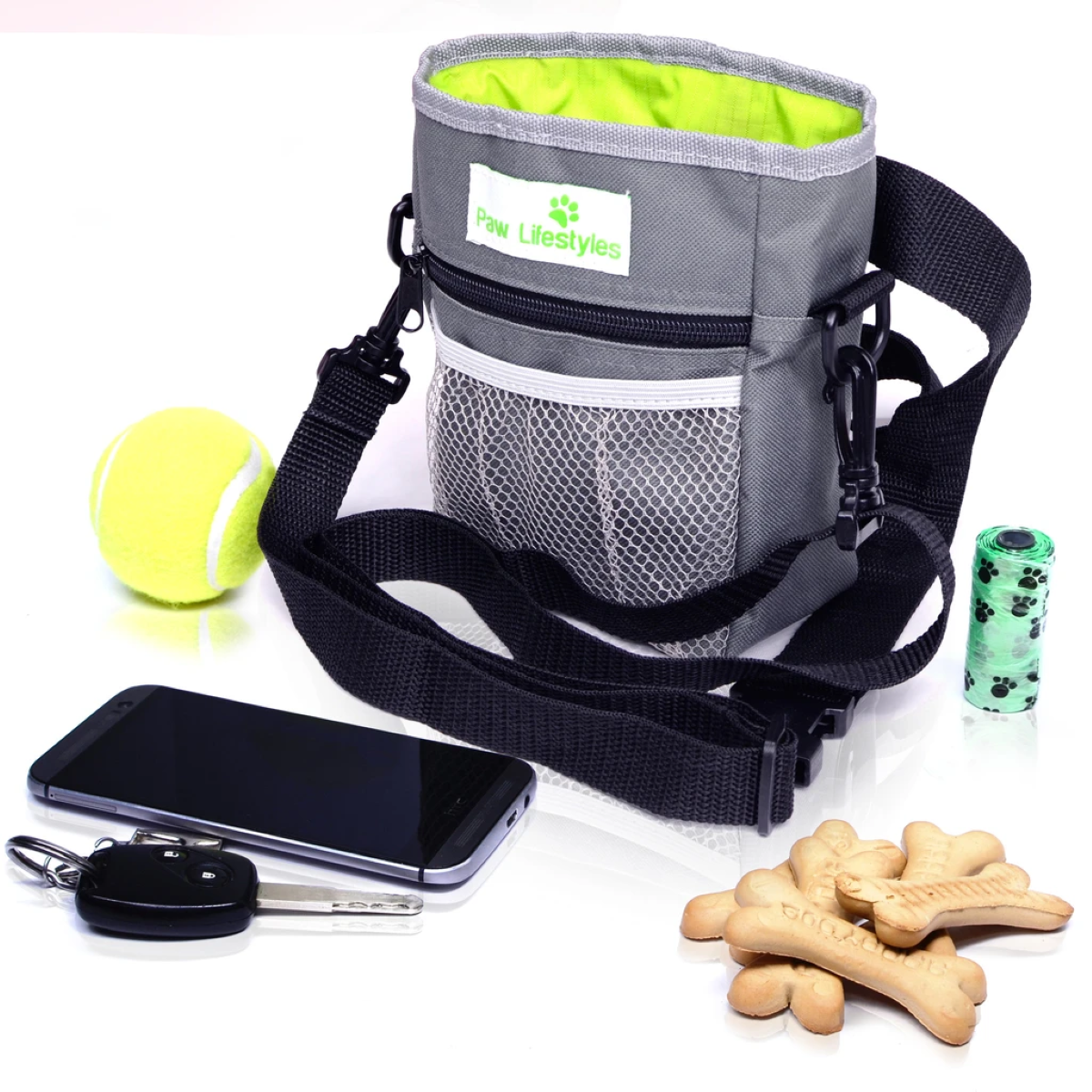 This all-in-one lightweight dog pouch can also work as the perfect dog training pouch for dog and puppy training classes, adding a new level of freedom and enjoyment when taking your dog on a walk or a trip to the dog park to train and socialize with other dogs. It's dog training like you never experienced before, and that includes potty training.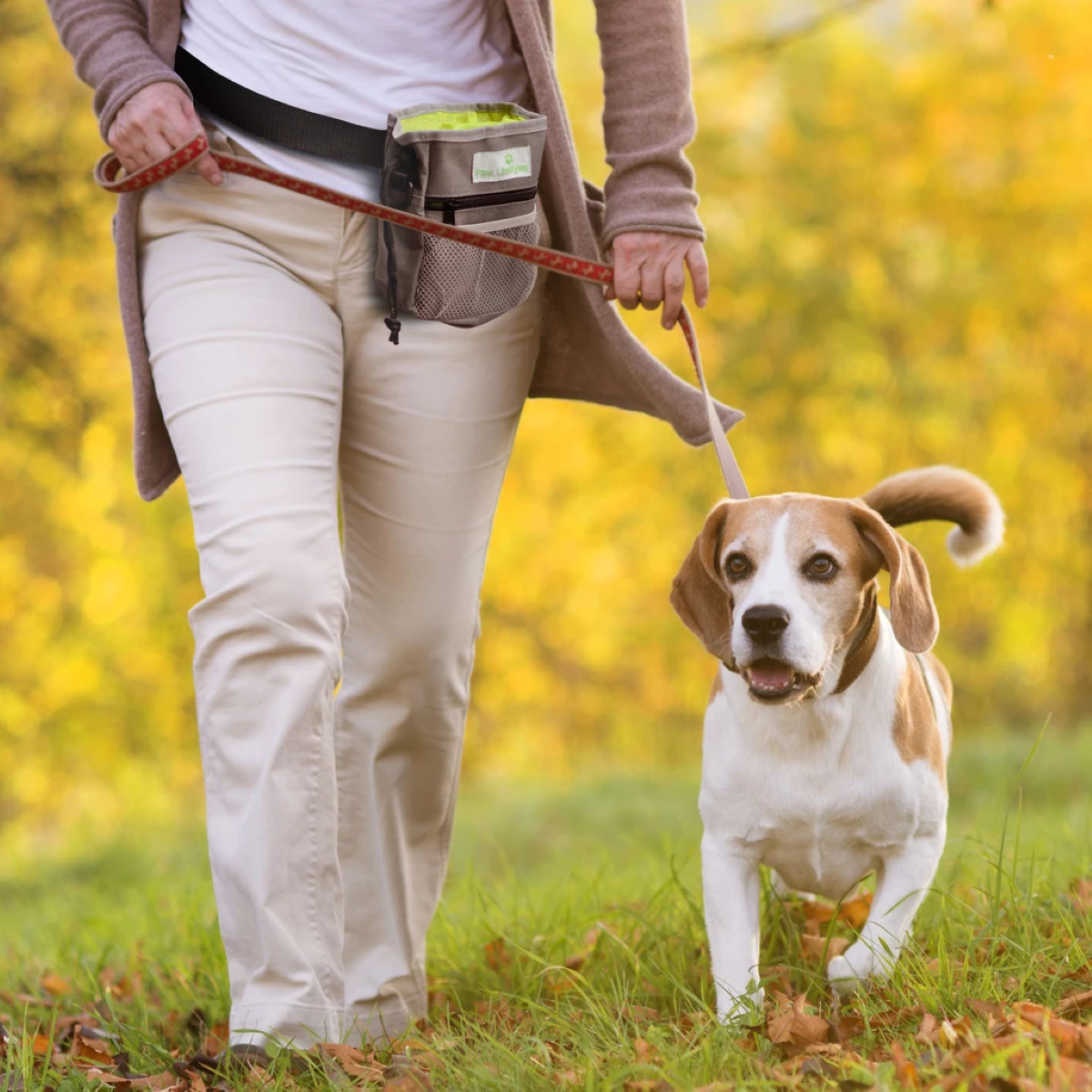 This dog pouch would make a great gift for any dog lover, whether they're qualified professional dog trainers or simple proud dog parents.
If you're interested in getting the Paw Lifestyles Dog Treat Training Pouch, each unit is currently discounted from its normal price of $30, now going for $17 each (saves you $13), coming with a 100% money back guarantee. You can order yours online, directly from Paw Lifestyles' official shopping page, which you can access by clicking this link.