If you're looking for the best baby monitor on the market, then the Bella Baby Monitor might be the right one to go with.
Bringing home a newborn baby is both exciting and terrifying. Parents are always looking for new ways to use technology to their advantage in order to make their lives simpler while also allowing them to keep their families safer.
Hence, they might be looking for Bella, an AI-enhanced smart baby monitor that grows with their newborn children. This smart baby monitor uses the latest technology to help parents find greater peace of mind.
The Bella Smart Baby Monitor provides everything from face cover detection for infants to safe/danger zone movement tracking for babies and toddlers, and is even great for working parents that spend their business lives constantly on-the-go.
Whether parents are in the next room trying to get a night's rest or working far from home, Bella provides total video monitoring and two-way audio access to keep families fully connected when it matters the most.
Let's take a look at this amazing recently announced (at Kickstarter) smart baby monitor and check its design and all of the cool features it has to offer.
DESIGN & SPECS
The Bella Baby Monitor is a small, portable and rechargeable smart cordless baby monitor that measures 3.34 inches long by 2.95 inches wide by 5.5 inches tall (85 x 75 x 140 mm). The unit is extremely durable, as it's made of aluminum alloy and ABS (Acrylonitrile butadiene styrene) Plastics.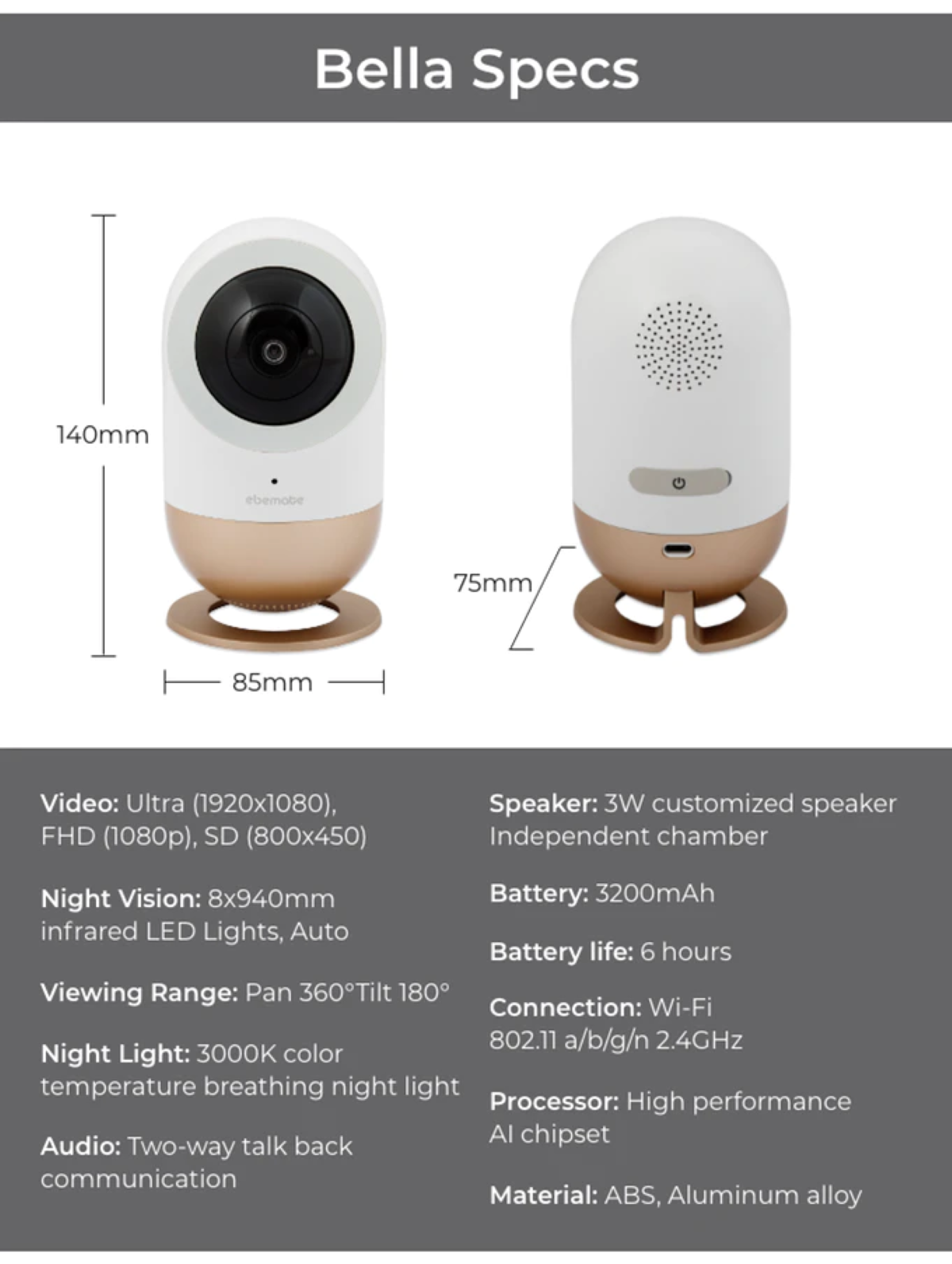 Since this is a cordless baby monitor, the unit will never get tangled anywhere and it is also extremely easy to move it around, or ultimately even take with you while you're on-the-go.
This baby monitor comes equipped with a Multi-Functional Base that makes it easy to install the device, as well as allowing it to be mounted or placed anywhere.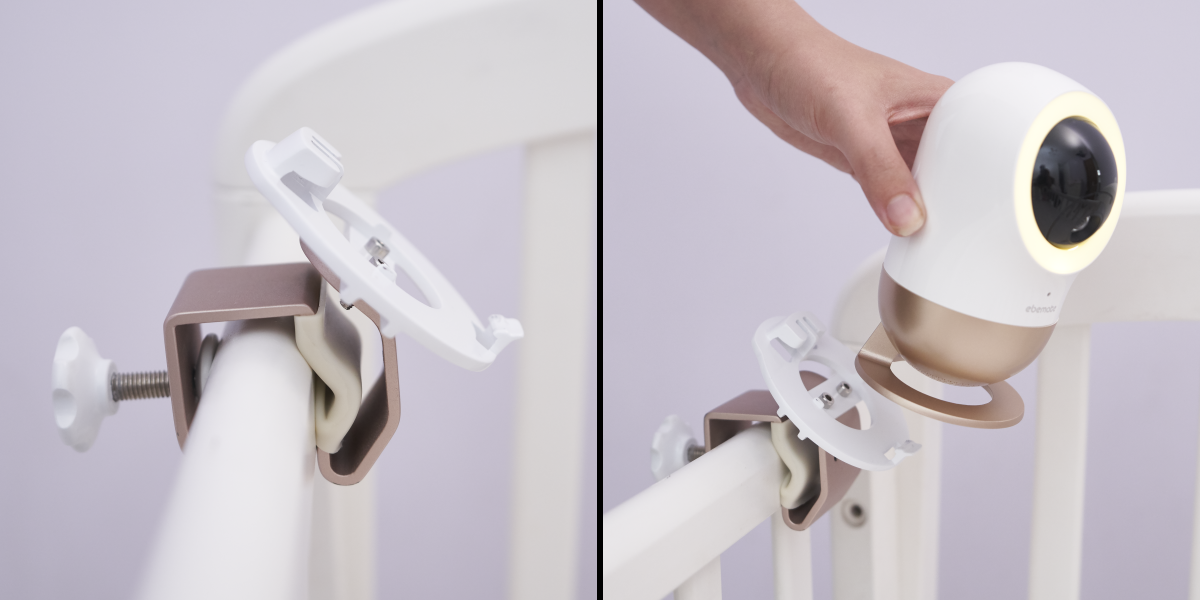 This baby monitor is powered by a High-Performance AI Chipset and comes equipped with a high-quality microphone and a 3W customized speaker (integrated into the unit within an independent chamber) for two-way talk back communication, which allows parents to both hear and speak back and ultimately calm their baby at any time.
The baby monitor's accessible two-way audio functionality makes it easy for parents to check on their baby at any time from their Smartphone, allowing them to both listen and communicate with their children from any location.
The unit also comes equipped with a high-quality camera lens that can provide ultra-quality FHD (Full High Definition) 1080p video at 1920×1080 resolution, as well as SD (Standard-Definition) video at 800×450 resolution. The camera's max Viewing Range offers both a 360º Panoramic View as well as a 180º Tilt View.
The unit's camera lens can also offer Night Vision as it also integrates built-in 8×940 mm infrared LED Lights that work automatically at nighttime.
Lastly, the unit also features a 3000K color temperature breathing Night Light that works as a smart Baby Soothing Mode (a calming pulsing night light when the camera's smart algorithm detects that your baby starts crying via its built-in microphone (this feature – called "Soothe Assistant Mode" – is discussed further ahead).
CONNECTIVITY
This baby monitor works via Wi-Fi and supports the most common Wireless Standards (802.11 a/b/g/n), operating at a frequency band of 2.4 GHz.
BATTERY AND BATTERY LIFE
The Bella Baby Monitor also comes equipped with a built-in Rechargeable 3200mAh Battery that can offer up to 6 hours of battery life.
Recharging the device is quick and simple. All you have to do is connect the unit to its included charging cable and wall plug.
PRODUCT COMPARISON – BELLA vs OTHER BABY MONITORS
The Bella Smart Baby Monitor is a super capable baby monitor, packing a ton of smart features that we'll discuss right ahead. This smart baby monitor can do so much more than most other smart baby monitors that are currently available on the market.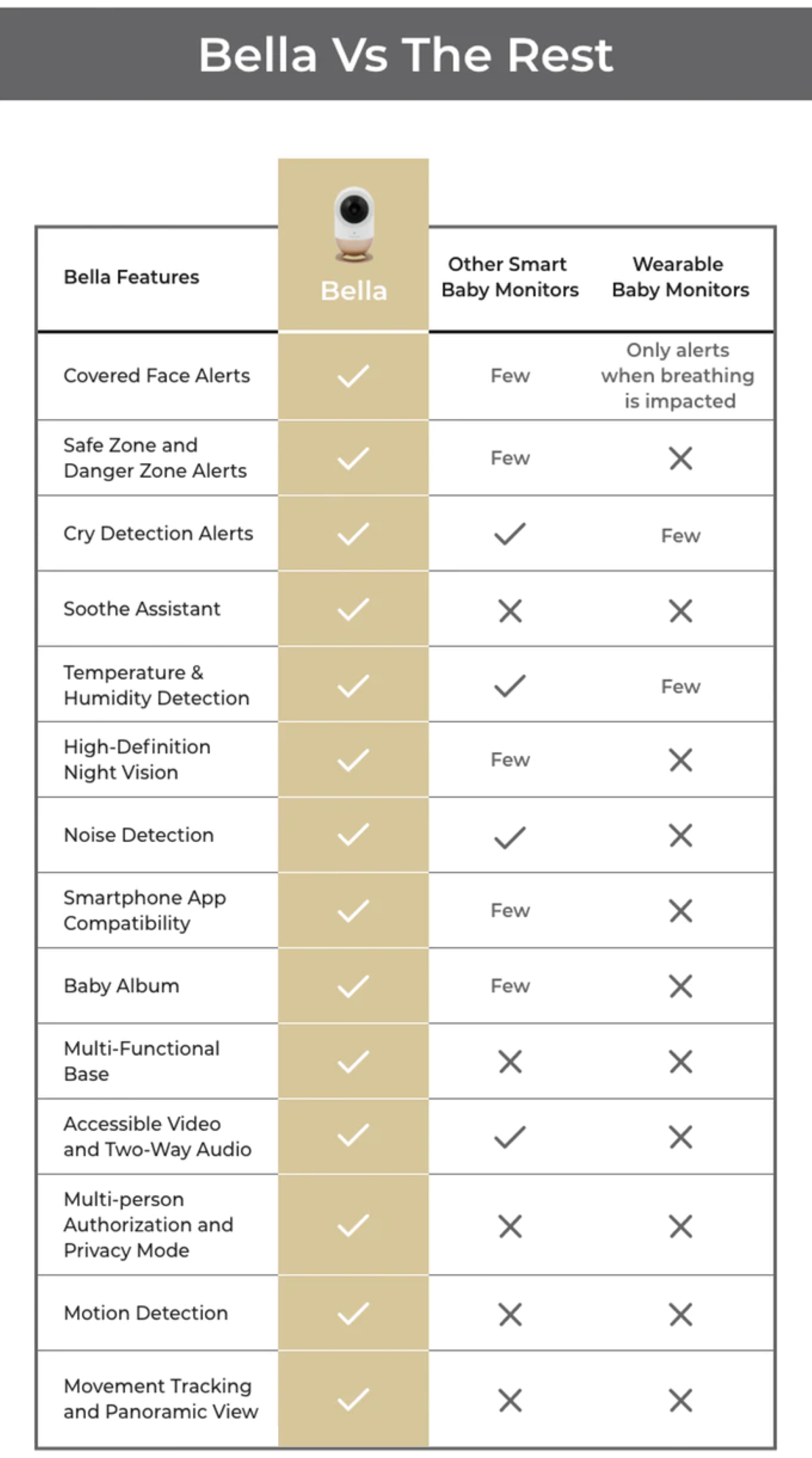 Check out this comparison table embedded below to see just how much better this smart baby monitor is when compared to most standard smart baby monitors.
WHAT'S IN THE BOX?
Inside each package users will find: their Bella Smart Baby Monitor, its included Multi-Function Base, and an included Charging Cable and Wall Plug (to recharge the unit).
FEATURES
Smart Bank-Level Security/Safety Features
The Bella Baby Monitor integrates a RSA Cryptosystem. This means that it uses encryption keys to protect your login information when you access the baby monitor via its Smartphone Companion App (discussed at the end).
Not only that, but the Bella Baby Monitor also features Secure Video Stream when recording your baby via its camera lens, meaning it will always transmit its video via an end-to-end encrypted AES -182 video stream to keep your little one safe from prying eyes.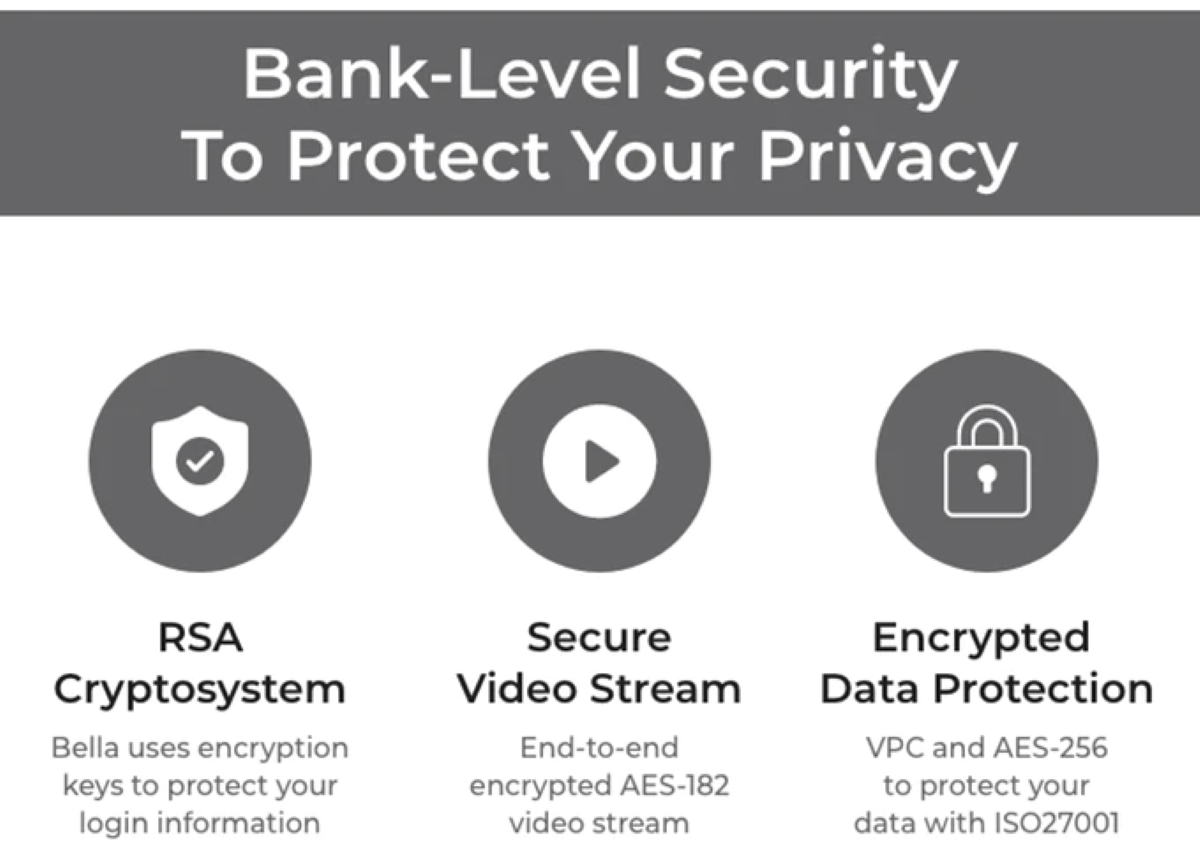 Lastly, the camera also features Encrypted Data Protection via a VPC (Virtual private cloud) and AES-256 encryption to protect your data. These two last mentioned security standards (VPC and AES-256 encryption) strictly follow the ISO27001 Security System norm – one of the latest specifications for information security management systems (ISMS).
Bella Grows with Your Baby – From Baby to Toddler
As stated at the begging of the article, the Bella Baby Monitor is an AI-Enhanced smart baby monitor that grows with your baby.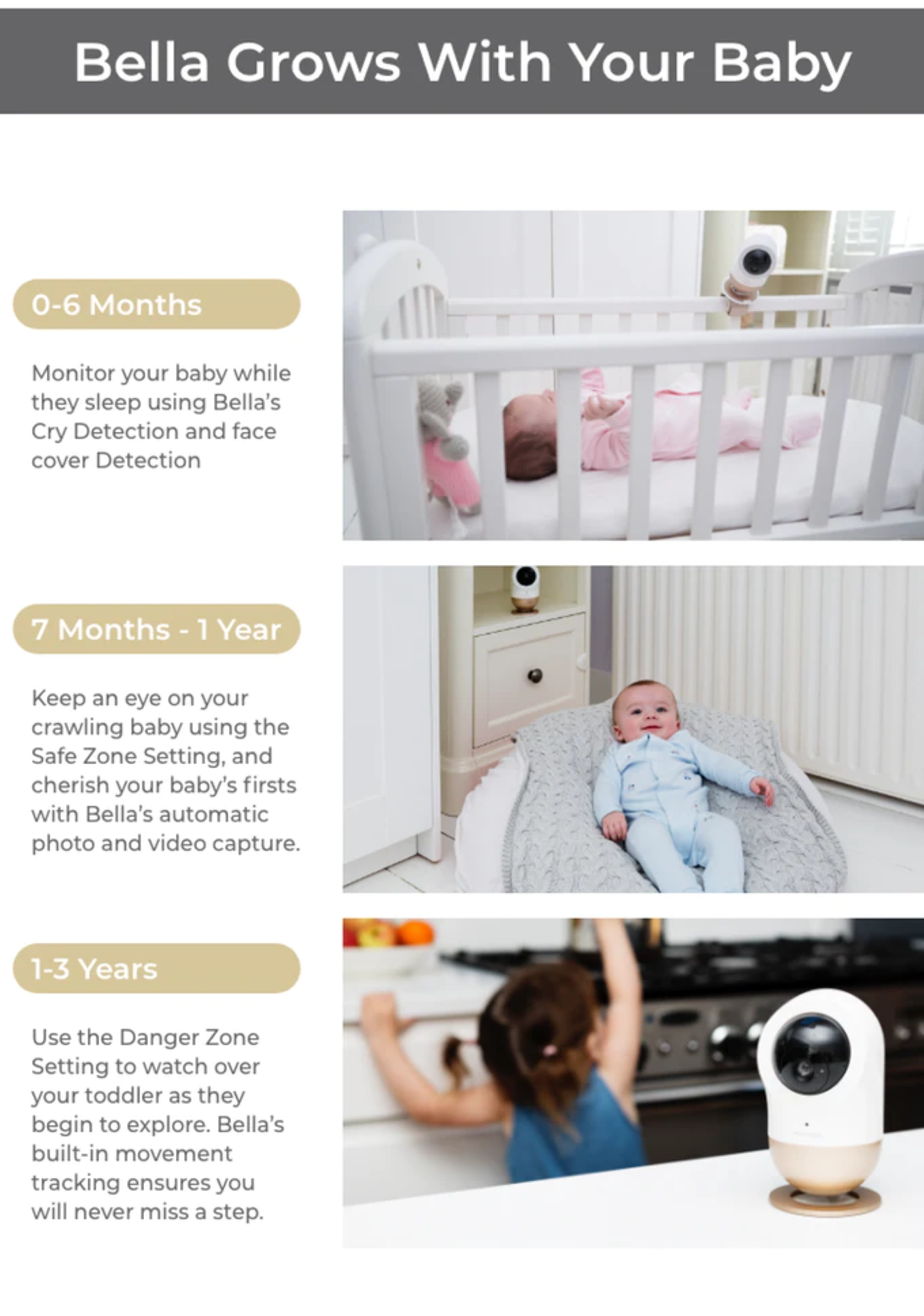 Since your little one grows quickly, the Bella Smart Baby Monitor works great during different age ranges (0-6 months, 7 months-1 year, and 1-3 years), and parents can use specific smart features offered by it to have some extra peace of mind while looking to take care of their children.
These smart features include Safe Zone Setting and Danger Zone Setting, Noise/Cry Detection, Face Cover Detection, Motion Detection, Temperature and Humidity Detection, Soothe Assistant Mode, Multi-Person Authorization, and Automatic Photo Capture.
Safe Zone Setting
For example, once a baby begins crawling, parents can use the Safe Zone Setting to easily pre-set "safety" zones and get alerts via the Smartphone App in case he/she crawls out of those configured safe zones.
Danger Zone Setting
Not only that, but parents can also use the Danger Zone Setting to configure danger zones near stairs or other dangerous areas and get alerts via the Smartphone App when their baby gets too close to those configured danger zones.
Noise/Cry Detection
Whether a cry or a scream is detected by the unit's microphone, the Bella Baby Monitor will always alert parents to loud screams.
Furthermore, the unit's smart algorithm is so well thought that the monitor can even tell the difference between fussy cries and more urgent screams.
Face Cover Detection
Bella's AI technology can instantly recognize when your baby rolls onto their belly or covers their face with a blanket. As soon as that happens, the device will send parents an alert to their Smartphone or tablet.
Motion Detection
Bella also monitors the baby's room at all times, and will send immediate alerts to your devices whenever someone enters the same room as your sleeping child.
Temperature and Humidity Detection
With this smart baby monitor, parents can also monitor their baby's environment at all times to ensure their baby is both safe and comfy.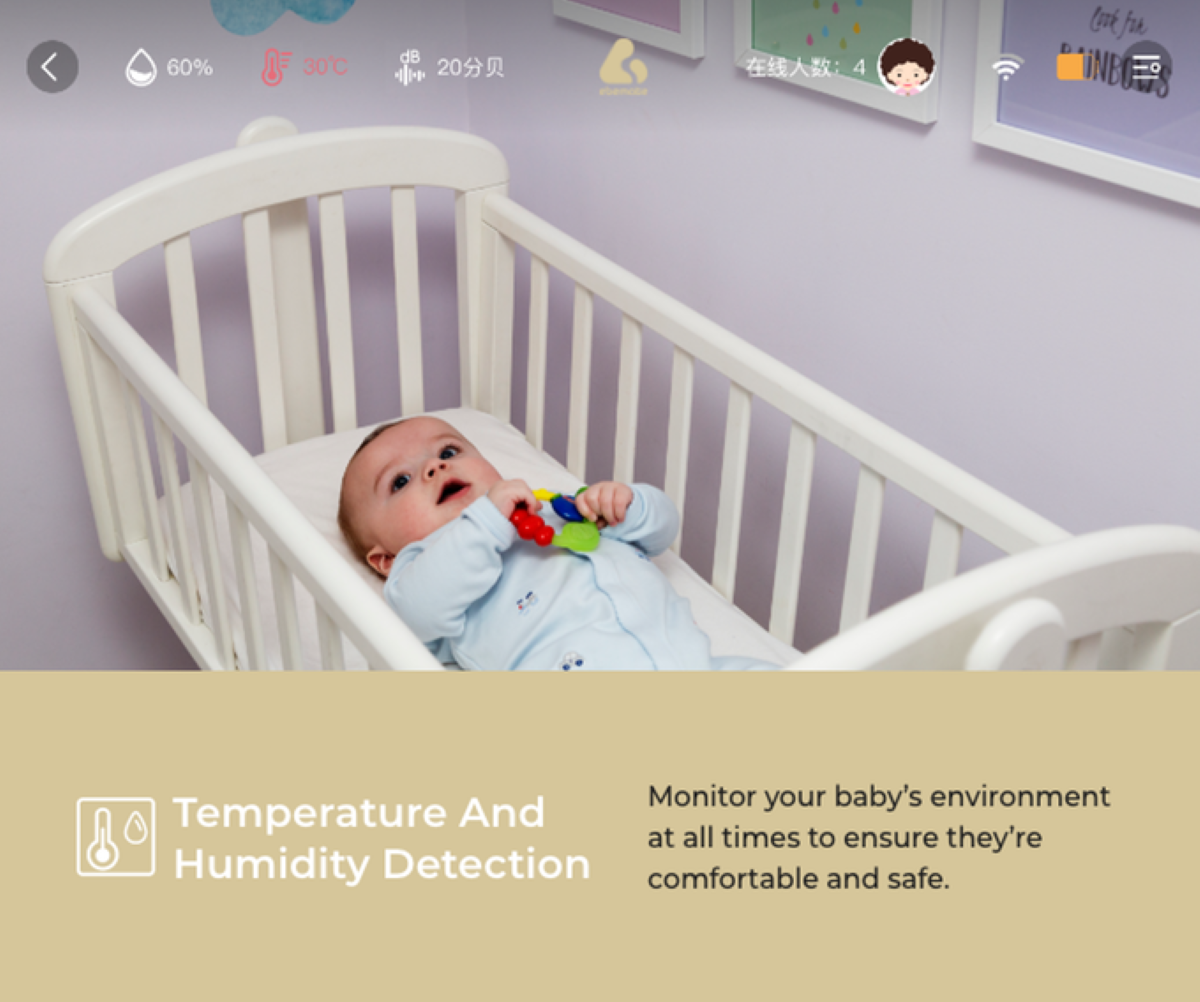 Soothe Assistant Mode
Thanks to its previously mentioned Noise/Cry Detection functionality, Bella can also soothe your fussy baby before you rush into the room.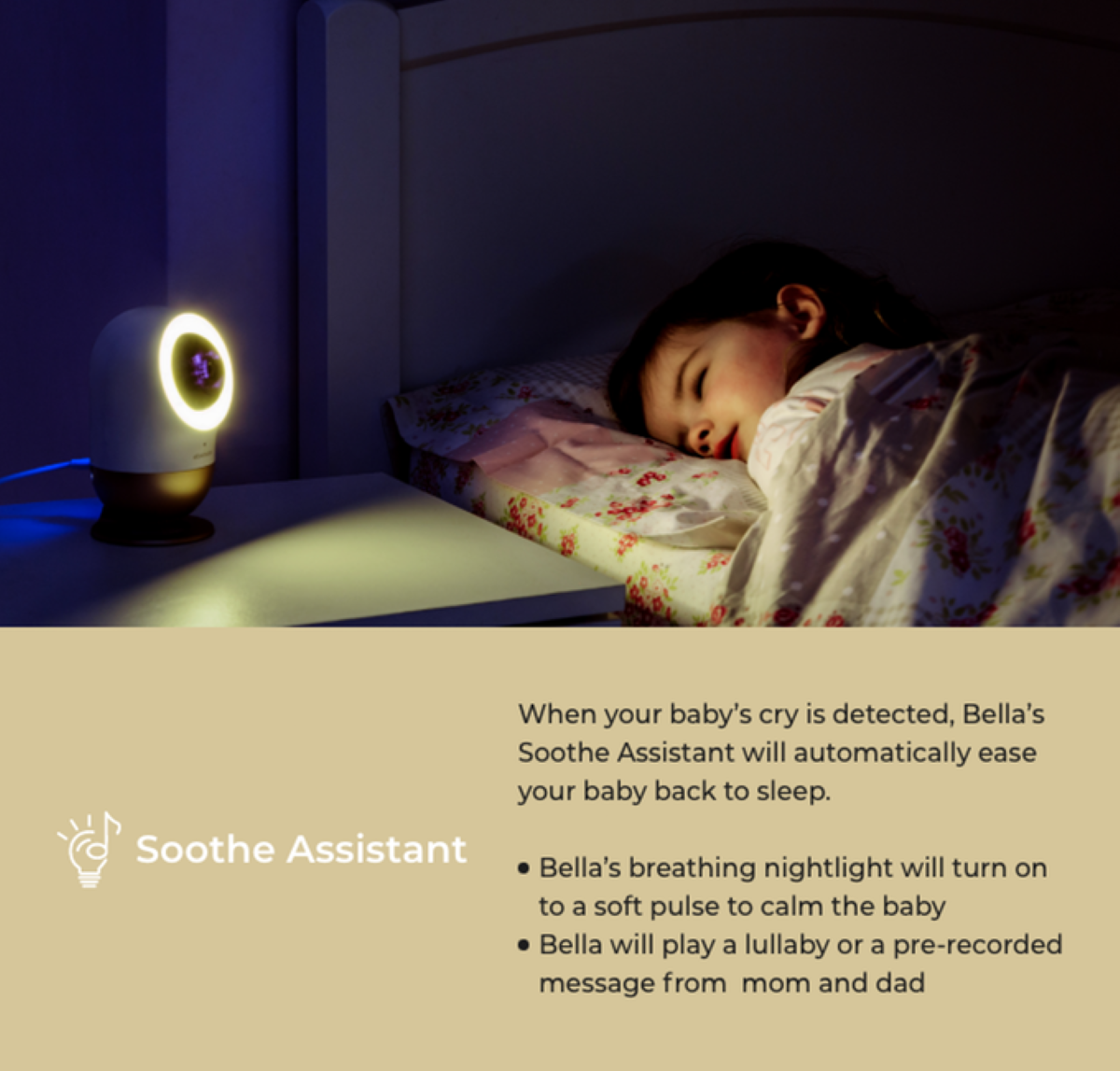 This means that whenever it detects a cry, Bella activates a pulsing night light for soft calming light and plays a soothing lullaby or pre-recorded message from either the mom or dad.
Multi-Person Authorization
Within the Smartphone Companion App, parents can also enable secure guest access to other family members. This allows parents to easily share their baby's precious and cutest moments with the rest of the family.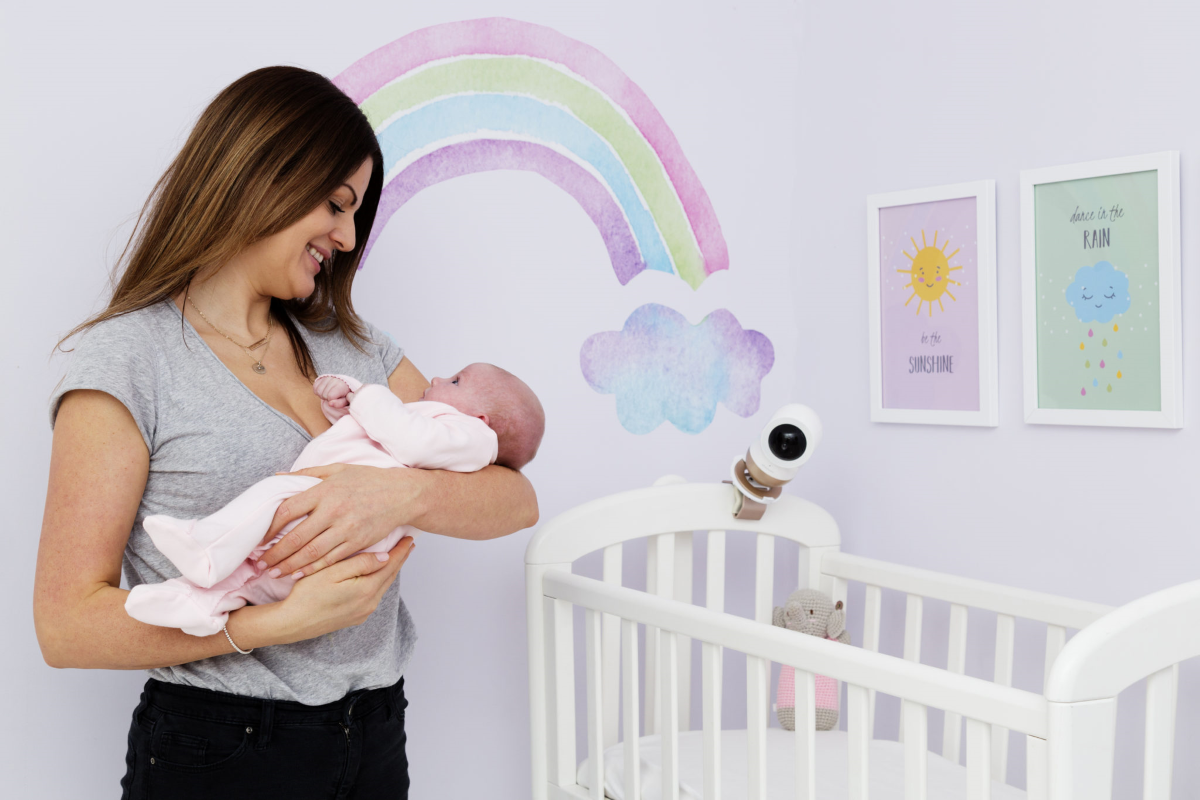 When Privacy Mode is activated within the App, only the guardian (the user who installed and configured the Bella Baby Monitor) will be able to access the monitor to use its video stream and two-way talk system, as well as all of its other features.
Automatic Photo Capture
The baby monitor's Automatic Photo Capture feature ensures that parents never miss a moment.
Bella's 1080p HD camera can automatically capture photos and videos and save them up to 180 days worth in a baby album – the previously mentioned VPC (Virtual private cloud) – to ensure that parents never miss a single smile or any other of their baby's precious moment.
THE SMARTPHONE COMPANION APP – The Ebemate App
The Ebemate App allows parents to control all of Bella's features and functionalities, no matter where they are.
Parents can use Bella's two-way audio system to talk to their baby and enjoy a panoramic view from its camera, as well as use the Multi-person Authorization feature to grant access to the recorded video and photos with other family members, or ultimately use the privacy mode to restrict that access.
FINAL THOUGHTS
The Bella Baby Monitor is a smart wireless baby monitor that features Safe & Danger Zone Setting, Noise/Cry/Face Cover/Motion/Temperature/Humidity Detection, Soothe Assistant Mode, Multi-Person Authorization, and Automatic Photo Capture.
This is without a doubt the most complete smart baby monitor that's currently available for parents.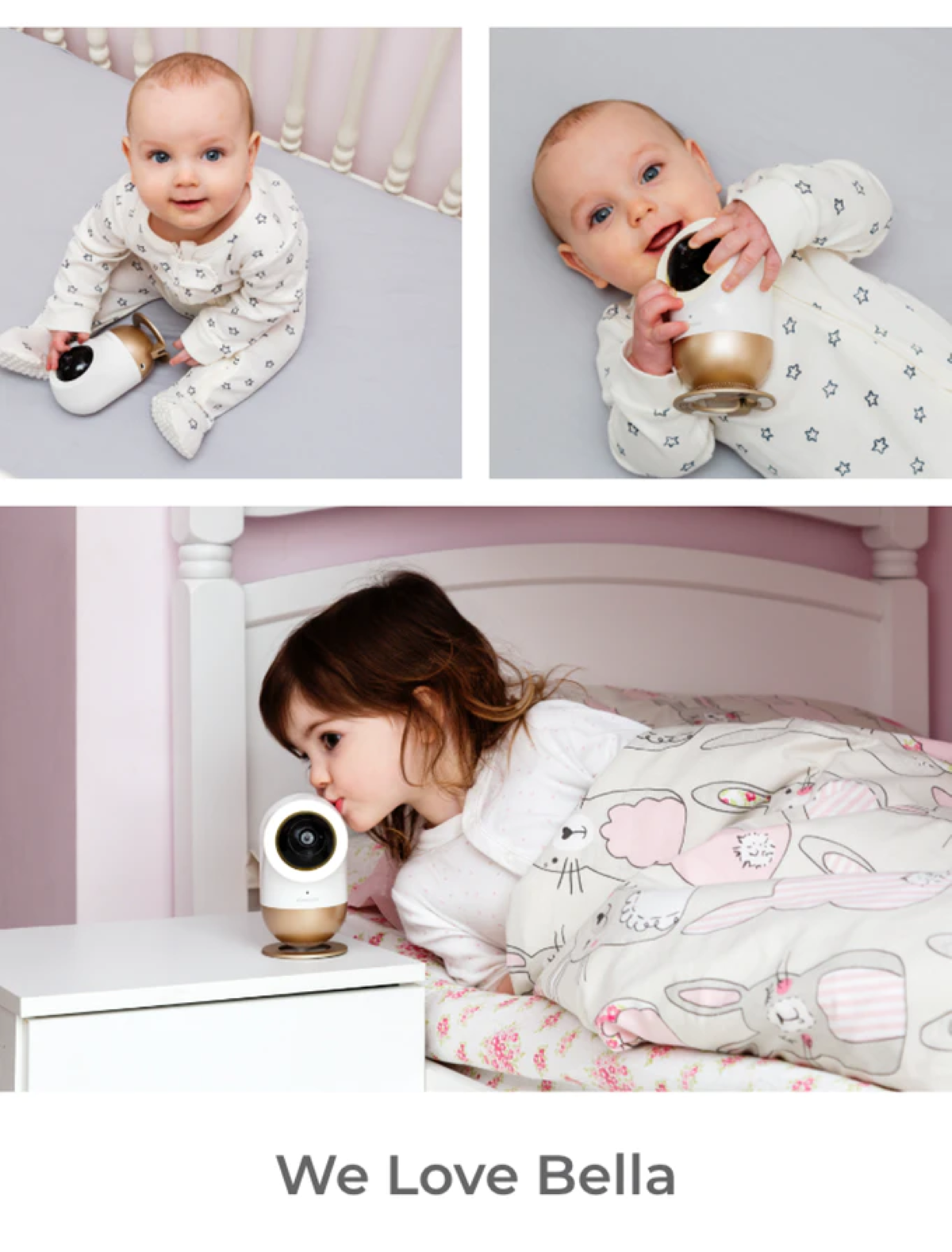 While units are still not available for sale and shipping, parents can already secure and pre-order their Bella Baby Monitor by supporting the company's Kickstarter crowdfunding campaign, which will fuel the process and help the company to finish bringing their amazing baby monitor concept to life.
Parents can pledge as little as $150 to ensure their Early Bird Bella Baby Monitor's Supporter Pack.
You can access Ebemate's official website to know more about the Bella Baby Monitor, as well as to pre-order it.