If you're looking for a powerful and reliable smart sound bar/smart loudspeaker that you can use to easily boost the volume of a standard smart TV like an LCD TV, Plasma TV or LED TV, then the JBL Link Bar might be the perfect choice to go with.
Soundbars come equipped with multiple speakers to effectively project your media's audio from wide enclosures and can be easily mounted above or below your display devices, including a computer monitor, home theater, Smart TV screen, etc. This helps to create surround sound and/or stereo sound effects for the ultimate immersive listening experience. A separate subwoofer (which sometimes is also included) can also be used to supplement a soundbar.
Now, back to the JBL Link Bar. This is probably one of the best soundbars that are currently available on the market. Not only is it extremely powerful, featuring JBL's legendary sound performance that offers a rich bass performance to your smart TV, but it also packs a ton of smart features.
The JBL Link Bar is a smart voice-activated soundbar that comes with Android TV and Google Assistant built-in.
With its Android TV smart integration, the JBL Link Bar doubles as an Android TV player for streaming video from apps like Netflix. With its built-in Google Assistant it also responds to "Hey Google" voice commands. Thanks to its three HDMI passthrough inputs you can see Google Assistant's responses on the big screen without switching away from your cable box or Blu-ray player.
This awesome smart soundbar allows you to easily turn any smart TV into an "even smarter TV".
Let's take a look at it and check its specs, as well as every single one of its amazing smart features.
DESIGN & SPECS
The JBL Link Bar measures 40.15 inches long by 3.66 inches wide by 2.36 inches tall (1020 x 93 x 60 mm) and weighs around 9.7 pounds (4.4 kg). The unit's slightly curved design offers a sleek and stylish complement to your existing home theater setup.
The soundbar is powered by directly connecting it to any standard wall plug via its included Power Cable, featuring a Power Supply of 100-240V~50/60Hz. With just a simple one cable connection to your smart TV, the LINK BAR instantly becomes a 4K entertainment hub for both video and gaming devices.
Since you can connect the soundbar to your smart TV with a single power cable, this means that the soundbar is extremely simple to install, offering you an effortless setup.
AUDIO DRIVERS & AMP
This smart soundbar features a Transducer, meaning it comes equipped with a pair (x2) of 0.8-inch (20mm) tweeters and four (x4) "racetrack" drivers – each measuring 1.7 inches by 3.2 inches (44×80 mm) – which are all powered by an amplifier that delivers 100 watts maximum power. The soundbar features a Frequency Response of 75Hz–20kHz and a Signal-to-noise ratio of >85dBA.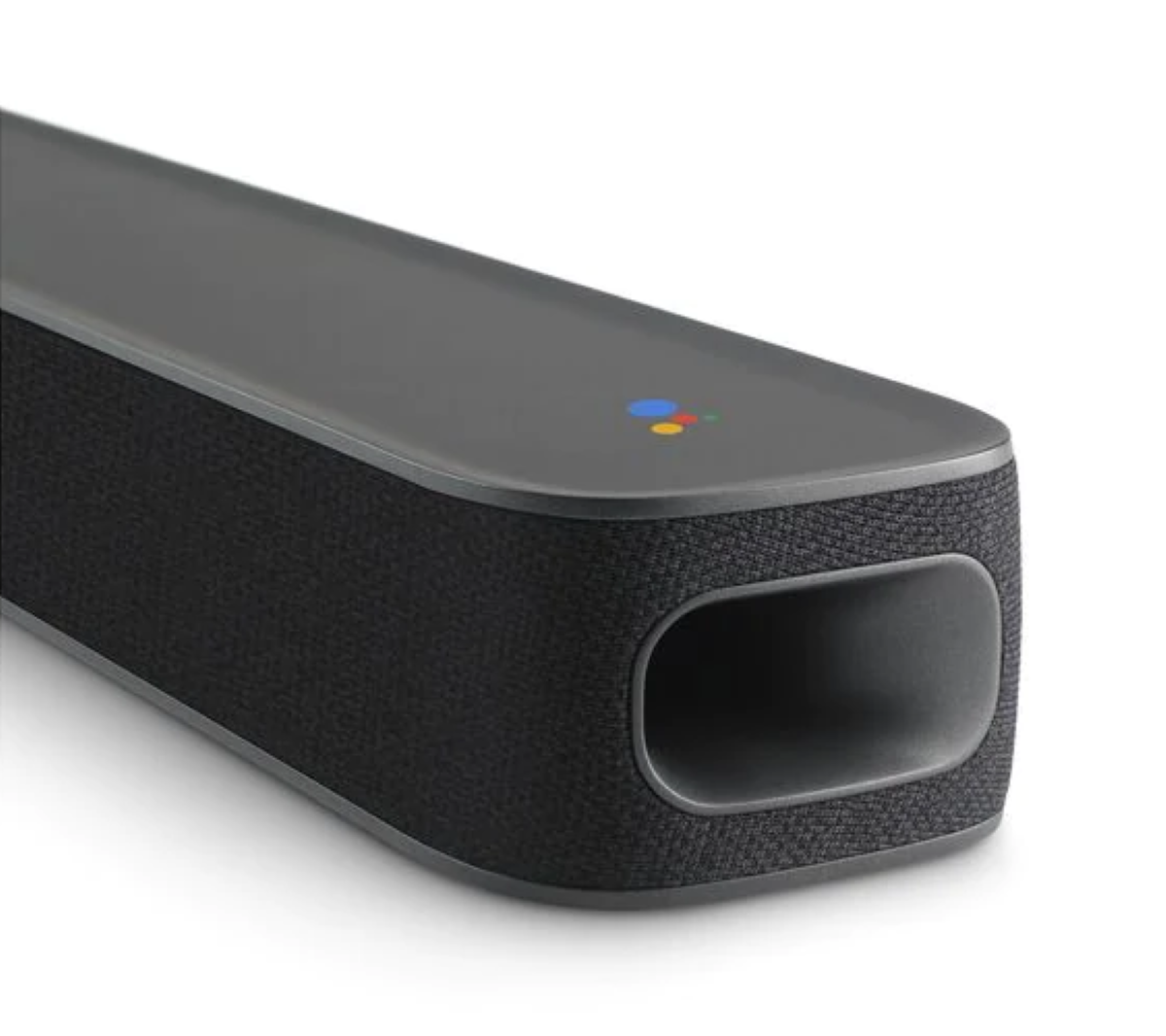 The soundbar features 4K UHD support, allowing you to experience exceptional sound quality that's completely synced with your smart TV's vivid image quality. The JBL Link Bar works as a high-quality audio system that delivers an impactful and exciting audio performance with crystal clear highs, silky smooth mid-band and tight bass from a single audio unit.
INTERFACE
At the front of the unit, located right in the center, there are 4 status LEDs that inform users when the device is powered On/Off, as well as when its features (like the soundbar's support to Google-Assistant Voice Controls – microphone Enabled/Disabled) are being used.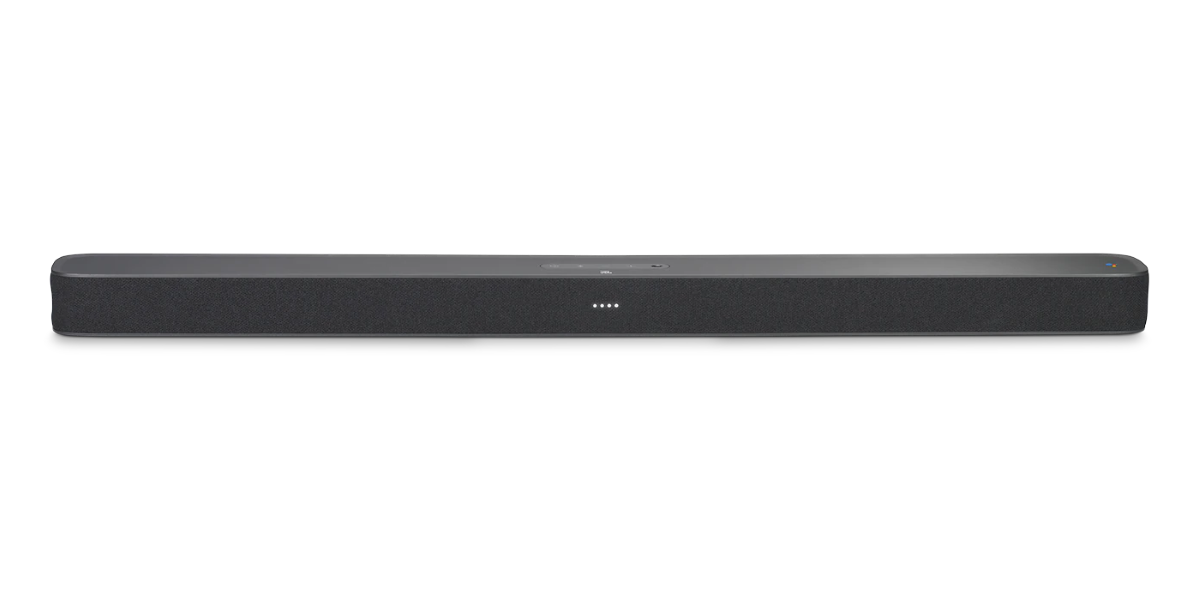 Located at the top of the unit users can find the soundbar's rather small and easy-to-access interface, which is extremely intuitive to understand and very easy to use.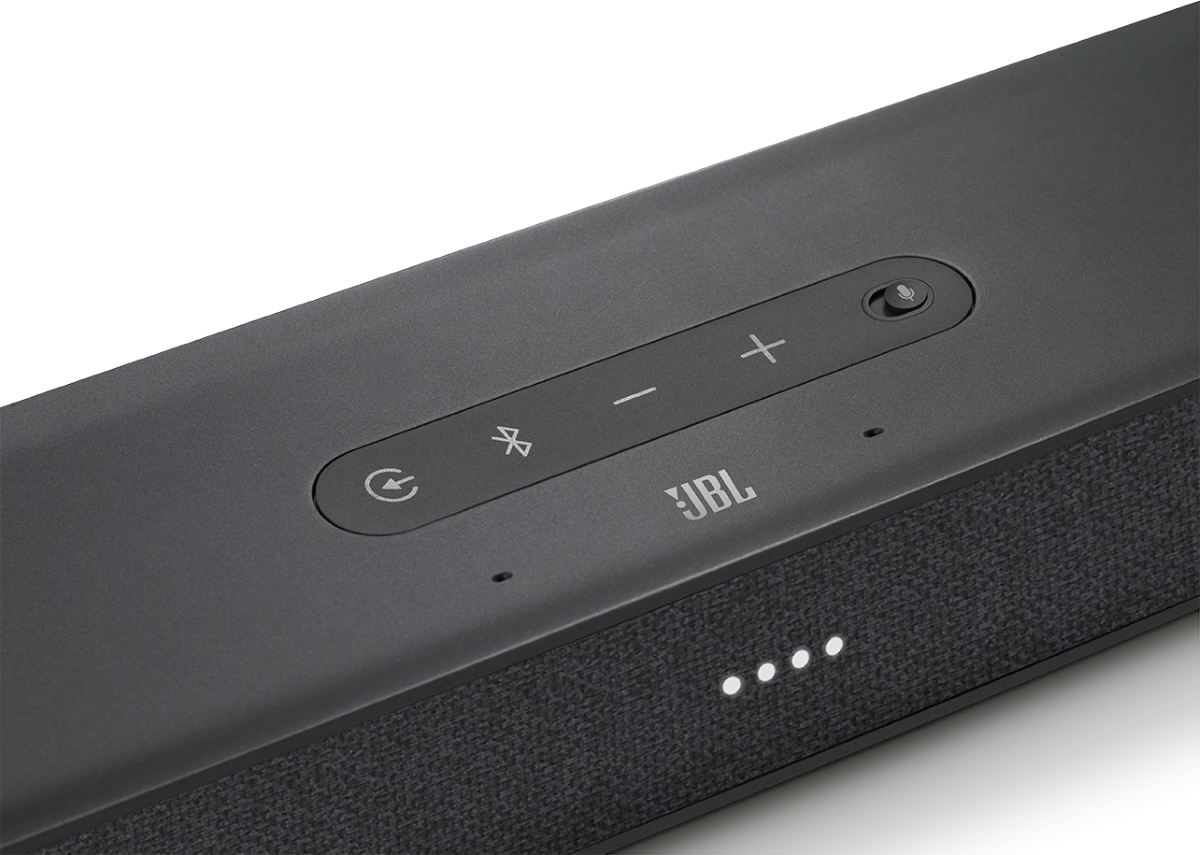 From left to right you'll have a Source Input Mode button (to switch between HOME/ HDMI 1 / HDMI 2/ HDMI 3 / Optical / Aux / Bluetooth), the Bluetooth Pairing button (which comes with an integrated LED indicator – White Flashing LED means Pairing / White Solid LED means Connected), two Volume Decrease/Increase Buttons, and a Microphone On/Off Privacy Switch (used to switch the soundbar's built-in microphones between muted/unmuted).
Located at the back of the JBL Link Bar users can find the Back Panel, which – from left to right – consists of a Power Port, an Optical Input, an Auxiliary (3.5mm jack) Input, an Ethernet Port, and 3 HDMI (HDMI 1, 2 and 3) Inputs, one single HDMI ARC Output, a Service Port (for service personnel only), a Subwoofer Pairing Button (to enter the subwoofer pairing mode), and lastly, a Subwoofer Pairing LED (that informs users when subwoofer pairing mode is starting, as well as when it's established).
Since the unit features 3 HDMI inputs, it means that it supports Multi 4k video. As stated at the beginning of the article, the unit also features built-in Google Chromecast (discussed in the Features section), which plugs into your TV and grants easy access to multiple streaming services, including Netflix, YouTube, and Google Play.
THE REMOTE CONTROL
The included Remote Control allows you to easily control the JBL Link Bar. From top to bottom there are three columns of buttons.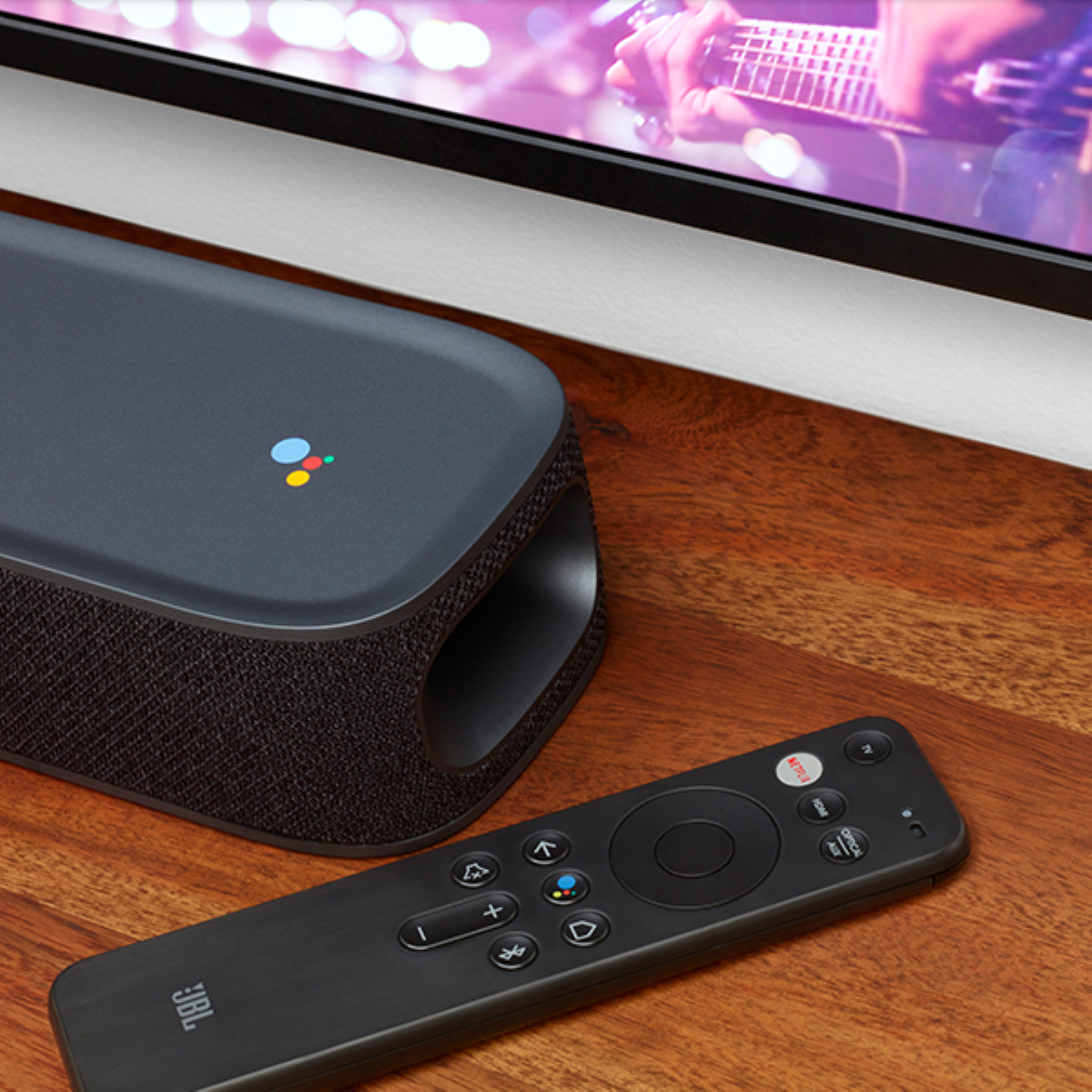 The left-side column features a Power Button (1), a Netflix App-Launch Button (2), a Return/Backwards Button (6) (to go back to the previous screen), and a Mute/Unmute Sound Button (7) (to Mute/Unmute the Link Bar's audio).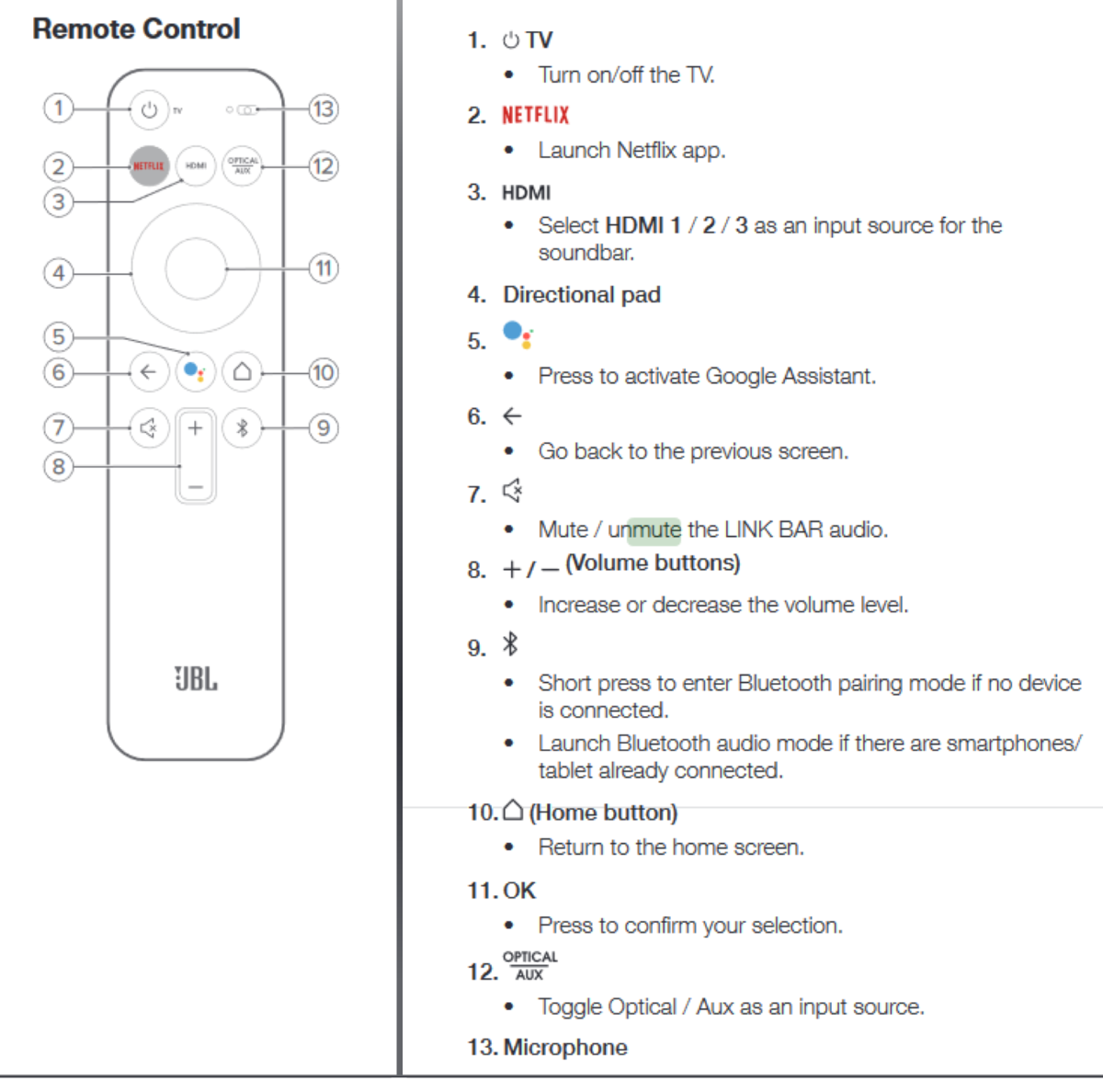 At the center column you can find an Input Source Button (3) (to select between the soundbar's HDMI 1, 2, and 3 Inputs), a Directional Pad (4) and OK Button (11) (to be able to walk through different menus and select different options), the Google Assistant Button (5) (to enable/disable the Goggle Assistant), and a Volume Increase/Decrease Button (8).
At the right-side column users can find the Microphone Mute/Unmute Button (13) (to enable/disable the soundbar's microphone), an Optical Aux Button (12) (to toggle the Link Bar's Optical Aux as an input source), the Home Button (10) (used to return to the home screen), and the Bluetooth Pairing Button (9).
CONNECTIVITY
The JBL Link Bar supports Bluetooth Connectivity, allowing users to stream music from any mobile device. This means that you can connect it to your Smartphone or tablet (via Bluetooth 4.2) to listen to your favorite tunes.
This soundbar features a Bluetooth transmitter frequency range of 2402–2480MHz, which is a somewhat reasonable Bluetooth frequency range for a soundbar released at the end of 2018.
While you won't be able to take your Smartphone all the way across the house, the connection should hold across at least one or two rooms… assuming you don't live in a fortified concrete bunker, of course.
Wireless signals like Bluetooth and Wi-Fi are not very famous for maintaining reliable connections through multiple thick concrete walls. Nonetheless, this soundbar should do the trick for most houses.
As a smart soundbar, the JBL Link Bar can also be connected to your wireless network via Wi-Fi, as it supports the most common Wireless Standards (802.11 a/b/g/n), operating at a frequency band of 2.4 GHz/5GHz.
WHAT'S IN THE BOX?
Inside their package users will find: their JBL LINK BAR, one included Power Cable and one HDMI Cable, an included Remote control (with 2 included AAA batteries), the Quick start guide and one Warranty Card (1-year warranty).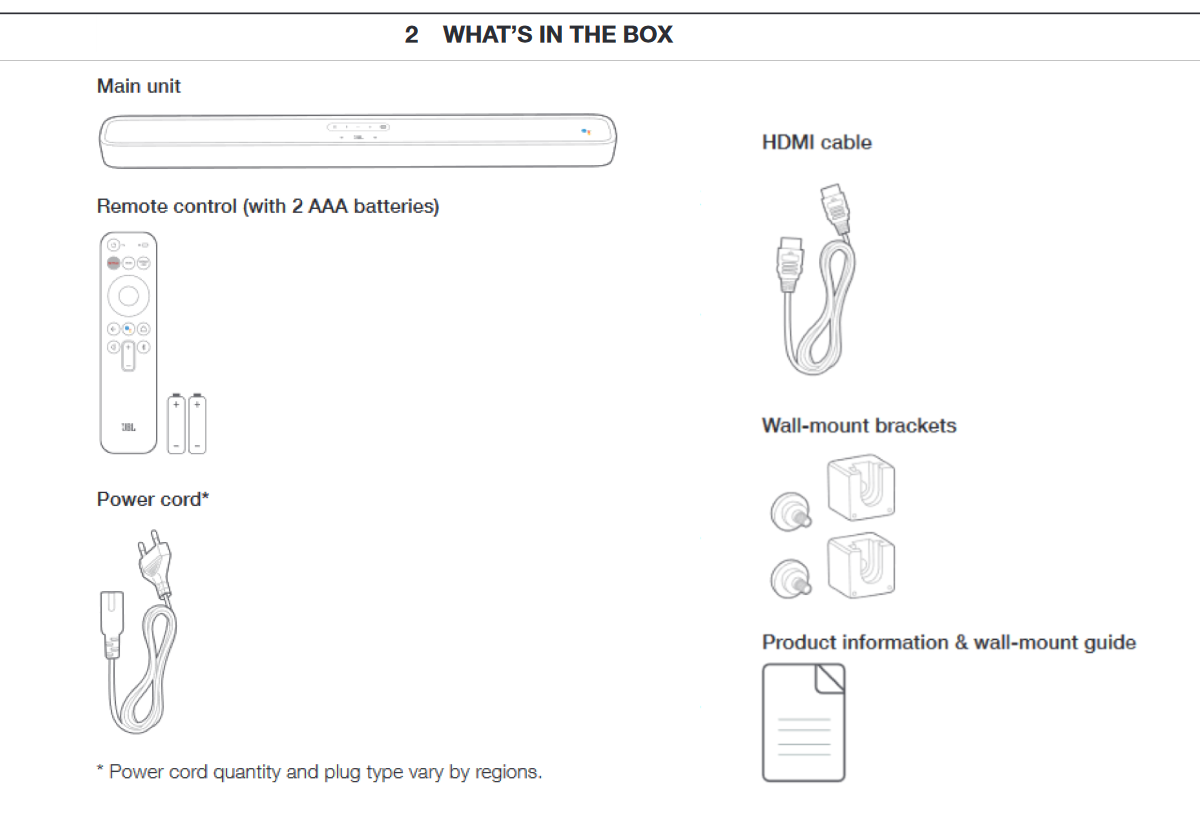 NOTABLE FEATURES
Wireless Bluetooth and Wi-Fi Music Streaming
The JBL Link Bar is intended to be used for streaming music. Users can wirelessly stream high-quality Bluetooth audio from their Smartphone or tablet via Bluetooth directly to the soundbar.
Users can also connect the soundbar to their local Wi-Fi Network and stream their favorite music, radio stations or podcasts from their portable devices via the soundbar's built-in Google Chromecast. Furthermore, the soundbar will also works with Google Home.
PrivacySwitch Microphone Far-Field Switch for the Ultimate Privacy
As stated before, the soundbar features a Microphone On/Off Privacy Switch that's located at its top side as a part of its Interface/Control Panel.
With it you can switch the soundbar's microphones between muted/unmuted for extra privacy and security protection whenever you're not using the soundbar's supported Google Assistant.
Built-In Android TV
As mentioned before, this soundbar also features built-in Android TV, allowing it to deliver a smarter viewing experience.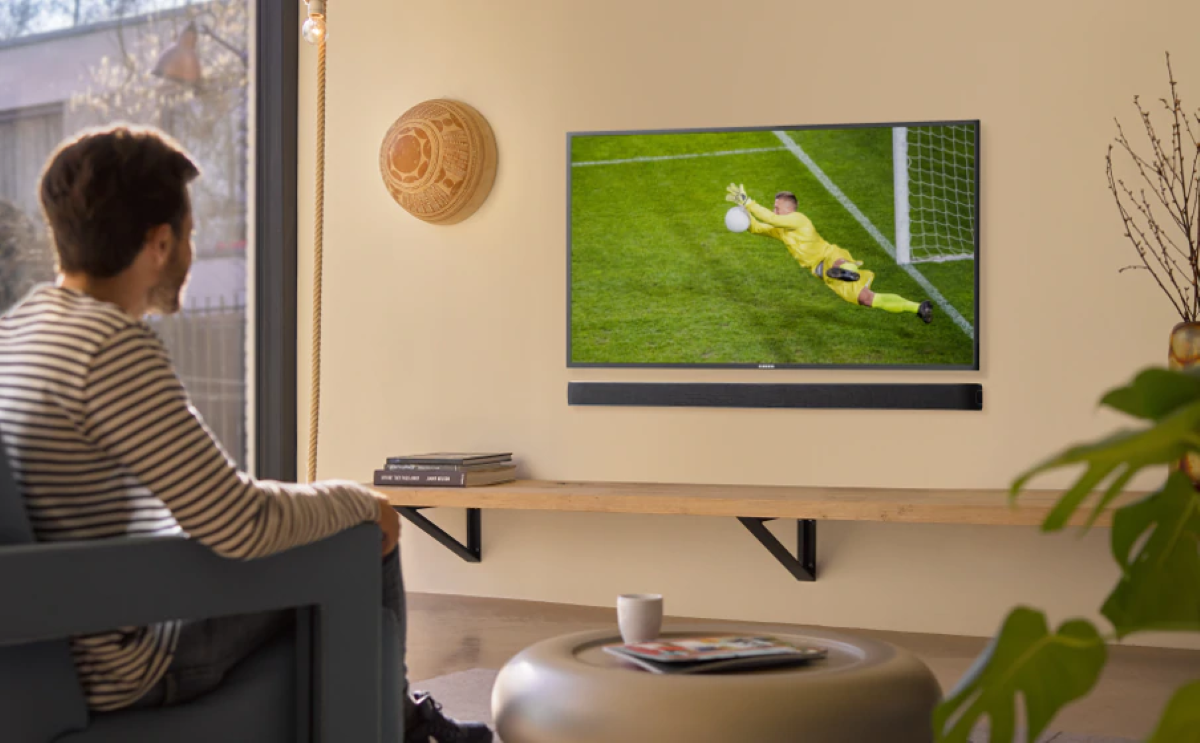 This means that the JBL Link Bar doubles as an Android TV player for streaming video from apps like Netflix, which ultimately lets you find and watch programs more easily than ever.
Built-In Google Assistant for Voice Assistant Voice Controls
The JBL Link Bar also offers support to Voice Assistant Voice Controls, coming with Built-In Google Assistant.
The soundbar's three HDMI passthrough inputs allow you to see Google Assistant's responses on your smart TV without switching away from your cable box or Blu-ray player.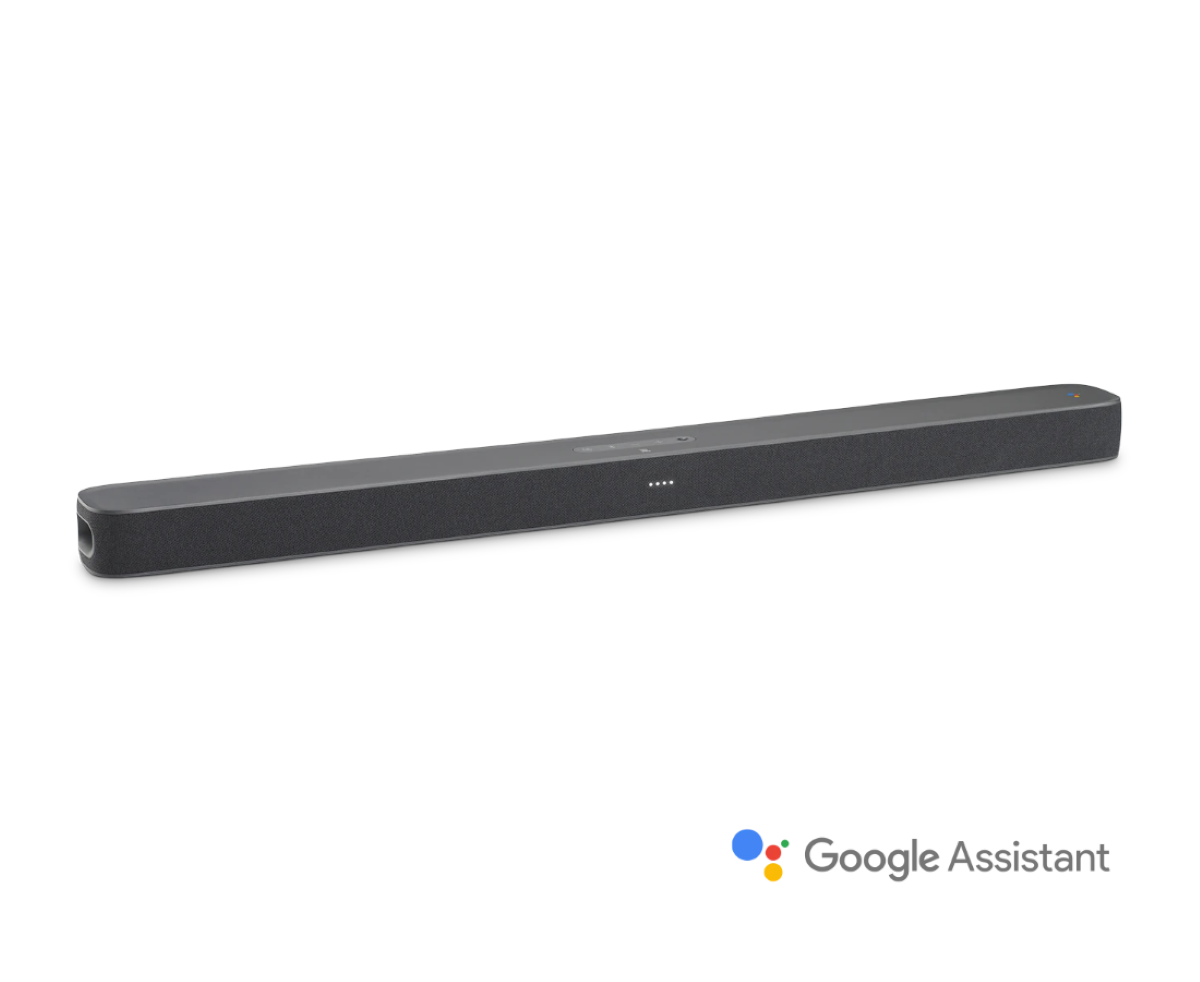 Just start by saying "Hey Google" to quickly find the latest blockbuster movie, check the score of the big game, or to ultimately control every smart device integrated in your smart home — all with just your voice and without leaving what you're watching.
FINAL THOUGHTS
The JBL Link Bar is a smart voice-activated soundbar that features Bluetooth and Wi-Fi Connectivity, 3 HDMI inputs for Multi 4k video support, and built-in Android TV and Google Assistant for easy Voice Controls.
The soundbar's three HDMI passthrough inputs allow you to see Google Assistant's responses on your smart TV without switching away from your cable box or Blu-ray player.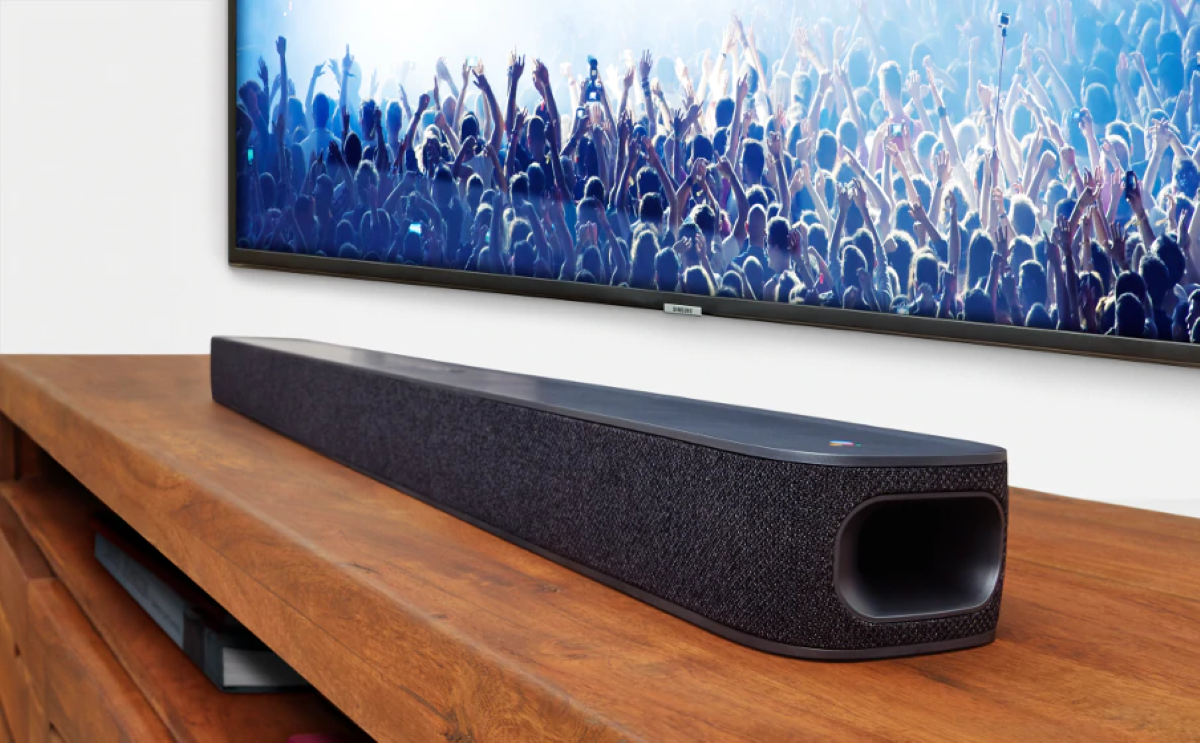 If you're interested in getting the JBL Link Bar, each unit is currently priced at $400 and comes with a 1-year warranty (with its included Warranty Card). You can order yours online, directly from JBL's official shopping page, which you can access by clicking here.