Whether you're hosting a house party or pool party, you have to make sure that you've got the right party speakers ready to blast the party jam. A great party speaker to go with would definitely be the JBL PartyBox 100.
This is a powerful and portable Bluetooth party speaker that features a perfect dynamic light show that allows you to ignite the night with your personal portable party colors. Having one of these allows you to always bring the party with you, no matter where you decide to go party next, all while blasting your favorite party tunes.
With this speaker not only can you choose the colors yourself, but also let the music choose the party mood. This awesome party speaker allows you to mix it up and keep your party colors fresh, from one party to the next. You can either pop in a playlist from your USB stick or stream from a Bluetooth-compatible device.  Furthermore, this party speaker also comes equipped with both mic and guitar inputs, allowing you and your best friends to "Rock it Out" on the fly.
You can either mount this portable party speaker on a pole and immerse your party spot in JBL's dynamic signature sound or you can just bring it along with you from party spot to party spot and party all night long with up to 12 hours of battery life. Lastly, whenever the battery runs, you can simply plug the speaker into a wall plug and keep the tunes flowing and the party going.
Let's take a look at the JBL PartyBox 100 and check all of its specs and cool features.
DESIGN & SPECS
The JBL PartyBox 100 measures 14.0 inches long by 13.9 inches wide by 26.1 inches tall (35.6 x 35.2 x 66.4 cm) and weighs 24.9 lbs. (11.3 kg).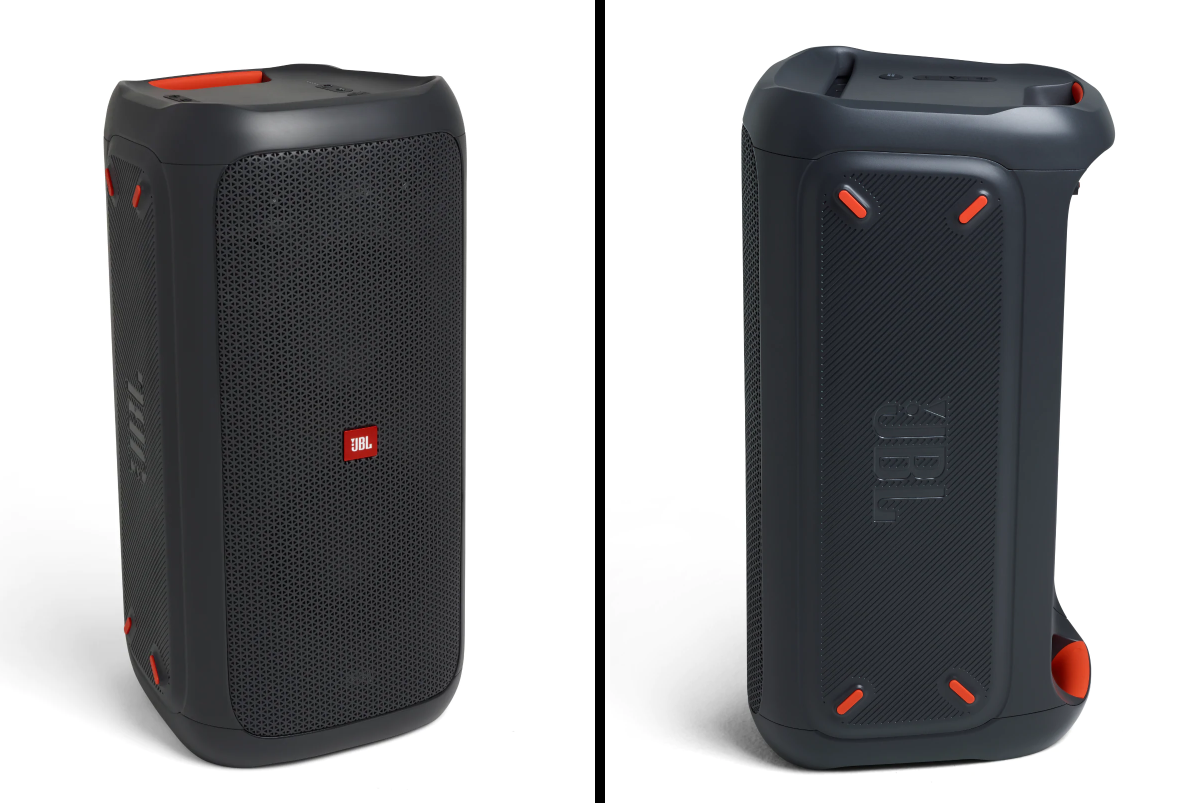 The JBL PartyBox 100's versatile design allows you to install this portable party speaker on a pedestal. This is a party speaker that can easily "rise to the occasion", as it can be mounted on a post for a dynamic, immersive, party sound that really rocks the crowd.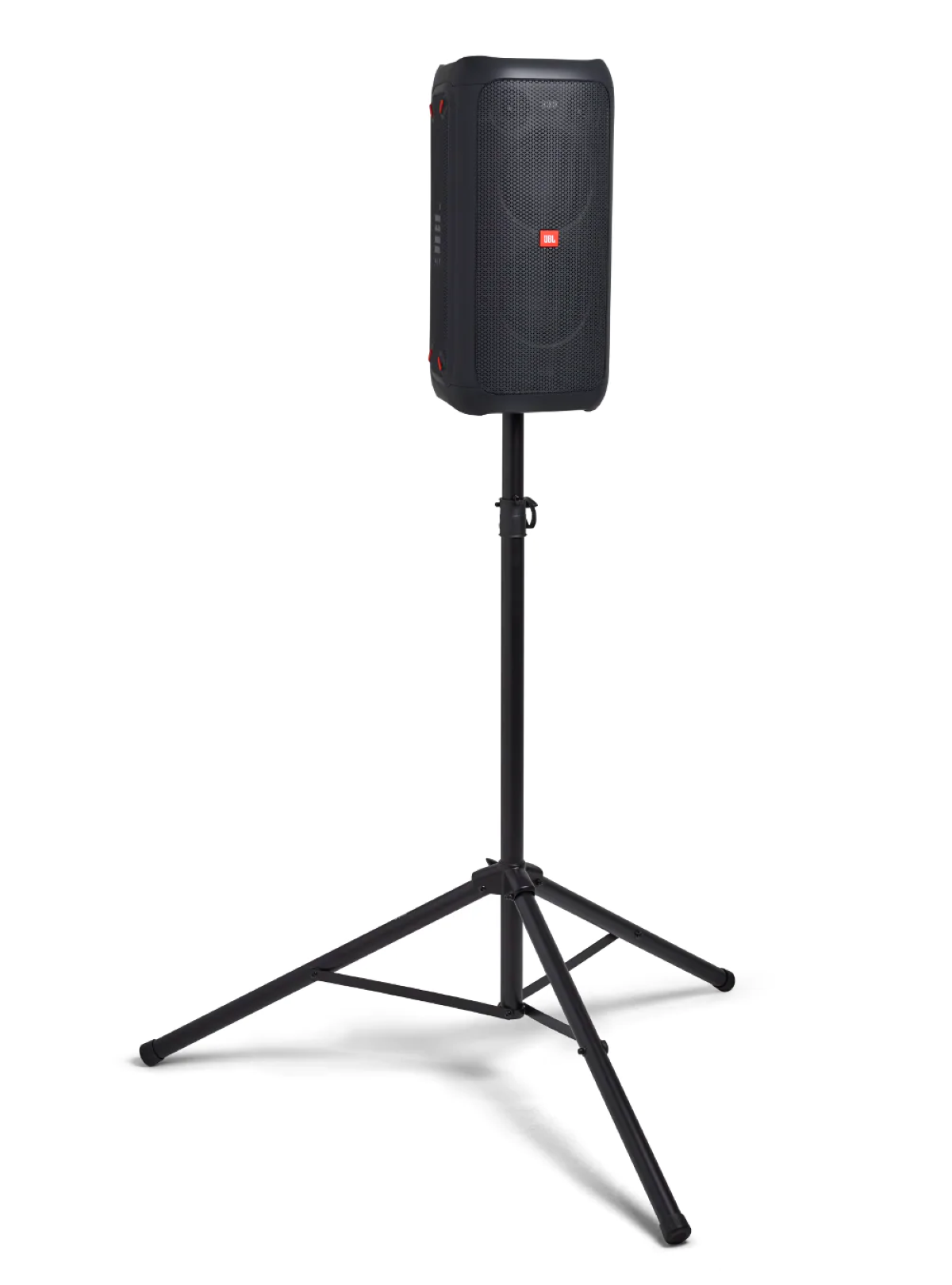 SOUND
This party speaker comes equipped with power audio drivers that deliver up to 160 watts of maximum power. The speaker is also Bass Boost-enabled and features a Frequency Response of 45Hz-18kHz.
INTERFACE
Located at the back of the party speaker users can find the entire interface, which is actually rather small – blending in quite easily with the unit's simple, yet stylish design – and easy-to-access, as well as extremely intuitive to understand and very easy to use.
At the back of the unit, close to the top, users can find the Back Panel, which from left to right consists of: a USB-Port (allows you to rock your playlists from a USB stick), one Auxiliary (3.5mm jack) Input and Output ports, as well as one Microphone Input and one Guitar Input (both coming with Volume dials).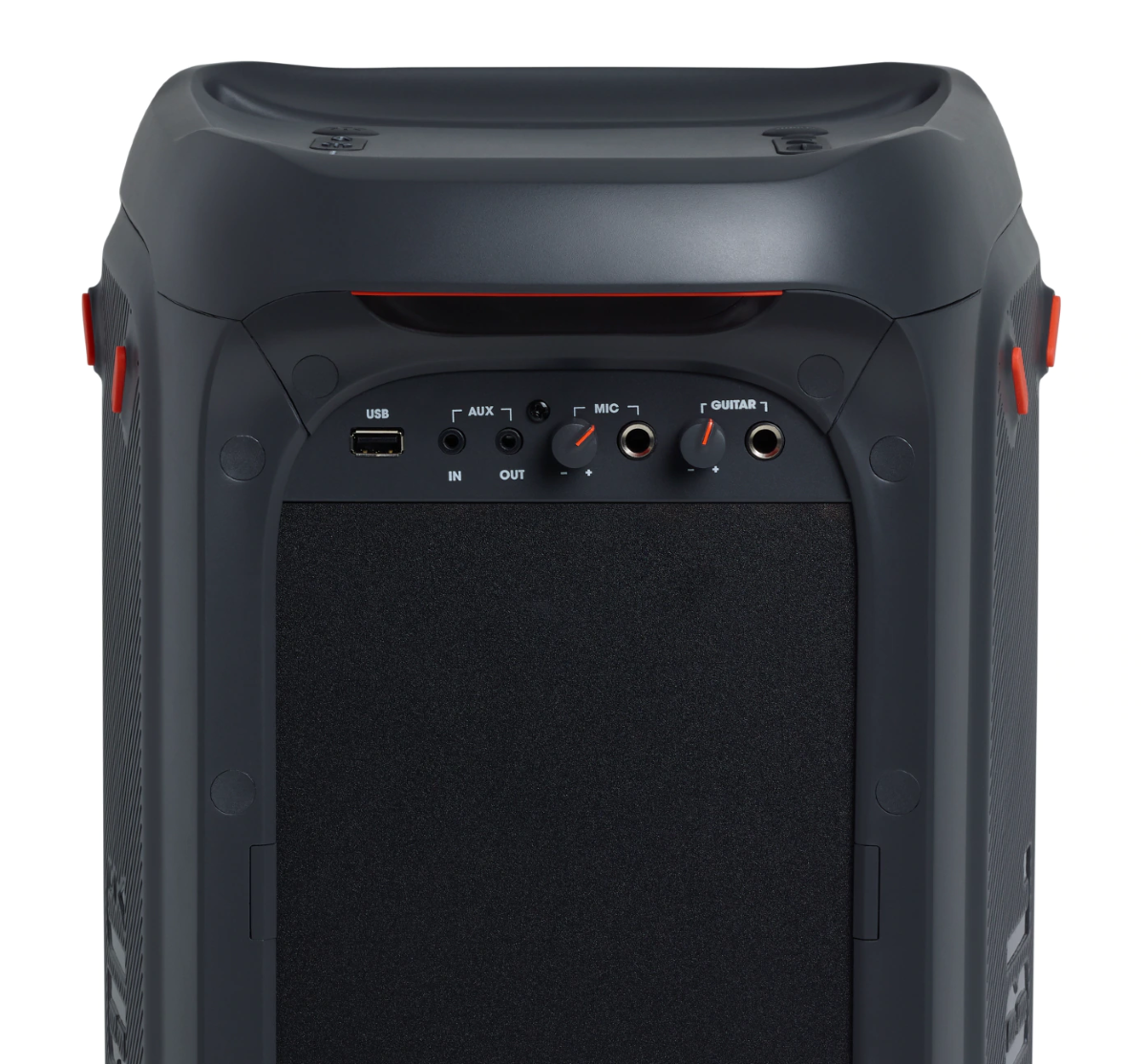 The integrated Mic and Guitar Input ports offer a simple Plug-and-Play solution. This allows you to easily take your party speaker to a stage and simply plug your extra sound equipment into the speaker to start rocking on-the-spot.
At the very bottom of the back of the unit users will find a power input, which can be used to keep the party speaker running once its rechargeable battery runs out of juice.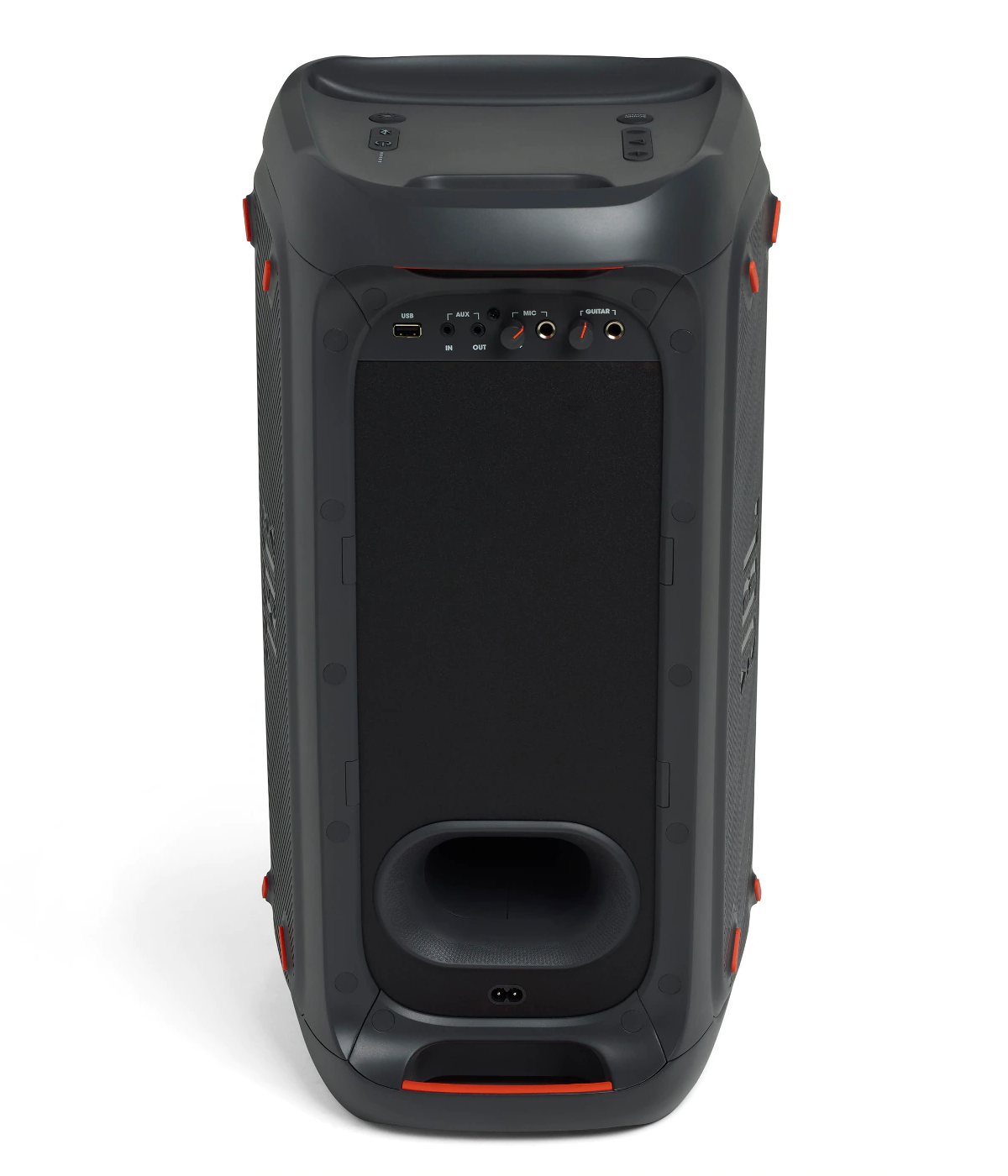 CONNECTIVITY
The JBL PartyBox 100 also supports Bluetooth Connectivity, allowing users to stream music from any mobile device. This means that you can connect the party speaker to your Smartphone or tablet via Bluetooth to listen to your favorite tunes.
Not only that, but you'll also be able to use your favorite online service via any Bluetooth-enabled device for uninterrupted wireless streaming.
Furthermore, its Bluetooth Technology also allows you to set up and connect up to two (x2) party speakers together via Bluetooth for a True Wireless Stereo immersive sound experience.
BATTERY & BATTERY LIFE
The JBL PartyBox 100 party speaker comes equipped with a built-in 2500mAh rechargeable battery that can offer up to 12 hours of music playing time/run time.
Once depleted, recharging the battery back to full power takes exactly 6 hours and 30 minutes.
WHAT'S IN THE BOX?
Inside their package users will find: their JBL PartyBox 100 Party Speaker, one included AC Power Cable, the Quick start guide, an included Safety Sheet and one Warranty Card (1-year warranty).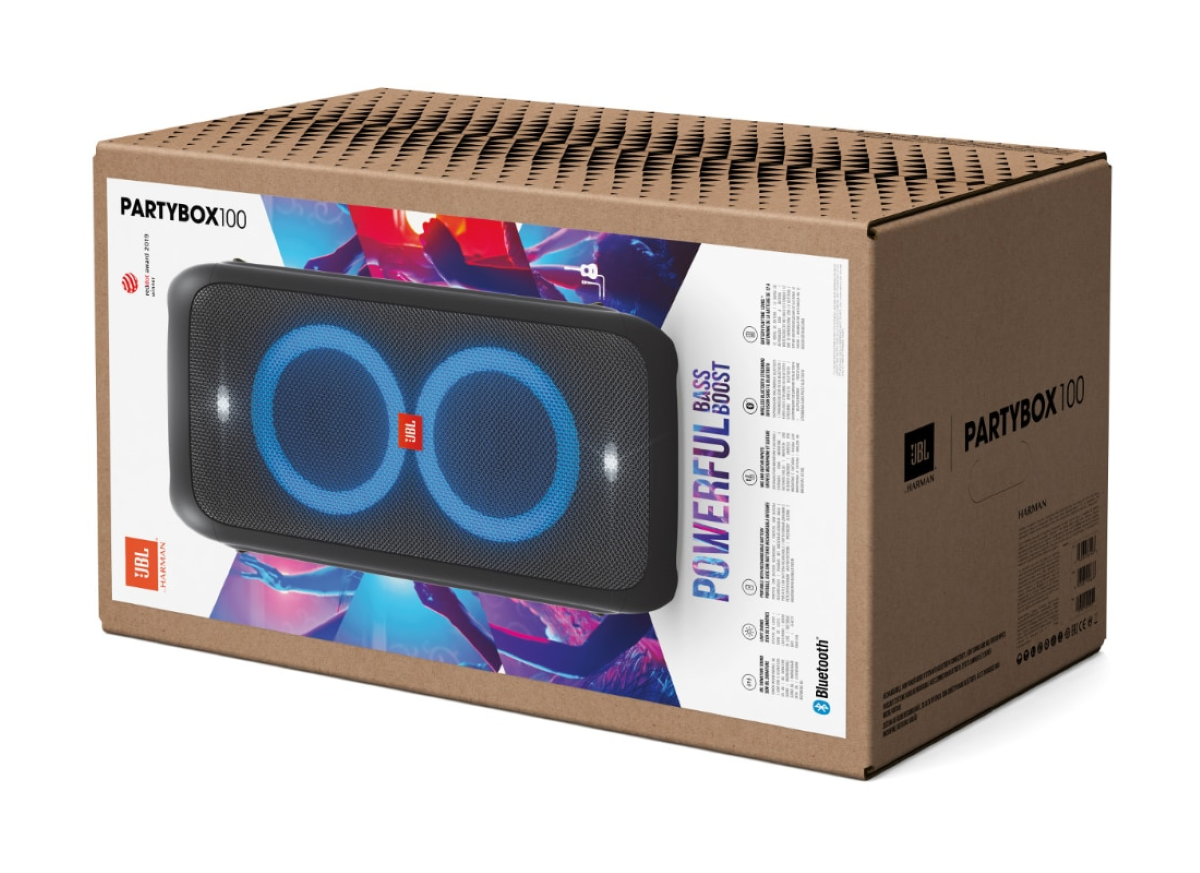 NOTABLE FEATURES
Party-Playlists made with ease
Thanks to the JBL PartyBox 100's integrated USB-port you can easily prepare and personalize your party playlist.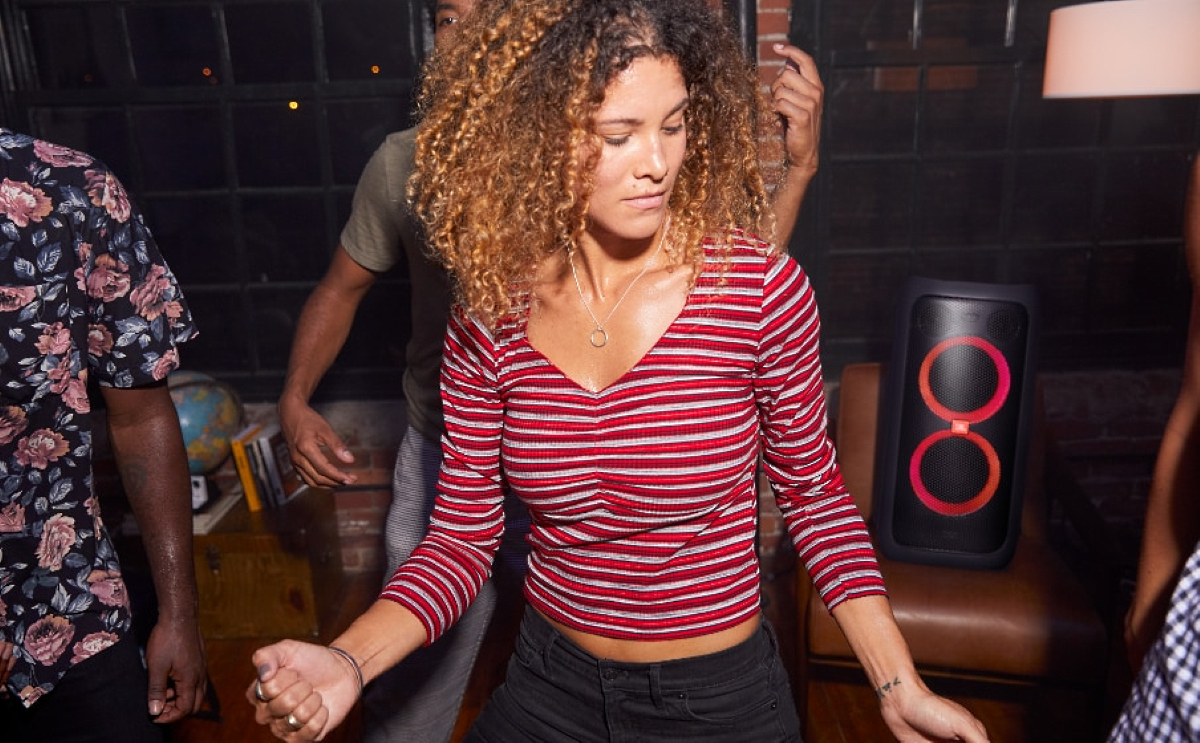 Simply upload all of your favorite party tunes to a USB-capable thumb-drive and plug it into the speaker to get the party started.
Dynamic Light Show – Light up your party
The JBL PartyBox 100 features an epic dynamic light show that you can use to boost your party even further.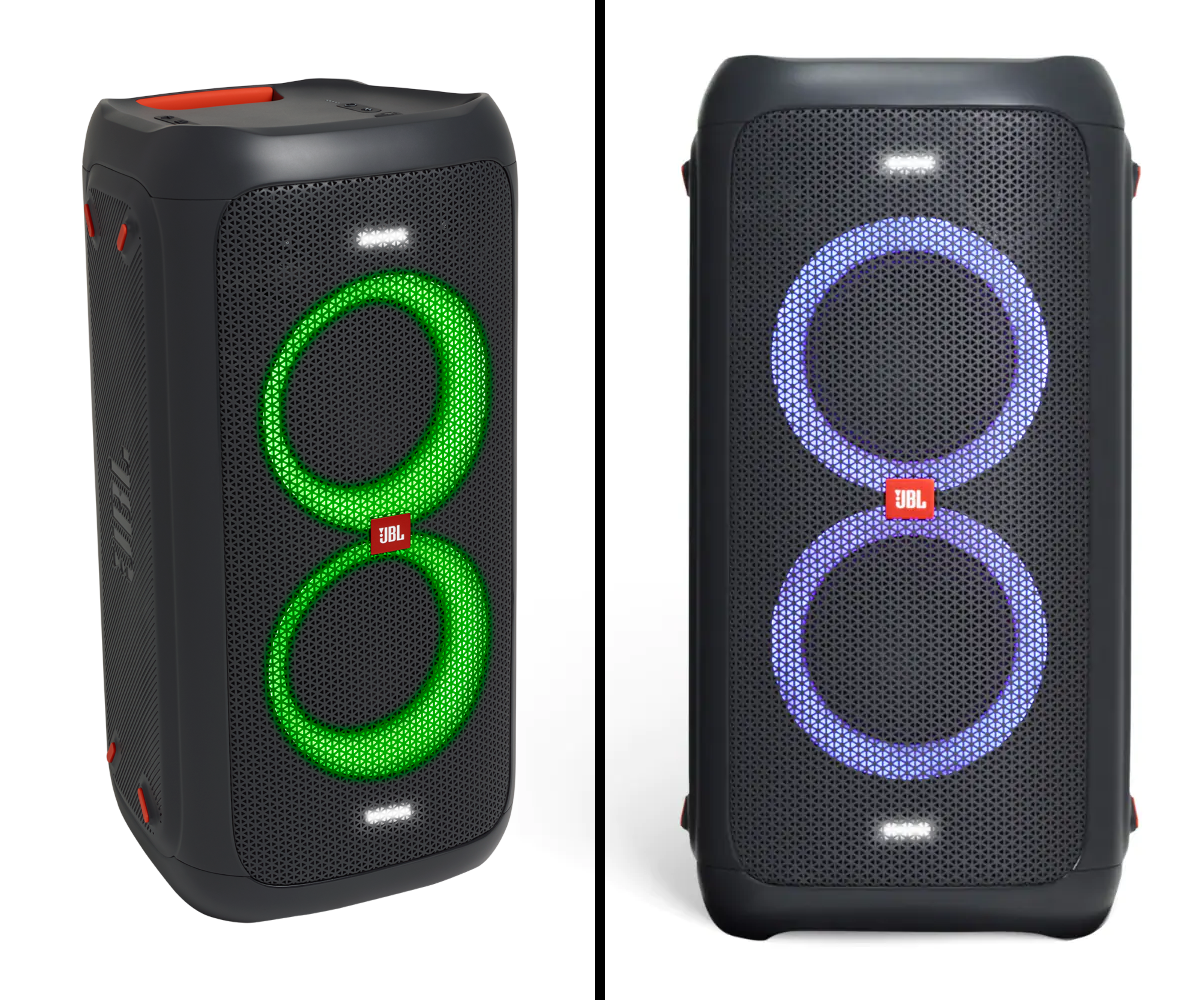 Users can choose between several RGB LED light patterns or simply let the colors randomly groove to the music for a next-level audio-visual party. This includes Bright Green, Purple, Red, Light Blue, and many more cool dynamic colors.
TWS (True Wireless Stereo) 2-Party Speaker Connectivity
The JBL PartyBox 100 also features Bluetooth Technology that allows you to set up and connect up to two (x2) party speakers together via Bluetooth for a True Wireless Stereo immersive sound experience.
This means that you can get quite the party by amplifying your tunes with twice the sound power you'd normally get from one single party speaker. This ultimately allows you to create an immersive sound show in your favorite party spots.
FINAL THOUGHTS
The JBL PartyBox 100 portable Bluetooth party speaker offers 12 hours of battery life and standard power support, featuring Bluetooth Connectivity with 2-speaker support, as well as a dynamic light show.
This party speaker comes equipped with a 3.5mm audio cable Input and Output, as well as easy-to-use plug-and-play Mic and Guitar Input ports.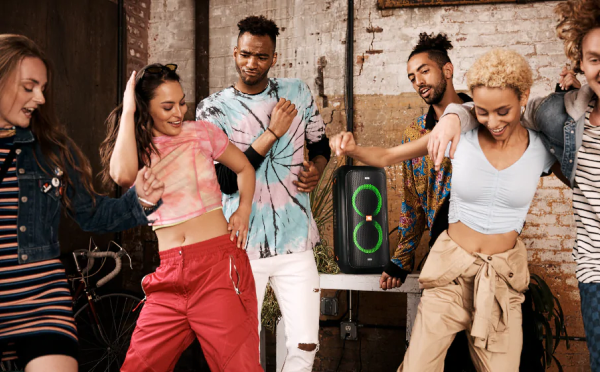 If you're interested in getting the JBL PartyBox 100, each unit is currently discounted from its normal price of $350, and is now going for $280 (saving you $70), and comes with a 1-year warranty (with its included Warranty Card). You can order yours online, directly from JBL's official shopping page, which you can access by clicking here.