First-time college students have to go through a lot of new experiences with their new life change. When going to college for the very first time, one of those experiences – and in fact, the very first one – is moving day. After moving into their college dorm room, new college students can get nervous and stressed for leaving their precious personal belongings unprotected. However, all that stress and tension can easily go away when using a smart 3-in-1 secure storage solution like the BunkTrunk.
The BunkTrunk is an adaptable automatic secure locking footlocker that was designed by a concerned father. This automatic locking storage unit doesn't take any floor or desk space and it doesn't need to be attached to anything – which is something that colleges are extremely adamant about.
Furthermore, not only does the BunkTrunk work as a secure storage space for students' personal belongings, but it also doubles as both a study desk and a night stand, giving new college students a reliable 3-in-1 solution that allows them to easily manage most of their college daily routine.
The best part about it is that students can have their smartphone and laptop charging inside the storage unit while those are safely locked away.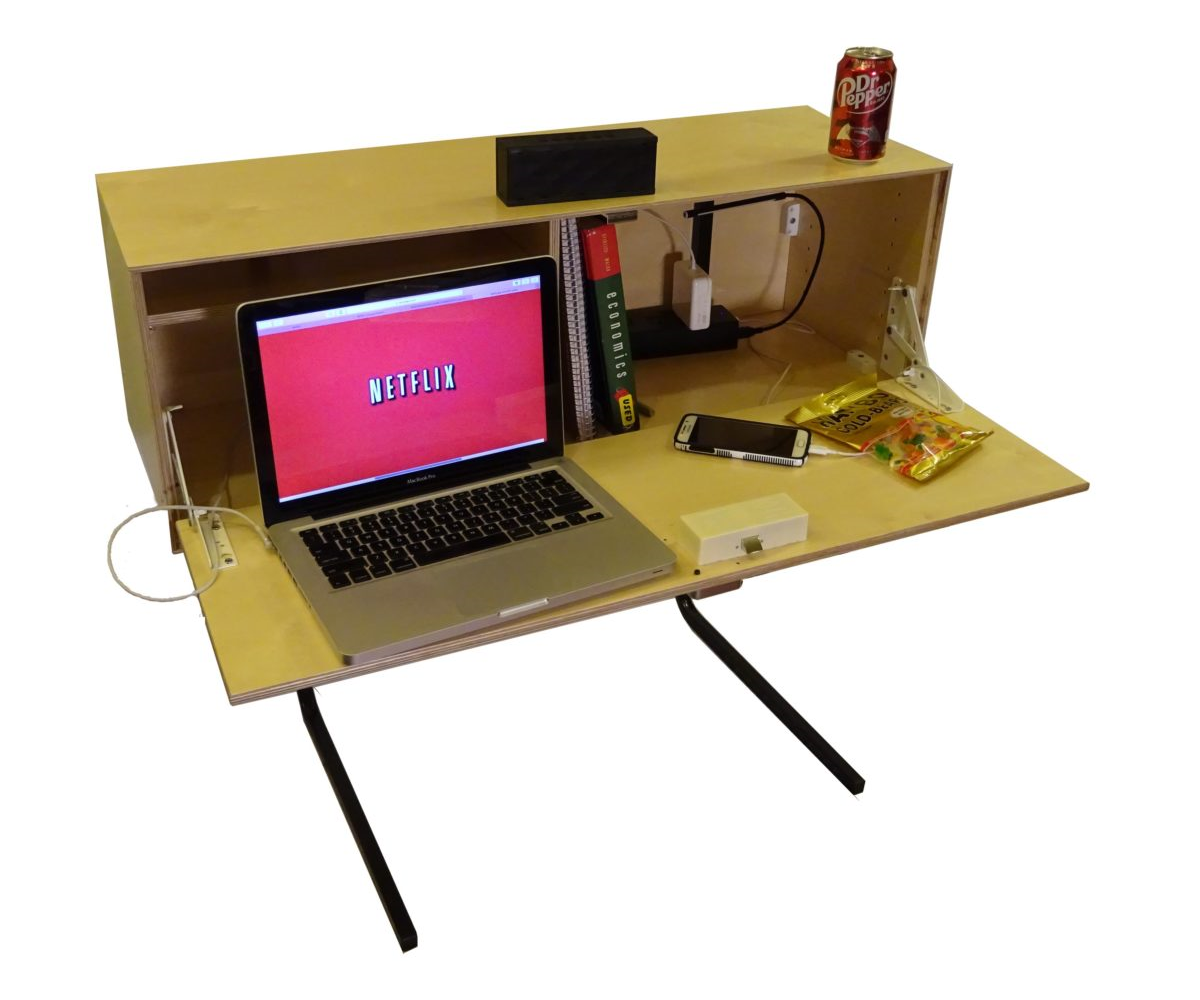 Let's take a detailed look at the BunkTrunk and check all of its specs and features.
DESIGN & SPECS
The BunkTrunk is a 3-in-1 Automatic Secure Locking Storage, Study desk and Night Stand unit that was designed for college students. The entire unit measures 36 inches long by 11.5 inches wide by 12 inches tall and weighs around 31 lbs.
The unit features an 18 inches height gap between its storage container and its standard leg supports (measuring a total of 30 inches tall), or a 20 inches height gap between the storage container and its leg supports when using extended leg supports (measuring a total of 32 inches tall in that second case).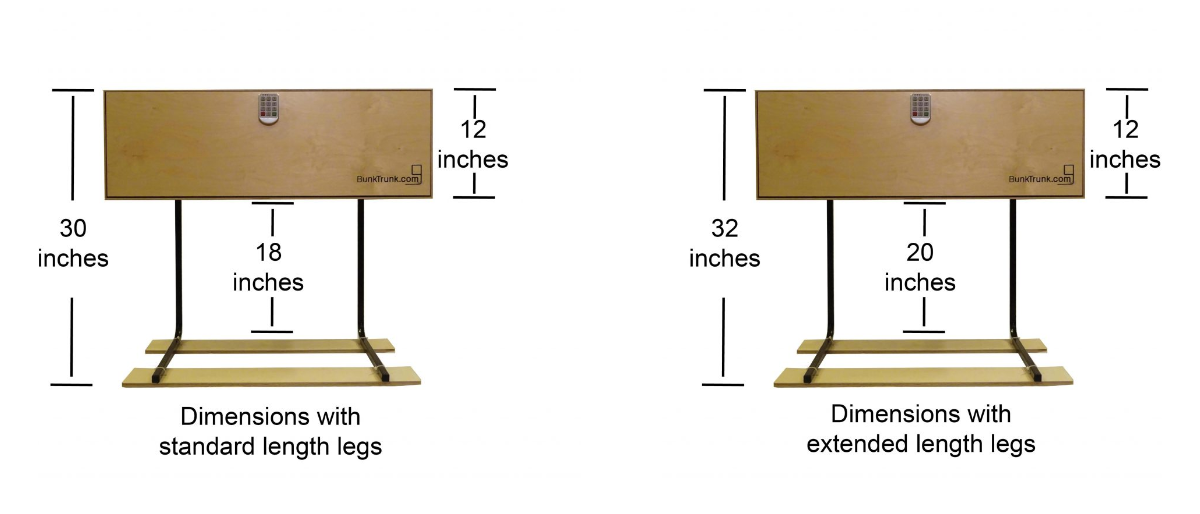 The BunkTrunk features a beautiful wooden design and showcases a solid construction within the entire unit, offering a secure place for storing and charging electronics while also featuring an efficient utilization of space over the foot of the bed.
Not only that, but the unit was also designed with safety in mind, featuring enough zip-tie support holes that allow you to keep the unit safe and steady without ever having it falling down on top of your legs.
As stated before, this is also an automatic locking storage unit, meaning it comes equipped with a digital combination lock to keep all of your personal belongings like your Smartphone, tablet and laptop safe and sound.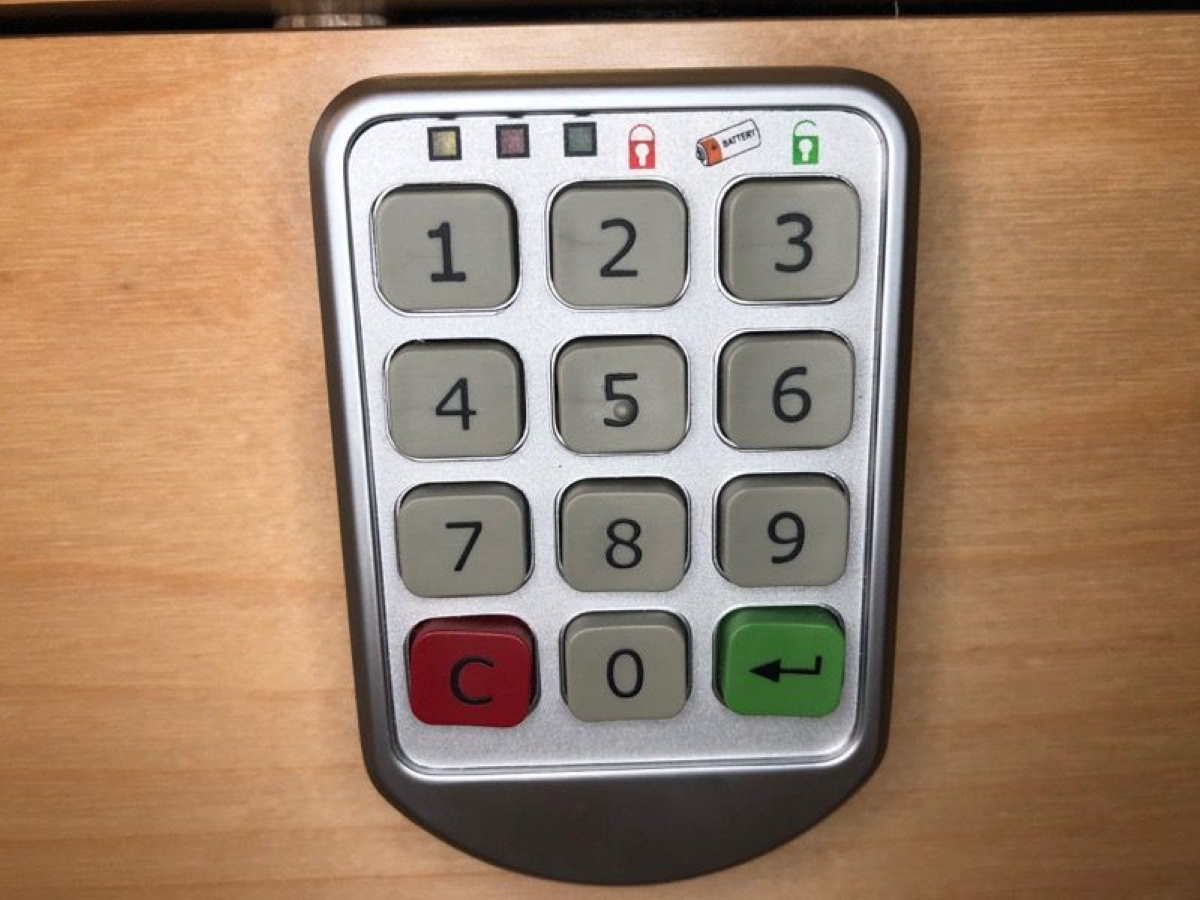 WHAT'S IN THE BOX?
The BunkTrunk comes neatly packaged inside its box, and everything comes super protected with plenty of padding, which ensures that none of its parts are damaged during transport.
The default model is called "The Bachelors", and it includes the unit's standard footlocker (the storage space), the unit's included legs (2 metal bars, 2 wooden slats, 2 pins, 4 zip ties, 2 velcro ties), an included shelf (with 4 shelf pins), a Mini USB for emergency lock power, a total of 4 AAA batteries and one instruction manual (in English).
There's one next model up that's called "The Masters", which also includes a power strip.
Lastly, there's one third model, a high-end model that's called "The PhD", which on top of all the included items mentioned above also adds a power strip, a Bluetooth speaker, and an LED light.
HOW TO SETUP?
Setting the BunkTrunk up is extremely easy, as the company did a really nice job with the unit's packaging.
By following the easy-to-understand manual, which basically consists of three and a half full-sized pages of English instructions, assembling the BunkTrunk should be easy work. The manual describes each step with clarity and precision, and it's easy to understand every step of the assembly process.
Here's the company's official video with the assembly instructions (embedded below), which you can also use to further help you out.
Once you've got it fully assembled, the BunkTrunk simply looks like a wooden box with legs.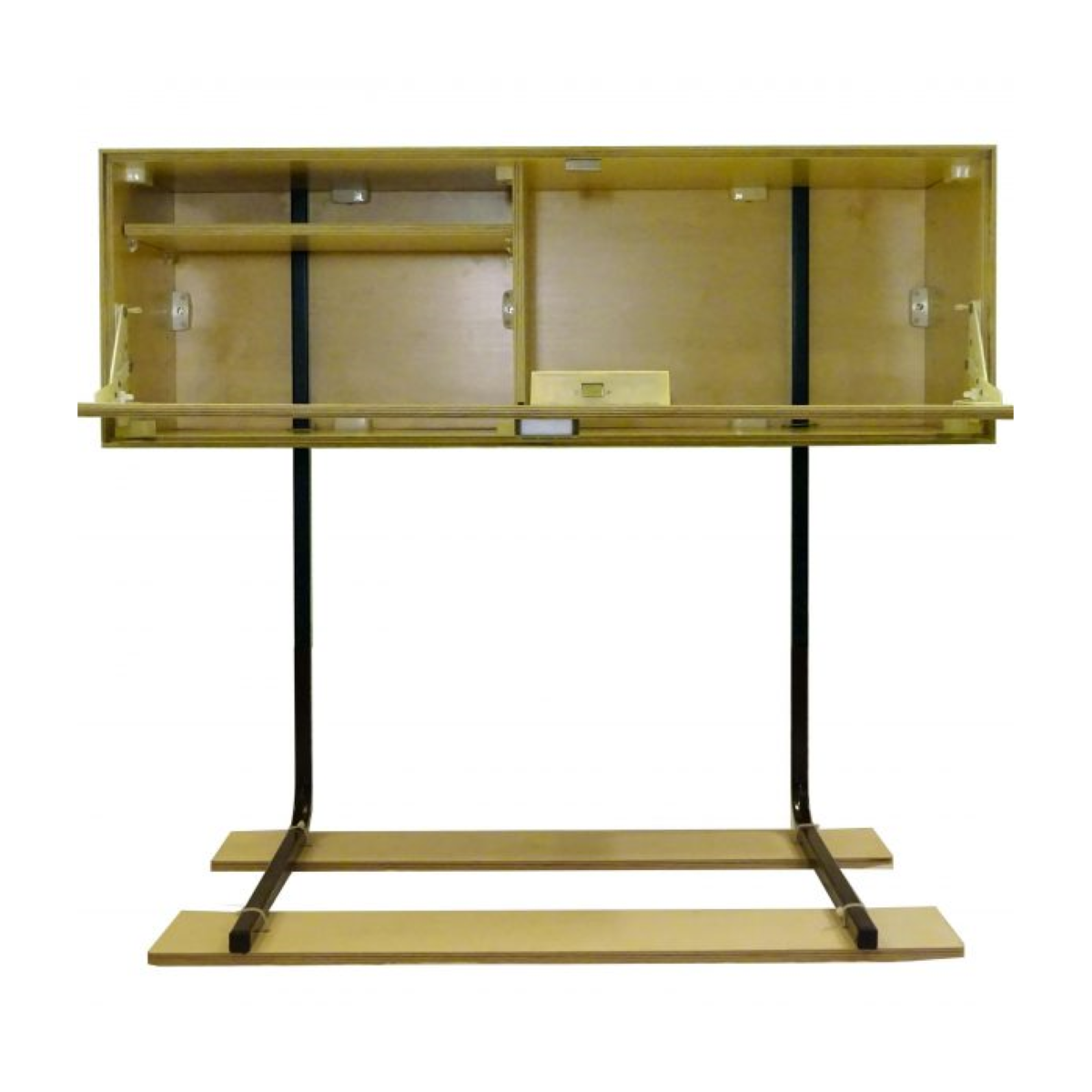 All you have to do after assembling the unit is lift up the end of a mattress and slide the unit's legs and slats under the mattress. The mattress should then hold your BunkTrunk safely and steadily in place.
CONFIGURING THE DIGITAL COMBO LOCK
Setting up the BunkTrunk's digital combo lock is also quite simple. The manual guides its users with instructions for setting the master code and the user code on the digital combo lock.
The master code is basically a longer code that's only used for setting the user code. Contrarily, the user code is a short code that's used regularly to unlock the unit's footlocker (the storage space).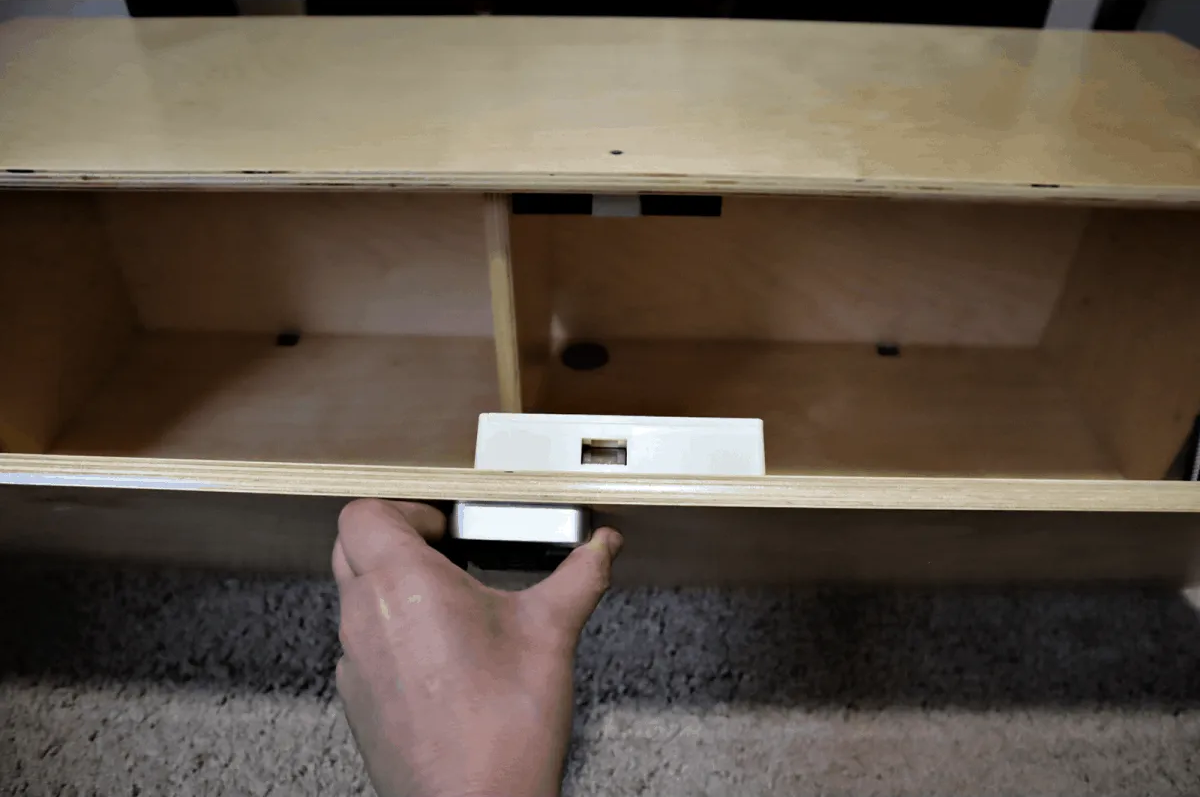 FINAL THOUGHTS
The BunkTrunk is a 3-in-1 Secure Storage, Study desk and Night Stand Footlocker that allows college students to securely lock up their laptops and phones while recharging them.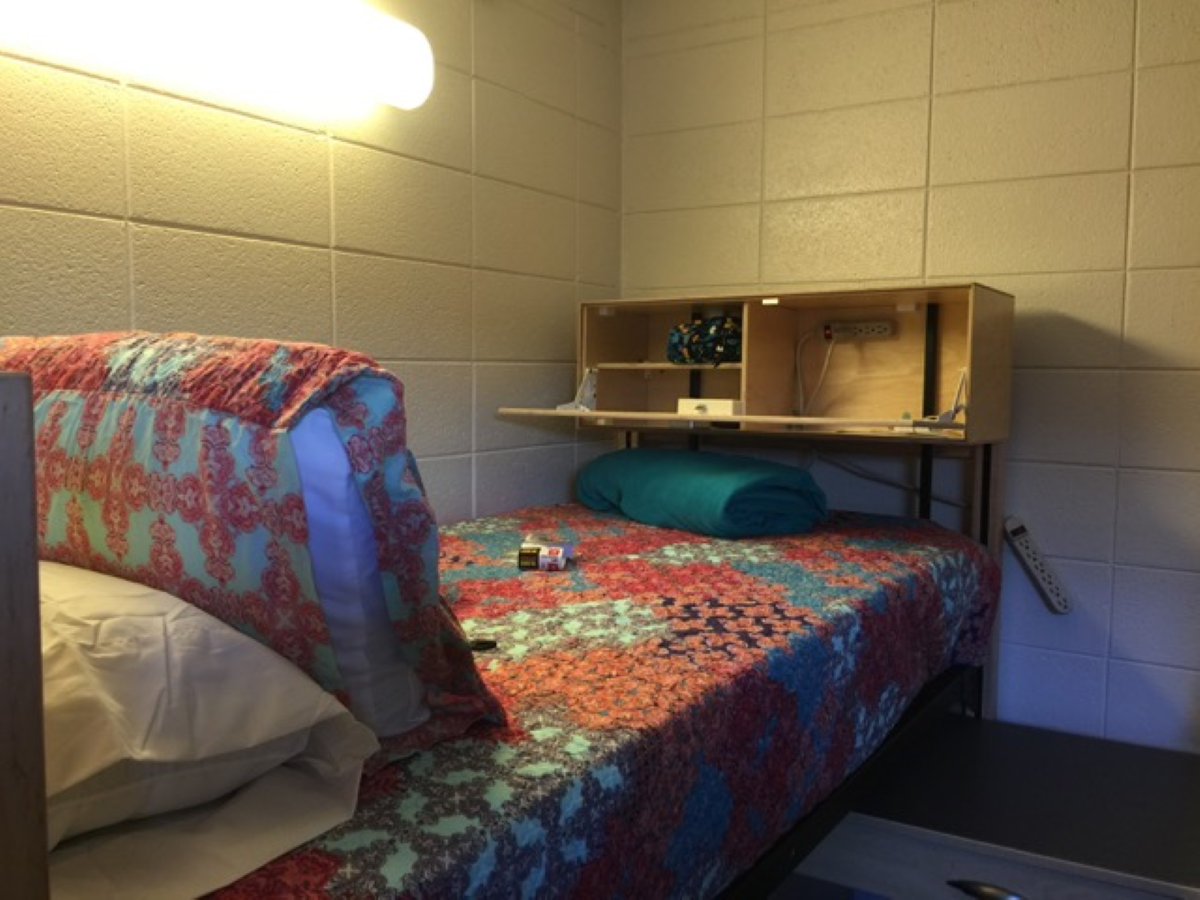 The unit was designed to be used either over the foot of the bed, providing students with an extra place to study and watch movies, as well as to store their personal belongings, or underneath the bed and a standard bed storage unit.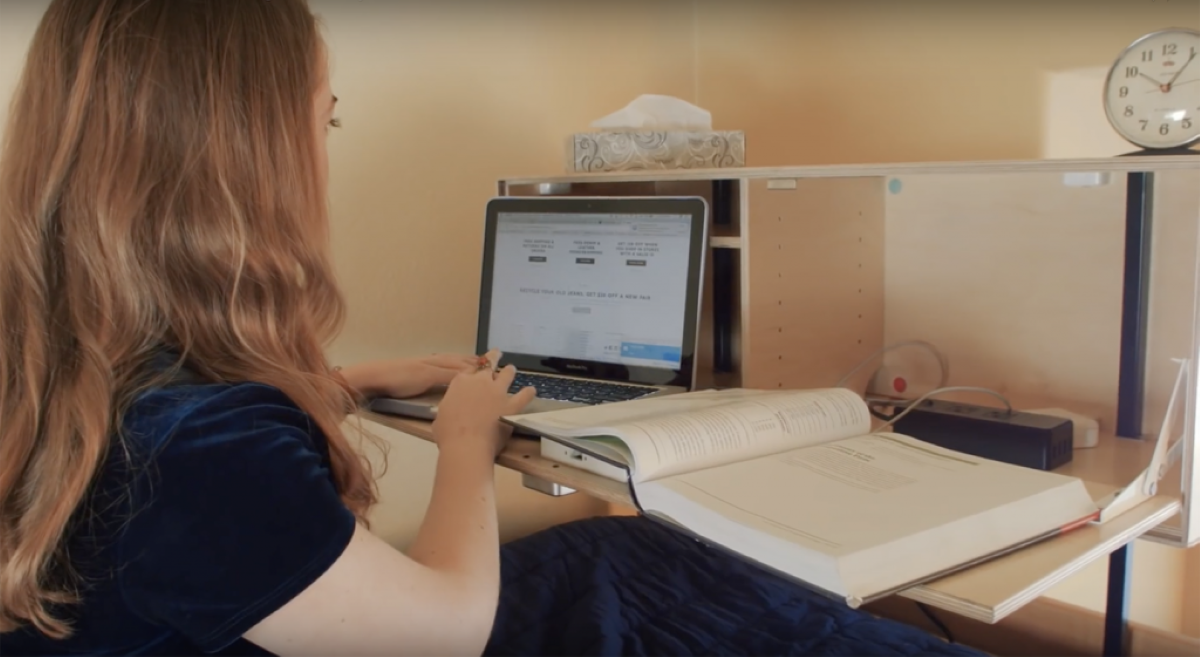 If you're interested in buying the BunkTrunk, the default model – which is called The Bachelors – is currently going for $219-$239 – depending on which leg supports (standard or extended) you choose to go with).
The upgraded model – which is called The Masters – adds a power strip and costs between $249-$269 (also depending on which leg supports you pick).
Lastly, the high-end model – called The PhD – adds three more extra items – which are a power strip, a Bluetooth speaker, and an LED light – and is currently going for $279-$289, depending on what leg supports you pick. For an extra $10 you can also get an extra right side shelf, making it $289-$299.
Whatever model you choose to go with, you can pick the one that suits you or your son/daughter better at BunkTrunk's official shopping page, which you can access via this link.