While you're on-the-go or on camping/hiking expeditions, cooking a hot meal can sometimes be quite hard. Sometimes you might not have the necessary tools to make an improvised campfire/cooking station during your outdoor adventures, and so, you'll quickly find yourself with no source of heat to cook/warm up a delicious hot meal. That is, unless you have something like the GoSun Go Portable Solar Oven.
The GoSun Go is one of the most portable solar ovens ever made. This ultra-lightweight solar cooker works by using just the Sun.
Users can take it with them literally anywhere, and, by using just the power of the sunlight, they can use the oven to quickly bake, roast, steam, and boil whatever choice of nutritious meal they decide to go with during their outdoors adventures.
Furthermore, if you're even just slightly concerned about the oven not being capable of cooking your meals during cloudy/rainy days or under cold weather conditions, then think again. Its breakthrough Solar Cooking Technology is fast and reliable, making this portable solar oven one of the best around (if not the best, mind you).
Let's take a detailed look at it and check everything the GoSun Go Portable Solar Oven has to offer.
DESIGN & SPECS
As mentioned before, the GoSun Go Portable Solar Oven is an ultra-lightweight and extremely compact solar cooking oven that measures 14.17 inches long by 7 inches wide by 3.37 inches tall, weighing just 2 lbs.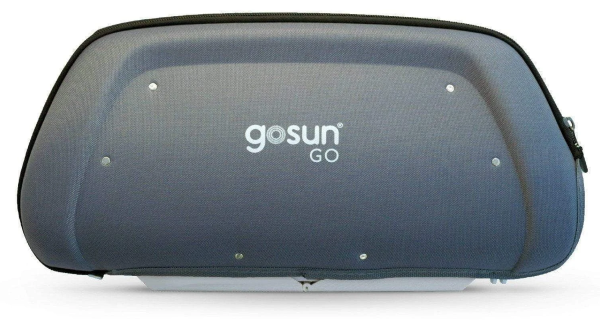 Its small size and compact design allows users to easily take it with them wherever they go.
The GoSun Go can easily fit in any camping backpack, or ultimately, get carried by campers while attached to their camping/hiking backpack.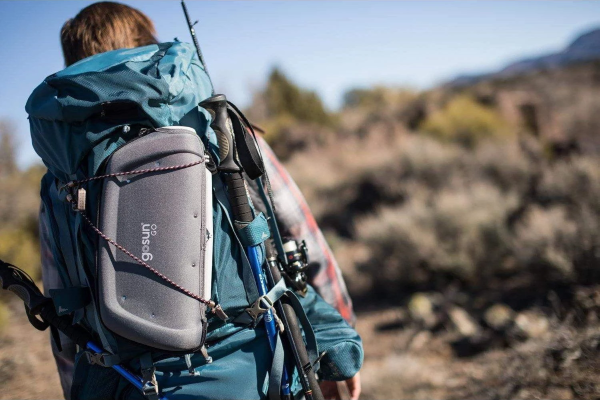 The portable oven system/unit actually comes integrated inside a very durable and sturdy package that's ready for both outdoor adventures, as well as for relaxing at home with friends.
This portable solar oven can take a max of one (x1) meal per load, which will take between 20 – 45 minutes to cook depending on what type of food is used.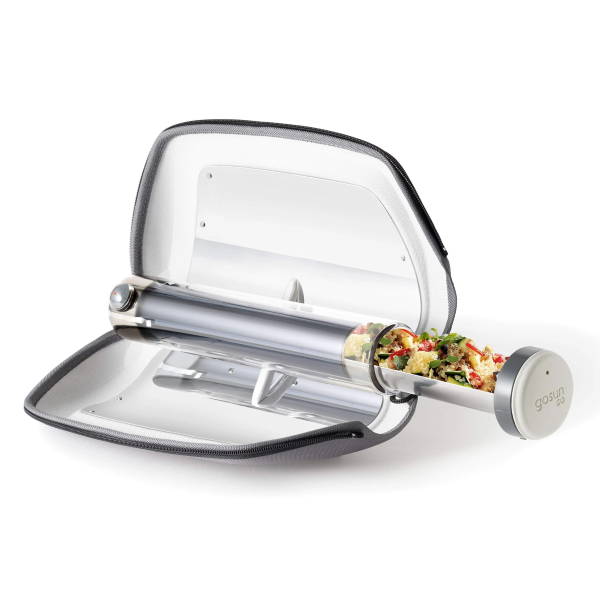 Lastly, the GoSun Go Solar Oven features a max cooking temperature of 550ºF (287.7 ºC).
HOW DOES IT WORK AND HOW TO USE?
As mentioned before, the GoSun Go uses Solar Cooking Technology to cook your meals, meaning that it uses just the power of the sun to cook your food.
The GoSun Go oven comes equipped with a built-in Solar Vacuum Tube that works as the perfect insulator, trapping your food's moisture and flavor. This Solar Tube is installed right at the center of the unit, located between two solar reflective panels (one on each side of the tube), which can all be seen when the unit is opened and facing up (the sun).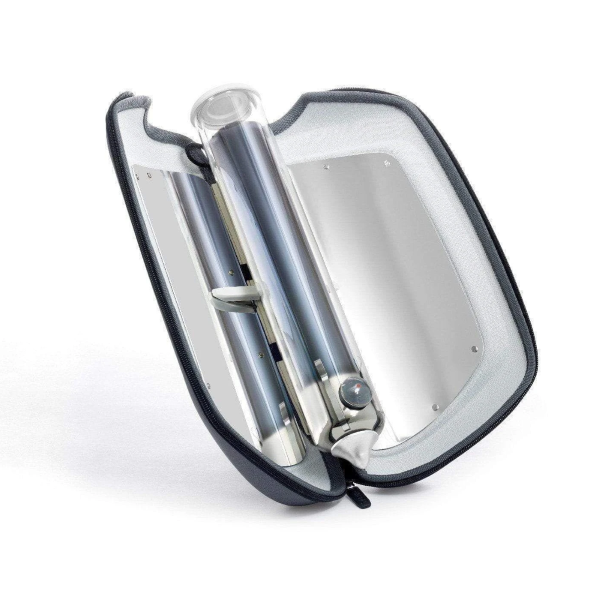 By capturing direct sunlight, campers can use this portable solar oven to cook their food by baking it, roasting it, or even steaming it.
Not only that, but this solar oven can also boil liquids, making it perfect to prepare a nice and warm campsite tea or coffee, as well as great for adding some boiled hot water to dehydrated meals so that you can quickly re-hydrate them.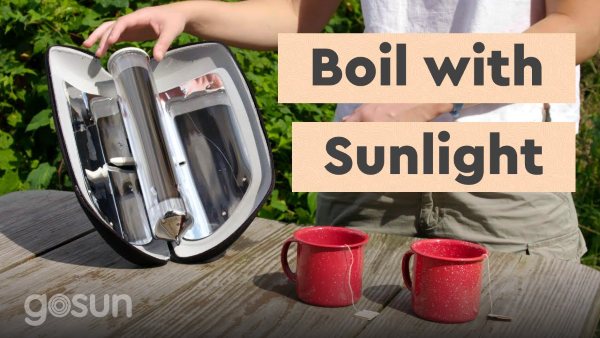 At the back of its sturdy package (outside), there's also a built-in collapsible and adjustable stand that can be used either to support the oven or as a sturdy handle to help users serve their boiled water/tea/coffee.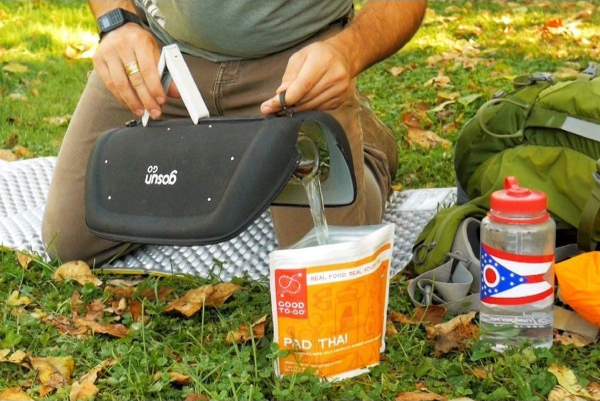 Ultimately, the GoSun Go Solar Oven can also be used to sterilize water in order to make it safe to drink.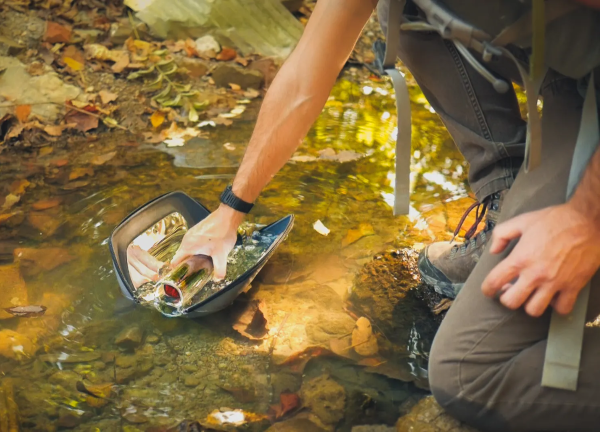 Thanks to its super reliable Solar Cooking Technology, the GoSun Go can even cook your food and/or boil your drink(s) while under any weather conditions, which means that you can use it during rainy days, while camping under thunderstorm/rainy conditions and/or cloudy days, or even in snowy weather.
WHAT'S IN THE BOX?
Inside each package users will find: their GoSun Go Portable Solar Oven, a set of 4 Go Silicone Baking Pans (used to bake small foods), a SunDial, an included Cleaning Brush (to keep the unit's "Cooking Tube" clean after each cooking session), the User Manual, and an included Mini Cookbook.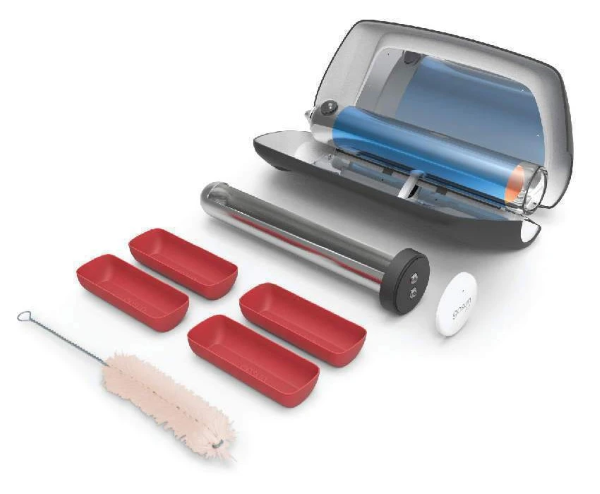 FINAL THOUGHTS
The GoSun Go Portable Solar Oven is packed with power and free from batteries. By using just the power of the sunlight to cook your meals, you can take it with you anywhere you go.
This versatile portable solar oven uses just the power of the sun to cook when you're out exploring the outdoors, which means that it won't use any gas or fire. That also means that it won't be a safety hazard during your outdoors adventures.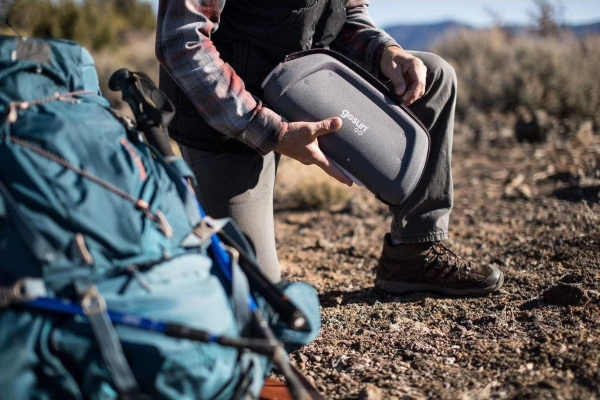 Lastly', since it's super easy to clean up, you'll never make a mess at your camping site. All that makes it one of the best (if not the best) portable solar ovens that's currently available on the market.
If you're interested in getting it, each unit is currently discounted from its original price of $139, now going for $119. You can order yours online right now, directly from GoSun's official website, which you can access via this link.