Whenever you're looking to fill up an inflatable air mattress, air bed, some of you car's tires, or even some floating pool accessories, you'll most likely be relying on a mechanical hand pump (which is manually powered), on an electric pump, or ultimately, on an air compressor. However, all of these have a few issues. Manually-powered hand pumps are just extremely energy draining whenever what you're looking to inflate takes a ton of time, while electrical air pumps and electric air compressors are just bulky, ocupying to much space, as well as quite heavy when you need to carry them around back and forth. However, there's one handy gadget out there that fixes both of those issues, meaning that not only does it do the job for you so that you don't have to waste your precious energy, but it's also super small and extremely lightweight, which makes it the perfect pump to carry around with you while you're on-the-go. Meet the FLEXTAILGEAR Max Pump 2.
The FLEXTAILGEAR Max Pump 2 is an ultra-small and ultra-lightweight battery powered pump that can very quickly inflate and deflate any inflatables you can think of, including air mattresses and air beds, as well as pool floats, and more.
Not only that, but this is currently the smallest and lightest portable air pump available on the market, which makes it great for camping trips, to
Now, let's take a more detailed look at the FLEXTAILGEAR Max Pump 2 and check everything that this portable air pump has to offer.
DESIGN & SPECS
Starting with its size, the FLEXTAILGEAR Max Pump 2 is, as mentioned before, extremely small, measuring just 2 inches wide (diameter) by 3 inches tall.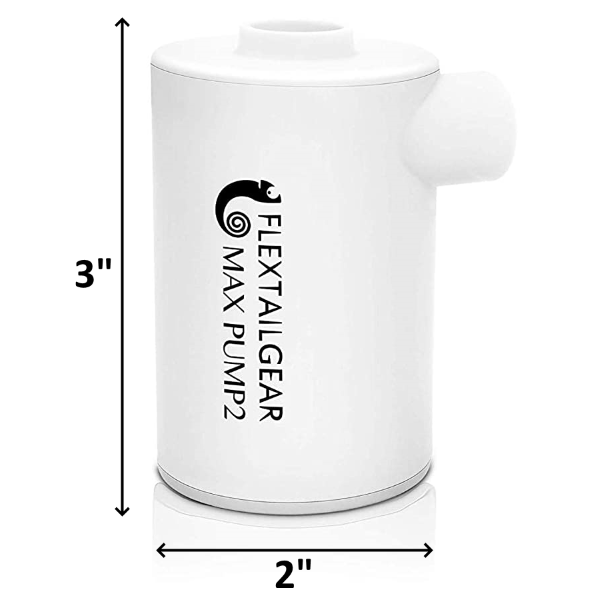 In fact, the pump is so small that it can easily fit within the palm of your hand. Thanks to its ultra-small design, you can easily carry it inside pretty much anything that you can think of, including a bag, backpack pocket, camping pants pockets, jacket pocket, your car's glove compartment, etc.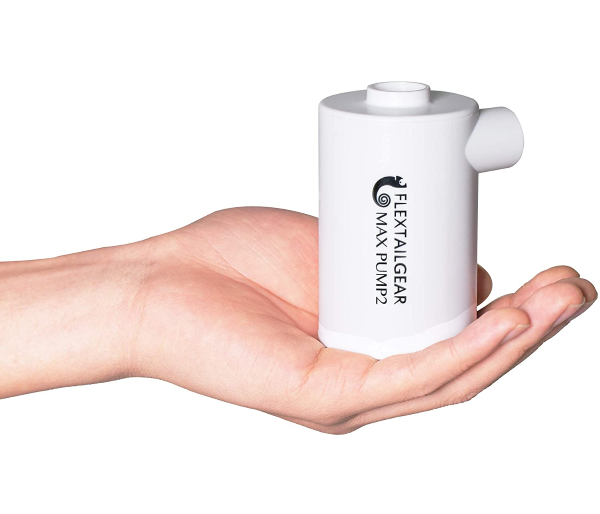 Furthermore, this portable air pump is also ultra-lightweight, as it weights just a measly 5.11 oz. That not only allows you to reduce on excess weight so that you can travel light and only focus on enjoying your fun and exciting outdoors adventure, but also ends up making it the smallest and lightest portable air pump available when compared to any other portable air pumps on the market.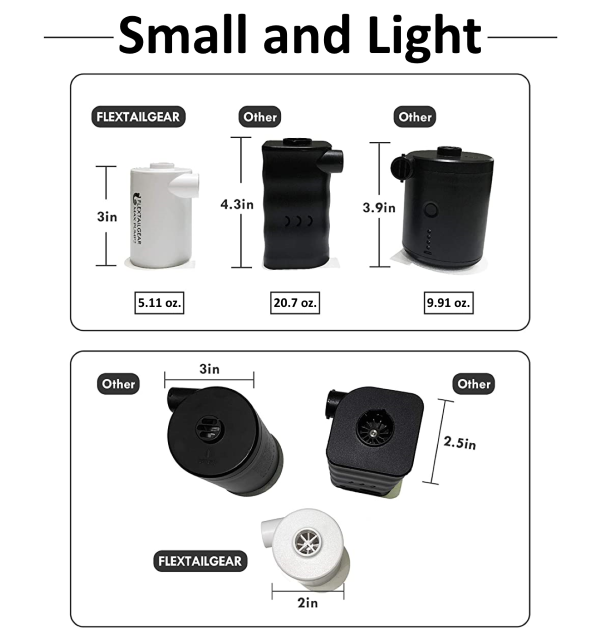 That ultimately makes it the perfect pump to bring with you on any vacations where you'll be needing to fill an air mattress, air bed, or even inflatable pool accessories.
The FLEXTAILGEAR Max Pump 2 also features an IPX7 water rating, which makes the pump extremely water resistant, allowing the unit to be submerged up to 3.28 ft. (1 m) in water for up to a maximum of 30 minutes.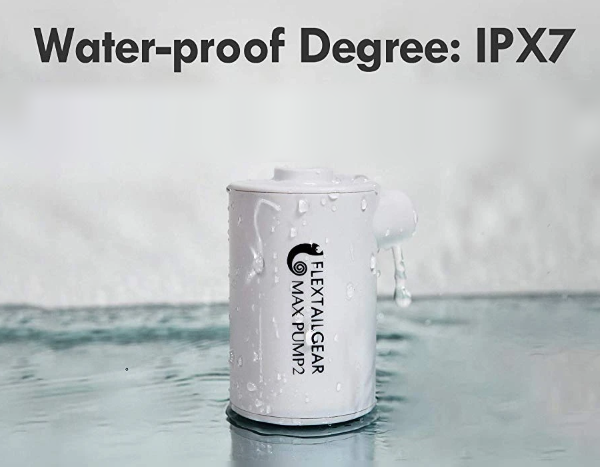 HOW TO USE?
Using the pump for any inflatables that you might be look to fill up is also as easy as you'd hope for, and that's because the pump features both one Safety net Inflation Port and one Safety Net Deflation port, as well as a Touch Screen Switch.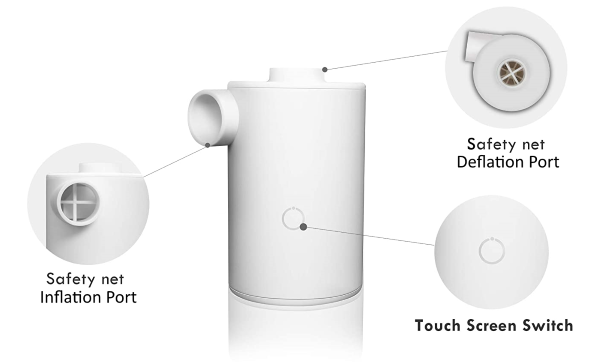 Literally all you have to do to get it running and working is quickly touch its Power On/Off Switch once to wake up the device. After that, just press and hold the same button for another 3 seconds to turn on the air pump's inflation system.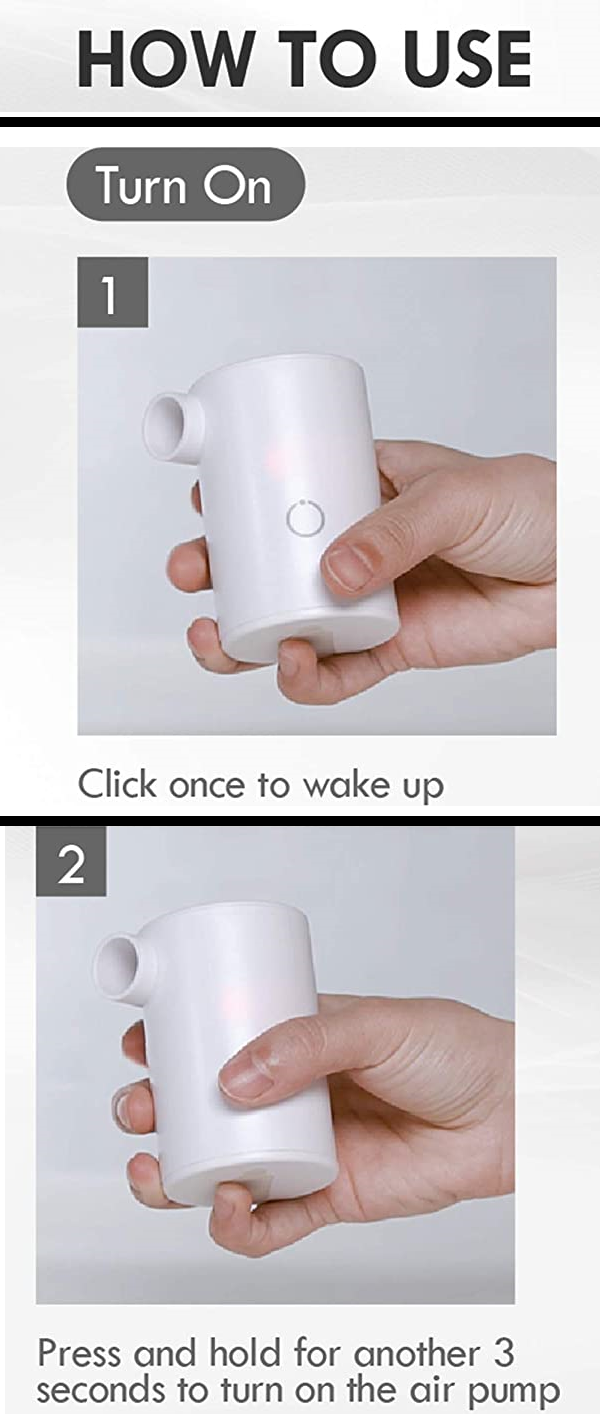 Not only can the pump be used to fill up most inflatable accessories, but users can also rely on the pump's Deflate Function to quick deflate most inflatable accessories, which ultimately lets them save some time on packing their gear. Lastly, the pump can also work with vacuum bags to save you some extra space while you're traveling.
After you're done, to turn off the pump all you have to do is click its Power On/Off Switch for a total of 3 times in around 1.5 seconds, and the pump will instantly turn itself Off.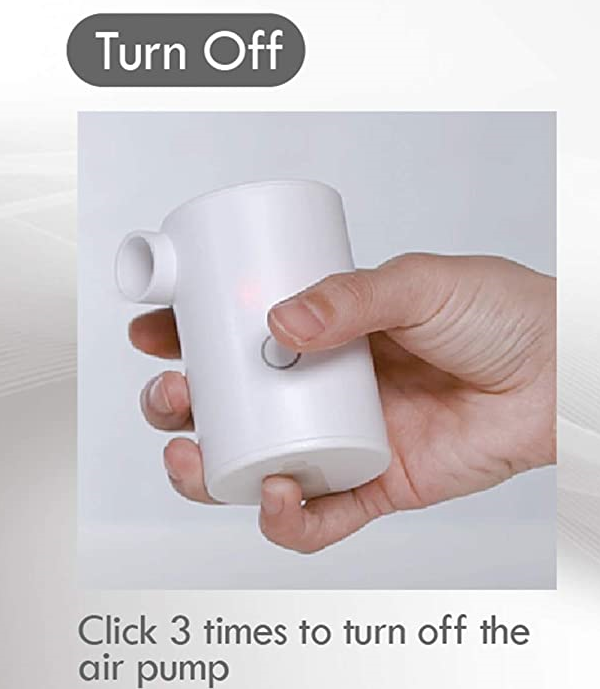 MAIN ACCESSORIES & MAIN USES
Since the FLEXTAILGEAR Max Pump 2 comes with a total of four (x4) included nozzle accessories, it offers a wide compatibility with tons of inflatable products.
Other than the pump's Self-Contained nozzle, the pump's included four nozzle accessories consist of a Large-Caliber air nozzle, a Rubber air nozzle, a Sharp air nozzle, and a Vacuum nozzle.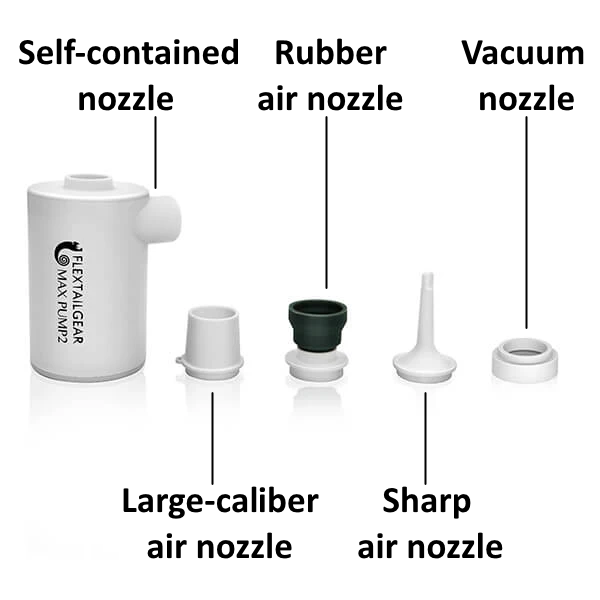 Thanks to its many nozzle accessories, this portable air pump is suitable for most air mattresses, air beds, pool floats, swimming rings and lifeguard life rings, inflatable furniture (like air sofas, etc.), vacuum bags, and many other inflatable workout gear and toys (yoga balls, inflatable swimming pools, etc.).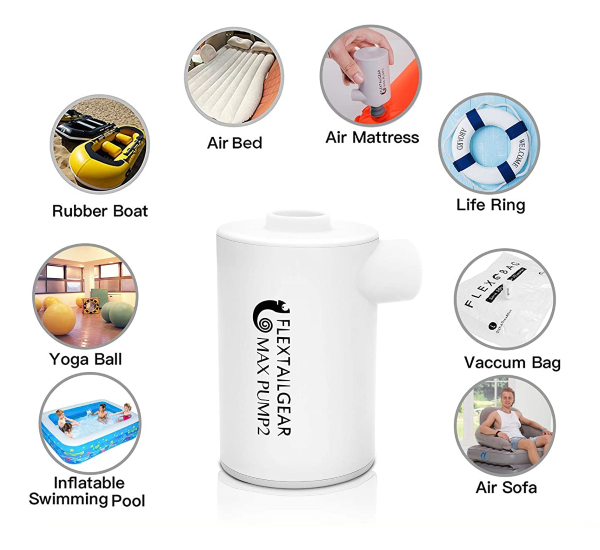 Additionally, you could also use the to have it provide some extra oxygen for any wood-burning ovens and/or outdoors campfires when cooking over those, as that should ultimately allow you to enjoy your food in an easier manner.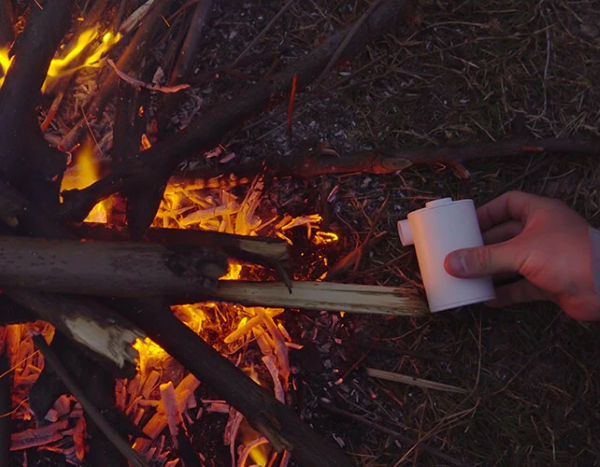 BATTERY & BATTERY LIFE
To be even more specific, this ultra-portable electric pump was specially designed for outdoor enthusiasts, as it doesn't require any power cord or dry cell. Instead, it comes equipped with a powerful and rechargeable built-in 3600mAh battery that can offer up to a maximum runtime of 40 minutes.
That basically means that on one full charge, the pump's internal battery can be used to inflate exactly 25 swimming rings, or 10 air mattresses, plus 40 vacuum bags, which ultimately brings you a powerful inflating tool for any of your adventures.
Keep in mind that if you don't use the pump for a long time, it's highly recommended that you recharge it every 3 months.
Another cool feature that the pump's built-in rechargeable battery offers is that you can ultimately use the FLEXTAILGEAR Max Pump 2 as an emergency Power Bank to quickly recharge your Smartphone whenever it's running out of juice. If you decide to use it as such, be aware that the pump will feature a maximum Power Output of 5.0V / 0.6A.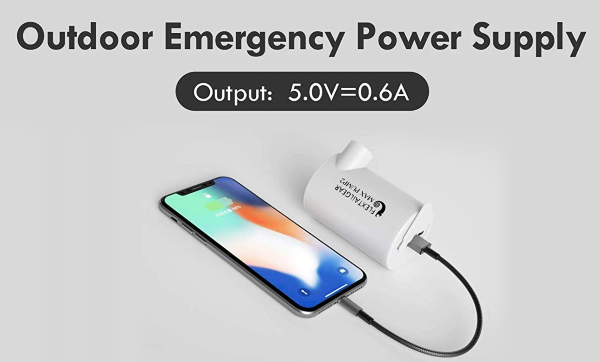 After connecting it to your Smartphone and turning on the pump via its Power On/Off Switch, all you have to have the pump changed to work on its Charging Mode is click its Power Switch one extra time and the pump should then instantly start recharging your phone.
Both the pump's Battery Charging Port and Mobile Charging Port can be found under the pump's TPU Waterproof Protection Plug, which even integrates a small travel lock mechanism to ensure that its waterproof cover is only opened intentionally.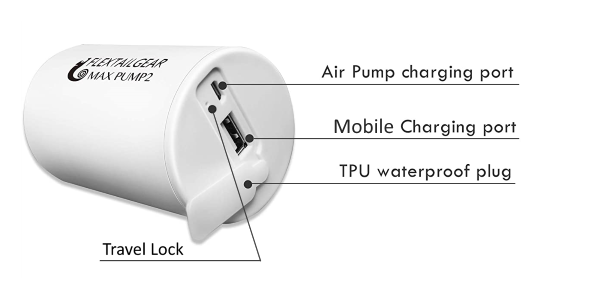 WHAT'S IN THE BOX?
Inside each package users will find: their FLEXTAILGEAR Max Pump 2, the four (x4) included nozzle accessories, an included Micro USB Cable (to recharge the pump as well as use it as a temporary Power Bank unit, and an included Carrying Pouch.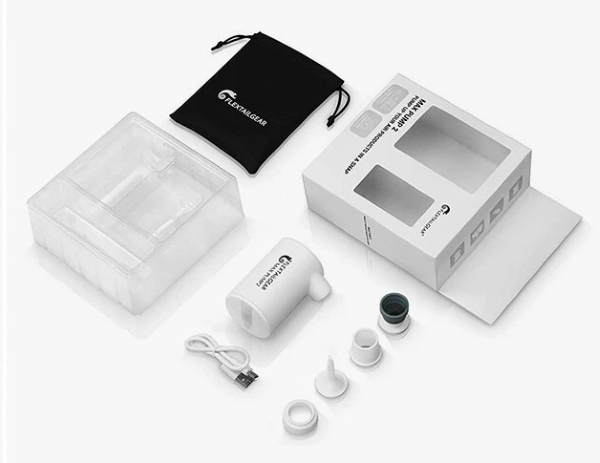 FINAL THOUGHTS
The FLEXTAILGEAR Max Pump 2 is a ultra-small and ultra-lightweight portable air pump that can be carried with you while you're on-the-go so that you can easily fill up any inflatable accessories on your adventures like pool inflatables, air beds and air mattresses, and more.
The Max Pump 2 is currently available in two different color models (including its nozzle accessories): White or Orange.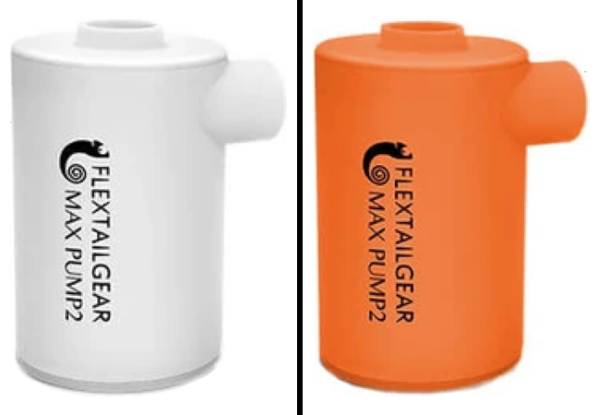 If you're interested in buying it, each unit is currently discounted from its normal price of $55, now going for just $37 each (saves you $18). You can order yours online, directly from the FLEXTAILGEAR's official shopping page, which you can access by clicking here.