While GoPro's are awesome high-quality cameras packed with tons of picture and video recording features that allow you to record and share all of your outdoors adventure moments at the best possible quality, these renowned outdoors cameras have a catch, and that's obviously their associated price tag. However, there's another company out there that's focused on developing low-cost high-quality action cameras that are mainly designed as more affordable options than a brand-new GoPro with similar features. This brings us to the AKASO Brave 6 Action Camera.
The AKASO Brave 6 is a 4K quality 20MP Wi-Fi Action Camera that was released just last year (2019) by Akaso. This super affordable outdoors action camera can be used underwater (up to 100ft/30m) and the entire kit comes with an included Waterproof Case, as well as tons of Mounting Accessories and evne two powerful Rechargeable Batteries that allow you record for a few hours without ever having to worry about recharging the camera.
Furthermore, this action camera also boasts really convenient recording technologies like EIS (Electronic Image Stabilization) so that you can have an easier time recording your stunts performed outdoors, or even share breathtaking landscapes after climbing for an entire afternoon, all recorded in perfect quality.
Lastly, there's also a Wearable Wrist Remote Control that allows you to more easily control the camera while you're focused on other outdoors activities (like riding a bike while having the camera mounted on your helmet, for example).
Now, let's take a more detailed look at the AKASO Brave 6 at see exactly what this low-cost action camera has to offer.
DESIGN & SPECS
Starting with its size, the AKASO Brave 6 is a quite small action camera that can easily fit within the palm of your hand, as it measures just 9.9 inches long by 3.3 inches wide by 3.8 inches inches tall. Not only that, but the camera is also extremely lightweight, weighing just a measly 1.2 lbs.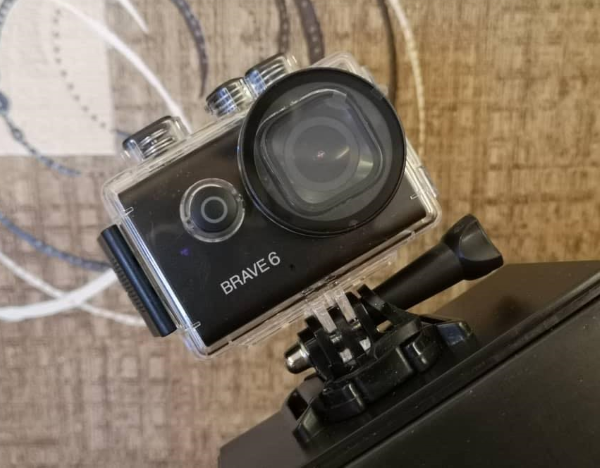 The camera features a very solid construction that makes it quite durable, meaning it's perfect for outdoors adventure. As such, its rugged plastic construction ultimately protects its more fragile internal components from the occasional unexpected drop or bump. (Just be sure to be somewhat extra thorough about its placement – when mounting it – so that you don't end up dropping it 24/7).
Furthermore, this action camera also comes equipped with a Gyroscope sensor.
At the back of the camera, we can find a dedicated digital screen display that includes all the necessary information about the camera's operation. This includes the date, the current time in an easy-to-read format (hours:minutes:seconds), the selected recording settings (picture/video quality, fps value, and any other additional selected features – discussed ahead), as well as whether or not users have the camera equipped with a Micro SD Card, and obviously, the camera's battery level.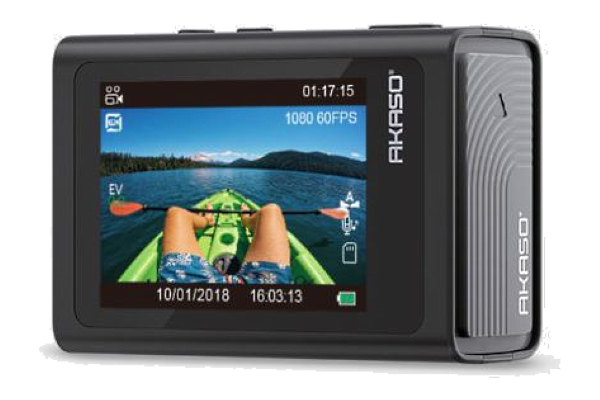 Additionally, the camera also comes with an included Waterproof Case that can keep the camera fully-protected when submerged underwater, but that will only work up to 100ft/30m. Not only that, but the camera's waterproof case also provides some additional protection from rocks, dust and scratches.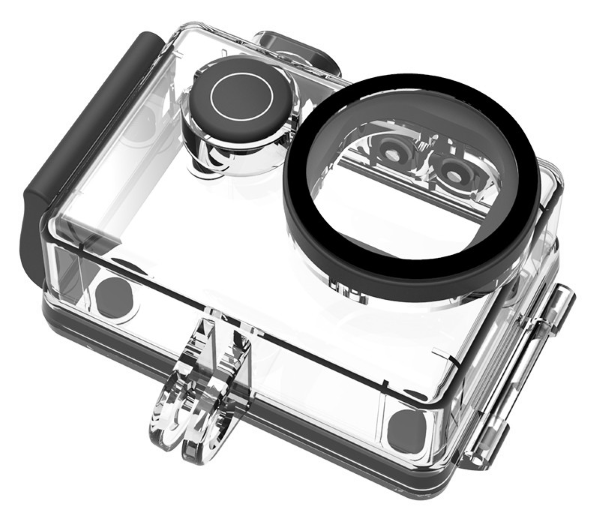 This Waterproof Case doesn't make the camera bulky at all, as it still allows the unit to maintain its super compact size in all situations, no matter if you're planning to take it for a dive and record your underwater experience, to have it mounted on a helmet during a heavy rain day while mountain biking and enjoying the outdoors, or pretty much any other scenario that you can think of.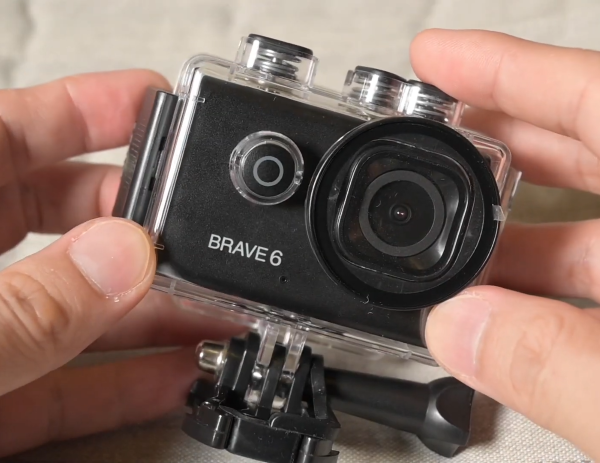 INTERFACE
When compared to one of its predecessors, like the Brave 4 Action Camera, for example, the AKASO Brave 6 also features an upgraded door/compartment for one of its batteries (which will be equipped during use) as well as a Micro SD Card (which can either be used for some extra memory capacity if you wish to do so).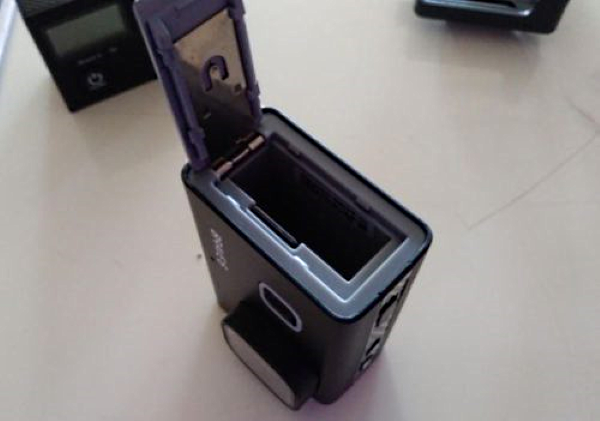 This is obviously a huge improvement when compared to older models that didn't boast these extra quality of life features.
Lastly, when it comes to the AKASO Brave 6's interface, the action camera also includes both a Micro HDMI and a Micro USB ports.
CAMERA LENS & PICTURE / VIDEO QUALITY
As mentioned at the beginning of this review, the AKASO Brave 6 is a 4K 20 Megapixel camera, and as such, it can be used to shoot pictures and videos in several different settings, including 20M, 16M, 12M, 10M, 8M, 5M, 3M, and VGA (Video Graphics Array) standard resolution recording settings that will make your picture as small as 640×480.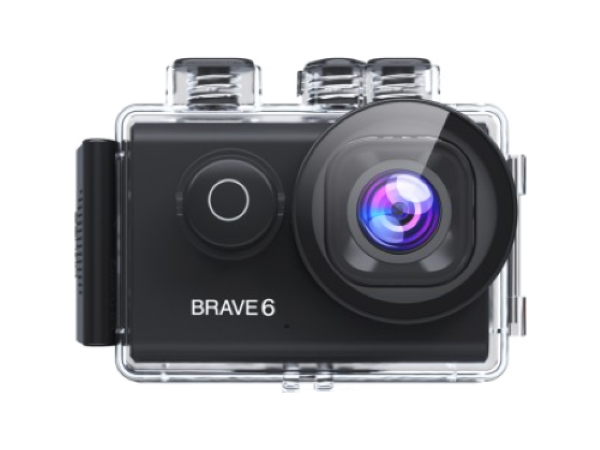 PICTURE / VIDEO QUALITY
When it comes to picture and video quality, this camera can shoot really nice 4K images and/or video that ultimately allows you to re-watch and relief and and every moment as if you were there. Furthermore, you can also shoot time lapse videos to turn longer events into short, shareable moments.
However, keep in mind that since this a low-cost action camera, you'll only be able to record at 60 fps and not more than that.
RECORDING FEATURES
Adjustable Viewing Angle
The Brave 6's Adjustable Viewing Angle can be set between several different angle recording settings, including 170°, 140°, 110°, and even 70°. These viewing angle settings very easily be adjusted according to your needs via the camera's digital screen display's touch controls.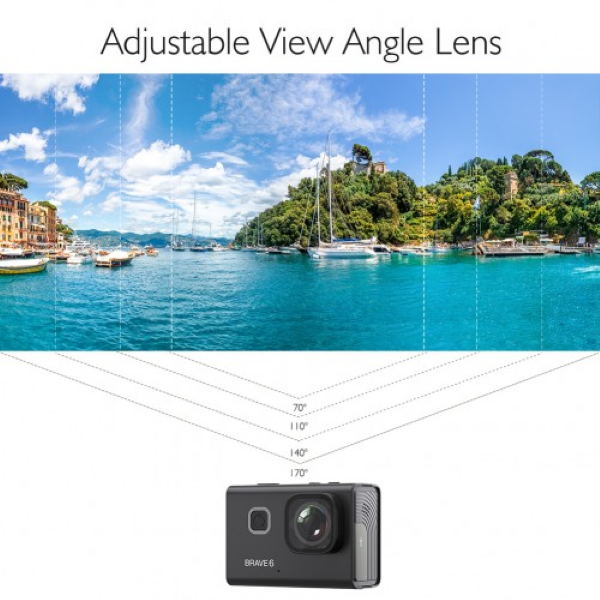 HyperSmooth Electronic Image Stabilization (for Video)
The AKASO Brave 6 also features HyperSmooth Electronic Image Stabilization that ultimately allows its users to have an easier time recording video thanks to the camera's automatic stabilization technology.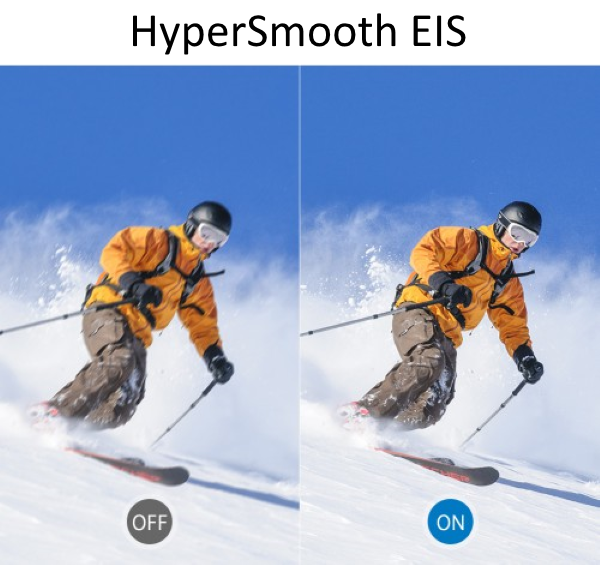 The camera's built-in Electronic Image Stabilization (EIS) technology is based on its already mentioned 3-axis gyroscope, as that's what provides the camera with stable video, even when you're recording in bumpy terrain (which can force the camera to shake during your recordings), do a sudden move or experience an unexpected impact when having the camera mounted on a bike helmet, or even on a camera gimbal.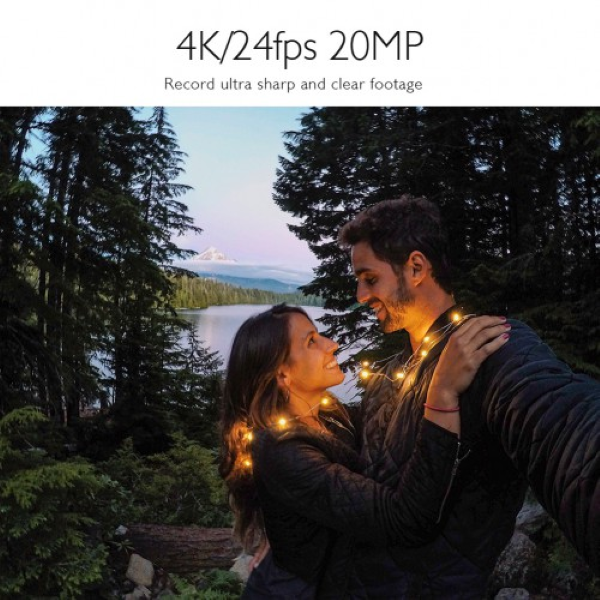 As such, you can record a super stable 4K video (at 24 fps) so that you can have an easier time recording your stunts performed outdoors as well as record panoramic horizontal recordings of breathtaking landscapes, memorable sun sets after a day spent at the beach, etc.
6x Zoom
The Brave 6 Action Camera also supports 6x Zoom, a very convenient feature that can be used to adjust how close or far away your subject(s) appears in your videos and/or photos.
This can be very easily activated with the touch of a button, as all you have to do is press and hold the UP button to enable the camera's 6x Zoom.
WDR (Wide Dynamic Range)
It's also worth to mention that the AKASO Brave 6 Action Camera also supports Wide Dynamic Range (WDR), a special software that will ultimately allow the camera to balance the lighting within your recording area for a more clear image/video.
This special software can easily detect whenever the area that you're recording includes parts that are extremely dark as well as parts that are way to bright, and as such, it will forcefully balance both lighting contrasts for a more pleasant recording result.
While having surrounding areas that are way too bright and/or way too dark close to each other within your recordings would end up preventing you from accurately capturing details, thanks the camera's Wide Dynamic Range Software you're able to get a perfect balance of light in each and every video.
Additional Recording Features
The Brave 6 also offers its users additional recording features like Burst Photos, a Selfie Timer, and Time Lapse Video Recording.
You can also set the camera to work with its Diving Recording Mode (should obviously be used after equipping the camera with its Waterproof Case), its Loop Recording Mode, or its Driving Recording Mode.
Additionally, you can also select several different Special Recording Effects like a White Balance Recording Setting (which allows you to easily balance high-levels of brightness within your recording environment), a Motion Detection Mode (for automatic video recording), and even Audio Record (which allows you to record any audio messages thanks to the camera's built-in microphone).
BATTERY & BATTERY LIFE
The AKASO Brave 6 comes with two (x2) included 1050mAh Lithium Metal batteries required within you package.
Each battery can ultimately offer you around 180 mins of recording (when shooting at 720p), around 90 of video recording (when shooting at 1080p), and around 60 minutes of recording (when shooting at 4K / 2.7K).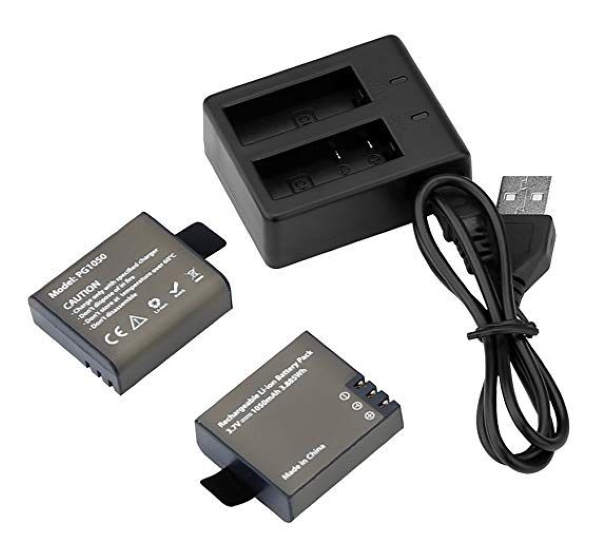 Recharging the camera's two batteries is also as easy as you'd want it to be, as all you have to do is chuck them in the included dedicated charger, connect the charger to power via its proprietary Micro USB to USB Charging Cable, and wait a few hours to have the camera's batteries back to full juice.
AKASO BRAVE 6 WEARABLE WRIST REMOTE CONTROL
Just like the company's V50X Camera, the AKASO Brave 6 Action also comes with a wearable wrist Remote Control that, as the name suggests, can be worn around your wrist during extreme outdoors activities.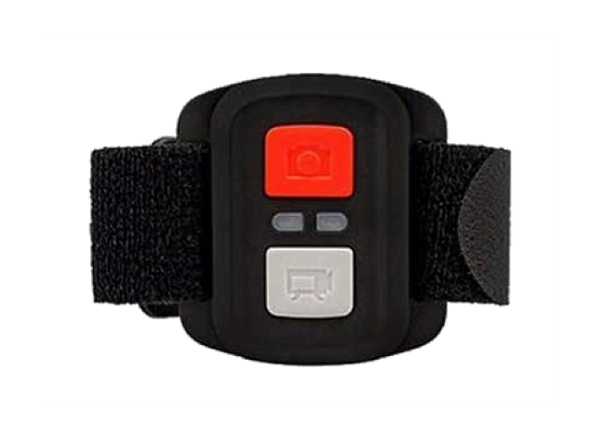 This is a really convenient feature that empowers users with a more easy access to the camera's controls. As such, whenever you're focused on your action packed experiences (like mountain bike riding, snorkeling, etc.) while having the camera mounted on your helmet or diving equipment (vest, etc.), you can still easily control the camera's photo/video recording settings.
This Remote Control works via 2.4 GHz Wireless tech and the wrist band is made of a ultra-comfortable soft material that includes a Velcro layer on the outside (to ensure that the remote control stays with you at all times) and a cotton layer on the inside (the part that's wrapped around your wrist/skin).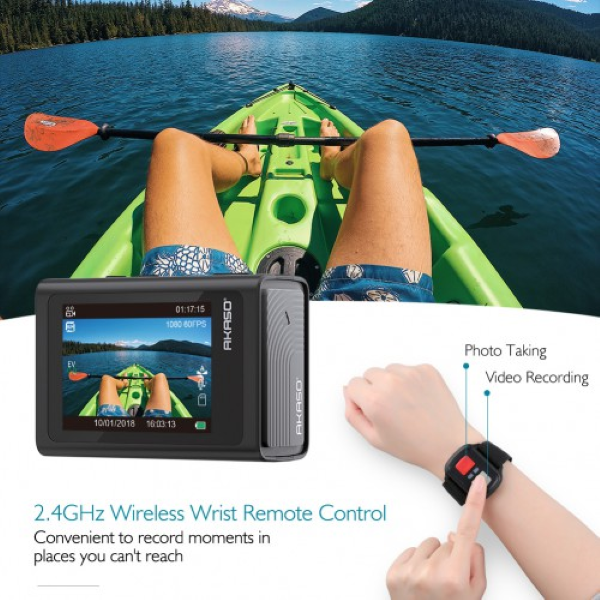 Thanks to the camera's wearable wrist Remote Control, changing the camera's recording settings is fast, efficient and reliable (but there's also Voice Activation – discussed further ahead).
WHAT'S IN THE BOX?
The AKASO Brave 6 Action Camera comes inside a durable plastic box that includes all the necessary accessories to provide its users with the best possible recording experiences, and that obviously includes a ton of different compatible mounts.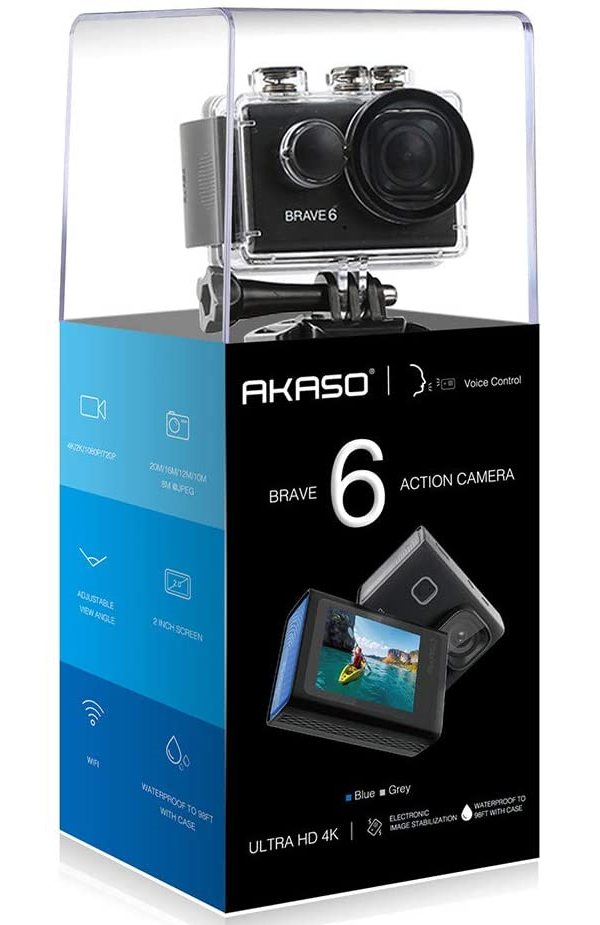 Inside their package users will find: their AKASO Brave 6 Action Camera, the camera's 2.4 GHz Remote Control, two included 1050mAh Battery, one included charger (for the camera's batteries), and one included USB to Micro-USB Charging Cable.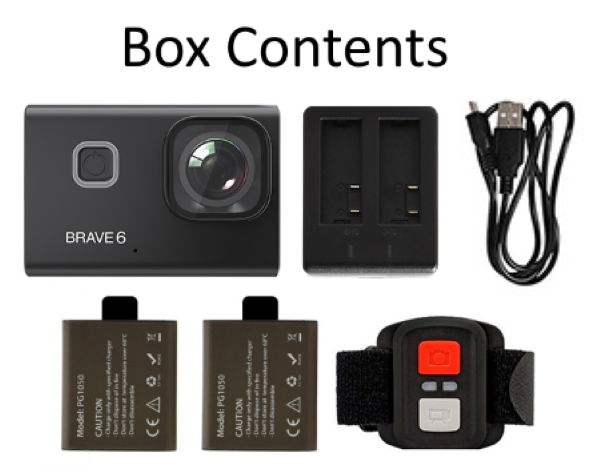 Additionally, there's also an Accessory Kit included that comes with the already mentioned Waterproof Case, a Bicycle Stand, seven (x7) different included Mounts (for bike helmets, diving vests and scuba-diving helmets, etc.), two (x2) Mounting Clips, one (x1) Helmet Mount, a set of Bandages, five(x5) included Tethers, and a Protective Backdoor.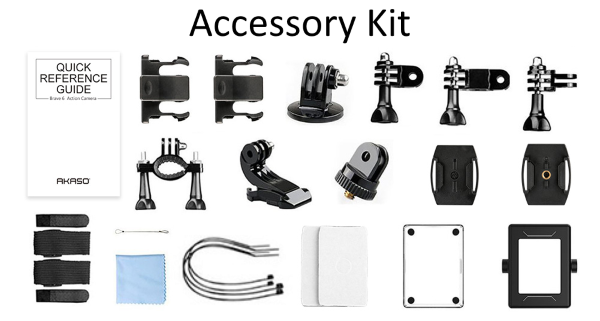 OTHER NOTABLE FEATURES
Voice Control
While you can obviously use the Brave 6's included Wearable Wrist Remote Control to change the camera's recording settings, you can also control the camera with simple-to-use Voice Commands.
This is a super cool and fun feature to use, as that will ultimately allow you to record with your Brave 6 Action Camera in a hands-free fashion.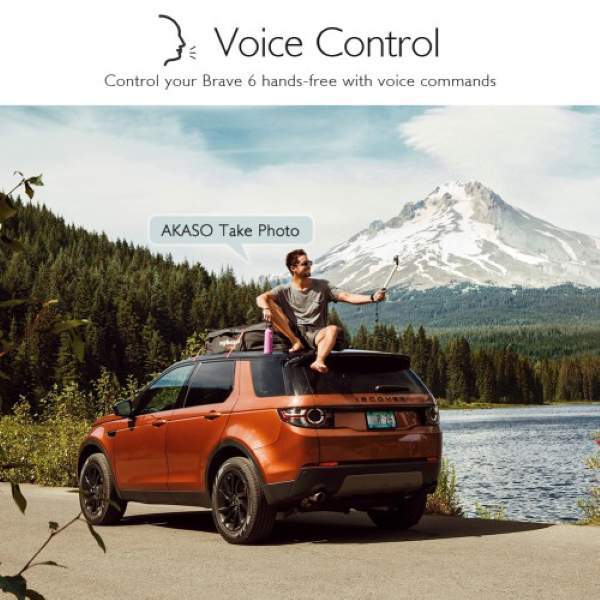 Ultimately, this is the perfect feature for whenever you're hands are busy with something else, whether that includes having both of your hands on your mountain bike's handle bars, carrying a submerged artifact that you found underwater while scuba-diving with the camera, etc.
Auto Power Off & Screen Saver
The AKASO Brave 6 also features two very convenient smart features, and those are Auto Power-Off (which automatically turns the camera off after a few minutes of no interaction being detected) and a Screen Saver Mode that allows you to have the camera work with a Screen Saver whenever activity becomes nonexistent (whenever you're not using the camera and you want its digital display panel to look appealing).
Instant Social Media Sharing via the Smartphone App
By using the Brave 6's Akaso GO Smartphone Companion App, which is available to download for free for both iOS and Android devices, users can easily share their recorded pictures and videos with their Brave 6 directly onto any social media platform like Facebook, Vimeo, Twitter, YouTube, etc.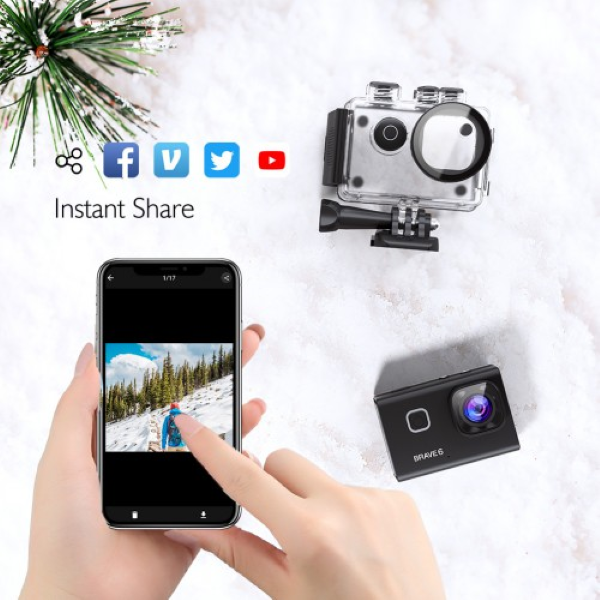 FINAL THOUGHTS
The AKASO Brave 6 is a 4K quality 20MP Wi-Fi Action Camera that can be used underwater (up to 100ft) and that's compatible with tons of mounting accessories for different outdoors activities.
Thanks to its super convenient Electronic Image Stabilization (EIS) recording technology you can have an easier time recording your stunts performed outdoors as well as shoot breathtaking landscapes in horizontal panoramic views with no camera-shake whatsoever.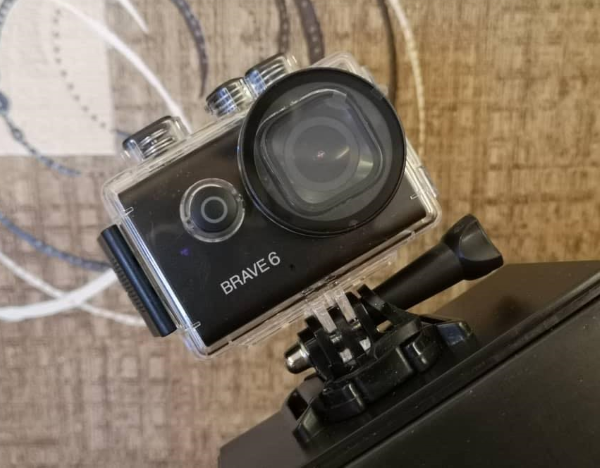 At the same time, you can easily control the camera's recording settings by using either its included Wearable Wrist Remote Control or via super simple Voice Commands.
If you're interested in buying the AKASO Brave 6 Action Camera, each unit is currently going for $85. You can order yours online right now, directly from Akaso's official shopping page, which you can access by clicking this link.