When it comes to competitive online gaming, sound is just one of the few key elements for your character's survival. As such, whether you're trying to stay focused on competitive FPS games like CS:GO, PUBG, or Valorant, or even if you're engaging in epic MOBA battles on games like Dota 2 or League of Legends, having the right gaming headphones can take you a long way when you're looking to come out on top of your clashes against your opponents. That's when having a pair of over-ear wireless gaming headphones like the JBL Quantum 800 comes in handy.
To put it simply, the JBL Quantum 800 are high-quality over-ear wireless gaming headphones that can be used to greatly ampliify your in-game sounds on pretty much any game that you can think of, meaning both Single-Player and Multiplayer games, no matter if you're playing on PC, Mac, PS4, Xbox or even on the Nintendo Switch.
With these wireless gaming headphones, you're always guaranteed to get JBL's great sound quality for each and every game you play, no matter if you're passionate about playing and replaying memorable Single-Player games like Skyrim, The Witcher III, and even Fallout 4, if you're committed to grinding those MOBAs (Multiplayer Online Battle Arena Video Games), or if you're dedicated to become one of the best competitive FPS players that can single-handedly defeat a team.
No matter you're choice of game, one thing is certain. With the JBL Quantum 800 you'll always enjoy the thrill of perfectly captured, immersive directional sounds, whether you're casting a spell, engaging on a MOBA battle, or tracking close-quarters enemies in FPS games. Not only that, but as these wireless gaming headphones come packed with a ton of cool features and easy-to-use controls, you're guaranteed to have the best time you've ever had when it comes to your personal gaming experiences.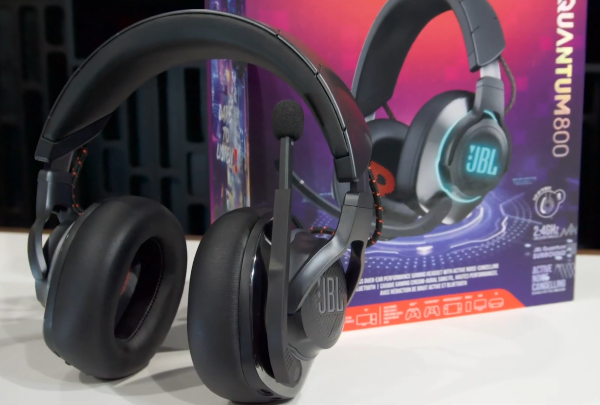 Now, let's have a more detailed look at the JBL Quantum 800 and check exactly what these over-ear wireless gaming headphones have to offer.
DESIGN & SPECS
Starting with the hedphones' size, the JBL Quantum 800 actually have a really nice design to them, measuring exactly 9.06 inches long by 4.33 inches wide (when seen from the side) by 9.65 inches tall. When compared to the JBL Quantum 600, which is just another pair of headphones from JBL's recently announced brand-new product line, which the company simply called the Quantum Series, the 800's earcups are just slightly larger than the ones found in the JBL Quantum 600. However, that's not necessairly a bad thing, as bigger and bulkier earcups basically means that you ultimately get a more immersive experience.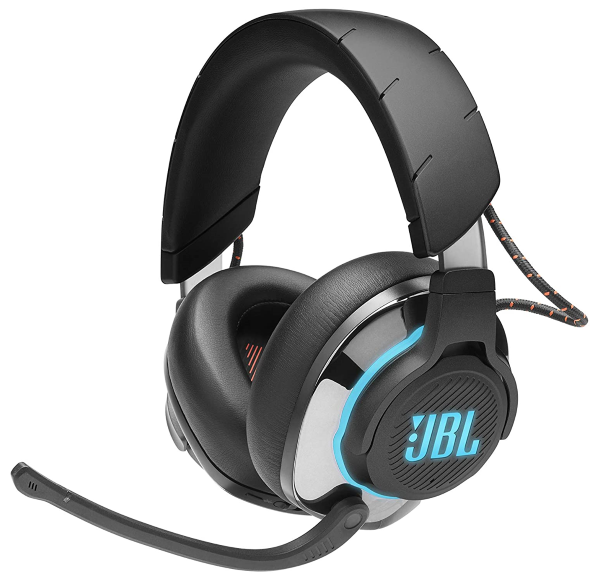 Furthermore, the Quantum 800 are also quite lightweight, weighing just a measly 14.5 oz, which will ultimately have a positive impact whenever you're wearing them.
Not only that, but as these are over-ear wireless gaming headphones, the JBL Quantum 800 also come equipped with some nice large ear cups that integrate some very puffy and super-comfortable to use ear cushions.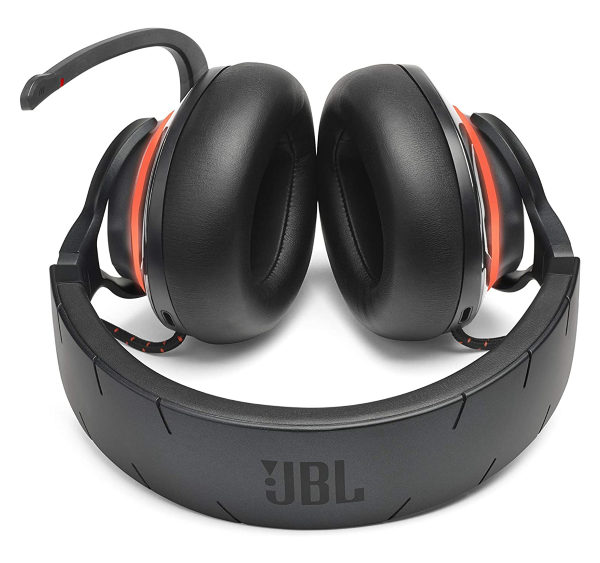 These high-quality memory foam ear cushions are fully covered in a premium soft protein leather that will ultimately provide gamers with some extra comfort for their long gaming sessions.
The headphones' earcups also come equipped with really nice swivels that allow each earcup to be rotated outwards, easily and smoothly. The earcups' paracords feels quite taut and tight, and is nicely put together, feeling like both of those paracord cables aren't going anywhere, ensuring that they won't be ripped out of the earcups anytime soon. This is definitely another plus for these gaming headphones.
Additionally, these gaming headphones also come equipped with an extendable / retractable ventilated memory foam headband that can be perfectly adjusted according to a user's head size. Just like the headphones' earcups, the headband is also quite comfortable whenever you're wearing the headphones, and it also features JBL's glossy logo right at the top.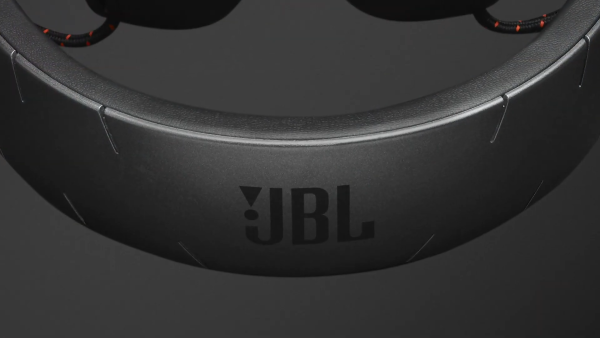 It's also worth to mention that the headband's notches are all numbered throughout its different adjustable heights on both sides of the headbands' extendable sliders, which basically means that you can always be assured (after verifying, of course) that both sides of your headphones' headband are adjusted perfectly and equally (whether you have them extended to one notch on both sides, or two, or three, or four… etc.)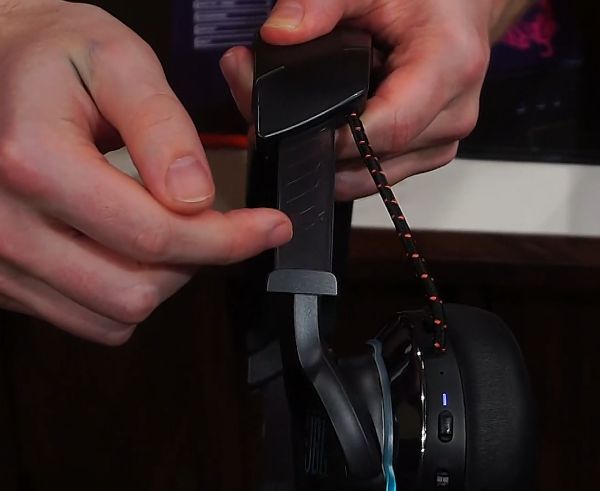 AUDIO QUALITY & AUDIO SPECS
Moving on to the headphones' audio quality. As mentioned before, the JBL Quantum 800 also feature JBL's legendary sound quality, and as such, they come packed with the company's proprietary JBL Quantum Surround sound technology, which is engineered for accurately delivering each and every user a super-immersive gaming audio that's ensured to empower gamesr with a competitive edge.
Basically, JBL's Quantum Surround sound technology works as a accurate spacial audio positioning technology that's based on advanced algorithms and additional overhead audio. This is exactly what allows this Surround Sound tech. to offer gamers a super-accurate virtual surround sound so that they can ultimately have an increased and more realistic immersive experience.
Thanks to this high-quality Surround Sound tech., users are guaranteed to never miss a footstep, shot or jump during their immersive FPS gameplay. The same goes for any other game genre, like Single-Player RPG games like Skyrim, as well as any VR games where having an immersive sound experience is key to making the game better.
Ultimately, the sound quality on these wireless gaming headphones is "near-perfect", and the only reason I say near perfect is because these gaming headphones are available at a very accessible price tag (especially when considering all of their cool features). They just slightly fall short when used to listening to music and when compared to real premium audiophile headphones that are priced at around $1.000 (or even just a bit lower than that). However, if used just for gaming, these are exactly what you'd want to get for pretty much any competitive FPS game.
The Quantum 800's flawless surround sound gaming audio quality is powered by ultra-powerful 50mm dynamic audio drivers. Thanks to them, the closed-back over-ear of the Quantum 800 is able to deliver an Active or wireless frequency range (meaning Frequency Response) of 20 Hz to 20 kHz, while its Passive or wired frequency range extends up to 40 kHz.
These gaming headphones also features a Sound Sensitivity of exactly 95 dB SPL at 1 kHz / 1mW, a Maximum Sound Pressure Level (SPL) of 93 dB, and a Maximum Input Power of 30 mW.
Furthermore, these gaming headphones also support DTS headphone:X 2.0 audio processing.
Up to this point, JBL didn't have many of their headphones that were designed specifically for gaming coming with ANC tech. As such, the JBL Quantum 800 are one of company's first headphones specifically developed for gaming to have Active Noise Cancellation and that is gonna be an awesome feature.
That basically means that you'll be able to stay completely focused on playing your games, all in peace and quiet without ever hearing any sounds that might occur on your household, meaning around you (outside the game) so that you can ultimately stay fully immersed on your gaming session and your gaming session alone. Specifically, for anyone playing competitively, immersion is obviously the name of the game.
Additionally, as the Quantum 800's package features the Hi-Res Audio Tag, that means that these wireless gaming headphones are capable of 24 bit audio playback, which, compared to older models of JBL's headphones, is a step up in terms of audio processing quality.
Moreover, the Quantum 800 are also Discord Certified for a perfect game-chat sound balance, and that goes for both the headphones' earcups volume levels as well as for the headphones' built-in microphone's sound levels.
Speaking of microphone, the headphones' left earcup comes equipped with a really nice Flip-Up "Directional Voice Focus" Boom Microphone, which features echo cancelling technology.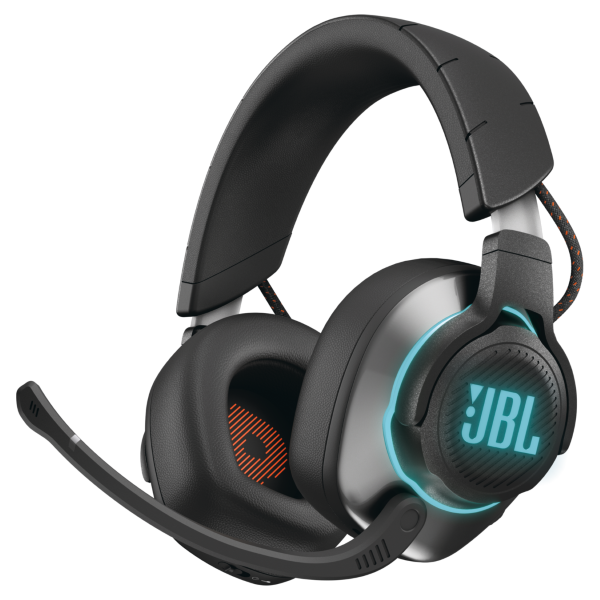 Ultimately, this echo cancellation feature allows any of your teammates and or friends to focus only on your voice rather than ever being disturbed by any of your background noise, which, thanks to this mics' echo noise cancelling feature, never gets picked up. This basically ensures that each and everyone of your teammates always get a crystal-clear communication from your side of your team's "voice comms".
Furthermore, that same Boom Mic also features an Auto On/Off Muting feature. Whenever you flip the headphones' microphone "upwards" it gets automatically muted, while pushing it back down resumes its capturing profile. However, you could also mute the headphones' microphone via a dedicated Mic Mute Button that's located close to the bottom side of the headphones' left earcup.
Thanks to this Flip-Up "Directional Voice Focus" Boom Microphone and its corresponding Auto On/Off Mute features, the JBL Quantum 800 headset ensures that you're heard exactly when you need to be.
The headphones' microphone works at a Unidirectional voice pickup pattern and features a Frequency Response of 100 Hz – 10 kHz, a Microphone Sensitivity of -40 dBV at 1 kHz / Pa, and a Sound Impedency of exactly 32 ohm (related to its echo cancellation feature).
INTERFACE / BUTTON CONTROLS
Now, let's take a detailed look at the Quantum 800's Interface, which can be found basically around both of the headphones' earcups.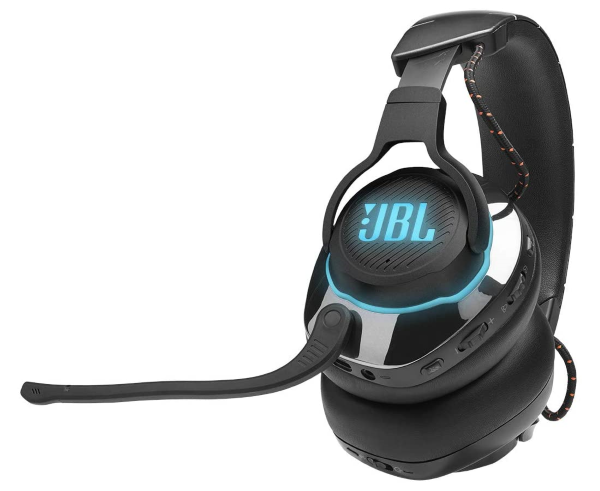 At the left-side earcup, moving from the very bottom of the earcup and all the way to the back, we can find both a USB charging port (to recharge the headphones' rechargeable battery via their included USB-C Charging Cable), a 3.5mm AUX Connectivity Port, the already mentioned secondary Mic Mute Button, a Volume Increase and Decrease (+/-) Sound Dial, a Game-Chat Balance Dial that works as a Sound Fader to adjust volume levels between game sound and voice chat sound, which works great for VOIP Apps like Discord and Teamspeak (discussed further ahead), and a Noice Cancelling Enable/Disable Button at the very top of the headphones' left-side earcup's backside.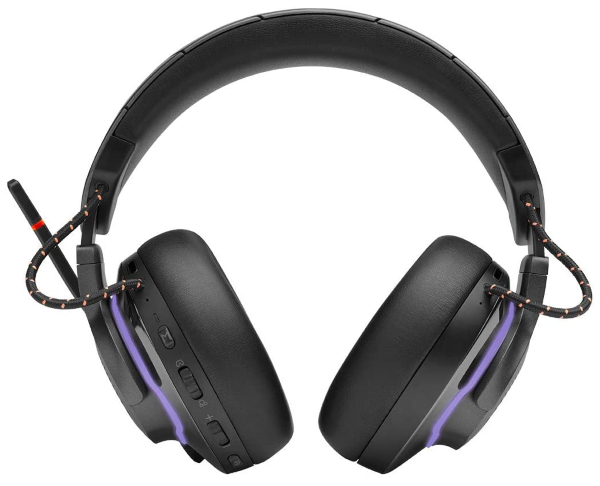 Now, at the headphones' right-side earcup we can find a Bluetooth Connectivity button (to pair the headphones with any Bluetooth-enabled device that supports Bluetooth 5.0) and the headphones' Power Button right next to that.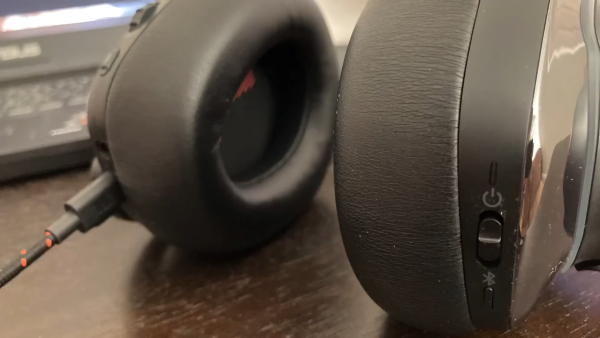 Game-Chat Balance Dial (Extra Audio Feature)
As mentioned before, the Quantum 800 gaming headphones are Discord Certified, and as such, they feature a game-chat balance dial that's not only certified by Discord, but that is also fully-compatible with TeamSpeak, Skype, and some other VOIP communication platforms.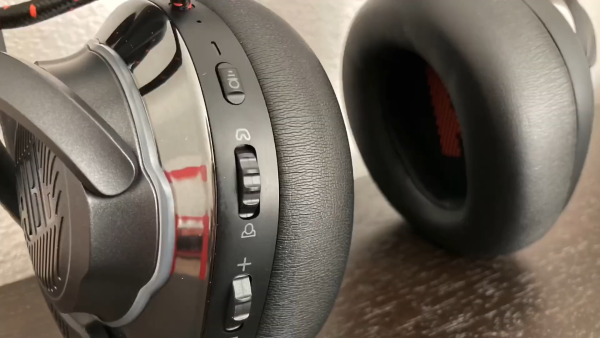 This dial allows users to easily adjust and balance their sound levels for their game audio and voice-chat audio on the fly, no matter what VOIP App (Discord, Teamspeak, etc.) they prefer. This only works because separate sound cards handle your game's and your voice-chat's audio, and so, that ultimately allows you to set the a proper sound level balance between your game sound and your voice-chat sound on the Quantum 800s without ever having to leave the game.
CONNECTIVITY & COMPATIBILITY
As the Quantum 800 are wireless gaming headphones, they feature lossless dual-wireless capabilities, meaning that not only they support 2.4 GHz wireless connectivity, but they also come with a great connectivity option, which without a doubt, is the best one that these wireless headphones have to offer.
That's obviously their Bluetooth connectivity, which can be established via a Bluetooth 5.0 connection. This not only makes these over-ear wireless headphones great for multi-platform gaming, but also perfect for listening music straight from your Smartphone via Bluetooth 5.0
While using the included USB wireless dongle makes these gaming headphones compatible with Windows, Mac, PlayStation, and even VR platforms, their Bluetooth 5.0 connectivity allows the Quantum 800 to also work with the Nintendo Switch.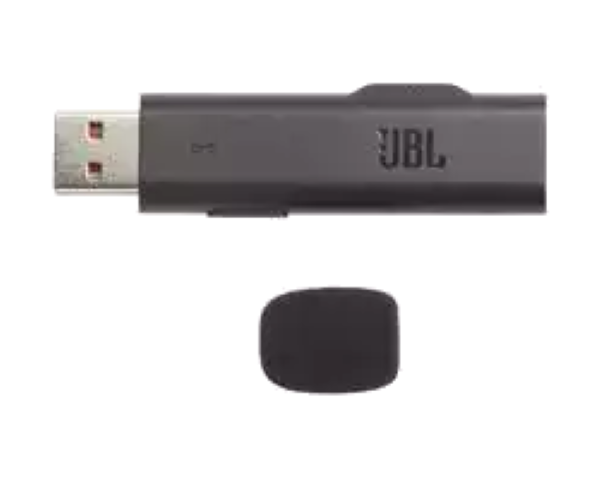 In addition to full RF wireless compatibility with Windows, Mac, PlayStation, and VR platforms, these headphones are also compatible with Xbox, Nintendo Switch, and mobile platforms when using the headphones' included 3.5mm audio cable.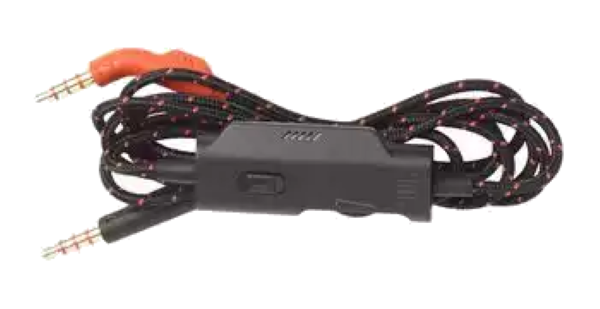 BATTERY & BATTERY LIFE
As the Quantum 800 were designed to work as wireless gaming headphones, they come equipped with a built-in 1300 mAh (3.7 V) Li-ion battery that can offer up to 14 hours of Music Play Time (with RGB lighting turned Off) or just slightly less for wireless gaming sessions.
Bu using the headphones' included USB-C Charging Cable, a quick 2-hour charging time is enough to recharging the Quantum 800's battery back to a full charge. Just reemember to use a 5V 2A Power Supply (and nothing that's more powerful than that) connected to the headphones' USB-C Charging Cable.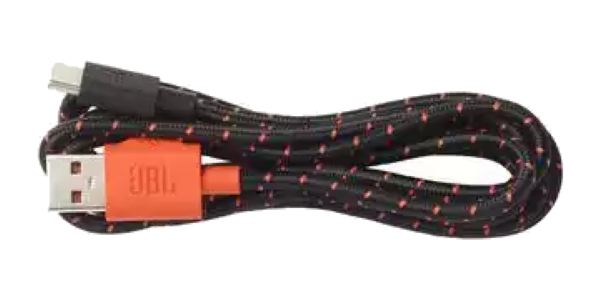 WHAT'S IN THE BOX?
Your JBL Quantum 800 Over-Ear Wireless Gaming Headphones comes neatly packed inside a sturdy and colorfull cardboard box.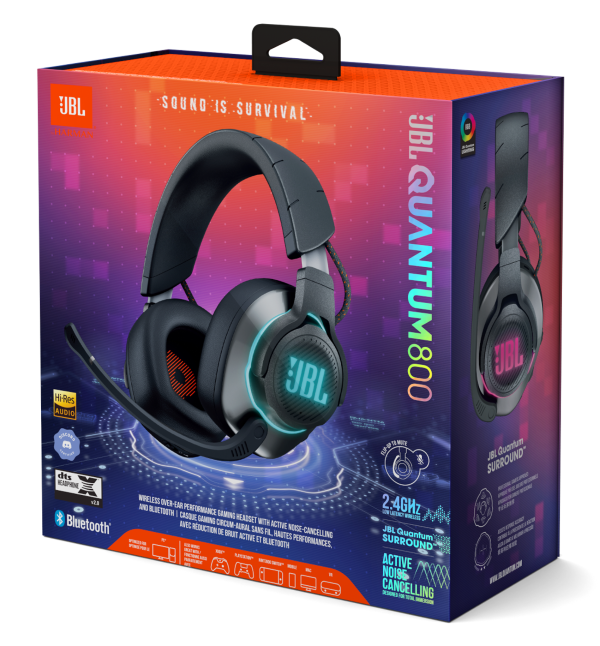 Inside each package users will find: their JBL Quantum 800 wireless gaming headphones (black) with their built-in Boom Mic, one (x1) USB-C Charging Cable and USB wireless dongle, the included 3.5mm AUX Audio Cable (for wired audio), and one (x1) included windshield foam (which can be used to cover the headphones' microphone).
OTHER NOTABLE FEATURES
Customizable RGB Lighting Effects
JBL certainly went all the way with the Quantum 800's "Light-Up Aesthetic", which is definitely pretty fun and entertaining to look at.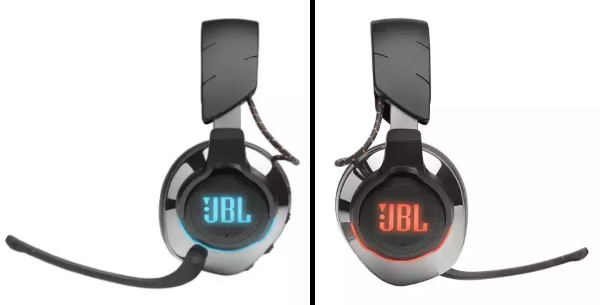 By using the headphones' proprieaty QuantumENGINE software, users can fully customize the headphones' RGB lighting effects, which can be seen on both earcups.
Personal Sound Profiles Customization
Not only that, but using that same software (the QuantumENGINE App), users can also adjust various sound settings on the headphones.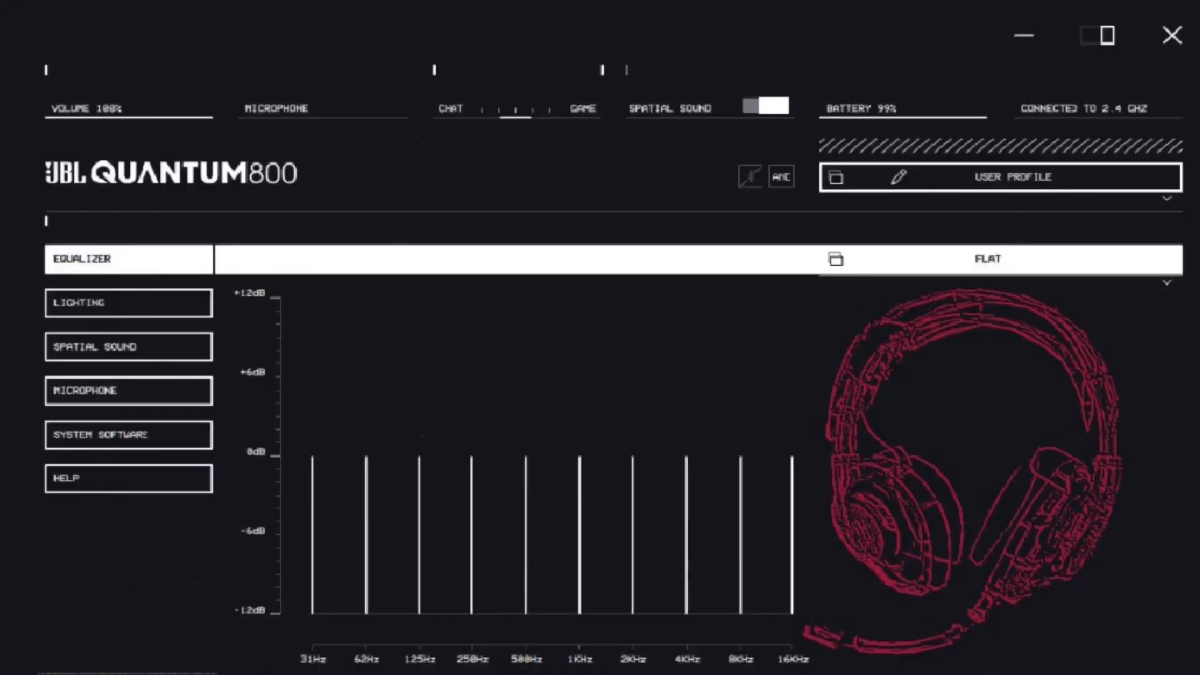 This includes choosing from one of six different pre-existing sound presets or selecting and adjusting your preferred surround sound settings within the App's equalizer (which can be fully-adjusted accordingly to users' preferences) and then creating separate users profiles for those configured sound settings (and each profile can have different RGB lighting effects).
FINAL THOUGHTS
The JBL Quantum 800 Over-Ear Wireless Gaming Headphones are super comfortable to wear and feature 14 hours of playtime, ANC and a Boom Mic with Echo Noise Cancelling.
Both their RBG lighting effects and their Sound Profile can be fully customized from the headphones' proprietary QuantumENGINE software.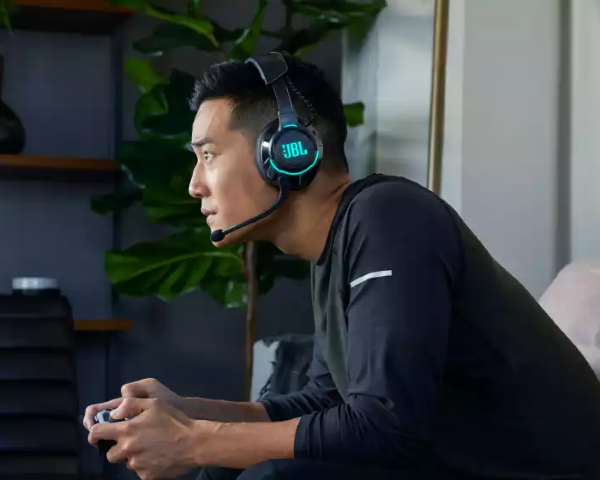 If you're interested in buying these wireless gaming headphones, each pair is currently going for $200. You can order yours online, directly from JBL's official shopping page, which you can access by clicking here.