Laptops are without a doubt one of the most reliable tools for both studying and working that you'll ever be able to get your hands on. Whether you're looking for a laptop for your kid to use for his school assignments or for yourself to do some business work at home or at the office, laptops are extremely reliable devices to get work done. However, while many families and schools have already invested in laptops, there's one very common issue about these ultra-thin and portable computers. That's the fact that laptops often tend to get thrown away for even the simplest hardware problem. Nevertheless, thanks to a recent partnership between Microsoft and innovative technology company Kano, who's responsible for bringing the world the next generation of laptops, families now have available an ultra-powerful, yet affordable, transparent and modular laptop for kids, which is simply called the Kano PC.
WHAT IS THE KANO PC?
The Kano PC is a powerful modular Windows 10 laptop for kids that also doubles as a Tablet. The company (Kano) designed this brand-new and innovative modular laptop specifically for the 21st-century classroom, as a way to fix the previously mentioned problem that's frequently related to laptops, and that is their sustainability.
This is the Kano's second-generation of its buildable Windows 10 PC, coming just one year after the company introduced the first iteration of its Kano PC.
WHAT DOES IT AIM TO FIX?
It's important to point out that a third of schools end up throwing away malfunctioning laptops rather than fixing the devices, even if only one single part of the computer (most commonly the battery, keyboard or speaker) – shows signs of starting to becoming faulty.
As a consequence of this unjustified squander, computers and IT end up producing produce 3.5 million tons of e-waste worldwide every year, according to the UN and TheWorldCounts. In the US alone, schools spend more than $3.78 billion each year on new devices, which could easily be repaired, with one click.
That's exactly what makes the Kano PC so much better than most laptops, as it is far more sustainable than almost any other laptop that's currently available on the market. The end result is a beautiful, buildable, and powerful educational laptop computer that delivers modern skills for the "entry price" of a PC alone.
Furthermore, the device also features the company's official dedicated learning and creative software, which is Kano's Software Studio. This onboard learning software connects computing to practical projects, history, and the arts. Lastly, the device runs fully on Windows 10, while also offering kids several custom educational tools right out of the box.
Now, let's take a more detailed look at the Kano PC and check exactly what this modular 2-In-1 Windows 10 laptop and tablet for kids has to offer.
DESIGN & SPECS
As mentioned earlier, the Kano PC features a very sturdy design that stays true its main goal, a modular and compact design that ultimately allows users to assemble their own computer.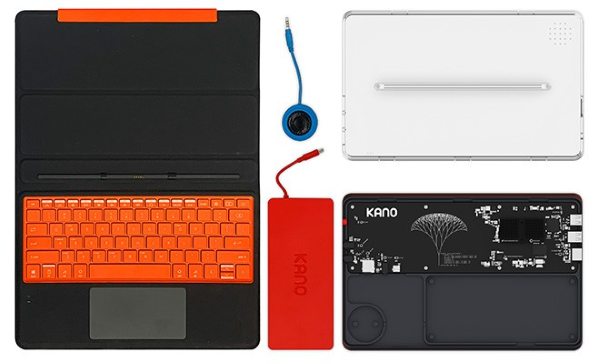 The device comes in the form of a 2-in-1 tablet/laptop hybrid, but despite its DIY nature, this 2-in-1 laptop and tablet for kids was designed to be modular, ultimately allowing both parents and schools to help out kids swapping out any potential broken parts.
At the very back of the unit we can find its transparent protection casing, which display all of its internal components in a very "techy" fashion, as well as a ton of different color Status LED lights.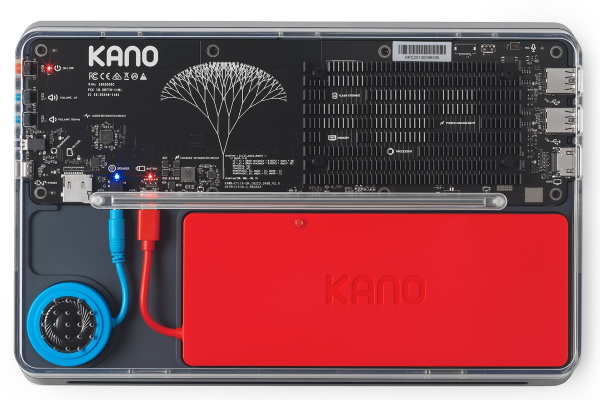 There's a Power On LED (red), a Barrel Connector LED (red), a Battery Connected LED Indicator and USB C Activity LED (both red), two USB 3.0 Activity LEDs (both green), one Headphone-ON Indicator LED and one Speaker-ON Indicator LED (both blue), one HDMI Indicator LED (yellow), a micro SD Indicator LED (green), and a Microphone-ON LED Indicator (blue).
Then, moving on to the device's screen, the laptop comes equipped with a ultra-durable built-in 11.6″ touchscreen, that, according to the company, can actually withstand a steel ball dropping from a height of up to six feet.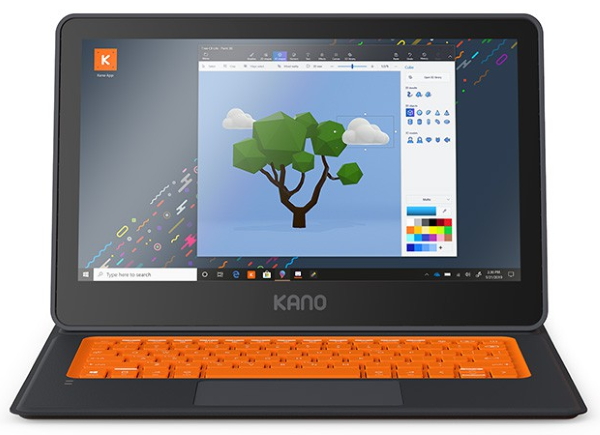 This kids laptop also integrates a bright orange keyboard (in a US keyboard layout) with high-quality white text symbols.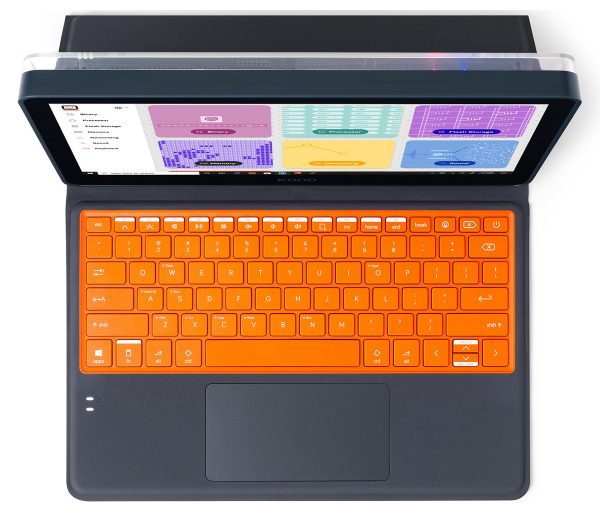 Additionally, the laptop also comes with its own dedicated foldable cover, which, after folded closed, is actually durable enough to protect the unit's screen from getting scratched when stored inside your kid's backpack together with books and other school supplies (pencils, pens, etc).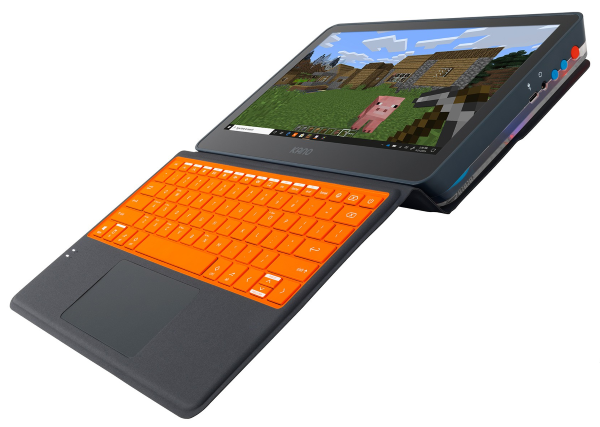 The laptop's keyboard can also be completely unattached from the main unit, thus allowing kids to also use their Kano PC as a tablet.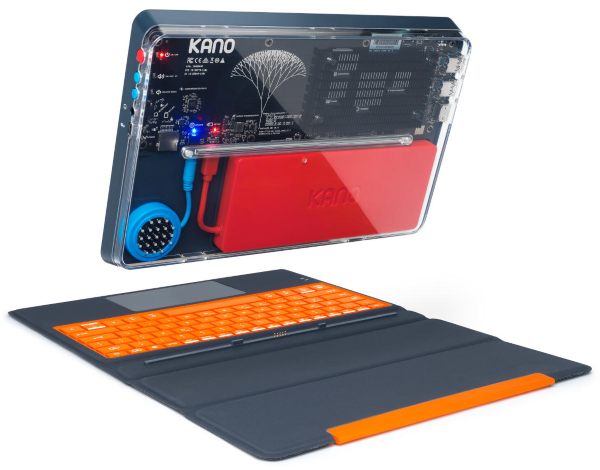 The laptop's foldable cover even has a small dedicated space around the middle part that can be used to fully support the entire unit in a landscape orientation / view at 40~60º degree viewing angle.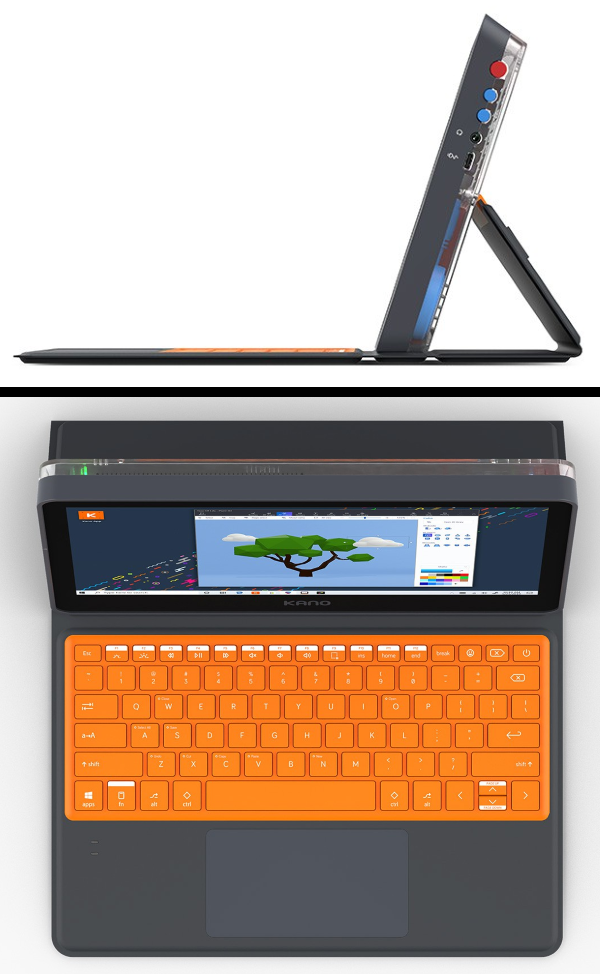 Furthermore, this 2-in-one laptop and tablet for kids also integrates a 4GB RAM DDR3L and comes equipped with a 64GB internal memory (eMMC) as its storage drive, which can potentially be upgraded (in terms of maximum storage space) by using the laptop's dedicated Micro SD slot.
Lastly, and as mentioned earlier, everything comes running on Window 10 (Home Edition), which is possible thanks to the laptop's powerful processor, which is a Intel Celeron N4000 Dual Core 1.10 GHz.
INTERFACE & OTHER COMPONENTS
Now, moving on to the computer's connection ports, this laptop actually features a quite simple interface.
There are two (x2) USB 3.0 ports and one (x1) USB C port, one (x1) single HDMI port, and the previously mentioned Micro SD slot.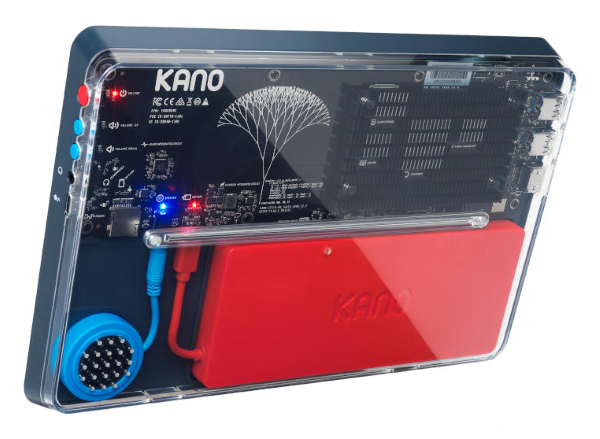 There's also a 3.5mm Headphone Jack as well as a 3.5mm Speaker Level Jack, allowing kids to use the laptop either with their own personal headset, or, if they prefer, with a set of dedicated speakers.
Lastly, the PC also comes equipped with a built-in Microphone, which means that your kids can use it for voice calls to work together with their school groups on their school assignments.
CONNECTIVITY
When it comes to the Kano PC's connectivity options, users can set the computer to work wirelessly, as it supports the most common Wi-Fi wireless standards (including 802.11 b/g/n at both Dual Band 2.4Ghz and 5Ghz), or have it connected to other of their Bluetooth-enabled devices via Bluetooth 5.0.
COMPATIBILITY
According to the company, since the Kano PC is practically a standard x86 computer that runs on Windows 10, it also features the world's largest ecosystem of apps, which basically means that it can support almost any win32 software.
As such, it features compatibility with Microsoft's powerful Office Suite (meaning you can use it with Word, Excel, PowerPoint, etc.), as well as Spotify, and even one of kids' most favorite games ever, Minecraft, of course.
BATTERY & BATTERY LIFE
This newer model – which is the company's second generation of the Kano PC – can now offer up to 10 hours of battery life.
The laptop's internal modular and rechargeable battery can be easily recharged via the computer's USB-C port.
NOTABLE FEATURES
Educational & Interactive Apps and Kano Creative Coding Apps
While Kano's main goal has always been to make computing more approachable and interesting for kids by letting them assemble their own computer, the Kano PC was always meant to be more than just an hardware experiment.
As such, this powerful 2-in-1 laptop and tablet for kids delivers a software experience that should cover all that young children need in school, at home, and everywhere in between.
In addition to the educational games that your kids can play in it, the Kano PC also boasts of a suite of tools and coding apps that will allow young dreamers to start their careers as game developers at a very early stage in their lives.
This is includes Make Art (which kids can use to learn to code high-quality images in Coffeescript) as well as the official Kano App (which can be used to ,ake almost anything, including magic effects and adventurous worlds, with simple steps and programming fundamentals).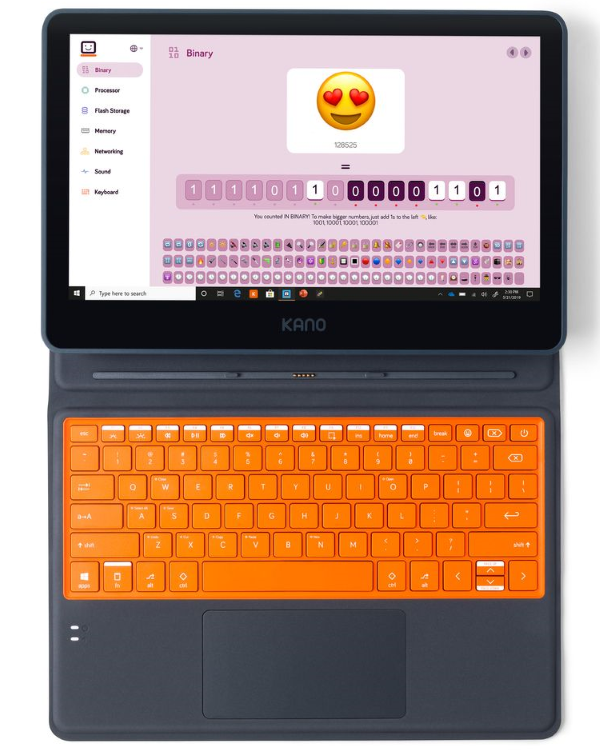 There's also Paint 3D (where kids can make and share 3D models and send them out for printing), the award-winning Minecraft Education Edition (which is a great creative game-based learning platform), and even support to the renowned Microsoft Teams (which your kids can use to get new projects and content, and share their work in a very easy fashion).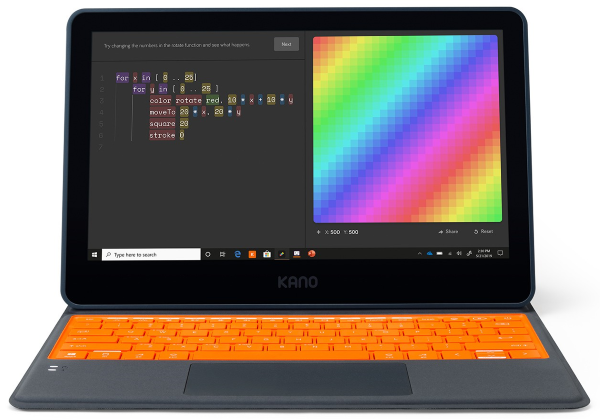 Lastly, there's one more App, called Kano Projects, which can be used to create personalized coding projects, ultimately allowing young users to boost their creativity directly from a simple and easy-to-use dashboard.
FINAL THOUGHTS
The Kano PC is a durable modular 2-in-1 Windows 10 Laptop and Tablet for kids that features compatibility with several educational Apps and up 10 hours of battery life.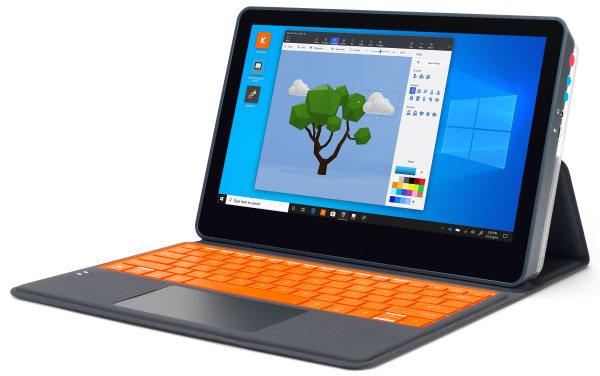 While the company was primarily dedicated to targeting educational institutions, the changes in school systems these days basically lead parents to start looking into buying one for their kids at home, and the same goes for several governments.
If you're interested in buying it, each unit is currently going for $299.99. You can order yours online right now, directly from Kano's official shopping page, which you can access via this link.