As there are still a few weeks left of sunny days and nice weather, you'll might still want to keep your lawn's grass nice and short. However, not every homeowner approaches mowing their lawn in the same way. As such, you might be one of those people that prefers to use a manual reel mower instead of using a gas-powered or oil-powered lawn mower, which actually tend to create quite a bit of noxious fumes that are harmful for the environment. If that's the case and you're still looking to mow your lawn this season before the winter time comes up, consider doing some lawn mowing light work with the Sun Joe MJ504M Manual Reel Mower.
The Sun Joe MJ504M Manual Reel Mower is a 16" manual reel mower that is lightweight and extremely easy to use. This maneuverable push reel mower is mainly designed to tackle tough turf with ease while also providing users with a quiet, eco-friendly solution for any type of lawn.
Combined with its impressive 16-inch wide cutting path comes a 9-position height adjustment lever that ultimately allows you to customize it for different cutting heights up to 2.9-inches, and thanks to that, you're assured to always be in complete control of the way you're mowing your grass.
Lastly, while the mower's sleek, dual wheel design that makes it extremely easy to maneuver, its precise 5 RAZOREEL sharpened steel blades ensure that you always get a perfectly mowed lawn with beautifully cut grass, each and every time.
Now, let's have a more detailed look at the Sun Joe MJ504M and check everything that this manual reel mower has to offer.
DESIGN & SPECS
Starting with the mower's size, the entire unit measures exactly 51.6 inches long by 22.4 inches wide by 29.5 inches tall after its fully assembled, making it compact enough to be maneuvered with ease throughout your lawn.
Furthermore, this manual reel mower is also somewhat lightweight, as the entire unit only weighs around 24.9 lbs. Thanks to its lightweight, the Sun Joe MJ504M is not very hard to push forward to have your grass mowed.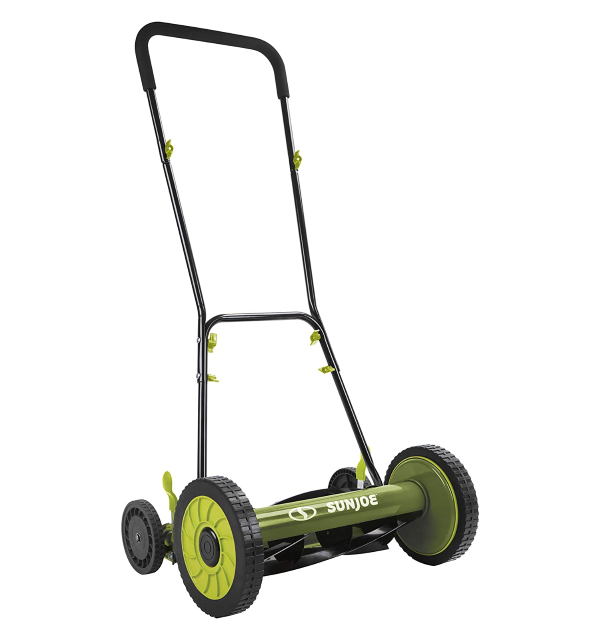 Speaking of pushing, the MJ504M also comes equipped with a high-quality foam handle that makes it very easy and ultra-comfortable for users to grip/grab the mower's foldable top handle and easily push the mower throughout their lawn.
The mower also comes equipped with two (x2) highly-durable and ultra-rugged all-terrain 10-inch front wheels and two (x2) slightly larger all-terrain back wheels that actually give the mower a lot of stability while its being pushed forward.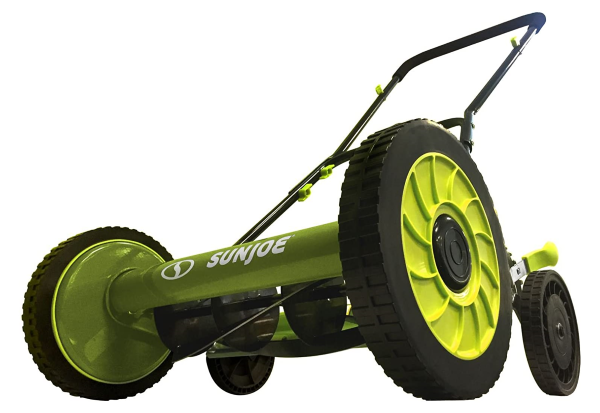 Moving on to the mower's main piece, the mower's high-quality rust-resistant deck measures exactly 16 inches wide, featuring a reel length of 16 inches. As such, and as mentioned before, this manual reel mower features a maximum cutting width of 16 inches that allows users to get a very wide cutting path in front of the mower, and thanks to that, you're ensured to finish your lawn-mowing tasks in no time.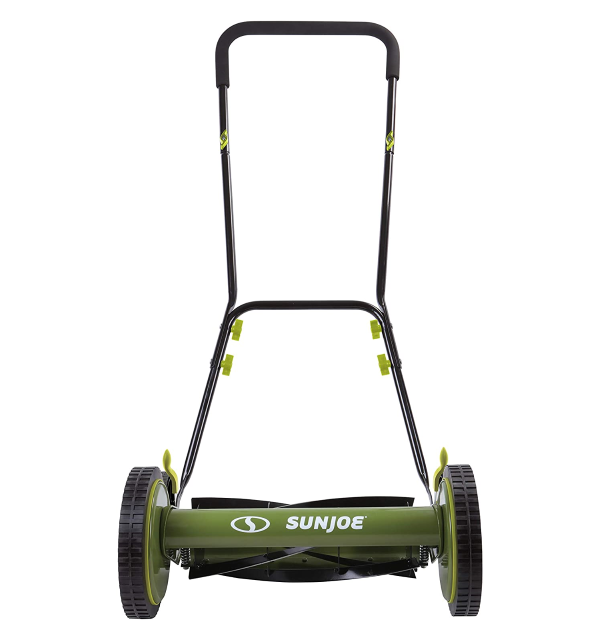 Additionally, under the mower's highly durable deck you'll also find its ultra-sharp 5 RAZOREEL steel blades, which can very accurately cut your grass to shreds and leave it perfectly leveled so that you can ultimately achieve a beautifully cut lawn that's picture-worthy.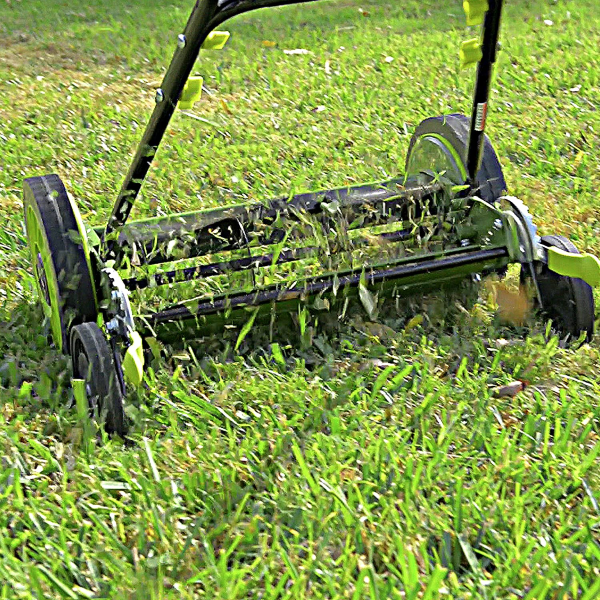 Lastly, and as mentioned earlier, the Sun Joe MJ504M also comes equipped with a set of manual levers that features a total of nine (x9) different height settings.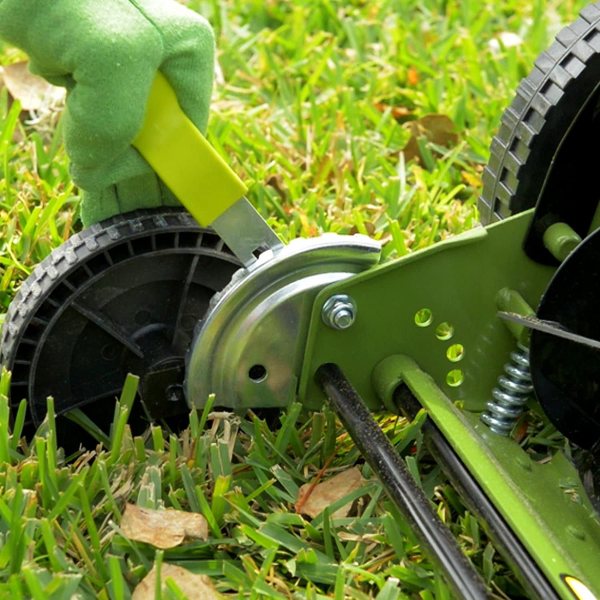 By using these simple manual levers, users can very easily and very quickly make small height adjustments to the mower's cutting height. These manual levers allow you to change the mower's cutting height between 1.1 inches all the way up to 2. 9 inches.
FINAL THOUGHTS
The Sun Joe MJ504M is a compact and lightweight manual reel mower that's very easy to use, featuring a foldable foam handle and 4 high-quality all-terrain wheels, an impressive 16-inch wide cutting path, 5 built-in RAZOREEL sharpened steel blades and a set of manual levers that can offer a total of 9 different height settings.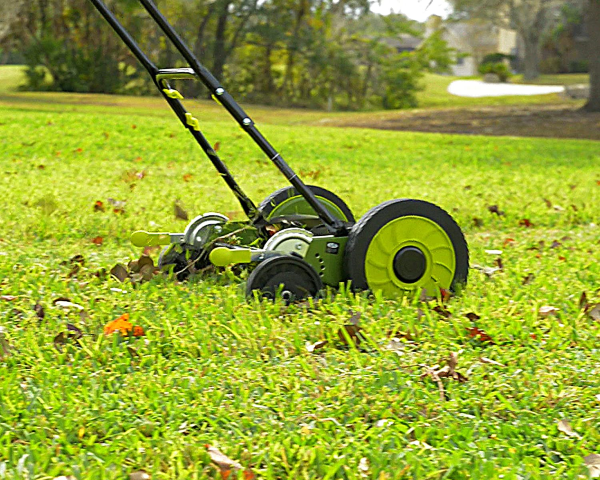 Overall, this manual reel mower is very, very easy to use and maneuver around your lawn, and you can also expect it to last you for a long time before even thinking about replacing it.
If you're interested in buying it, each unit is currently going for just $90 and also comes with a 2-Year Full Warranty. You can order yours online, directly from Snow Joe's official shopping page, which you can access by clicking here.