When it comes to digital photo frames, they're simply so much better than their standard and old-fashioned counterparts. Not only does a digital photo frame allows you to display your digital photos without ever needing to use a computer or printer, but it's also capable of storing a large amount of photos, just like a traditional physical photo album. Digital photo frames were actually introduced before tablet computers, and are generally designed specifically for the stationary, aesthetic display of your favorite photographs. Thanks to that, they ultimately provide your home with a nicer-looking frame solution that doubles as a powered photo-display system that's designed for continuous use. Lastly, their wireless capabilities make digital photo frames a great addition to any smart home set-up. With that said, if you're looking for a smart digital photo frame to include within your current Smart Home setup, then consider having a look at the Aura Frames Carver Digital Frame.
The Aura Frames Carver Digital Frame is a sleek and minimalist digital photo frame that features a 10.1″ crystal-clear display screen that boats a 1920 x 1200 Full HD resolution while also supporting unlimited cloud storage.
With this compact digital photo frame you can have more space at your home's tabletops instead of having them displaying a vast amount of traditional photo frames. Thanks to that, you end up having more tabletop space for all of your other tabletop Smart Home gadgets.
Furthermore, thanks to the digital photo frame's included unlimited cloud storage, you're ensured to have enough space for all of your photographed moments, even if you're extremely passionate about photography.
---
A BIT OF STORY ABOUT DIGITAL PHOTO FRAMES
Talking about digital photo frames in general, things for these simple home gadgets have completely changed right after the newer / more recently released models came out from companies like Aura Frames. These newer digital photo frame models mainly came out from this company (Aura Frames), which is a company that's highly specialized in producing these awesome digital display gadgets.
These newer digital photo frame models is exactly what cause the market to ultimately change. Prior to these more recently released models, most of the companies that were selling digital frames were mainly making their money based on a storage-solution business model.
Basically, not only did homeowners had to buy those companies' digital photo frames (which came at around $50 ~ $100 range, and were way smaller than these newer models), but companies also charged their buyers with a monthly fee or an annual fee for storage of all of the photos that customers wanted their digital picture frames to showcase.
What's really great about these newer digital photo frame models is that you no longer have to pay any money at all for a digital photo storage service, as companies like Aura Frames now provide their customer with an unlimited cloud service solution that ultimately allows you to have the company store all of your digital photos forever onto your digital frame through their own dedicated cloud servers.
This is a very welcomed new FREE feature, especially when you're purchasing these digital photo frames for someone as a gift, as you obviously want to give them a GIFT that reminds them of you and your love for the person, and not some sort of recurring payment responsibility (meaning those already mentioned outdated payed cloud-storage services that these companies ran before has their business models).
What makes gifting Aura Frames' newer digital frame models a really simple task is the fact that the company's newest digital frames come accompanied by a code in the back of the package that allows the person who's gifting the product to send photos directly to the frame's internal memory before the receiver (the recipient) even opens up and sets up their digital photo frame, and that goes especially for anyone who's a little bit older and/or maybe not as tech-savvy.
---
Now, back to the Aura Frames Carver Digital Frame. Let's have a more detailed look at this digital photo frame and check everything that it has to offer you.
DESIGN & SPECS
Starting with the Carver Digital Frame's actual size, the entire unit measures just 10.63 inches long by 2.6 inches wide by 7.45 inches tall. Not only that, but the Carver's sleek design is extremely minimalist, featuring a very clean look that goes well with pretty much any style of home décor that you can think of.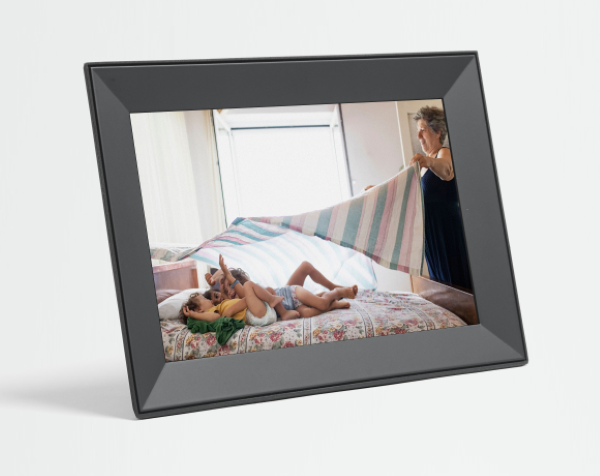 This brand-new digital photo frame model from Aura Frames comes boasting the largest display size the company has yet release. As such, the Carver Digital Frame comes equipped with a built-in 10.1″ crystal-clear display screen that offers users an ultra-sharp 1920 x 1200 Full HD resolution, featuring a 224 PPI pixel resolution.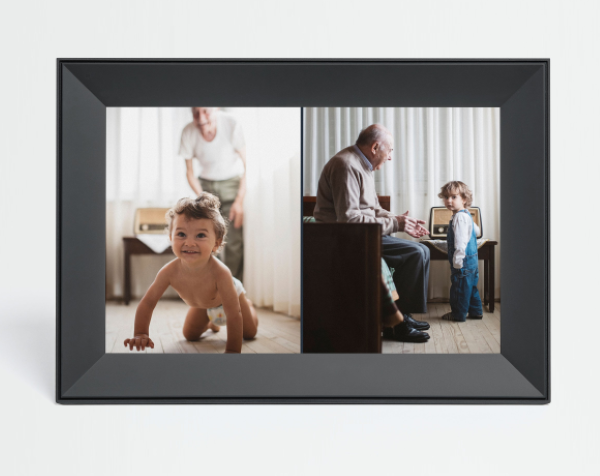 This digital frame is powered by connecting is 5′ custom braided fabric power cord to any electricity / power source.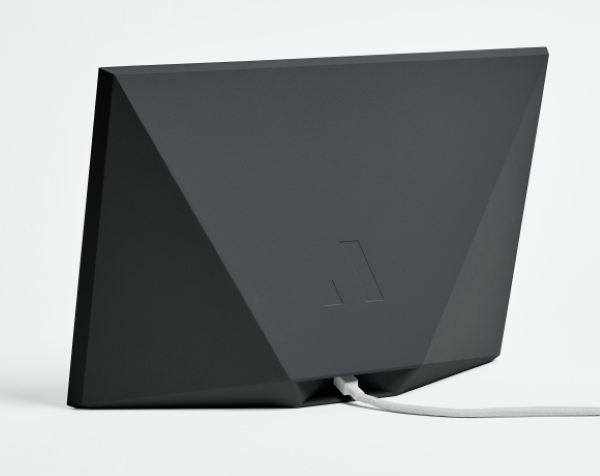 CONNECTIVITY
As mentioned earlier, this digital photo frame model features unlimited free photo storage thanks to the company's free-to-use cloud service, which is accessed via the unit's Wi-Fi connectivity.
This is done via the digital frame's proprietary Smartphone Companion App (called the Aura Frames App – discussed at the end of the article).
COMPATIBILITY
Speaking of the digital frame's Aura Frames App, the unit features a wide compatibility with many Apple devices (compatible with iPhone, iPad, and iPod touch running iOS 11 or later), as well as with several Android devices (compatible with Android 5.0 or later).
HOW DOES IT WORK?
The Aura Frames Carver Digital Frame works as a smart digital frame by running an Intelligent Photo-Pairing Software. That software is non-other than the company's Aura proprietary AI software, which uses AI technology to instantly groups together similar photos to create unexpected moments of surprise and delight.
Keep in mind that this specific software is exclusively and solely available for the company's Carver frames.
This smart and intuitive software dramatically presents landscape photos in full-screen mode.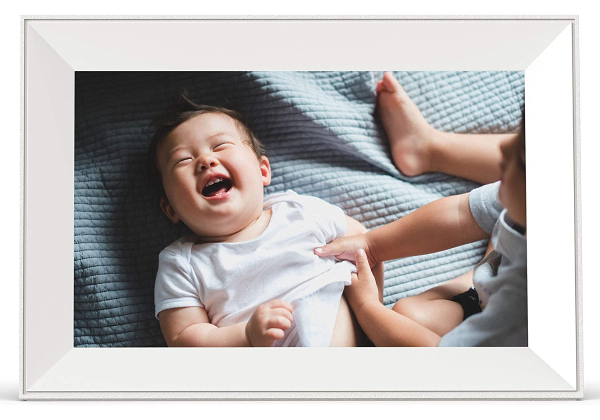 Not only that, but every time that it finds two related portrait photos (two similar portrait photos), it pairs them up side-by-side.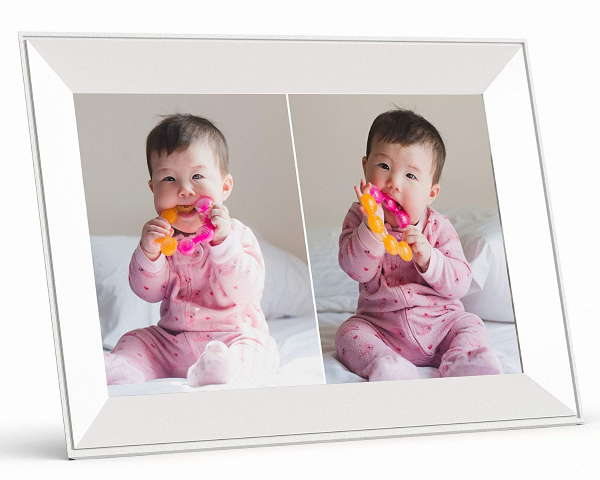 Lastly, this smart Photo-Pairing Software also allows the Carver Digital Picture Frame to automatically crop and position your photos right after you upload them from your Smartphone, and that ultimately ensures that every single of your uploaded images perfectly fits within the digital frame's large and crystal-clear 10.1″ display screen.
OTHER NOTABLE FEATURES
Ambient Light Sensor
It's worth to mention that the Carver Digital Frame comes equipped with a built-in Ambient Light Sensor that can automatically adjust the digital photo frame's display brightness.
Smart Presence Sensor
Additionally, this smart digital photo frame also comes equipped with an integrated smart presence sensor that helps you pick the right photo at the right time.
Easy-to-Use Touch Controls
Lastly, the digital frame also offers its users simple and easy-to-use Touch Controls that allow users to conveniently change their photos via the frame's single touch bar, which can be found right at the top of the frame's digital screen.
Users can also send a heart (❤️) with a quick double tap on the digital frame's touch bar.
THE SMARTPHONE COMPANION APP – The Aura Frames App
The Carver Digital Frame's previously mentioned proprietary Smartphone Companion App – called the Aura Frames App – is available for both iOS and Android devices.
With it, users can easily send over 10,000 photos from their Smartphone to any digital picture frame in their Aura Frames network, all with an unlimited cloud storage service included. That means you'll have zero subscription costs or added on fees to use the company's cloud storage service.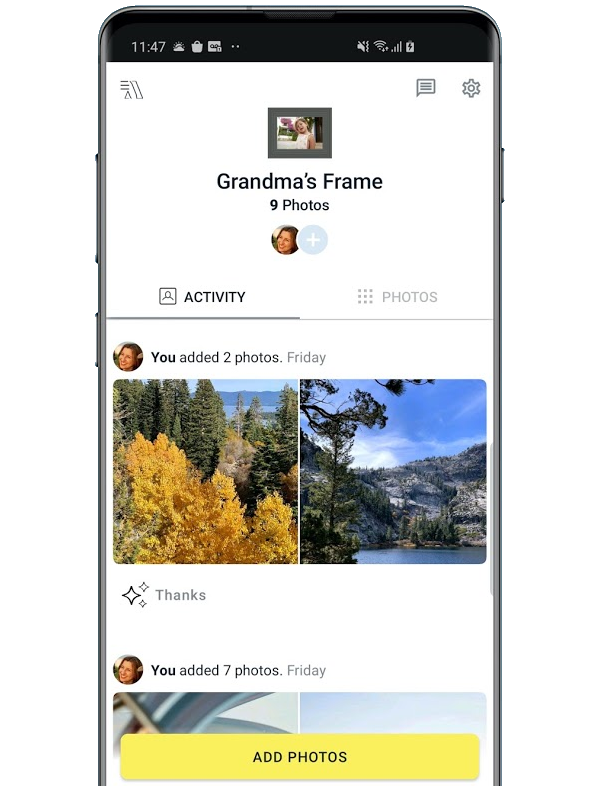 Lastly, it's also worth to mention that the Aura Frames App allows users to seamlessly transfer their mobile pictures with higher safety than traditional email.
FINAL THOUGHTS
The Aura Frames Carver Digital Frame is a sleek and minimalist 10.1″ Full HD digital photo frame that features a 1920 x 1200 resolution while also supporting unlimited cloud storage.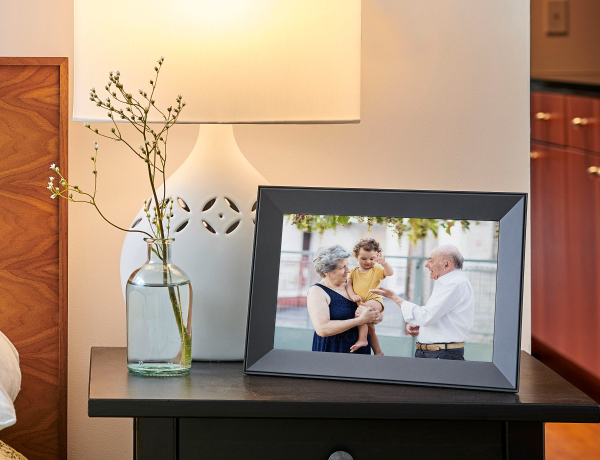 The Carver is currently available in three (x3) different color models: Charcoal (full Black), White Chalk (full White), Mat (outer Black frame with inner White frame – limited edition).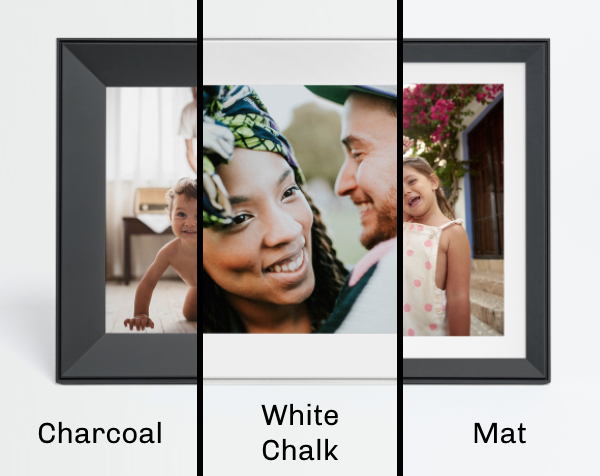 If you're interested in buying the Aura Frames Carver Digital Frame, keep in mind that while the first two mentioned single-color frame models (Charcoal and White Chalk) come accompanied by a $40 discount from their normal price of $199 (makes either unit available for just $159), the company's limited-edition Mat color-model (outer Black and inner White frames) will cost you the product's full price of $199.
No matter which one you decide to go for, all color models come accompanied by a 45-day Return Policy (worry-free) and a 1-Year Manufacturing Warranty.
You can easily order your unit(s) online, directly from Aura Frames' official shopping page, which you can access by clicking this link.