Smart Weather Systems are specially designed smart weather-tracking units that come equipped with tons of built-in sensors in order to allow users to get the most local weather information possible. In other words, these complex smart weather-tracking systems are designed to keep an eye on climate conditions right where they sit, and as such, they allow users to accurately track local weather statistics like rainfall, wind, air pressure, and even UV levels, all in real-time. With that said, no matter if you're a passionate surfer that needs to track the weather on a regular basis, a hard-working farmer that requires to track any abrupt weather changes that can potentially impacting your crops, or even a professional sea fisherman that needs to know the upcoming weather conditions before heading out far into the ocean, having a smart weather system installed at your home can be quite helpful. However, while smart weather systems can be quite useful, having these installed as Smart Home integrations can also be quite expensive. That is, unless you opt to go for something like WeatherFlow Tempest Weather System.
The WeatherFlow Tempest Weather System is an affordable high-end Smart Home weather system that works together with a powerful AI-Powered weather App to accurately forecast any upcoming weather.
By having this ingenious Smart Home weather tracking system installed at your house, you're offered an easy and realiable way of forecasting the weather for the upcoming days.
This meticulously designed weather system utilizes powerful machine learning technology and state of the art modeling capabilities to provide you and your family with a super-precise local forecast that offers you extremely accurate information about all the upcoming weather conditions for any future days.
Featuring a simple installation with no moving parts and working in a completely wireless fashion, this smart weather system can offer you instant online access to weather data via its proprietary Tempest Weather App (discussed at the end of the article).
Lastly, since this smart weather system comes at a very affordable price, you're also able to save both time and money instead of having to invest in expensive Smart Home integrations while still being able to protect yourself in any hobby and/or line of outdoors work, as well as to protect both your family and property from any unexpected weather conditions by simply having instant Smartphone alerts via the system's Smartphone Companion App which keep you perfectly informed of upcoming heavy rain, unforeseen lightning, strong winds, and much more.
So, without further ado, let's have a more detailed look at the WeatherFlow Tempest Weather System and check exactly how this smart weather system is built, as well as see just about everything that it has to offer you.
DESIGN & SPECS
Starting with the WeatherFlow Tempest Weather System's design, the system features a very compact size and extremely simple look, and thanks to that, you can install it just about anywhere within your property in a discrete fashion and have it easily blend in with whatever its surroundings are. Really, this thing is so small that once it is installed, you, your family and even any potential guests will barely notice its presence.
As stated earlier, this smart weather system only comes equipped with built-in sensors, so it features absolutely no moving parts at all. As such, when compared to other affordable / inexpensive smart weather systems, the Tempest Weather System is simply better than any competing brands that you can find currently available on the market.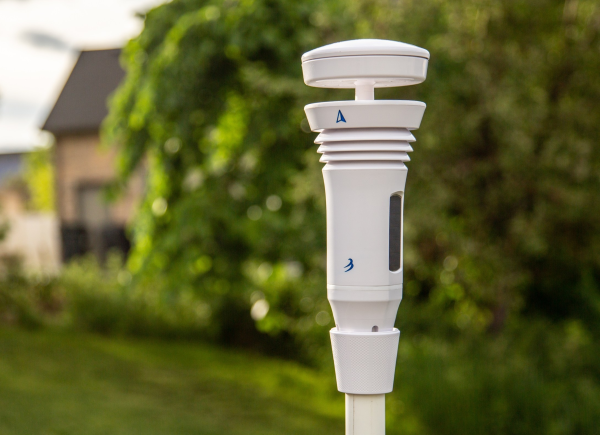 That mainly goes for its durability, and the main reason behind it is that since those other smart weather system units from different brands come equipped with moving parts, they'll have much less durability than the Tempest Weather System, as all of these smart weather systems are designed to sit outside, 24/7, even in rough weather, which basically means that at some point, any of those cheaper smart weather systems will eventually break and need replacing (which means more spent money.
Unlike any of those other smart weather systems, by having no moving parts whatsoever, the Tempest Weather System features much more durability than any smart weather system at its price point (and even, surprise surprise… some more expensive ones as well).
Now, while this smart weather system is in fact small, don't let its compact size fool you. While the main unit is quite compact, it comes equipped with several built-in smart sensors that can accurately track literally any weather statistics.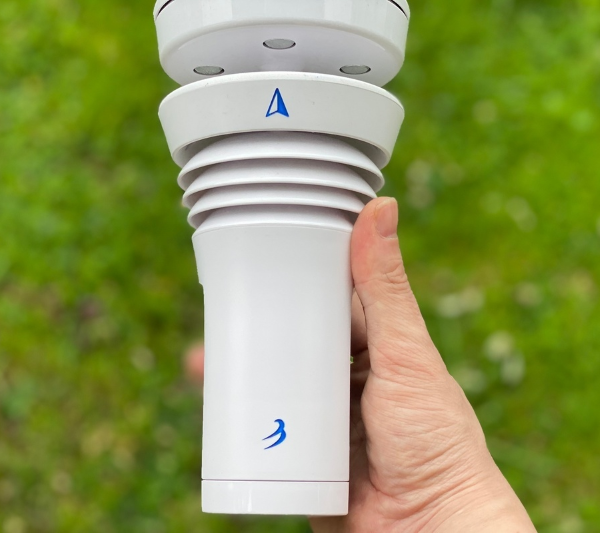 Right at the top of the unit, we have a small built-in Light Sensor that can accurately measure the Ambient Light, UV Index, and Solar Radiation. Together with that sensor, we also have a built-in Haptic Rain Sensor that can accurately measure the Rain onset, as well as estimate any current Rain Duration, Intensity, and Rain Accumulation.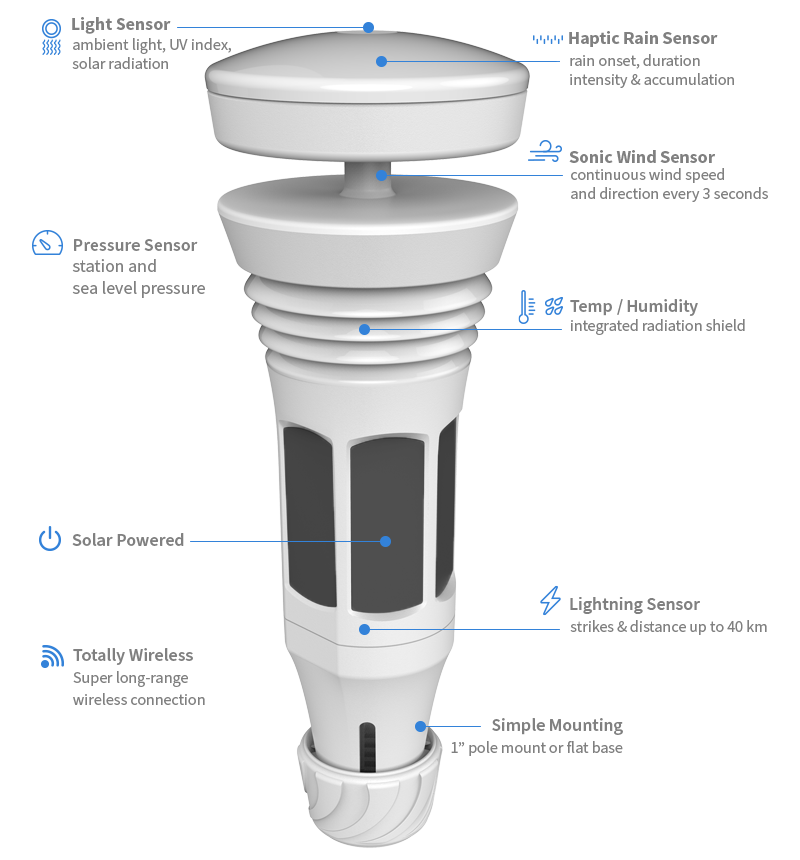 Right under those 2 sensors (Light and Haptic Rain Sensors), we also have a Sonic Wind Sensor that can accurately measure the Continuous Wind Speed and Wind Direction at every 3 seconds.
Going slightly further down, we also have a Temperature Sensor and a Humidity Sensor, which both come equipped with an integrated Radiation Shield. This combination allows the smart weather system to accurately measure both the Outdoor Humidity and Outdoor Temperature (and the current Temperature Feeling – as sometimes mild weather can feel hotter or colder, depending on whether or not it rained recently and the current humidity), as well as the current Temperature Dew Point (meaning the temperature difference from the minimum temperature where air can finally become saturated with water vapor).
After that, and right under its Temperature and Humidity Sensors, we also have a Pressure Sensor (located close to the center of the unit, right at the back side) that can accurately measure the Air Pressure locally (close to where you have the system installed) as well as accurately measure the Sea Level Pressure.
Additionally, sitting right at the opposite side of its Pressure Sensor, the main unit of the Tempest Weather System also features a high-quality and high-end built-in Solar Power Panel, which means that this smart weather system unit is Solar Powered.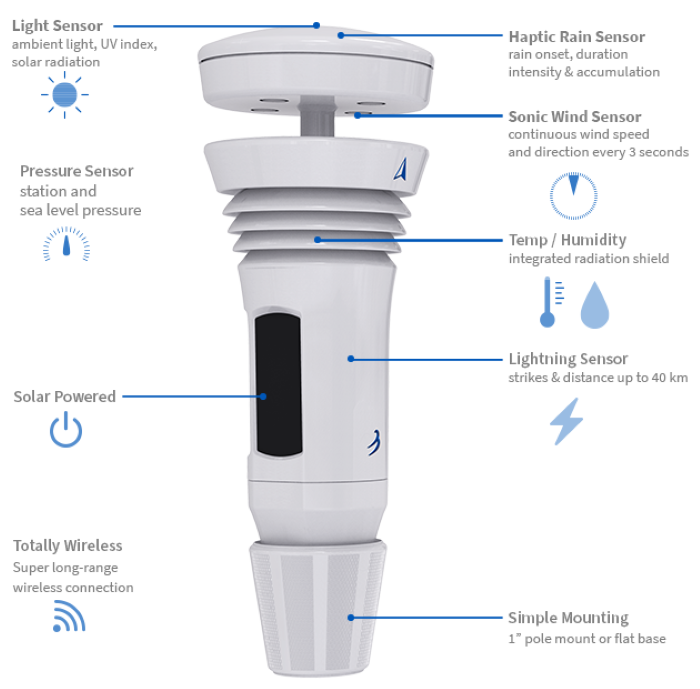 Lastly, right at the bottom of the unit (under both its Pressure Sensor and Solar Power Panel), we have its Lighting Sensor, which can accurately measure standard Lightning activity (i.e. lightning strikes and their distance up to 25 miles / 40 km).
SPECIFIC WEATHER-TRACKING SPECS / VALUES
Now, for all of those interested in knowing the exact weather-tracking values for each of the Tempest Weather System's built-in weather sensors, here's a detailed table (embedded below) with everything you'd want to know: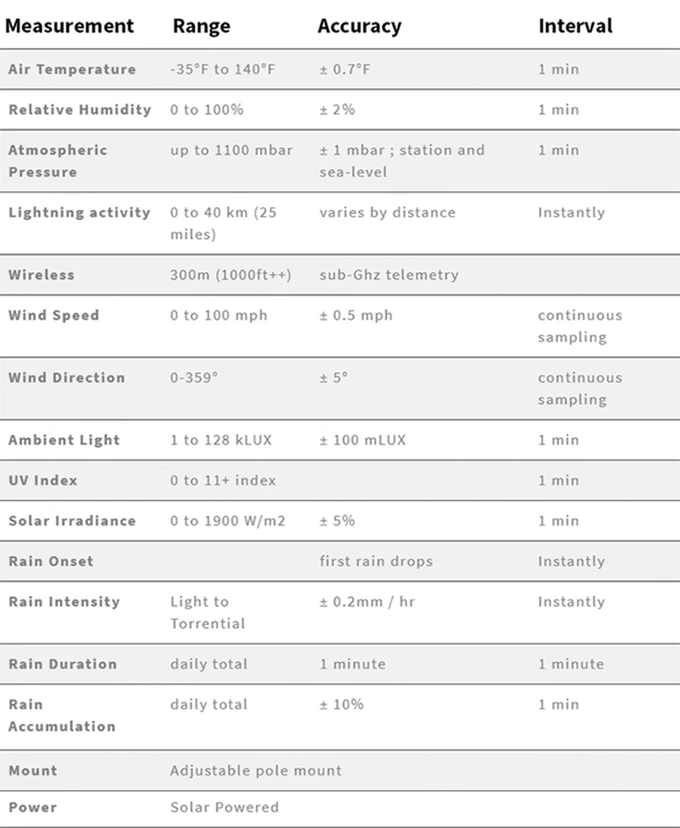 SET UP / INSTALLATION
Other than all of its built-in sensors, right under the main unit's Lighting Sensor, we have its Simple Mounting Part, which can be easily screwed into the system's dual Flat Base and Pole Mount attachment for a very quick and easy installation.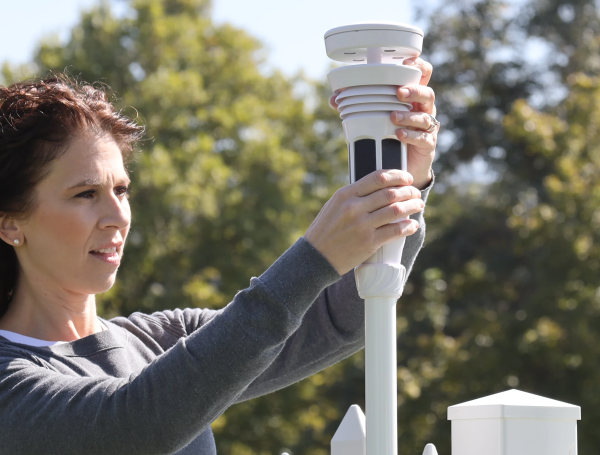 I should also note that after installing the WeatherFlow Tempest Weather System, you are required to connect the system's dedicated WiFi Hub to power, and this small WiFi Hub unit is what allows the Tempest Weather System to send data to its Tempest Weather App, which you'll then use as a Dashboard to analyze and study any of the system's collected local weather data.
THE SMARTPHONE COMPANION APP – The Tempest Weather App
As mentioned at the beggining of the article, the WeatherFlow Tempest Weather System works together with its proprietary AI-Powered Forecast App (called the Tempest Weather App, which is free to download for both iOS and Android devices), for which all of its analyzed weather data is solely collected and fueled to by the system's main unit, meaning its cutting-edge smart weather station.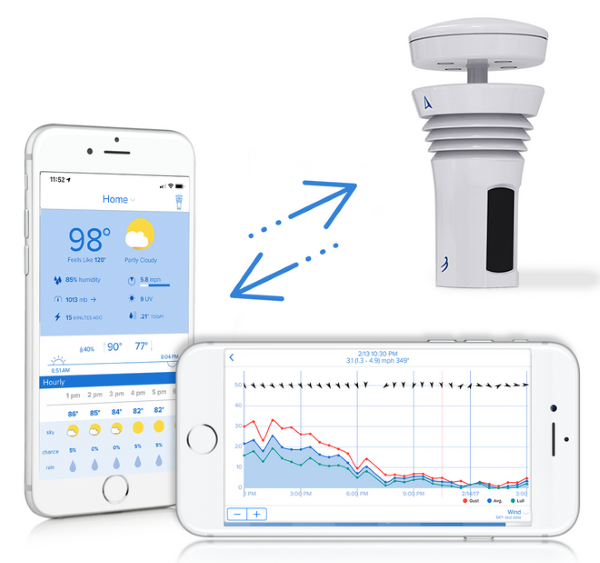 It's important to note that during your original set up / installation of the full system (including the main unit), you can rely on the Tempest Weather App, which will walk you through a few simple steps, including connecting the main unit to your home's WiFi network.
Then, as soon as you're up and running, the App itself will quickly become your go-to dashboard for learning about any upcoming weather conditions (and weather statistics), which are all measured in real-time, and those will include:
Outdoor temp, humidity, dew point, feels like temp.
Station pressure and sea-level pressure
Wind speed, wind direction, average and gusts
Lightning activity (strikes and distance up to 25 miles)
Rain onset, intensity, duration and accumulation
DeltaT, wind chill, wet bulb temp, air density
UV index, brightness, solar radiation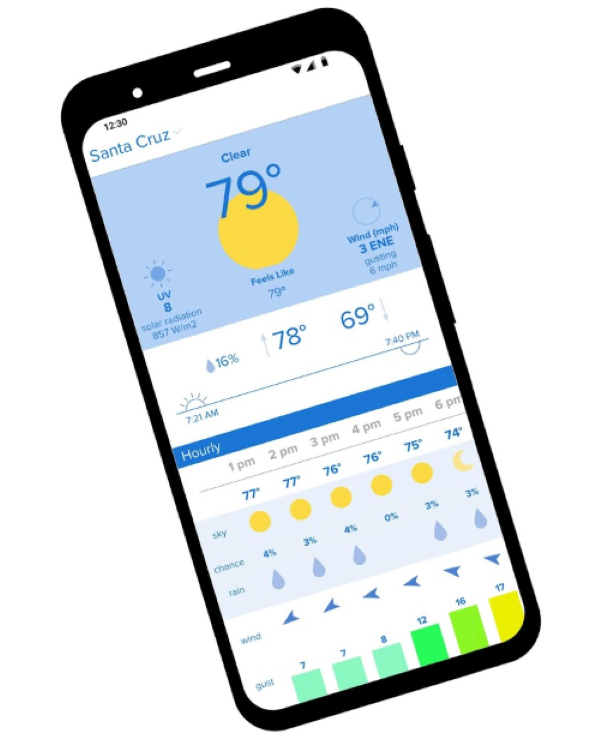 Additionally, the system will also feature its own smart auto-calibration algorithm, which is powered by its Continuous Machine-Learning system.
Keep in mind that while the Tempest Weather System and its Tempest Weather App come configured by default to have this smart weather system using the European global forecast model (ECMWF or European Centre for Medium-Range Weather Forecast), you can also configure the system to use some of the best of NOAA's forecast models (or ultimately, even some other forecasting models of your choice from the ones that are already supported by the App).
Specifically for its Wind-Conditions, within the App you can always check the data for current local wind conditions in real-time (which will always be getting accurately updated after every 3 seconds), for which you can always get Zoomable Graphics as well as a Shareable Weather-Analysis Web Page (click here to check a LIVE EXAMPLE) that you can quickly share with both family members and/or friends (for other people to check).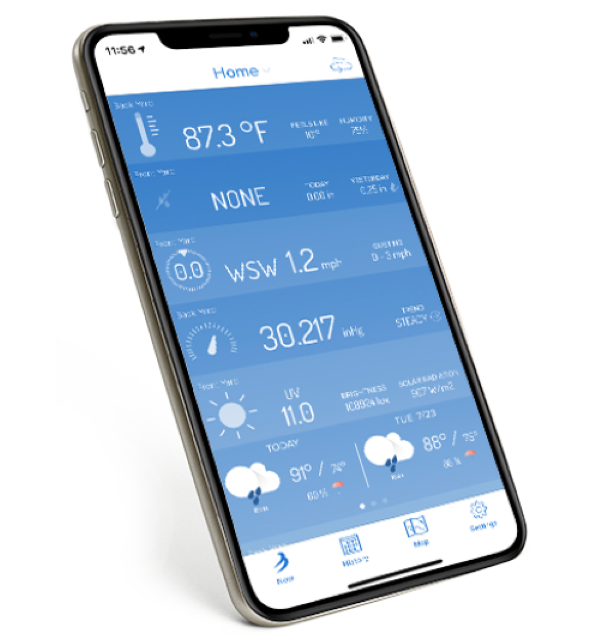 You can also use the Tempest Weather App to generate a full and highly-detailed Weather History Report with different time-based weather reports that can be accessed completely for free.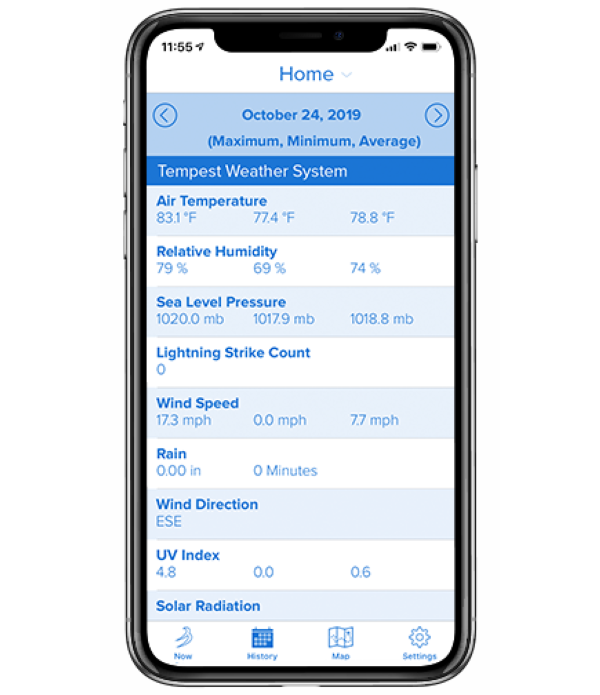 Those time-based weather reports can include Daily, Weekly, and Monthly Weather Reports, and these will also include the Highs (Maximum), Lows (Minimum), and Average Weather Values for each of the smart weather system's accurately weather statistics (like rain, wind, temperature, humidity, etc.).
Lastly, it's also worth to mention that this smart weather system is also Smart Home Ready, so you can conveniently use the system's Tempest Weather App to integrate your Tempest Weather System with any popular smart home services.
Thanks to that, you can use all of the system's collected weather data to optimize heating and cooling within your Smart Home, to adjust your irrigation schedule on your outdoors garden / backyard, to alert your family when lightning storms approach (via Smartphone push-notifications), and even to close your garage door whenever the wind starts kicking up.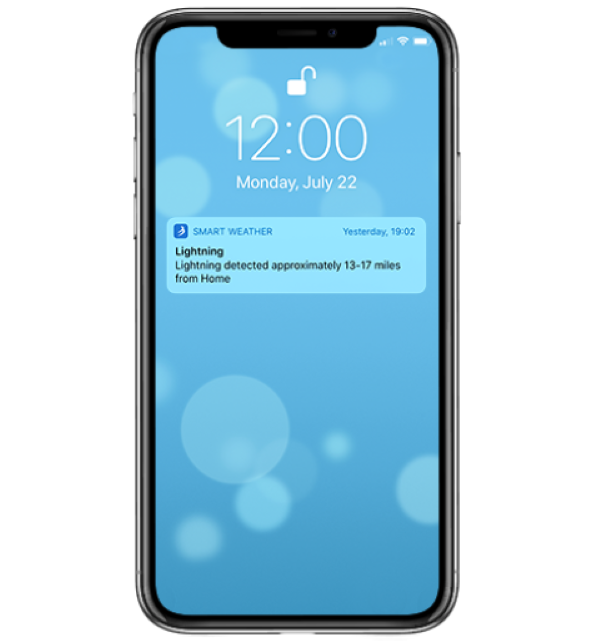 To finish off, I'm more than pleased to inform all of our readers that the Tempest Weather System is compatible with all popular Smart Home integrations, not only including the Google Assistant, Siri, Alexa, but also IFTTT, Smart Things, Homey and many, many more. With that said, since your Tempest Weather System's uses shareable data (which enables third party use), the system's open API is completely customizable, and even features built-in publication to desktop software and online services.
WHAT'S IN THE BOX?
Inside each package users will find: their Tempest Weather System Sensor Device (meaning the main unit), the system's included Flat base and Pole Mount attachments, the system's dedicated WiFi Hub, and an included USB Power Cable and Wall Plug for the system's WiFi Hub.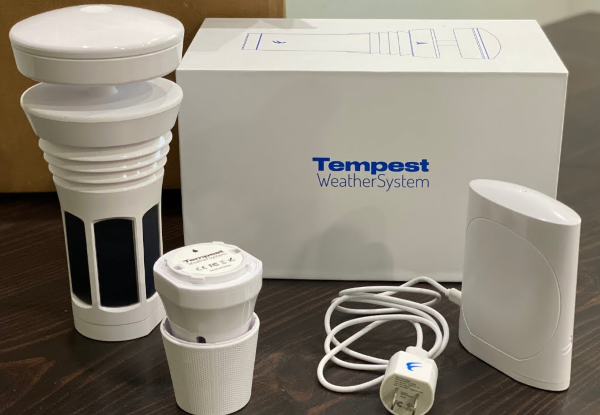 FINAL THOUGHTS
The WeatherFlow Tempest Weather System is an affordable high-end Smart Home weather system that works together with a powerful AI-Powered weather App to accurately forecast any upcoming weather.
By having this ingenious Smart Home weather tracking system installed at your house, you're offered an easy and reliable way of forecasting the weather for the upcoming days.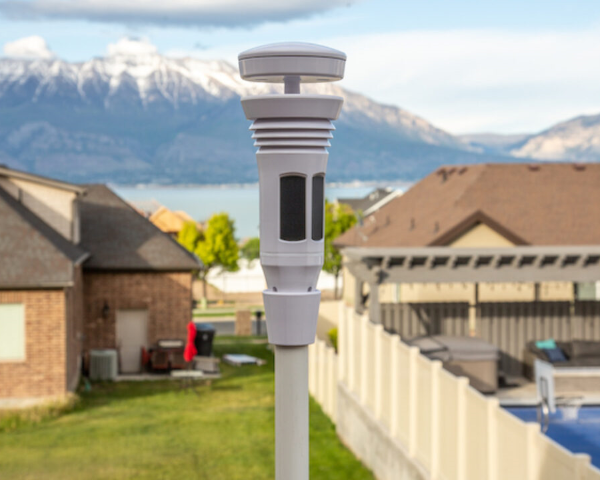 Overall, the system is very easy to setup / install at your house, and features a very, very durable build that makes it surpass any other smart weather system within the same price range (as well as some much more expensive ones), so that's definitely a plus.
Additionally, the App is also very intuitive to use, and the system is so accurate that its Smartphone Companion App can literally inform you about anything (and I really mean anything) that you need to know for any current or upcoming weather conditions.
If you're interested in buying it, each set is currently going for a very affordable price of just $329, and each purchase also includes a 60-Day Money-Back Guarantee while also coming with a 2-Year Warranty. You can order yours online right now, directly from WeatherFlow's official shopping page, which you can access by clicking here.