For any homeowners that are looking to turn their home into a Smart Home – or even to improve it – Apple's HomeKit is the perfect software framework to do it. With it, homeowners can conveniently use their iOS/iPadOS Apple devices to easily configure, communicate with, and control smart-home appliances. In other words, Apple's HomeKit can provide homeowners with a simple and easy-to-use tool for automatically discovering a better quality of life with their Apple devices while configuring them according to their daily home-life needs. With that said, for any homeowners that are looking for a HomeKit-enabled smart doorbell, consider going with the Logitech Circle View.
The Logitech Circle View is an easy-to-use wired video doorbell that features HomeKit Secure Video with Face Recognition, best-in-class Logitech TrueView video, 160° FoV head-to-toe HD video with HDR, and color night vision to capture every last detail.
This minimalist and featured-packed video doorbell is perfectly designed to fit any home, working with any wired doorbell system that you might have currently installed (as well as with any chime modules) and coming with literally everything you need to get it set up, including a Chime Kit and several other mounting options.
By installing the Logitech Circle View as their home's dedicated video doorbell, homeowners can receive detailed Smartphone notifications with two-way audio across all your Apple devices whenever a person or package is at the door.
Not only that, but this latest-gen video doorbell is the ultimate solution to your home's security and privacy, as it supports HomeKit Secure Video for secure end-to-end encryption while also featuring a 10-day recording history, custom Activity Zones, and even a Private Home Hub Video Analysis.
With so many cool features, it's really hard to skip on this brand-new and recently released video doorbell, especially when taking its affordable price into consideration.
However, in case you're still now convinced, join us on our review where we'll take a fully detailed look at the Logitech Circle View and check out everything that this easy-to-use latest-gen video doorbell has to offer you.
DESIGN & SPECS
Starting with the video doorbell's size, the Logitech Circle View comes at a reasonably compact size, measuring exactly 1.10 inches long by 1.65 inches wide by 4.68 inches tall (28 mm x 41.8 x 118.8 mm), and that's already accounting with its straight mount included in the doorbell's installation. Additionally, this wired video doorbell comes at a very lightweight of just 5.33 oz. (151 g), and that also includes its straight mount).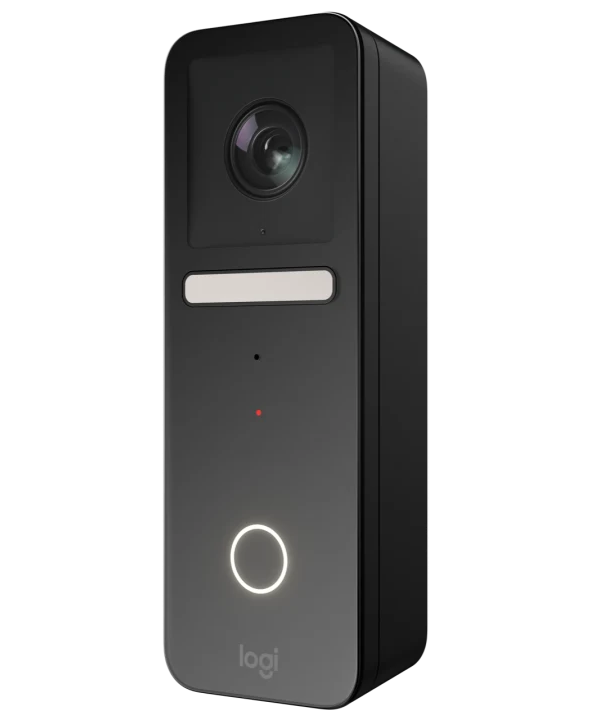 Now, as stated earlier, this recently released video doorbell showcases a very minimalist design that allows this model to go extremely well with pretty much any type of home entrance.
The doorbell features a seamless glass face and a gorgeous and slim silhouette, and both of these design features add a touch of elegance and latest technology to your home entrance.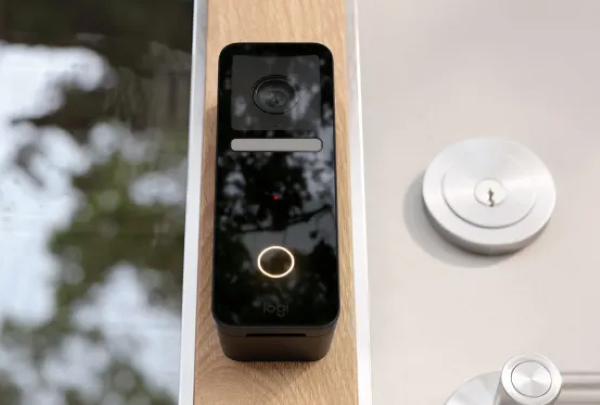 Now, when it comes to this video doorbell's components, we'll start by having a look at its built-in high-quality 5 MP camera lens sensor that can boast a 1200 x 1600 HDR-enabled video resolution.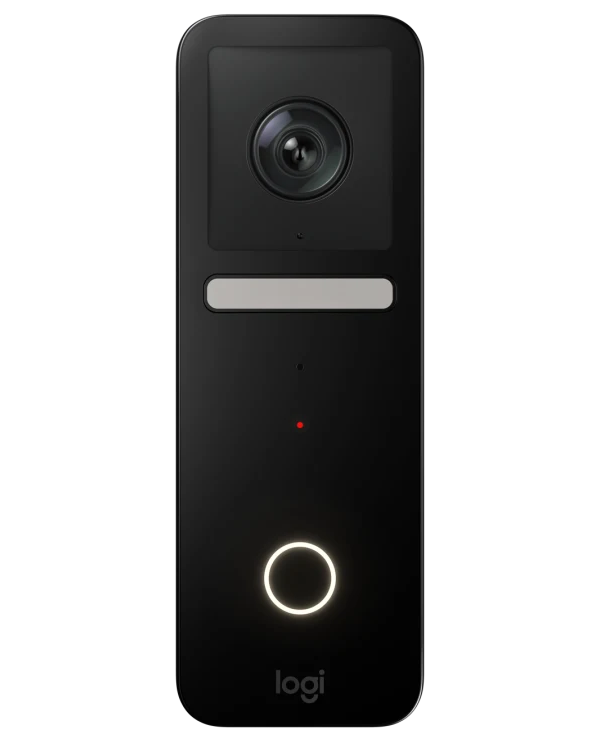 This 5 MP camera sensor is designed to bring you Logitech's best-in-class TrueView High-Definition video, working in a 160° Field-of-View (with a 3:4 format Portrait View video format) that can be set to work as a head-to-toe recording video-angle.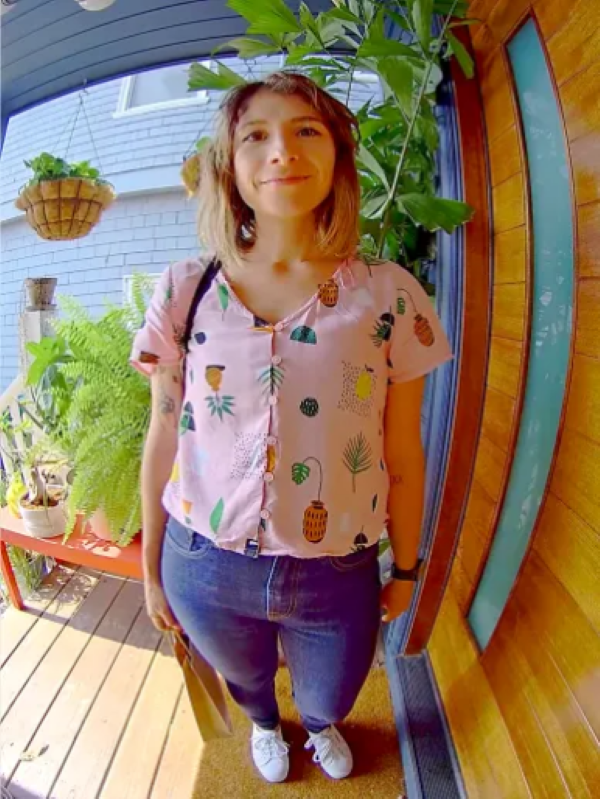 Not only that, but the doorbell's camera lens works together with an integrated high-quality HDR (High Dynamic Range) sensor that ultimately gives the doorbell's recorded video an unbelievable detail, whether your facing a bright and sunny day or a dark shadowy sky.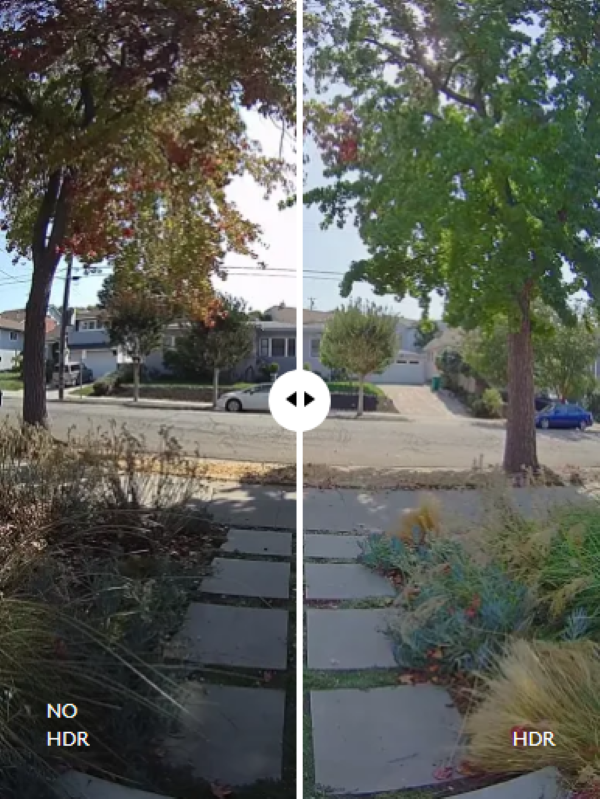 Thanks to this special high-definition sensor, no matter what the weather conditions are outside, the video doorbell can record live video with great quality.
Additionally, the video doorbell also comes integrated with a 4000K LED light strip that greatly helps to provide illumination in any unobstructed area, thus greatly lighting up its recording area up to 6 ft. away.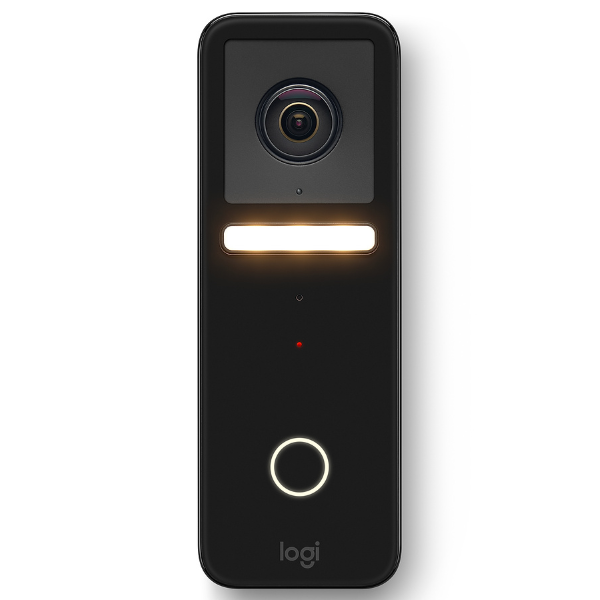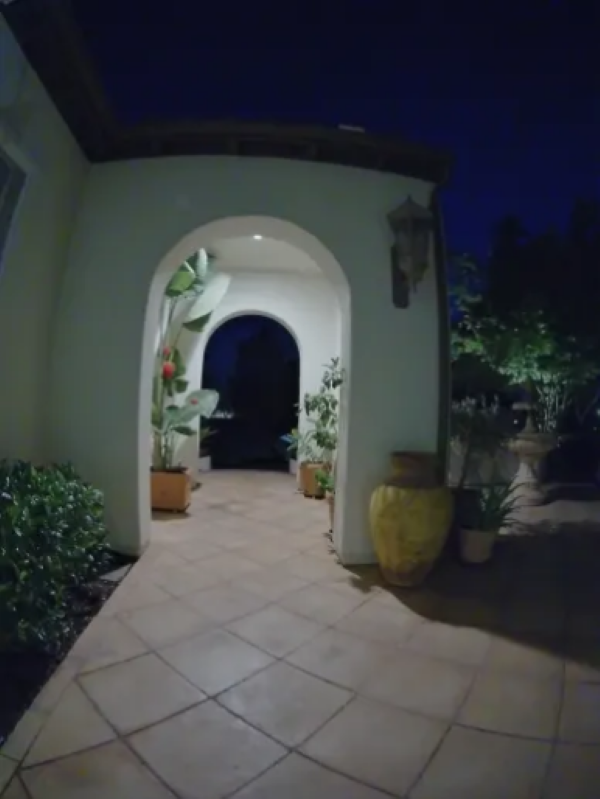 Furthermore, the doorbell also features a 2-Way Audio System, meaning that it also comes equipped with both a built-in Mono-Speaker and a small integrated Digital MEMS Microphone, which work together to provide users with a Two Way Talk system that features Full Duplex with Acoustic Echo Cancellation.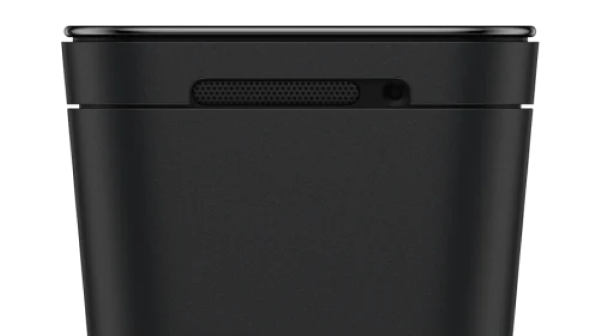 Lastly, this video wired doorbell also features a IP65 Weatherproof Rating, as it comes equipped with a weather-resistant body, so no matter what the weather conditions are, you don't really have to worry about having it installed in a "covered-up" / "protected" set up.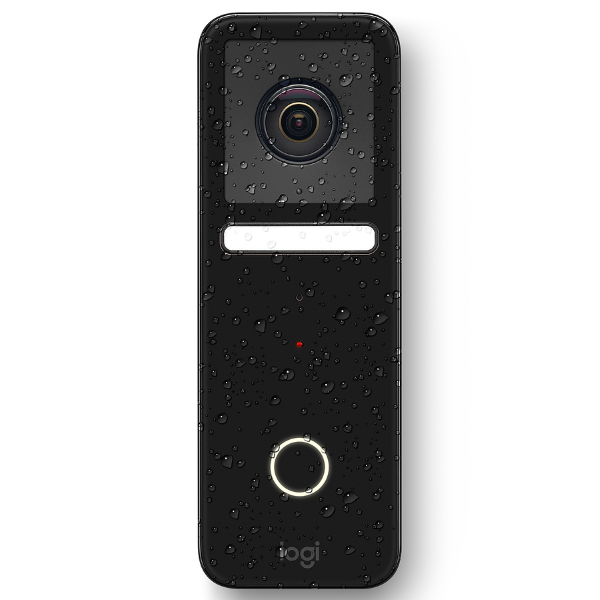 SET UP / INSTALLATION
Now, speaking of the doorbell's installation, setting up the Logitech Circle View Doorbell is fairly easy.
As mentioned before, this wired video doorbell comes with everything you need to install it, including multiple mounting options, a dedicated Chime Kit (compatible chime 8), and even some wiring to connect it to an already existing wired doorbell system that you potentially already have installed (works with wired doorbell systems of 8-24V AC 10 VA or higher).
First of all, keep in mind that in order to make this video doorbell's installation work properly, you'll need a high-speed Wi-Fi-based 2.4 GHz / 5 GHz (a/b/g/n/ac) internet connection near the doorbell itself, and your home internet will need to have at least 2.5 Mbps of upload speed.
Additionally, in order for homeowners to use the doorbell with Apple's HomeKit Secure Video, you'll also require a supported iCloud plan and at least one Apple HomeKit Secure Video-compatible components (which could be a Apple HomePod, Apple TV, or iPad), which you'll obviously need to already have set up as your dedicated Home Hub.
Furthermore, it is also highly recommended that you update your Home Hub devices to the latest software and operating system (meaning the latest version of iOS or iPadOS) just so that you can be assured that you'll be perfectly able to control this HomeKit-enabled accessory.
Now, it's important to note that the Logitech Circle View Doorbell comes in two different installation versions.
The regular version will require you to install the doorbell by yourself, but alternatively, for those that have never installed a Smart Home video doorbell before, you could opt to go for the professional version, which includes professional installation for the doorbell.
DIY Installation
To install the Logitech Circle View by yourself, you can have its Screw based Mount installed in a few different orientation options, including: a 0° straight view with straight mount; a 20° left view or a 20° right view with angle mount.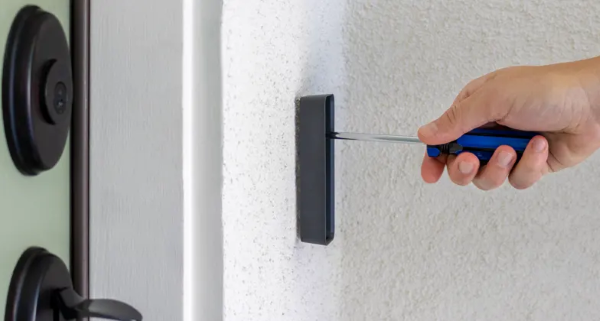 Thanks to the included angled mount, you'll have absolutely no problem installing the doorbell at a 20º angle.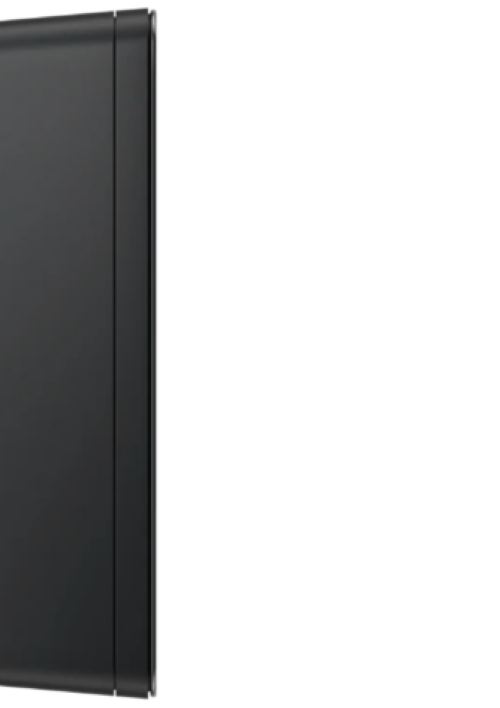 After installing the mount, you just have to connect the doorbell's included Wiring, for which the doorbell supports a 16–24-gauge cable, which can be either solid or tinned stranded.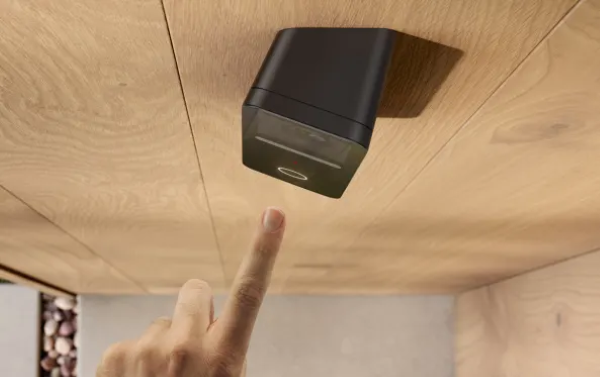 Professional Installation
For those that prefer to have their Logitech Circle View Doorbell installed by a professional, the professional package version of the doorbell comes with a Redeem Installation Code that can be used to call a professional from HelloTech, who'll then doing all the work for you.
These professionals can not only handle all the wiring, but also any necessary drilling, and after they're done preparing the doorbell's mounting spot in the most professional manner, they'll also help you to set up the doorbell, as well as to configure and optimize it for you to have an easier time using it with your Apple Homekit Home Hub device.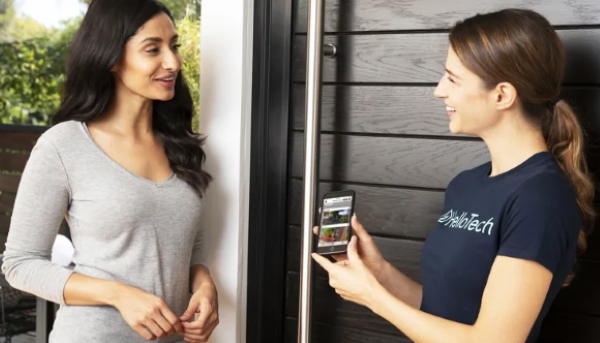 Keep in mind that if you first decide to go with the basic package (which does not include professional installation), but then find yourself in a complicated situation where you simply cannot install the doorbell by yourself, you'll have nothing to worry about, as the same complete installation service may also be purchased from HelloTech at a later date.
CONNECTIVITY
As mentioned before, this wired video doorbell features Wireless Connectivity, supporting either a Wi-Fi-based 2.4 GHz or 5 GHz (a/b/g/n/ac) internet connection (2 x 2 MIMO Wi-Fi) that offers you at least 2.5 Mbps of upload speed.
COMPATIBILITY
This latest-gen wired video doorbell supports just about any iOS device, including any of the most recently released iPhones, iPads, and Apple Watches, as well as most of the older models.
OTHER NOTABLE FEATURES
Full Compatibility with Apple HomeKit
Now, it's important to note that this wired video doorbell was specifically developed to be used with Apple's very own HomeKit software framework for Smart Homes.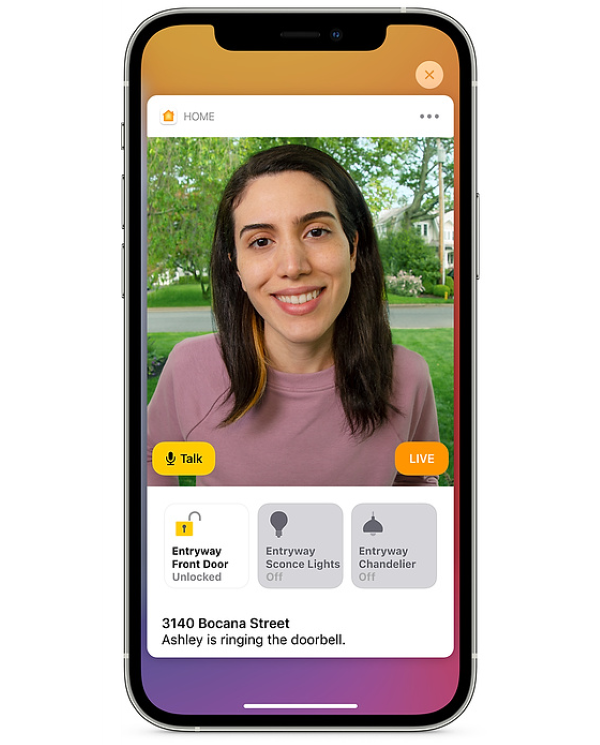 Thanks to that, you can seamlessly enjoy a viewing experience with two-way audio in the Home app on iPhone, iPad, Apple Watch, Mac, and Apple TV.
Activity Zones
By using your Apple HomeKit Home Hub, you can configure the doorbell's video recording functionality to only report detected video-motion in the areas that you choose for it to record and save video.
Smartphone Notifications
For those selected areas, you can set both the doorbell and any of your HomeKit-compatible cameras to notify you whenever an animal, vehicle, or person is present within those areas.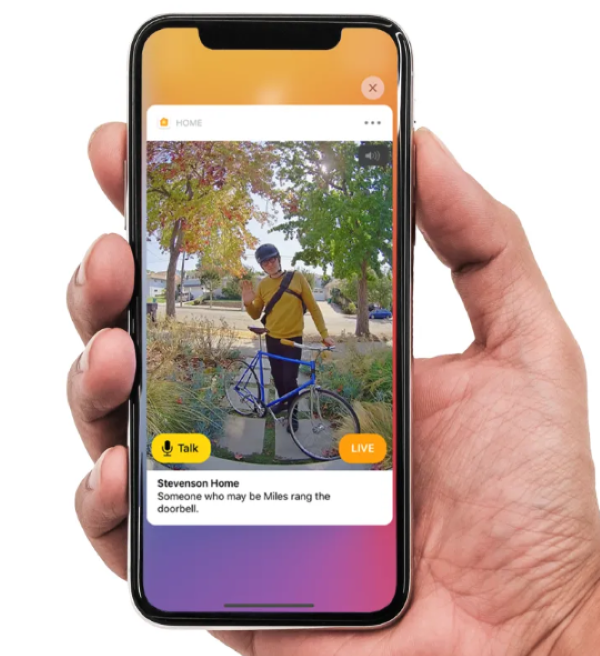 Additionally, thanks to the doorbell's Face Recognition technology, the doorbell's camera lens will even be able to recognize selected family members and friends.
Private and Secure
Furthermore, all of the doorbell's Video analysis functionalities and Smartphone notifications take place right on your Apple device (iPhone, iPad, Smart Watch, or even Apple TV), and literally everything is encrypted before it's stored in your Home Hub's iCloud.
10-Day Camera Activity Storage
Lastly, all of the doorbell's recorded and saved video footage samples are always securely storein in your Apple HomeKit's iCloud for a maximum of 10 days, and the best part of all is that all of that recorded video footage won't even count against the cloud's storage limit.
WHAT'S IN THE BOX?
Inside each package, users will find: your Logitech Circle View Doorbell, an included Chime Kit for the doorbell, several Installation Accessories that conveniently make the process of setting up the doorbell much easier, and the doorbell's Quick Start Guide.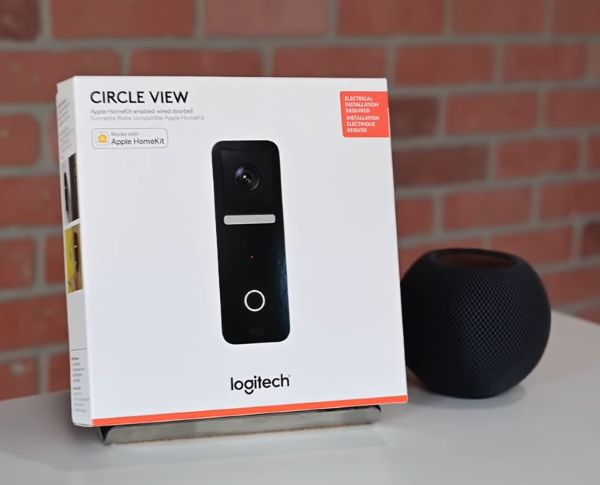 FINAL THOUGHTS
The Logitech Circle View is an easy-to-use wired video doorbell that features HomeKit Secure Video with Face Recognition, best-in-class Logitech TrueView video, 160° FoV head-to-toe HD video with HDR, and color night vision to capture every last detail.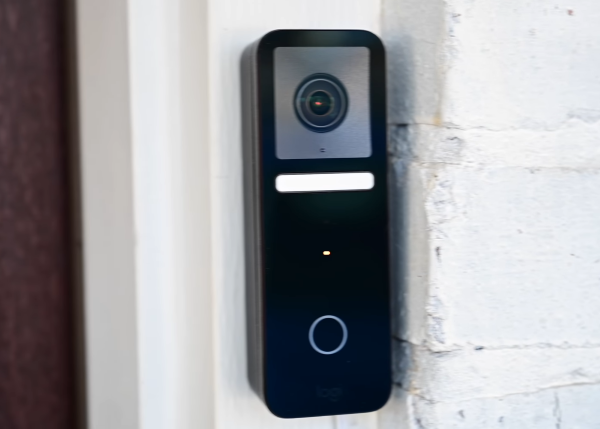 When considering the doorbell's wide compatibility with most iOS devices as well as its many supported features for Apple's HomeKit, this wired video doorbell is perfect for anyone who's looking to upgrade (or start upgrading) their Smart Home.
If you're interested in buying it, each unit is currently going between $199.99 and $299.99 (depending on whether or not you decide to go with the professional version to have an assisted installation).
You can order yours right now, directly from Logitech's official shopping page, which you can access by clicking this link.