For any outdoors enthusiasts that enjoy exploring the many natural wonders that Mother Nature has to offer, it's important to find as many ways as possible to protect the environment. With that said, while there are many different ways to save the nature that we have from the negative environmental effects that come with modern industrialism so that we can ultimately leave it untouched and unspoiled, one of the most simple ways to do that is to more carefully select your brand of underwear. Meet the WAMA Underwear Line.
The WAMA Underwear Line is a high-quality, ultra-soft, super breathable and extremely comfortable brand of underwear for both men and women that's mainly made of hemp.
Why Should You Go with WAMA Underwear?
In comparison to other underwear companies, while many other brands of underwear make their underwear products from a variety of fabrics and other materials, which can respectively include satin, silk, pvc, cotton, nylon, and mesh, as well as lace, rawhide, leather, lycra, and/or polyester (which sadly, for the latter, is partly sourced from petroleum), all underwear products from the WAMA Underwear Line are mainly made of hemp.
That's exactly what makes this underwear line better than any other brand of underwear that utilizes any material other than Hemp. According to statistics, hemp is the worlds most sustainable fabric, which basically means that hemp plants grow super fast, and these don't even require the use of pesticides, herbicides or fungicides. In turn, that also helps to improve soil health, which is something that any Eco-Conscious person would value. To put it simply, hemp is the perfect fabric for manufacturing organic underwear.
As a textile, hemp fabric makes for a very special type of fabric, as it is both naturally anti-bacterial and anti-microbial, and also features anti-odor properties. Not only that, but hemp fabric also makes any underwear piece very soft and super comfortable, as it as a very breathable fabric that will even get softer and softer with every single wash.
Best of all, since hemp is a purely organic material, it is extremely eco-friendly, which means that it is the perfect choice for those looking for different ways on how to help saving the planet as well as to preserve Mother Nature.
So, without further ado, let's have a more detailed look at the different types of underwear products that are available within the WAMA Underwear Line and check out how those are made and how good they really are.
DESIGN
Starting with the company's underwear designs, you have many different underwear models that you can choose from within the whole WAMA Underwear Line.
For the WAMA Underwear for Men, you have Hemp Boxer Briefs, Hemp Trunks, Hemp Boxers, and Hemp Briefs to choose from.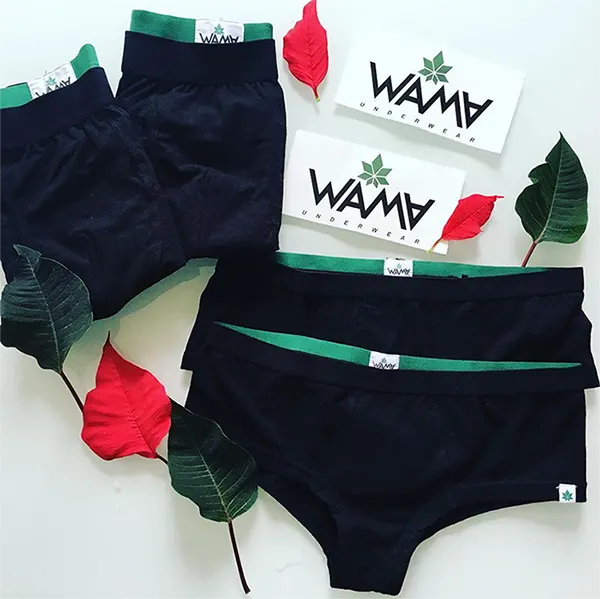 For the WAMA Underwear for Women, you can choose from a Hemp Bikini, Hemp Hipsters, Hemp Thongs, Hemp Boy Shorts, and three (x3) different bikini designs, which are a High Waisted Hemp Bikini, a Triangle Bralette Hemp Bikini, and a Racerback Bralette Hemp Bikini.
Now, no matter what type of underwear design you decide to go with, the WAMA Underwear feature an ultra-soft and extremely breathable design, as their mainly made of hemp fabric.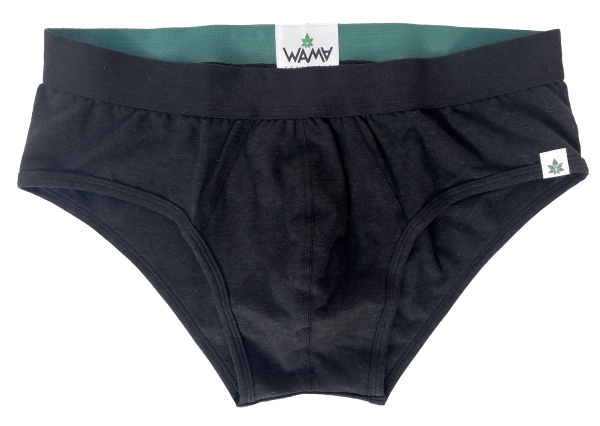 Not only is the fabric used on each underwear piece very, very soft as well as perfectly breathable, but the elastic band at the top of each piece is also great. It's not too loose, neither it is too tight. It's simply spot-on, and quite comfortable when worn.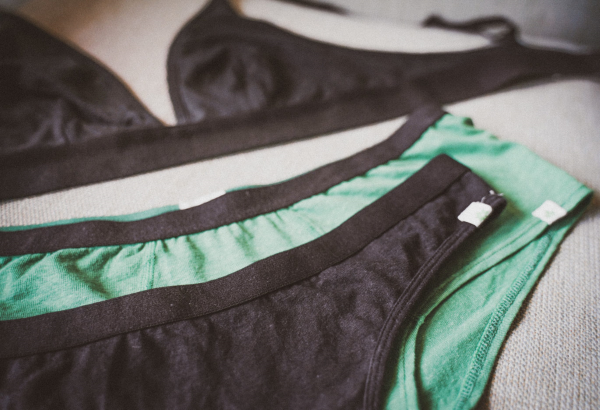 Overall, these fit really well on any person, which ultimately makes this brand of underwear perfect for pretty much any body shape.
Lastly, since hemp fabric is the strongest natural fiber that you can find, you're guaranteed that your WAMA Underwear are made to last, so they can ultimately last you for a very long time.
MATERIALS USED
Moving on to the company's super sustainable design, all of the underwear products from the WAMA Underwear Line are mainly made from sustainable materials.
For those curious about the specifics, each underwear piece is made of around 53% hemp fabric, 44% organic cotton, and around 3% spandex. And for those wondering, the company's hemp is actually grown organically, which is definitely another plus.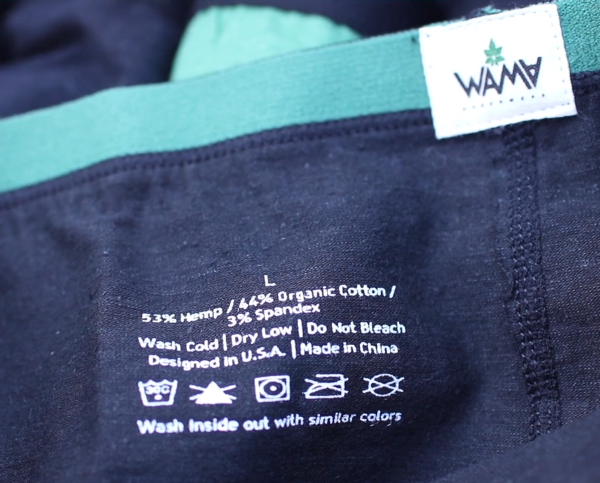 Lastly, and as stated earlier, hemp fabric is a special type of fabric that's both naturally anti-bacterial and anti-microbial, which means that it ultimately makes it capable of killing off any bacteria, fungus, or molds, all while also featuring anti-odor properties.
Since each underwear piece from the WAMA Underwear Line is mainly made of hemp fabric, which is a super breathable fabric material that offers an increased airflow that helps to wick away moisture quickly, you're ultimately getting a brand of underwear that can keep you nice and comfortable, all in a very natural fashion.
Furthermore, hemp fabric also has the highest UV protection rating, meaning UPF 50+.
PACKAGING
Now, let's talk about the packaging. I really appreciate the fact that the company's packages are completely made from 100% recycled materials.
Not only that, but I'd also like to point out the super rare occasion that this is actually a company that utilizes absolutely no plastic within its sustainable packages. With that said, thank you so much for using ZERO plastic. Nowadays, it's so, SOOO rare to find something that's said to be "sustainably made" and have it not be shipped in some sort of plastic.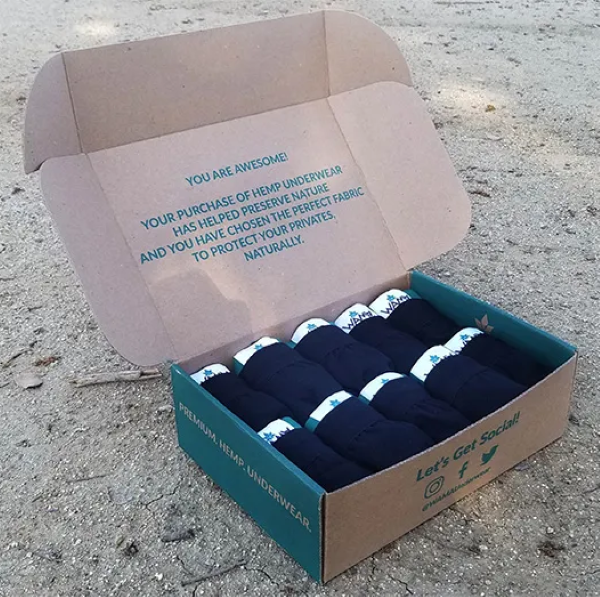 ENVIRONMENTAL CERTIFICATIONS
Another great thing that backs up the sustainability of the WAMA Underwear brand is the fact that they have 4 different Eco-Friendly Certifications, which equally helps to prove the company's sustainable practices and also helps to make their products 100% trustworthy to consumers.
Starting with their GOTS (Global Organic Textile Standard) certification, this one backs up the fact that the company only sources their fabric materials (hemp fabric and organic cotton fabric) from GOTS certified suppliers, which is a great thing to see.
If you think about it, while any company can say they have sustainable practices, it's a completely different thing to have a certification that backs up that statement in a "bullet-proof" way.
Their second certification is a PETA certification. It's safe to say that, when shopping for sustainable products, many Eco-Conscious people don't remember to look if a company is actually PETA-approved or not. Well, I'm very glad to say that for the WAMA Underwear Line, the company is actually PETA-approved.
Their third certification would be their factory is BSCI (Business Social Compliance Initiative) certified, which basically means that their factory is just one of many factories that are part of the BSCI leading supply chain management system, which is a special system that supports companies to drive social compliance and improvements within their factories and farms in their global supply chains. To put it simply, whenever you're specifically looking to purchase Eco-Friendly products, it's safe to say that a BSCI compliance factory is your best partner, without a single doubt.
Lastly, the company itself is also a Green America Certified Business, which basically means that all of their facilities meet the high standards for both social and environmental impacts.
FINAL THOUGHTS
The WAMA Underwear Line is a high-quality, ultra-soft, super breathable and extremely comfortable brand of underwear for both men and women that's mainly made of hemp.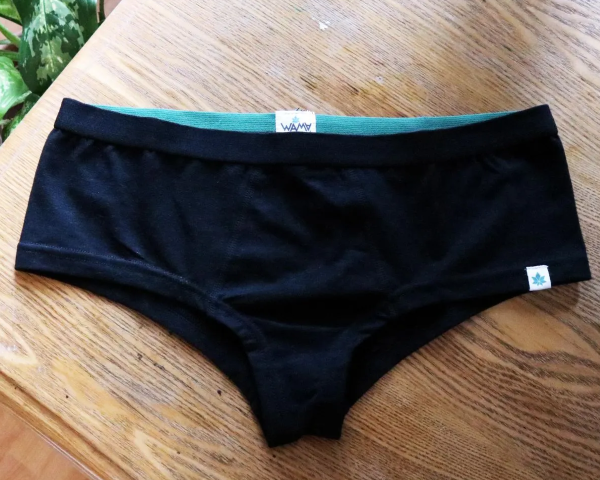 Overall, this is a great choice of underwear brand to go with if you're an Eco-Conscious person that's looking for new and better ways of protecting the planet.
If you're interested in buying any of their underwear designs, you can get your own at very affordable price tags, which some of their underwear pieces going for as little as $20 and some other underwear designs going for as high as just $38. So, very, very affordable.
Furthermore, some of their designs are available in a few different colors, so you can easily get them to match your style of clothing.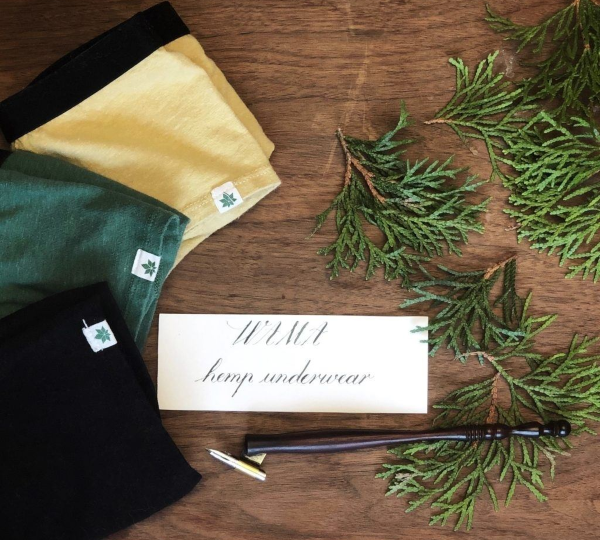 You can check out all of their underwear designs at WAMA Underwear's official shopping page, which you can access by clicking here.