Whether you're spending most of your days at home or you're planning to go on your next outdoors camping adventure, it's important that you always stay prepared, and that goes especially for power-out emergencies. Speaking of which, whenever a power-out occurs, any products that rely on disposable or rechargeable batteries will eventually fail, as you'll most likely only have a limited supply of either of those energy solutions. Now, there's a new gadget out there that promises to never leave you in the dark when a power-out occurs, and the best part is that you can also use it to keep any of personal devices' batteries fully charged. Meet the Deciwatt NowLight.
The Deciwatt NowLight is a portable manually cord-powered and solar-powered generator equipped with a 160-Lumen Lamp that can also be used as a power bank.
With it, you can easily have your own way of creating renewable energy on demand to ultimately make electricity for as long as you need to, no matter where you are currently located at or what weather conditions you might experience.
So, let's have a more detailed look at the NowLight and check out exactly how this awesome portable power generator works and see everything that it has to offer you.
DESIGN & SPECS
Starting of with the NowLight's size, the whole unit is both compact and lightweight, which ultimately makes it perfectly portable, thus allowing you to easily move it from one space to another whenever necessary.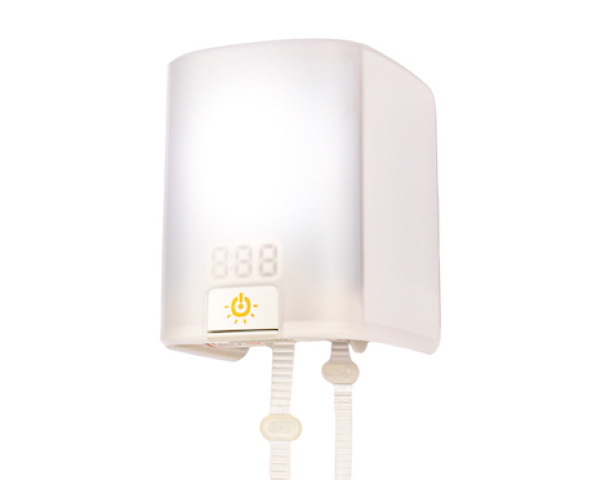 Now, the main way this device works is that users can quickly generate both instant light and power by simply pulling its built-in power-cord.
By pulling the NowLight's power-cord for just one minute, you can create up to 2 hours of light or enough battery power for up to 15 minutes of talk time on a mobile phone. Be aware that one simple pull turns on the device's light and power sources, while a continuous pulling of its power-cord will allow you to generate extra energy for creating light and power.
As mentioned earlier, the Deciwatt NowLight comes equipped with a built-in self-contained 160-Lumen Lamp, which is a great integration for whenever you're looking to go camping on any remote locations that have no power sources (as well as light sources) whatsoever.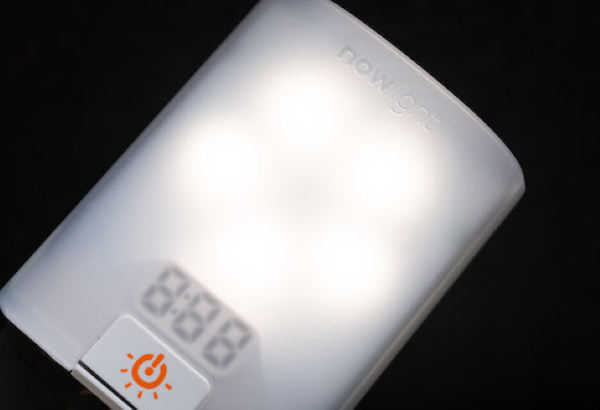 The unit's integrated lamp features six (x6) different Brightness Settings that can be adjusted from just 5 lumens (meaning a somewhat weaker yellow light) all the way up to 160 lumens, so ultimately, by having it set to its maximum and most bright light settings, you can have it lighting up just about any area with a powerful bright white light.
Now, for any situation where you're required to spread even more light around – whether that's within a larger camping tent or whether you'd require to move the main unit from its current place – the NowLight also comes with an included portable SatLight that features a 16.40 ft. (5 m) power cable, which you can conveniently use to spread the unit's created light wherever you need it.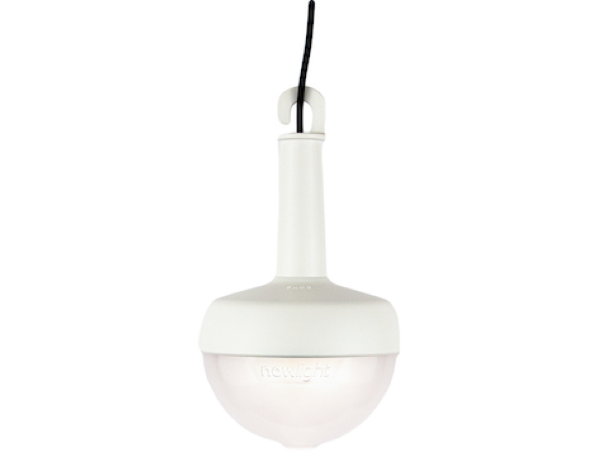 Just like the main unit, this SatLight also features the same six (x6) Brightness Settings, coming with its independent brightness controls that allow you to configure it to work from 5 lumens all the way up to 160 lumens.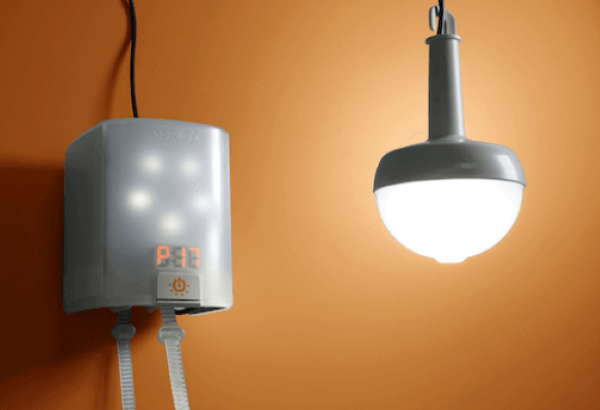 Ultimately, you can use both the main unit (meaning the Deciwatt NowLight) and its included portable SatLight together to have the best light conditions possible (be aware that this will obviously reduce the unit's battery operational time).
Additionally, the Deciwatt NowLight can also be used as your go-to portable power bank, as the main unit also comes equipped with a built-in 5V USB port (found at the back of the main unit), which you can use to conveniently charge any mobile devices.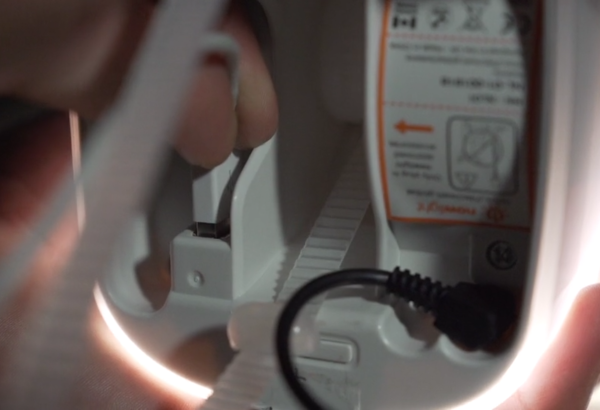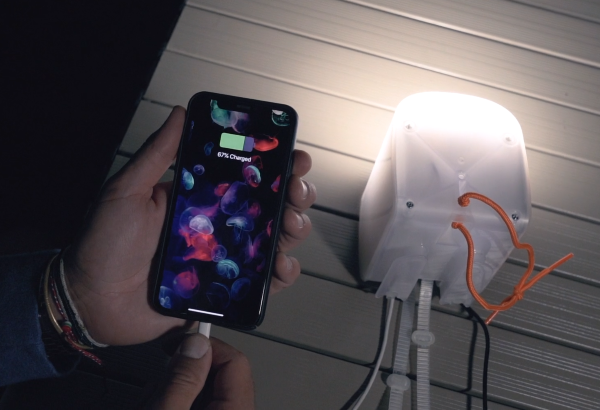 Lastly, it's also worth to mention that since this portable power generator also comes with its own 3-Watt Solar Panel and DC cable included in the kit, you can also charge its internal battery via direct sunlight, thus allowing you to make the most of sunny days.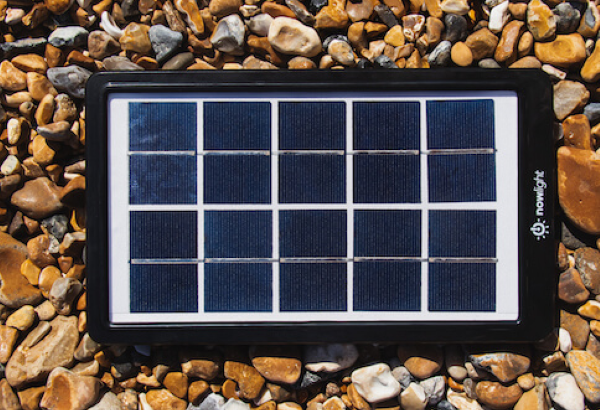 Just like the main unit, this 3-Watt Solar Panel is fairly compact, which makes it easy enough to carry it around with you, and it is also very well built.
Keep in mind that, when fully charged, the NowLight provides up to 50 hours of light, or enough power for a full charge (generally speaking, for most Smartphone batteries).
INCLUDED EXTRA ACCESSORIES
Each NowLight kit also comes with a few extra accessories included, and those are: the unit's included DC to USB Solar-Power Cable (which you'll be using to connect the main unit to its 3-Watt Solar Panel for charging the NowLight's battery via direct sunlight), as well as a simple, yet sturdy and durable cord (used for hanging your NowLight unit from beams, poles or branches), two (x2) spare links (for the Nowlight's pulling power-cord), and the unit's USB Charging Cable (for charging your mobile devices).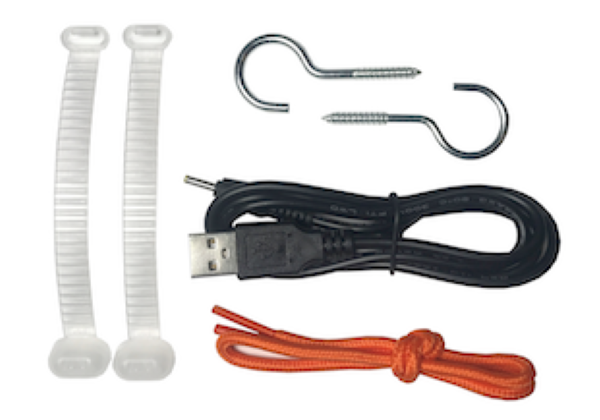 FINAL THOUGHTS
The Deciwatt NowLight is a portable manually cord-powered and solar-powered generator equipped with a 160-Lumen Lamp that can also be used as a power bank.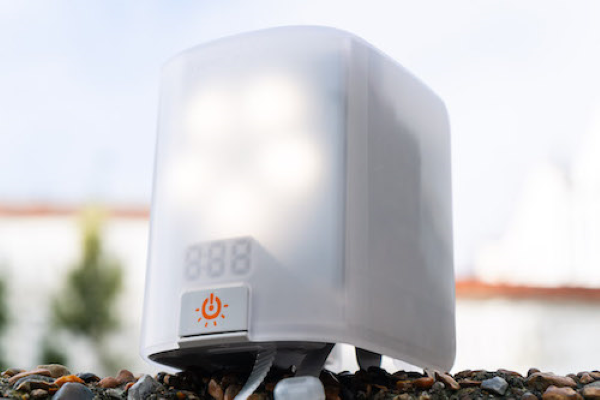 Overall, this awesome and ingenious gadget is the perfect emergency power-source gizmo to have around, and that goes for whether you potentially experience a power-out or for any time when you're planning to go on your next outdoors journey.
If you're interested in buying it, each kit is currently going for $119. You can order yours online right now, directly from Deciwatt's official shopping page, which you can access via this link.