"Alcohol" for the common folk is shorthand for alcoholic beverages such as wine, beer, tequila, vodka, and so forth. These drinks are present at every function that is in the "adults" bracket – a college frat party, an engagement, a housewarming party, you name it. This puts someone who is trying to avoid alcohol in a rut – they do not want to consume the drink, but doing that will classify them as the "anomaly", and may even be considered rude at times. So. in order to truly fit in, they put their priority aside, and down a drink or two. Now, to a normal person, this would not seem like too much, but for someone who was formerly addicted to the drink, it is a lot, because those two drinks become four, then eight, and so on. For those people, as well any others who are trying to quit this unhealthy lifestyle, Laura Taylor came up with a real solution in 2017, simply called the Mingle Mocktails.
The Mingle Mocktails are a premium choice of non-alcoholic sparkling mocktail drinks that are available in different flavors, from a bubbly blend of crisp cranberry, a zesty lime, or even a splash of natural orange juice.
These buzzing and deliciously tasty non-alcoholic sparkling mocktail drinks contain everything attractive about your typical alcoholic beverage such as wine or beer, excluding the worst part, which is their alcoholic content, of course.
---
Now, the Mingle Mocktails are quite close to the Founder's heart, as Laura herself struggled with alcoholism. When trying to give up on alcoholic drinks, she found that the harder part of the journey was becoming part of social situations again, instead of quitting the drink itself (which was indeed a feat in itself). This was because the only drink of choice for those pursuing the alcohol-free life was seltzer, which, although hydrating, wasn't very appetizing, and frankly, made her feel too focused on how the drink in hand looks to onlookers, instead of the fun, and just very out-of-place in general.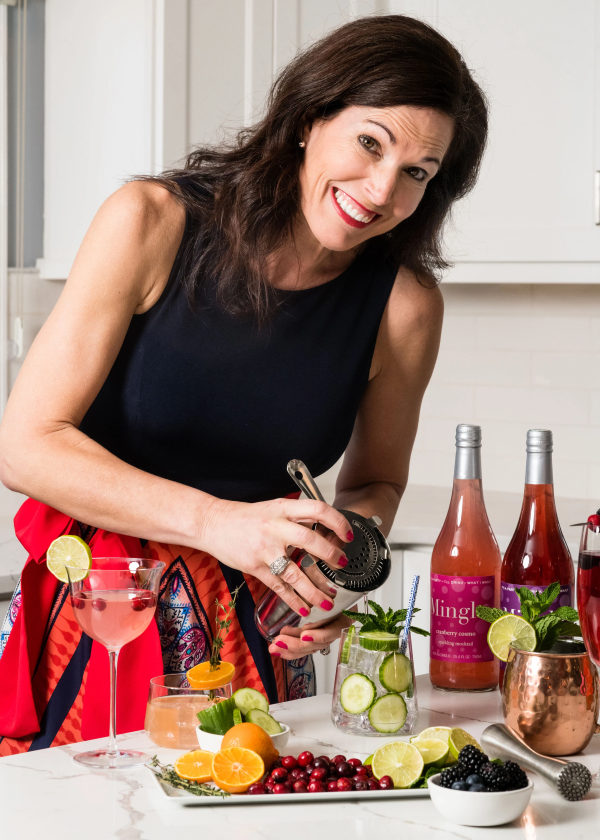 The now 6-year-sober Laura says that Mingle's mission is simple: "to provide a delightful beverage experience whenever alcohol is served, so everyone feels part of the occasion!"
---
To put it simply, the Mingle line offers all beverage lovers a natural, sparkling, low-calorie, alcohol-free mocktails that are available in amazing flavor options like Blood Orange Elderflower Mimosa, Moscow Mule, and Cucumber Melon Mojito.
These are extremely tasty and can be had either "au naturel" or mixed. Most importantly, they don't make you feel like the oddball of the party.
Now, let's move on to the specifics – why should you choose Mingle Mocktails over everything else?
One: They are low in calories
People who don't like to drink their calories, you might have to reconsider your decision, because one entire 25.4 oz bottle of Mingle Mocktail has only 120 calories.
No, you did not read that wrong. That is more than FOUR hundred calories less than a bottle of wine. Very lightweight, but equally delicious, these Mocktails are the gateway to a guilt-free night out. Now, you can enjoy more food at your celebration of choice along with a tasty drink to accompany it – all within the recommended calorie intake!
Two:  They are naturally crafted with fruit juices and botanicals
Artificial sweeteners, who? Mingle has no clue, for it is purely made of organic ingredients fresh from the earth — fruit juices and botanicals that are safe and healthy for consumption. The Sparkling Mocktails actually fall into the 'better for you' category when compared to alcohol and sodas. The ingredients are Non-GMO, Gluten-free, and Vegan-friendly, which is good for people with nutritional allergies or other dietary preferences.
Three: There are 5 incredible flavors to choose from.
Mingle Sparkling Mocktails is not short of choices. There are a total of five flavors available, namely, Blackberry Hibiscus Bellini, Blood Orange Elderflower Mimosa, Cranberry Cosmo, Cucumber Melon Mojito, and Moscow Mule. There is a lot of variety, so you can stock one of each at your gathering and let the guests choose which one they like best.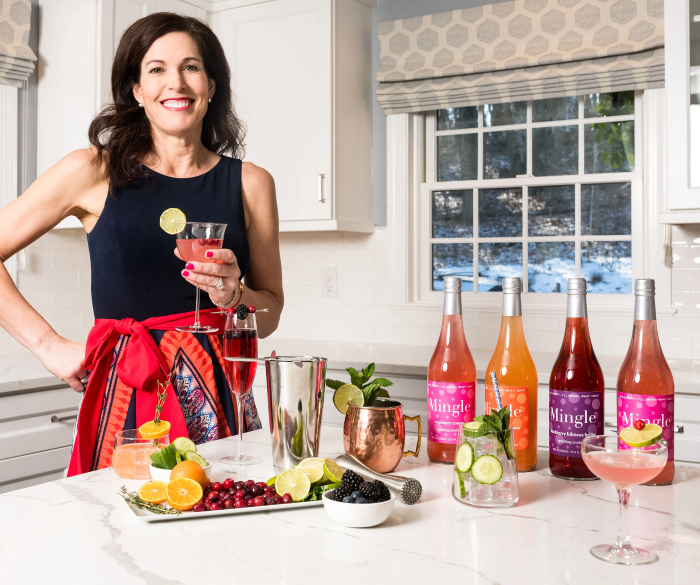 You can also spice it up by mixing the flavors together, adding some berries, and creating your own new combination. It really makes the sober life worth living, in my opinion. If you are trying to find the right "balance" in the drinks you consume, you could make a cocktail using one of these drinks. The possibilities are endless.
Four: They are also available in single-serve cans
If you were hesitant about opening an entire bottle to yourself, fear not, for Mingle also offers single-serve Mocktails as well!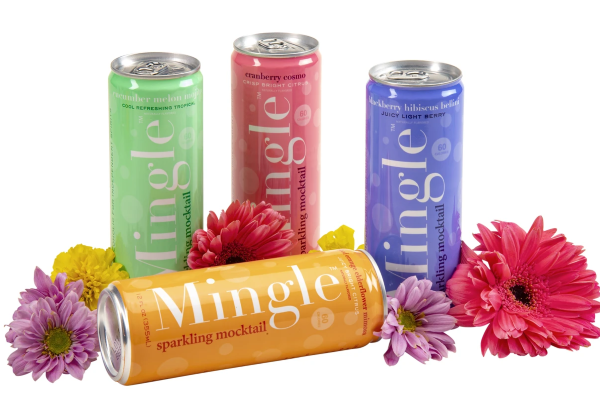 These 12 oz aesthetically-pleasing looking cans are 60 calories each and are available in four top-selling flavors: Blood Orange Elderflower Mimosa, Cucumber Melon Mojito, Blackberry Hibiscus Bellini, and Cranberry Cosmo. They were launched this summer after the success of their elegant 750ML bottles, and offer the same dazzling flavor and experience. If you need a pick-me-up, but in style, and with grab-and-go convenience, Mingle Sparkling Mocktails (the can version) are the way to go.
FINAL THOUGHTS
People who are trying to quit alcohol face obstacles that they didn't even think they would encounter: their friends inquiring about the lack of "drink" in their hands at a party, as well as commentating on the lack of "fun" they are having with boring sparkling water in hand.
Mingle Mocktails aims to put a stop to this "drink-shaming" by bringing everyone this awesome line of non-alcoholic beverages that contain everything attractive about party beverages, while still excluding their alcoholic content.
The Mingle bottles are elegant and provide the same charm as a real alcoholic drink, but offer you a far healthier option that's definitely safer than the real deal. Low in calories, and high in flavor, the Mingle Mocktails come available in a wide range of natural flavors that would make you feel included in any party in the world.
With the global non-alcoholic beverage market steadily expanding, and with it being expected to grow even further from $923 million in 2020 to more than $1.7 trillion by 2028 – which equates to a compound annual growth rate of 8.19% – Mingle is doing a great job at making its presence known.
If you want to fetch a bottle for yourself, Mingle Sparkling Mocktail bottles are available at over 3500 retailers including Whole Foods, Wegmans, SPECS, Stop & Shop, and many other independent stores in the US.
The cans are also available for purchasing online in a single flavor 4-pack and 4-flavor variety pack (pack of 16), which you can find both available on the Mingle website, as well as on Amazon, and these will also soon be sold in retail markets.