Exploring new places can be a fun way of having adventures. You might want to have an adventure in a national park, a mountain, or a jungle. However, having the essential gear is crucial to have a smooth and fun-filled adventure.
Packing essential gear for your adventure ensures that you have a fun-filled experience with no inconveniences. With the appropriate equipment, you can witness nature's most incredible sights as you enjoy your vacation.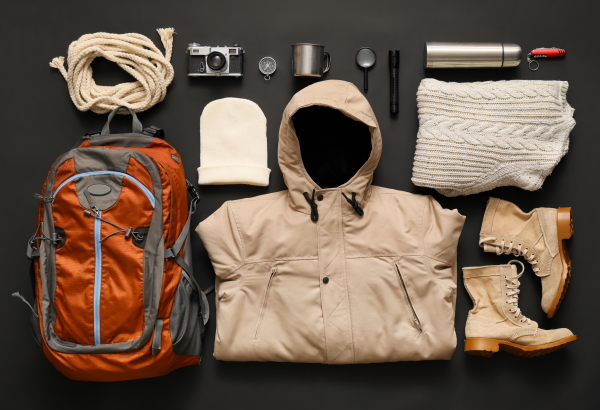 Since the success of your adventure dramatically depends on what you carry along, below is an outline of the necessary gear you need to have to ensure a smooth experience:
1. Backpack
The choice of the backpack to carry depends on the adventure you're undertaking. A lighter bag would be ideal for experiences that have longer distances being covered on foot. The size of the bag depends on the number of days you can take to complete your adventure. Laptop bags or college bags can be inappropriate for adventures since they can't be used for longer durations due to their capacity and design.
Another aspect to consider about your backpack is its weather resistance and suspension features. However, this choice depends on the location of your hike as well.
2. Camera
Packing a camera in a waterproof bag is also a must-have for your adventure. Epic adventure photography can help you have a record of the moments of your adventure, making it memorable for years. You can use the camera to take pictures and videos of incredible scenery for your social media and friends, or even create a gallery wall in your home based on your places of visit. You can read more here about photography and how you can make the most with your camera during your adventure.
3. A Water Bottle
Most hiking trails and sites are close to water bodies, eliminating the necessity of carrying many water bottles. Instead, having a water bottle and a water purifier can ensure that you have clean drinking water from the streams, rivers, or lakes.
It'd be good to have at least two bottles to keep you hydrated since you'd have enough water to sustain you between marked water spots. Dehydration stands as one of the most common roots of fatality during adventures, so having a water bottle can help prevent these fatalities by keeping you hydrated.
4. All-Weather Clothing
Having an extra layer of clothing can be a safer option when undertaking an adventure. Therefore, packing up clothes for all weather conditions can enhance flexibility with the changing weather conditions and temperatures.
If your adventure is about climbing a mountain, having warm and light airy clothes would be ideal due to the temperature differences between the ground level and the summit. Packing waterproof jackets can also help in case there's a sudden downpour.
Having an extra set of sleeping clothes is appropriate since you might need them after a tiresome and most likely sweaty day of running and climbing.
5. Specialty Shoes
Your shoe game has to be on point, whether you're hiking, water rafting, or cross-country running. Making a planned schedule for your trip can help you decide on the type of shoes you might need for each step. Since shoes can be the heaviest and most space-consuming items to carry, it'd be nice to have sturdy waterproof boots. These tend to lower the chances of sprains, blisters, and aches during your trip, allowing for more ground coverage.
6. First Aid Kit
Accidents are bound to happen during the adventure. With a first aid kit, you can deal with any accident that occurs as you're hiking. It's essential that you make sure your first aid kit contains enough antibiotics, medicines for infection, bandages, sprays for sprain, anti-flu powder, and painkillers. Therefore, a first aid kit is a must-have gear for an adventure, regardless of its difficulty level.
7. Snacks
You can pack healthy snacks for energy such as chocolates, biscuits, and protein bars to help you regain your lost energy and prevent you from starving. The food you pack should stay fresh for a more extended period to help you deal with emergencies. If you decide to go for a picnic, you can carry light food packed in airtight containers to keep them from going stale.
8. Hand Sanitizer
A hand sanitizer is essential in keeping you safe. During your adventure, you might not be close to a water source and with little water to drink. A hand sanitizer would be your appropriate choice to use when you want to have a bite, thereby preventing stomach infections.
You can also get in contact with dirt as you explore. The hand sanitizer will ensure that germs are kept away throughout your adventure.
9. Hammock
Getting a hammock that's easy to assemble and fits the areas you're traveling to is equally essential. An inflatable hammock can be appropriate if the area you're exploring has no trees. Having a sleeping bag can be helpful as well if the rain pours.
Final Take

Having an adventure during your vacation can be fun and informative. Depending on your area of visit, there are various gear pieces you might need during your adventure. The guide above can help you pack the essential gear you must have for your adventure.