Welcome to the world of DIY projects and creative endeavors! In this blog post, we will explore the possibilities that a one-handed reciprocating saw brings to your crafting and construction projects. We will discuss the definition and purpose of this versatile tool, its key components and design features, as well as the advantages and limitations of using a one-handed reciprocating saw. Additionally, we'll delve into exciting DIY project ideas that can be accomplished with a one-handed reciprocating saw. Lastly, we will guide you through the factors to consider when choosing the right tool for your needs.
Definition and Purpose
A one-handed reciprocating saw, also known as a compact reciprocating saw, is a power tool designed for cutting through various materials such as wood, metal, and plastic. Its primary purpose is to provide a convenient, one-handed cutting solution for both professional contractors and DIY enthusiasts. With a reciprocating blade that moves back and forth rapidly, these tools excel at demolition work, material removal, and precision cutting in tight spaces.
Key Components and Design Features
One-handed reciprocating saws typically consist of a motor, a handle grip, a trigger for controlling the speed, and a blade holder. The compact design allows easy maneuverability and precise control, making them ideal for intricate projects. Some models feature adjustable shoe plates for increased stability and versatility. LED lights are often integrated to improve visibility in dimly lit areas. The DongCheng 20V MAX Brushless Cordless Reciprocating Saw features a handy LED light so that you can keep working in dark or small spaces. Ergonomic designs and anti-vibration mechanisms enhance user comfort and reduce fatigue during extended use.
The DongCheng 20V MAX Brushless Cordless Reciprocating Saw delivers superior power and performance. The electric reciprocating saw is powered by the all-copper brushless motor with variable speed control, whose maximum output is equivalent to 450W AC power. Its reciprocal frequency is up to 3,000 times per minute. The brushless motor offers a low-volume operation, stronger and more stable output, and a longer runtime without iron loss making it more durable.
With a low gravity center design and a net weight of only 4.0 lbs, this Brushless Reciprocating Saw offers comfort in gripping. The compact design packs a punch with a multi-function selector that makes it easy to use different saw blades depending on your cutting needs. A quick chuck change means that the blades can be replaced quickly and easily, making it efficient and convenient. With fewer vibrations, the DongCheng Reciprocating Saw makes working over longer periods easier than ever.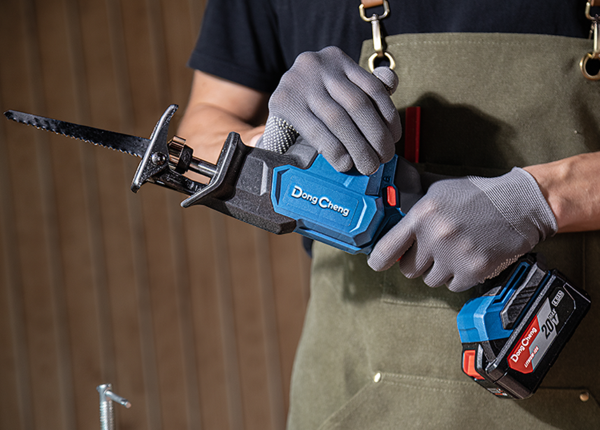 Advantages and Limitations
The use of a one-handed reciprocating saw offers several advantages. Firstly, their compact size and lightweight nature allow for easy handling and maneuverability, making them suitable for working in confined spaces. They are also portable and can be used in locations where a larger reciprocating saw might be impractical. Moreover, their one-handed operation enables enhanced precision and control. Additionally, many models come with cordless options, providing greater freedom of movement without being restricted by a power cord.
However, it is essential to acknowledge the limitations of one-handed reciprocating saws. Due to their smaller size, they may have reduced power compared to their larger counterparts, limiting their effectiveness when cutting through thick or dense materials. Additionally, their smaller blade size might result in shorter cutting strokes, which can affect cutting speed. It is crucial to consider these factors when selecting the appropriate tool for your project.
DIY Project Ideas
Whether you've got your eye on a one-handed reciprocating saw for professional or personal use, there's a project for everyone. The blade that's used is the most important factor in using the saw and this will depend on what you're trying to do.
While reciprocating saws are often used for demolition and installation there are other uses for this versatile tool.
Consider creating custom furniture pieces such as unique tables, shelves, or decorative items using reclaimed wood or other materials.
You could use the saw to build a garden trellis or pergola. Construct a structure to support climbing plants or create a shaded area in your backyard for summer cookouts.
You may even want to use your saw to create a storage shed to store your DIY project materials or build a workbench to use for even more projects. You can utilize the reciprocating saw to cut through lumber and build a functional storage space or a sturdy workbench.
The reciprocating saw does not only need to be used for wood and can be used to shape and carve intricate designs out of metal to create stunning and one-of-a-kind pieces of art.
Lastly, the saw can be used to repair or modify household items. Give a new lease of life to damaged furniture, repair fences, or modify existing household items with your handy reciprocating saw.
Factors to Consider When Choosing a One-Handed Reciprocating Saw
It's important to consider why you need the reciprocating saw. This will help you to pick one that meets your needs and will get the job done. Below are some of the factors that can guide you in picking the perfect reciprocating saw.
Power and Performance Requirements
Assess the power output and cutting speed required for your intended projects to ensure the tool can handle the workload effectively.
Battery Life and Charging Capabilities
For cordless models, consider the battery life and charging time to ensure uninterrupted usage and minimize downtime. The DongCheng 20V MAX Brushless Cordless Reciprocating Saw features a powerful battery that charges quickly and has an excellent runtime to meet all your needs.
Weight and Maneuverability
Opt for a lightweight tool that allows for comfortable and precise control, reducing user fatigue during extended use.
Blade Changing Mechanism and Ease of Use
Look for a tool that offers quick and hassle-free blade changing, allowing you to switch between tasks smoothly.
Additional Features
Consider features like LED lights for improved visibility, adjustable shoe plates for increased stability, or variable speed settings for greater versatility.
Find out more about DongCheng 20Vmax one-handed reciprocating saw.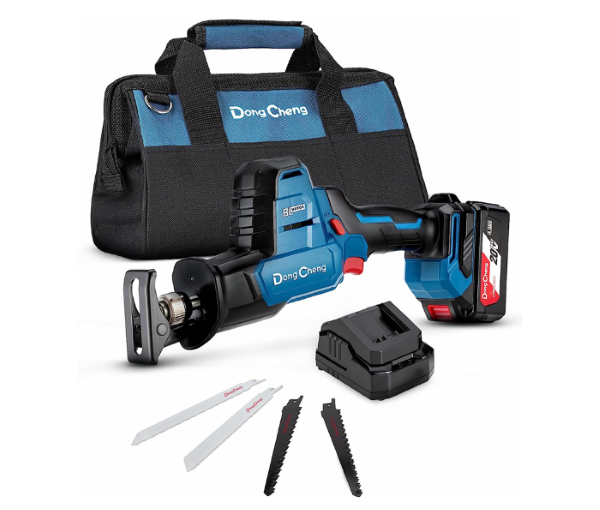 For Your Creativity
With a one-handed reciprocating saw, your DIY projects can reach new heights of creativity. From crafting custom furniture to constructing garden structures, the possibilities are endless. By considering the factors discussed, you can choose the perfect tool to embark on your next DIY adventure. Unleash your imagination and let the reciprocating saw guide you to stunning results.