For those who enjoy watching TV series and shows as well as movies at home, one of the best things you can get is a full home theater system. That is, if you have the space for it of course, as you'll obviously require a large enough room to accommodate the front, center speakers, and rear speakers that normally compose a full home theater system, and you might even need some extra space if you want to include a large subwoofer unit. Moreover, not only will you require time to set up everything and hide away all the wires, but you should also be ready to spend a pretty penny, as most decent full home theater systems don't really come cheap. Nevertheless, there's still a viable alternative to these higher-end sound solutions, and that's obviously getting yourself a high-end soundbar. In comparison to full home theater systems, soundbars are generally much easier to set up and also much more affordable. So, for those looking for a new soundbar to take their binge-watching experience to the next level, the Monoprice SB-300 Virtual Dolby Atmos 2.1 Soundbar would definitely be a great choice.
The Monoprice SB-300 is a compact 2.1 soundbar that delivers a great sound quality with support to Virtual Dolby Atmos to create an expanded sound field for a terrific home theater experience, while also featuring multiple connectivity options for connecting audio and video devices, including 2 HDMI inputs, an HDMI eARC output and both Optical Digital and Coaxial inputs, and 4K HDR/DV Passthrough, along with Bluetooth and USB connectivity for streaming audio from your smartphone or PC, plus an included IR Remote Control for easily controlling all of its functionalities.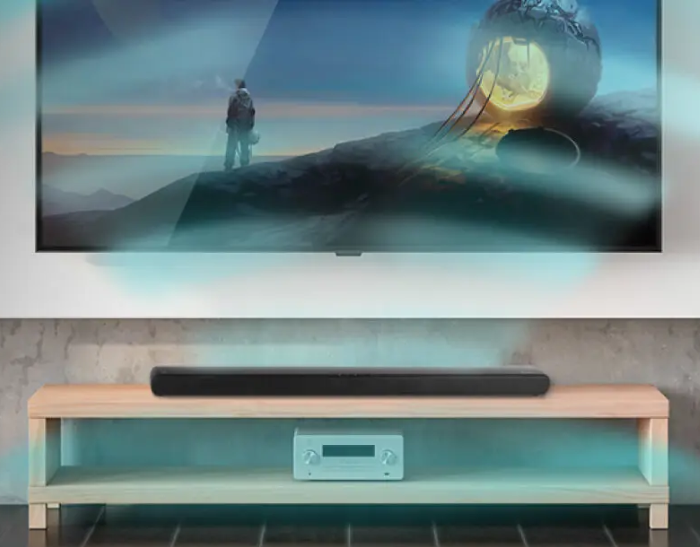 By leveraging sophisticated DSP and the science of psycho acoustics, this 2.1 soundbar utilizes Virtual Dolby Atmos to widen and expand the sound field in order to bring you a more immersive sound experience for your music and movie sound effects.
Now, let's have a more detailed look at the Monoprice SB-300 and check out everything that this sleek and feature-packed 2.1 soundbar has to offer you.
DESIGN & SPECS
Starting with the soundbar's size, the Monoprice SB-300 comes at a somewhat slim profile, measuring exactly 39.4 inches long by just 2.9 inches wide and just 4.2 inches tall (1000 x 74 x 106 mm). Moreover, despite the soundbar's compact size, the unit is still quite stable, as the soundbar weighs around 6.0 lbs. (2.7 kg).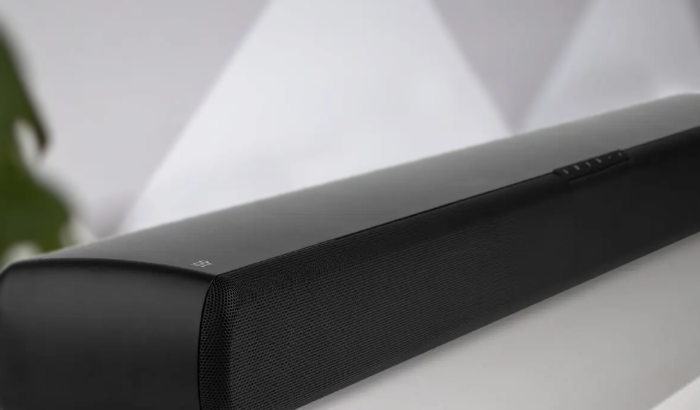 Then, for its design, this soundbar features a sleek, minimalist and modern design throughout its black body, and also features a very durable construction. In other words, this soundbar packs an excellent build quality overall.
Last but not least, it's also worth mentioning that the Monoprice SB-300 also supports Wall-Mounting, which can be done by using the included brackets in its package to ultimately have the soundbar neatly mounted on a wall beneath your Smart TV.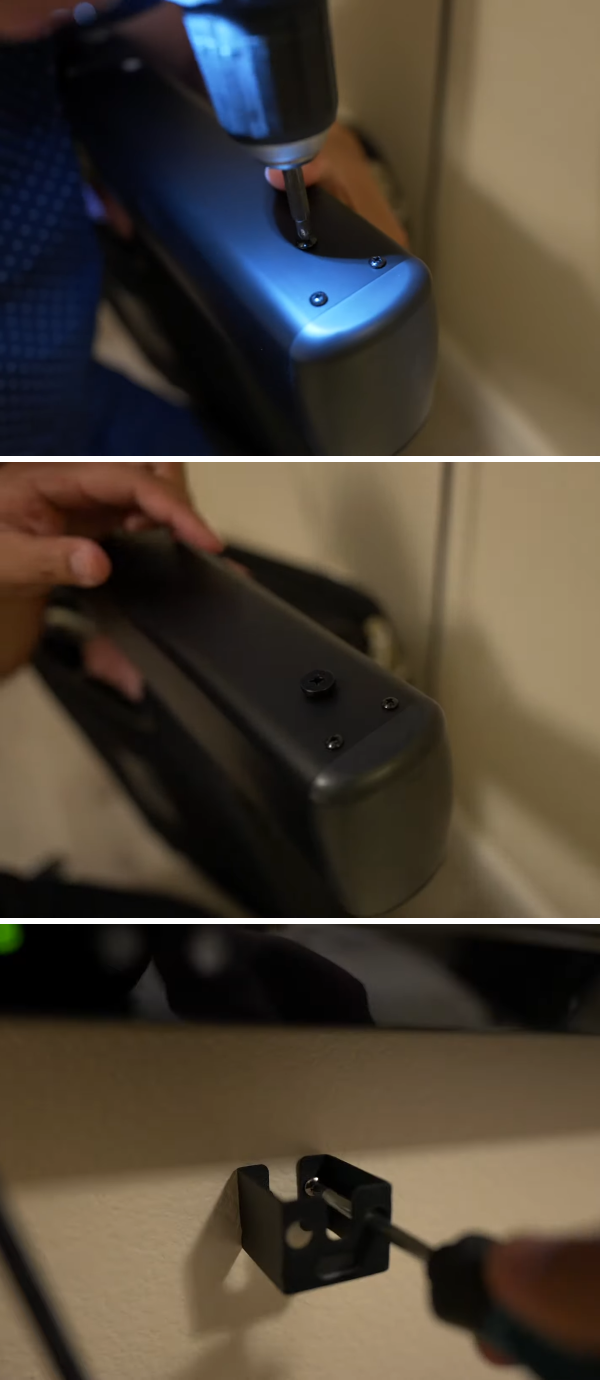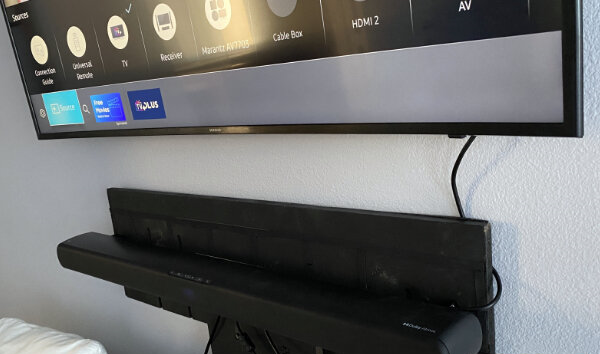 AUDIO SPECS & AUDIO QUALITY
Moving on to soundbar's audio specifications. For producing its sound, the Monoprice SB-300 comes packing an onboard 100-Watt Amplifier under its grill, which works by combining two 50 watts sound units (so, 2 channels).

When turning on this soundbar and testing it out, its onboard 100-Watt Amplifier instantly delivered a loud and wide soundstage, and mind you, this was with the soundbar's default settings. On top of that, know that you can still further fine-tune both the bass and treble for the soundbar's 100-Watt Amplifier (by using its included IR Remote Control – discussed in greater detail further ahead).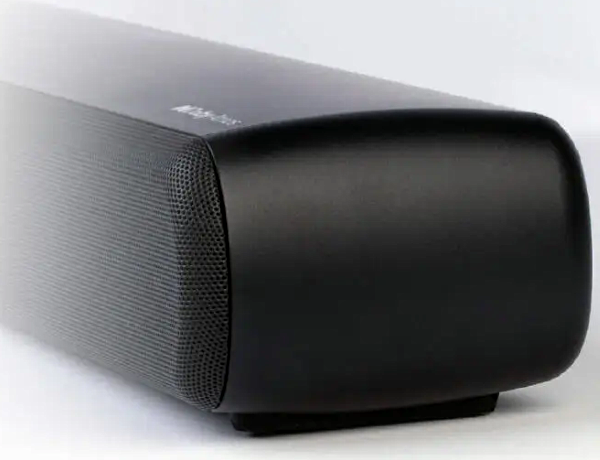 I'd also like to point out that the onboard 100-Watt Amplifier on this soundbar features a Frequency Response of 40Hz to 20kHz, and a Speaker Impedance of 4 ohms.
NOTABLE SOUND FEATURES
Support to Virtual Dolby Atmos
As said before, the Monoprice SB-300 Soundbar also features support to Virtual Dolby Atmos, which is achieved by having the soundbar utilizing a sophisticated digital signal processing technology that works in combination with psycho acoustics.
By recurring to its Virtual Dolby Atmos functionality, users can further widen and expand the sound field of the SB-300 Soundbar to have the audio from their content (music, or the soundtracks and sound effects on TV Shows and movies) almost float around them, which ultimately improves their listening experience by giving them the impression of height and space.
Still, keep in mind that you will obviously need to be streaming a Dolby Atmos source to achieve this sort of "more immersive" sound effect.
Now, note that you shouldn't be too concerned about whether or not the audio of the content that you're looking to stream via this soundbar actually features Dolby Atmos for its sound-encoding, as nowadays, more and more streaming services have content with Dolby Atmos encoding.
All in all, the soundbar's Virtual Dolby Atmos functionality is very good, for which I actually really enjoyed trying it out, and most likely, so will you.
DSP Sound Modes
Other than supporting Virtual Dolby Atmos, the soundbar also boasts a few different DSP Sound Modes that can be used for listening to sound from Movies (Movie Mode), Music (Music Mode), or simply to listen to the News (News Mode).
The Music Mode can be used to enhance the sound field for music playback, while the Movie Mode attempts to focus on the dialog and sound effects for a more dramatic movie experience. Lastly, the News Mode focuses solely on dialog clarity and is the best choice for most spoken word programming.
In sum, these DSP Sound Modes can be used to further enhance the listening experience provided by this sound bar.
INTERFACE / CONTROL PANEL
Then, for the soundbar's entire Interface, at the front-side of the unit and sitting integrated right at the middle of its top-side, we have a very simple Control Panel, which makes it easy and intuitive for users to control the soundbar's different settings and functionalities.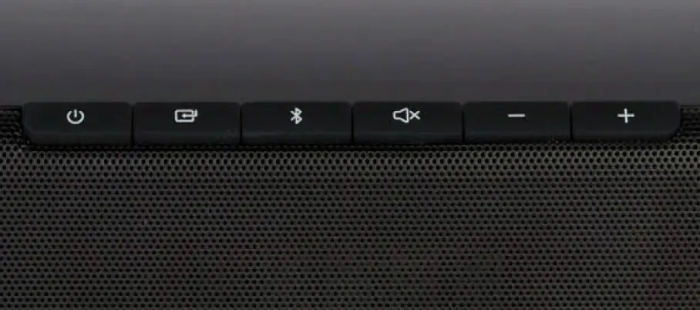 Going from left to right we have a Power Button, a Source Button, a Bluetooth Pairing Button, a Sound Mute Button, a Volume Decrease Button, and a Volume Increase Button.
In addition, sitting just below the soundbar's simple Control Panel, there's also a Front LED Display integrated onto the soundbar's front-side that shows you the audio source that you currently have selected (and some other essential info).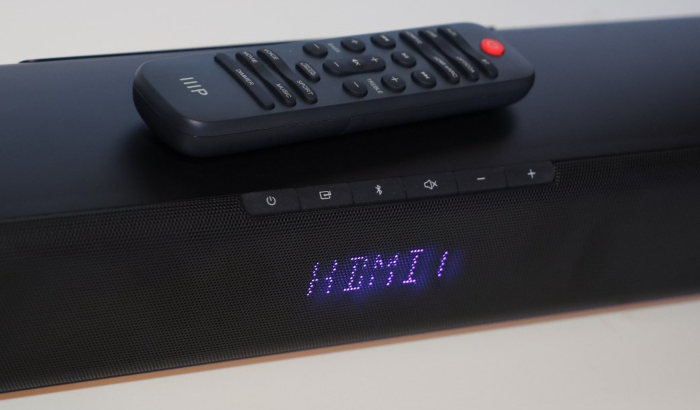 Know that the soundbar's Front LED Display can be set to work in one of three (x3) different Dimming Levels, which include: Low, High, and Off, which for the latter, will have it configured to be completely turned off so that it doesn't disturb you while watching your content in dimmer (or pitch-black) lighting environments (for your room, that is).
Finally, at the back side of the unit, we also have a super-versatile Connection Panel for the soundbar's different connectivity methods.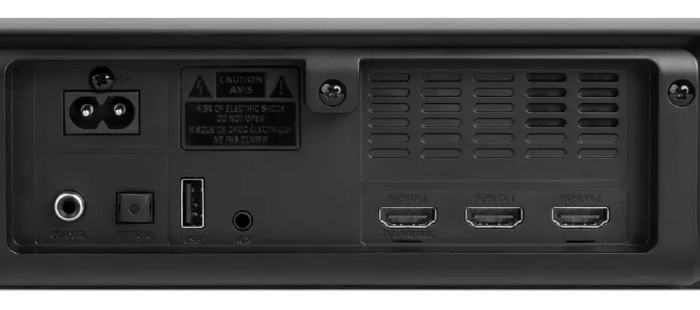 Integrated within its Connection Panel, we have a total of two (x2) HDMI inputs and an HDMI eARC (Enhanced Audio Return Channel) output, as well as both Optical Digital and Coaxial inputs, and also a 3.5mm analog audio input allow you to connect all your audio and video devices.
There's also a USB input port for streaming the audio of your content via USB, and there's also support to 4K HDR/DV Passthrough.
CONNECTIVITY
For the soundbar's connectivity, it's worth noting that the Monoprice SB-300 supports both Bluetooth (for a Wireless Connectivity) as well as USB Connectivity (via its USB input port), which can both be used to stream your content's audio either from your smartphone or from your PC.
THE REMOTE CONTROL
On a final note, I'd also like to point out once again that this awesome soundbar also comes together with an included IR Remote Control that can be used for easily controlling all of its functionalities.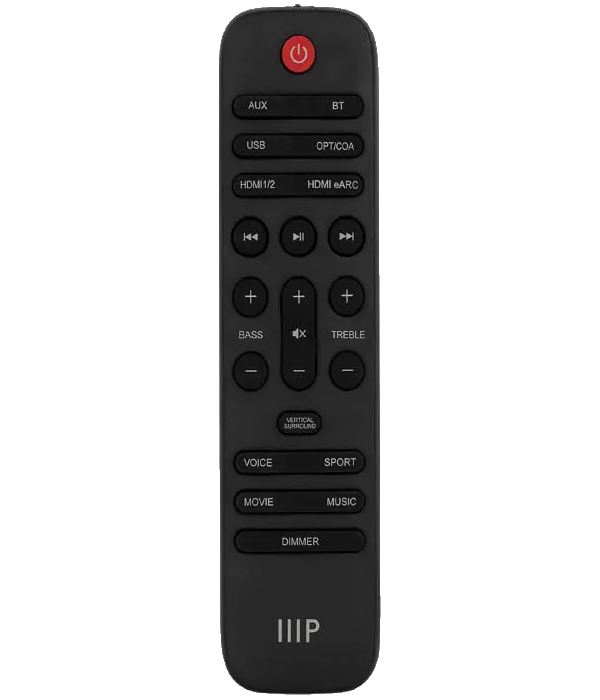 These functionalities include changing the soundbar's audio source, swapping between its three different DSP Modes, skipping between soundtracks while streaming music, as well as adjusting the soundbar's left/right balance.
WHAT'S IN THE BOX?
Inside the package, users will find: their Monoprice SB-300 Virtual Dolby Atmos 2.1 Soundbar, the soundbar's included IR Remote Control (together with 2x AAA Batteries for powering it), the soundbar's included AC Power Cord, one (x1) Premium High Speed HDMI Cable, one (x1) 3.5mm Audio Cable; as well as two (x2) Wall Mount Brackets, four (x4) Wall Mount Screws, four (x4) Wall Mount Anchors and two (x2) Mounting Screws; and also the soundbar's User Manual.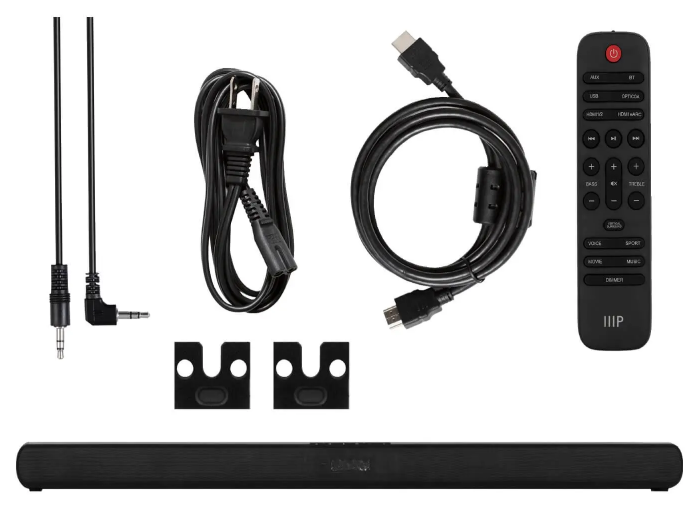 FINAL THOUGHTS
When accounting for all of the features and functionalities offered by this 2.1 soundbar and then taking its extremely affordable price-tag into consideration, this is probably one of the best deals (if not the best currently available) you'll ever find for a soundbar that gives you this many quality-of-life features.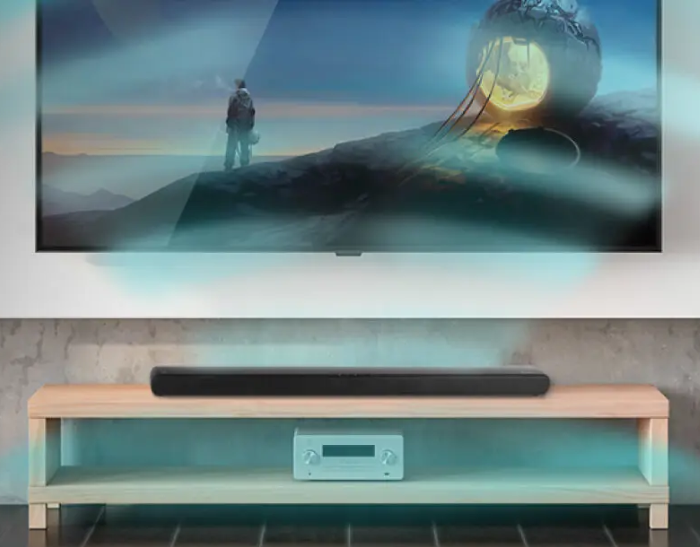 If you're interested in buying it, each unit is currently discounted from its normal price of $199.99, and is now going for just $99.99 (saves you $100), and each purchase also comes accompanied by a 1-Year Warranty, a 30 Day Money Back Guarantee, and also free shipping within the U.S. You can order yours online right now, directly from Monoprice's official shopping page.