Over the last few years, mobile devices have become increasingly more powerful, and that goes especially for laptops. In fact, several laptop brands now support 100W charging, and some even higher values than that. However, many laptop manufacturers still sell their laptops together with lower-end power adapters averaging between 60W to 85W, which are less powerful than their laptop's power (i.e. wattage) requirements. Because of that, the battery from those laptops will unfortunately charge at a slower rate than when using a more powerful power adapter. This is exactly when having having a 100W USB-C power adapter comes in handy, as it will allow you to charge a laptop that supports 100W charging significantly faster than when using its weaker power adapter that's shipped with it. So, if you're looking for a 100W power adapter for a laptop that supports 100W charging, then the Monoprice 100W Universal USB-C Laptop Charger is a great choice to go with.
The Monoprice 100W Universal USB-C Laptop Charger is a compact and powerful wall charger which boasts 100 Watts of output power through a 2.6 ft. USB-C PD 3.0 cable, boasting USB-C connectivity and universal compatibility with all USB‑C-enabled devices, including phones, tablets, laptops, and other devices with a USB-C Input port. Moreover, this 100W wall charger also integrates multiple safety functionalities including both over-current and overheating protection.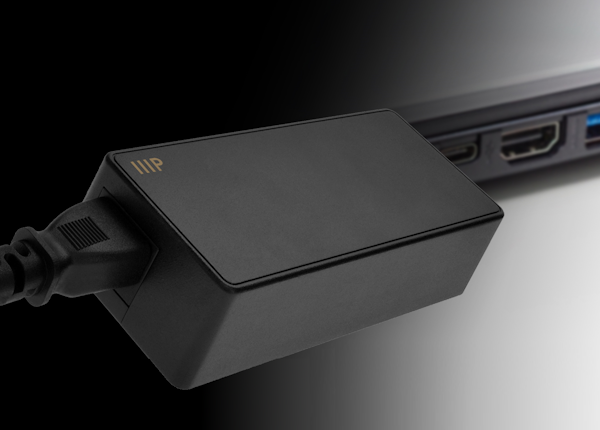 With it, you can recharge most modern laptops, tablets, smartphones, or any other USB-C devices that feature support to 100W charging in a significantly shorter amount of time than you'd be able to by using their stock charger, which typically boast a lower output power.
Now, let's have a slightly more detailed look at this 100W USB-C PD wall charger and check out everything that it has to offer you.
DESIGN & SPECS
Starting with the device's size, the Monoprice 100W Universal USB-C Laptop Charger features a compact form factor, measuring just 5.0 inches long by 2.1 inches wide by 1.2 inches tall / thick (128 x 53 x 30 mm), and weighing just 13.0 oz. (368g). As such, it's compact and lightweight enough to be easily packed inside your laptop bag, a backpack, or even a suitcase.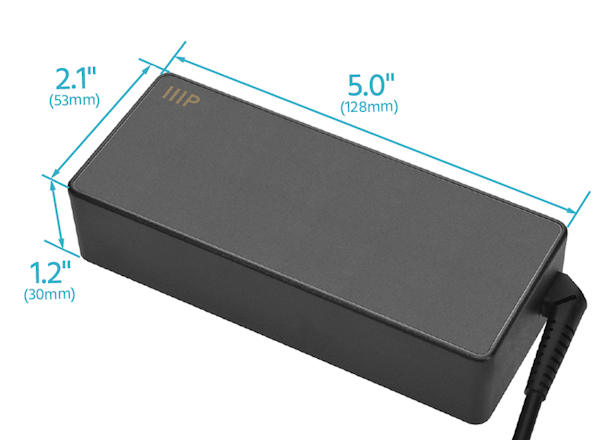 This 100W USB-C wall charger also sports a simple and discreet design. Its body comes in a flat Black color and is coated with a smooth finish.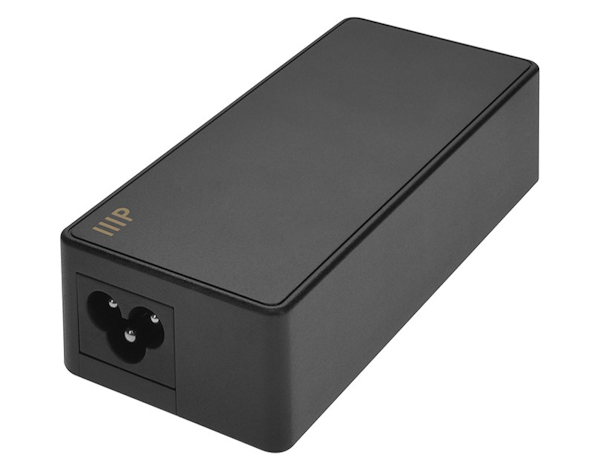 Moreover, the charger also packs a high-quality and durable construction, as its outer case is built of a sturdy TPU plastic material. The same can also be said about its power cable, which is made with several layers of an extra-though PVC plastic material, making it noticeably thick for added durability.
As for its power source, the Monoprice 100W Universal USB-C Laptop Charger utilizes a DC cable with a standard DC wall connector, for which it is rated to have an input power of 100 VAC~240 VAC (at 50/60 Hz, 1.5A).
CONNECTIVITY & COMPATIBILITY
In regard to its connectivity, this wall charger boasts USB-C connectivity, as it comes equipped with a built‑in 2.6 ft. USB‑C PD 3.0 connection cable, making it universally compatible with all devices that have a USB-C input. This includes smartphones, tablets, as well as laptops, and any other USB-C-enabled devices, regardless of their manufacturer or brand.
Through its USB‑C connection cable, the Monoprice 100W Universal USB-C Laptop Charger boast a maximum output power of 100 Watts for fast charging any USB-C device, for which it has a variable output power (can be 5VDC/3A, 9VDC/3A, 10VDC/3A, 12VDC/3A, 15VDC/3A, 18VDC/3A, 20VDC/3.25A), depending on the input power the USB-C device(s) that you're looking to power actually support.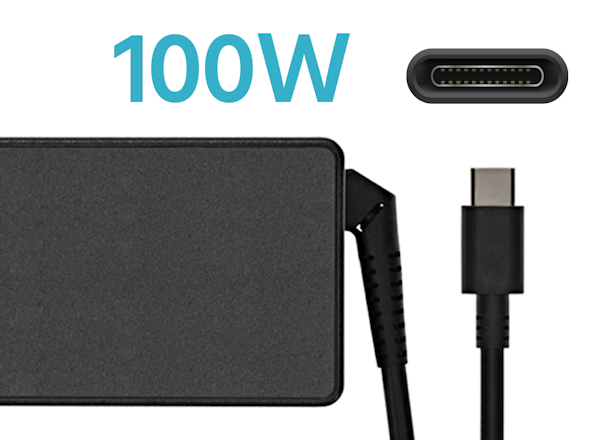 That's enough power to fully recharge the battery of a 15-inch MacBook Pro laptop in approximately 1.5 hours, and is also more than enough power to charge the latest iPhone 15 from 0 to 55% in around just 20 minutes.
It's also worth noting that this 100W wall charger is also fully compliant with the Power Delivery 3.0 standard, so it can automatically adjust its output power in according to the maximum input power supported by the USB-C device that you're powering it with. This essentially ensures an optimal power level for the USB-C device that's being charged, avoiding issues such as that device's battery getting overcharged and/or overheated.
What's more is that the wall charger itself also integrates multiple safety functionalities including over-current and overheating protection circuits, and it is also ETL Certified (a certification which ensures that all of its internal electrical components are compliant with the industry's current safety standards), guaranteeing that it is safe for you and your USB-C devices.
FINAL THOUGHTS
All in all, this 100W USB-C PD wall charger is very reliable for fast-charging any sort of USB-C enabled device, whether that's a modern and power-demanding laptop, a newly released smartphone or tablet, a USB-C power bank, or any other type of USB-C enable device.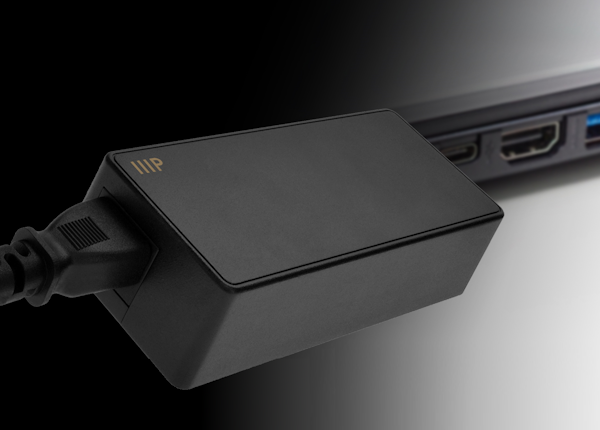 If you're interested in purchasing it, know that each unit is priced at just $24.99, and each purchase also comes accompanied by a 1-Year Warranty and a 30-Day Money Back Guarantee. You can order it online directly from Monoprice's official shopping page.