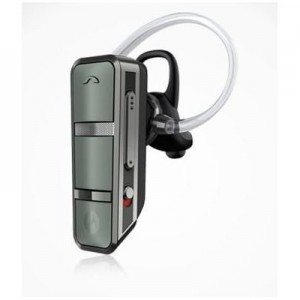 The Motorola HX1 rocks. At first blush, it doesn't look like a drastically new design for Bluetooth headsets, but the guts inside make the difference. Motorola advertises the HX1 as being equipped with true bone conduction technology. It features two different noise isolation systems – its CrystalTalk circuit uses dual microphones and other technology to cancel out noise in most normal situations.
When it's noisy, you can activate the bone conduction technology, referred to as "Stealth Mode". Stealth Mode actually uses a tiny balloon on the earpiece, inserted in your ear to pick up your voice. No microphone, just bone conduction. This means very little of the outside noise gets picked up…only your voice.  And a vibration sensor on the earbud re-creates your voice from sound waves transmitted through your jaw.
With comfort in mind, the earpiece forms a good seal so you can hear without turning up the volume. Buttons are on the side (power and volume) and on the front (call control and steath mode control). Operating the headset is easy- all functions are assisted with voice prompts telling you how to pair the phone and whether stealth mode is on or off.
The power button is a "real" sliding-switch power button that will turn the headset on or off without holding it down for 10 seconds.  The HX1 charges using MicroUSB, battery life is listed as 7 hours talk time, and 10 days standby, and since it uses the newest Bluetooth version, you'll get a very good range.
Weighing in at 0.4 ounces (about 11 grams), the Motorola Endeavor HX1 it's very light and comfortable. I highly recommend this for any heavy user who frequently uses a headset in noisy environments. ($130, www.motorola.com)