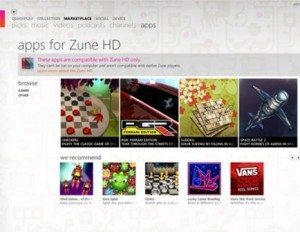 Microsoft released its 4.3 firmware update to the Zune HD the other day, and now the Zune Marketplace has available a range of 3D games, and they are all free.  The new 3D games included in the Zune HD Marketplace are Lucky Lane Bowling, Vans Sk8: Pool Service, Piano, Audio Surf:Tilt, Checkers, and Project Gotham Racing: Ferrari edition.
Microsoft is obviously positioning the Zune HD as a competitor to Apple's market-dominating iPod touch media player. And because all of these apps should be free, due to in-house or in tandom development with third-party sources, this could make a negative dent in Apple's marketshare.
The downside is that Microsoft has no SDK for third-party developers to create software for the platform, at least not yet. Opening up a development platform is key to competing with Apple. Otherwise, it's an army of world-wide developers vs. Microsoft's in-house development team. In addition to games, though, the Zune HD has plans for a Facebook and Twitter apps.