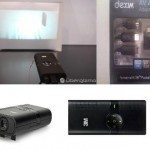 Less is more: the case of the 3M MPRO120 Pocket Projector. It delivers some of the highest quality images of any portable projector 3 times its size. At only two pounds and the capacity to project images from 8-inches to 50-inches, this handy device puts a big image from an almost-credit-card-size device.
Ideal for business professionals who need to make projected presentations but don't have much space, the 3M mPRO120 Pocket Projector has an LED light source that lasts 20,000 hours, alleviating the need to replace the light source. It comes with a rechargeable battery, a table-top tripod and a 1 year warranty.
The new 3M MPro120 displays images and videos from computers or mobile devices, including netbooks, MP3 players, iPods, smartphones including iPhone, and digital cameras. It can display files, photos and movies, almost anywhere there's a flat surface.
Native Resolution is 640 x 480, while the VGA supported resolutions include: 640 x 480 VGA, 800 x 600 SVGA, 1024 x 768 XGA, 1280 x 768 WXGA and 1280 x 800 WXGA. With an aspect ratio of 4:3, there's plenty of options for inputs and outputs. The rechargeable battery is rated at 4-hours.
The 3M mPro120 Pocket Projector also has a built-in speakers making it a self-contained device. Not bad for a presentation system you can slip into your breast pocket. The 3M mPro 120 Pocket Projector sells for $299.95 on Amazon. (www.3m.com)