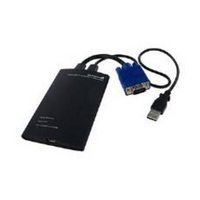 StarTech's Crash Cart is a computer peripheral that allows any USB-equipped notebook to function as the monitor, keyboard, and mouse for any server or for a desktop computer that may need critical fixing.
More descriptive, StarTech.com's USB 2.0 Crash Cart turns your notebook or netbook into a portable server crashcart, eliminating the need to lug around a large, heavy and awkward video screen, keyboard, and mouse. This adapter delivers the VGA stream from any host computer to a laptop and emulates the laptop mouse and keyboard outputs, for simple access and control of connected servers, PCs or other "headless" devices.
About the size of a Blackberry, the StarTech Crash Cart has a VGA video connector and a USB cable on one end, and a female 5 USB port on the other. Additionally, StarTech also provides a USB to PS/2 adapter for PCs with aging ports.
With portability for the mobile administrator or repair technician in mind, this self-powered adapter features a small-footprint design that requires no additional accessories to connect to most servers, and requires no server-side software installation. Plus, the pocket-sized adapter draws its power from the server-side connections, allowing the laptop/netbook to last longer without consuming battery power.
StarTech also includes a USB thumb drive containing all of the drivers and software for the peripheral, so it's possible to get the Crash Cart working even when the notebook being used doesn't have an optical drive, such as a MacBook Air or one of Dell's smaller Latitude models.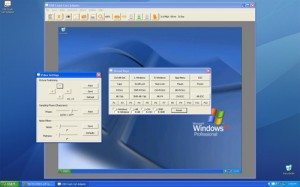 The Crash Cart is as simple to use as it is to install. The PC or server that you conntect the Crash Cart to doesn't need any software or drivers installed. On a Windows system, Mac or Linux, you simply plug in the USB drive and run the setup file. With the software installed you then attach the Crash Cart, and it automatically searches for and installs the drivers.
The Crash Cart software package is easy to use as well. Once the Crash Cart is plugged into the notebook and the app is launched, you'll be viewing the server's desktop.  To ensure that users can completely control the server, there is even a menu to allow special key commands to be passed through to the target system and not the host.
Ensuring full control of the connected units, the Startech Crash Cart provides immediate access to the BIOS post and the ability to handle full configuration of the attached PC or machine; administrators can connect to a headless server/device without the need of an expensive LCD rackmount console or bulky monitor, keyboard, and mouse solution.
The StarTech Crash Cart sells for around $470, and is great for those that don't always have the convenience of an external display and keyboard. (www.startech.com)