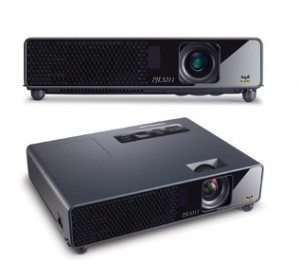 With the U.S dollar falling below acceptable levels and consumer spending doing the same on consumer electronics, the educational segment is becoming hot for a lot of IT-related manufacturers. And that's exactly the case with ViewSonic, which has expanded their lineup of short-throw projectors with three new models, the PJD5351, PJD5111 and PJL3211 models.  All three provide extensive multimedia capabilities, as well as a fairly large level of portability.
The most advanced model of these is the ViewSonic PJL3211, a digital multimedia short-throw projector designed for portability and performance in home, classroom, and small office settings.  The projector features a brightness output of 2500 lumens and a 500:1 contrast ratio for bright projection in a variety of lighting types.
It has 1024 x 768 XGA native resolution, 1.2x optical zoom, and is capable of displaying both 4:3 and 16:9 aspect ratios.  It also features a short throw lens which allows it to project large images from less than 5 feet away.
The Viewsonic PJL3211 is designed with a built-in, self-contained 1-watt speaker for accompanying sound and at only 4.1 pounds it is portable enough for travelling.  It has a lamp life of up to 3000 hours and supports a variety of input signals including 720p and 1080i for high definition projection.  The projector offers compatibility with a variety of interfaces including composite, S-Video, component, and RGB connectivity and has a USB port for projection without the need for a PC.  The PJL3211 comes with a remote control and a 3 year limited warranty.
Plus, the Viewsonic PJL3211 adds a six-picture mode for the display of high-quality images in the dark, daylight or onto a white or blackboard. Additionally, the PJL3211 has a very short-throw ratio, of just 1.3, which helps in reducing shadowing effects and bright light that could reduce picture quality.
The Viewsonic PJL3211 is a lot of projector for the money. Even though it is marketed as an educational projector, it could easily pass for a high-end home theater device. It's contrast and resolution really blast out the image quality, and there are basic audio outputs for setting up your hi-fi components.
ViewSonic's three new projectors for the educational sell for $479 (the PJD5111), $799 (the PJD5351) and $849 (the PJL3211).