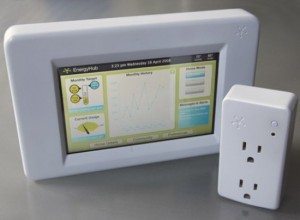 Is there an easy way to monitor your energy use? If you're like me, I hold my breath when I tear open the gas bill, and have the parametics on call in case of a mild heart attack. I can turn off the lights and my computer, but somehow that doesn't make a difference. And as price and demand for energy continue to climb, it becomes that much more important to have access to vital information about energy use, which is exactly what the EnergyHub System hopes to provide.
Founded by a team of former robotics and aerospace engineers, EnergyHub's array of software and hardware looks to bring a sense of control to consumer's homes. To do this they focus on the ability for a homeowner to easily access energy information.
The EnergyHub gives home consumers an immediate, accurate and complete picture of their electricity usage, sometimes reducing home energy usage by up to 20%. The EnergyHub dashboard allows households to set monthly energy targets and gives detailed information about current consumption levels. It's information can also be accessible from the internet, and users will be able to compare data with neighbors and peers.
EnergyHub's system measures electricity at individual outlets and even lets you turn those outlets on and off from afar.  It includes small power sockets that talk wirelessly to the Internet-connected display. Each outlet can send stats to a website and let you control it from the same site. Alternatively, you can manage it from the home touchscreen. The EnergyHub will be available in the Spring 2010.   (starting at $300, www.energyhub.net)