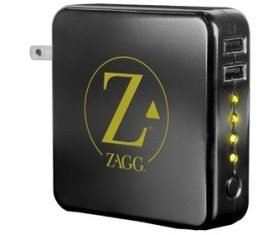 ZAGG Inc., a leading producer of mobile electronics accessories including the popular invisibleSHIELD™ and ZAGGaudio™ brands, introduces the ZAGGsparq™, a portable lithium polymer battery system that can provide multiple charges for any personal electronic device powered by a USB plug.
The ZAGGsparq can provide a portable battery charge for any USB-charged device including cell phones, handheld gaming systems, and digital cameras. The ZAGGsparq plugs into a standard wall outlet and provides two USB ports for charging mobile devices. Unplug the lithium polymer ZAGGsparq and it carries multiple charges for any personal electronic device that can be powered by a USB plug – up to four complete recharges for a power-hungry Apple iPhone.
"The constant risk of low batteries is a significant concern for gadget users, in particular when traveling," said Brian Packer, Vice President of Marketing of ZAGG. "The ZAGGsparq carries multiple charges for any personal electronic device with you and fits easily in a pocket or bag, so it is perfect for everyone from travelers to businesspeople."
[adsense]
The 6000ma lithium polymer cell of the ZAGGsparq can be charged more than 2,000 times before significant drop-off in battery life, making it the world's most powerful portable battery for its size. Assuming you juice it up once every three days, that ought to last you for around 6 years, where by then you probably won't have any use for it anymore as you would have probably come across other more power-efficient solutions.
"This forward thinking technology allows the ZAGGsparq to carry much larger and more potent charges than competing products," said Robert G. Pedersen II, President and CEO of ZAGG. "The ZAGGsparq really complements our line of existing products, and with thousands already sold in the first two weeks, we believe it will continue to be very popular with our innovative customer base."
The ZAGGsparq is available for shipment from www.ZAGG.com at the retail price of $129.99.