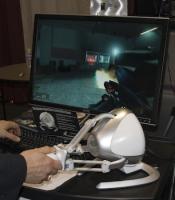 Novint Falcon is the newest game controller which is designed to provide full control over gaming consuls while offering a wider array of applications that makes this device a better substitute for joysticks and mouse.
This game controller features a 3-dimensional feedback which provides a more realistic experience for hard-core gamers. This technology is complemented by the unrestricted control system which allows various movements such as forward, backward, right, left, up, and down. With this feature, gamers can use various control applications and features, allowing full control over their game characters.
This device also features a detachable grip which allows users to highly-interact with any virtual object or environment. With this technology, people can feel the physical characteristics of an object in the game such as dimension, shape, weight, dynamics, and texture which will provide users with a more realistic gaming experience. For example, when basketball virtual gamers would shoot a ball, they would feel the exact shape and weight pressure of the real ball, or when users play a virtual golf game, they would feel the impact of a golf club hitting a ball.
Novint Falcon is seen as a gaming solution which will complement other innovations such as 3-D graphics technology and real-sound feedback technology. With this touch-sensitive technology, this controller gaming device has revolutionized the whole concept of virtual reality games.
In the past, products which feature touch-sensitive technology are only made available for commercial purposes since most of these have a very high market value, making it unaffordable to majority of consumers. But with the arrival of Novint Falcon, touch-sensitive technology can now be introduced to the general market since this device comes at a very affordable price.
This game controller also features Newton's Monkey Business™ which is a collection of 24 touch-enabled minigames called Feelin' It™: Sports Pack. When purchased, this device also includes other items such as two Falcon Grips, USB cable, a free game download, installation CD, power supply, and user's manual.
Via: Gadgets Fan