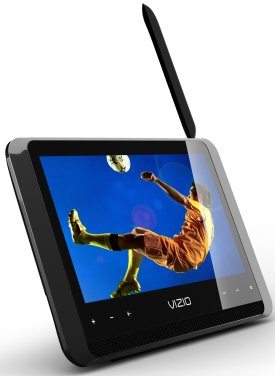 Vizio has introduced three new handheld LED devices, making a huge mark on the new mobile television market.  VIZIO will offer three Razor LED models with a depth of less than 1", including one capable of receiving broadcasts using the new ATSC-M/H mobile/handheld platform that can be operate in moving vehicles.
The VMB070 has a 7" display, the VMB090 has a 9" display and the VMB100 has a 10" display. All scheduled for delivery later this year with MSRPs of $149.99, $199.99, and $229.99 respectively.
In markets where the broadcasts are available, the VMB090 and VMB100 have the ability to receive the new ATSC-M/H signals through an integrated antenna. This new standard enables local broadcasters to deliver over the air signals that can be received by mobile video devices such as phones, portable media players, laptop computers, personal navigation devices and automobile-based infotainment systems. This signal is broadcast within the spectrum already being used for existing ATSC DTV programming.
[adsense]
"From our enormous base of enthusiastic customers, we see a solid set of end users ready to embrace the idea of viewing on the go, and these new mobile Razor LED TVs are the ideal solution," says Laynie Newsome, VIZIO Co-Founder and VP Sales and Marketing Communications. "Being one of the first to market with the latest in mobile video technology is a perfect example of VIZIO's ability to deliver the newest and most advanced technologies to the market, and these products have the performance and value that our customers have come to expect."
7" VMB070 Mobile Razor LED- Thanks to VIZIO's Razor LED design, the VMB070 LCD LED mobile TV is just over 3/4" deep. Its 7" LED backlit screen has 800×480 resolution, and a high level of brightness at 250 nits. Its sleek design has no hard buttons, using instead innovative touch-sensitive controls that light up when it senses the user's approach. Its flush antenna can also flip up for improved reception of ATSC and NTSC broadcast signals. For use with a DVD player or other component, the mobile TV includes auxiliary audio and video inputs, and a headphone jack allows for private listening. The internal battery supports up to 3 hours of operation when away from a power supply, and the unit has earned an Energy Star rating as well. Dimensions are 8.2" x 5.75" x .75".
[adsense]
10" VMB100 and 9" VMB090 Mobile Razor LED LCD TVs- With a tuner able to receive broadcast signals using the new mobile ATSC-MH format (as well as ATSC and NTSC signals), the VMB100 and VMB090 are among the very first sets with this capability. A slim-profile, stylish Razor LED TV, they have a 10.2" or 9" LED LCD panel with resolution of 800×480 pixels and very high brightness at 350 nits. Like the VMB090, touch sensitive TV controls maintain the sleek design of this mobile TV, and its internal antenna can sit flush or be extended for improved reception. For use with external source components, an HDMI 1.4 jack is included, along with composite video and stereo audio inputs. They also have a USB 2.0 port that can be used to view JPEG photos or for listening to MP3 audio, and a headphone jack allows for private playback. Energy Star rated, the VMB100 and VMB090 also operate up to 3 hours on their internal battery. Dimensions are 11" x 7.5" x just under 1" and 10" x 7" x just under 1" for the VMB100 and VMB090 respectively.
VIZIO's products are found at Costco Wholesale, Sam's Club, Sears, Walmart, Target, BJ's Wholesale, and other retailers nationwide along with authorized online partners. (www.VIZIO.com)