With the new Cinemin Swivel pico projector, you get extreme portability in a tiny gadget that delivers one big picture. Packed into the size of a candy bar, the Cinemin Swivel harnesses the same DLP® technology commonly found in high-definition TVs.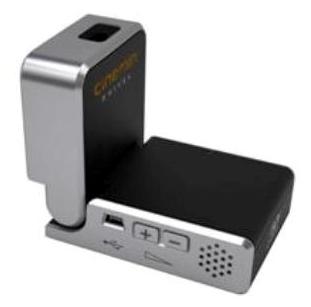 Connect to your favorite mobile device — iPhone™, iPod, video game console, digital camera, portable DVD player – and share media with anyone, any time, anywhere, including TV shows on the bedroom ceiling, foreign cinema in the backyard, YouTube on a subway wall, vacation photos on an airplane tray table, or psychedelic graphics on the dance floor. Designed by WowWee Technologies™ and powered by Texas Instruments' DLP technology, the Cinemin Swivel features a unique adjustable 90-degree hinge for ceiling projection. The lightweight device also sports full volume control, an audio jack for a headset or speakers, and an impressive battery life with over two hours of juice – long enough to watch a full-length flick.
[adsense]
"Projection is at the core of what I do. I'm not simply casting my drawings on the dance floor, but rather reacting to the music, dancers and the moment," said New York-based Shantell Martin, named one of the top 10 VJs in the world by DJ Mag. "Devices like the Cinemin are ideal – small yet powerful, and stylish."
"TVs are old school. Now with my Cinemin I can travel and watch movies on the ceiling while in bed," said Sid-Z from the Montreal-based pop rock band Creature. "I'll never turn on a hotel TV again."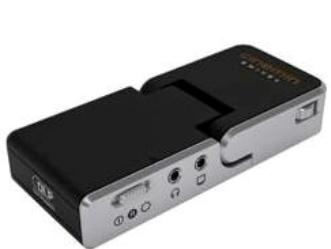 Called "easily the coolest new thing…since the iPhone" by The New York Times, the category of pico projection is making waves industry-wide, and the Cinemin Swivel is at the top of contenders.
The Cinemin Swivel from WowWee Technologies is available at such major retailers nationwide as Brookstone and Amazon.com for $299.99, and includes connectors and cables, an A/C battery charger with international adaptors, and a stylish padded carrying pouch.
[adsense]
Cinemin Swivel Technical Specifications:
HVGA (480 x 320 resolution)
3:2 aspect ratio
8 ANSI lumens (brightness)
Contrast ratio of 1000:1
Maximum image size of 60in (1.5m) diagonal in a dim or dark room
Viewable range of 5in to 81in (12cm to 2m)
Reverse feature which allows back-projection
Manual focus wheel
0.5 watt mono audio speaker with adjustable volume
90-degree hinge
Rechargeable Lithium-Ion battery
Around 140 minutes per charge
Weighs < 170 grams (with battery)
For more information and special offers, visit www.cinemin.tv. Follow @cinemin on Twitter or visit the Cinemin YouTube channel at www.youtube.com/cineminpico.