Kapsys has come out with the first ever ultra compact 100 voice interactive GPS.  Unlike other GPS systems, the tiny Kapten Talking Pocket GPS Navigational System has no screen.  The palm sized unit uses voice recognition technology that allows it to accept verbal input.
You make navigation requests by talking to the Kapten and are in turn given spoken directions. For the sighted user this means your eyes are always on the sidewalk or street, and it also gives the blind or visually impaired pedestrian a tool to help get where they need to go.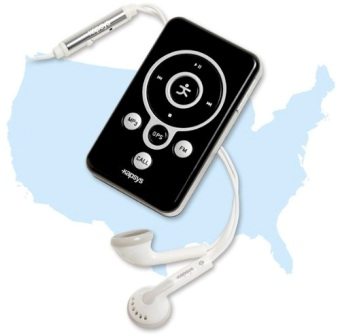 The Kapten Talking Pocket GPS can also be paired with your Bluetooth compatible cell phone, allowing you to call your contacts by pressing the CALL button on Kapten and stating the name of the person you wish to call.  It also offers an MP3 player to download and play music and podcasts, plus an FM receiver with voice recognition. In addition, it has 3GB's on internal memory for MP3 storage, map directions, and more.  Mp3's can also be activated shuffle style via voice and the gadget is only equipped to handle US maps right now.
Choose to hear output on the mini speaker or use the headphones for privacy. It charges via the USB port on your computer or via a wall charger.  This sucker is tiny too.  It measures 2.9 x 1.7 x 0.5-inches, and weighs under 2 ounces.
Available at Amazon
Published on May 19, 2010