Tiger Woods PGA Tour 11 from EA Sports has been release, and this year's version makes a wise move and (finally) incorporates the biannual Ryder Cup competition as a entire mode, giving players the opportunity to represent either the U.S. or the European.  It also allows you to make squad and captain's decisions, as well as to play out the matches.
EA has included online play for up to 24 head-to-head competitors. Per usual, graphical enhancements are par for the course, with textures and lighting leading the way, as well as the inclusion of dynamically responsive clothing and hair on player models. If each year's iteration of Tiger Woods PGA Tour seems to get slicker and more impressive-looking, that's because it does.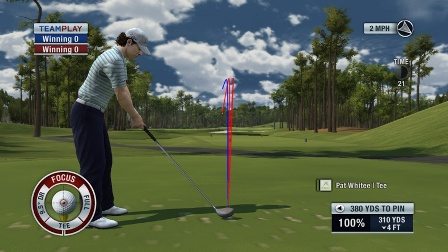 Another welcome change comes in the form of a strategic limitation. No longer can players mash buttons to increase their shot power or ball spin to no end. Instead, utilizing these arcade-style features will cost the player focus, a meter which can be depleted and leave you unable to juice up shots until it recharges. It's a simple change that adds balance to the gameplay.
In addition to some old staples, five new courses round out the package and include Celtic Manor Resort (the site of the 2010 Ryder Cup) and TPC Scottdale, home to one of the PGA Tour's most popular stops. A near-perfect synthesis of golf and game, the Tiger Woods PGA Tour is available now for around $60. Available for PS3, Xbox, and Wii.
Published on June 11, 2010