If you love music, but ain't got the talent, the new
Paper Jamz Guitars, which
will come in Bullet, Devil, Hot Rod, Shuttle and V varieties, is your ticket for around $25.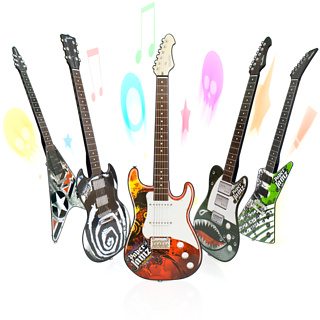 At about 1-inch thick, the Paper Jamz Guitars are touch sensitive guitars that feature ActiveGraphics electronics within, allowing you to strum chords freestyle or play along to various preloaded, fully licensed tracks without having to worry about strumming at the right places. You can select Perfect Play Mode for a little air-guitar practice, Rhythm Mode that allows you to control the tempo of your strums, or Freestyle Mode, which basically imitates a real -working guitar.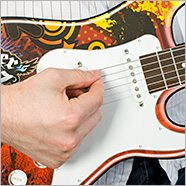 The Paper Jamz guitars have built-in speakers as well. Simply move your fingers along the usable, open E fretboard, (one finger for major, two for minor, three for a 7th), and you can play anything.  These non-six strings come in five familiar flavours, each with its own trio of preloaded classics.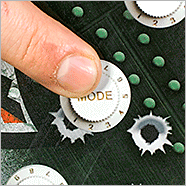 These are really miraculous devices.  They stay right along with your active strumming, and the speakers actually put out pretty good sound.  And at one inch thick, you wonder how Wowwee stuffed all that technology into a wafer-thin device.  The price of these babies is also stellar.  Seriously, for around $25, this is a value for an extremely fun device for children and adults.