Bringrr Phone Finder
—The Bringrr is a small Bluetooth module that lives in the power socket of your car. It senses when you start your car and searches for your phone. If it doesn't connect to it, it will sound an alert and an LED will blink in Red.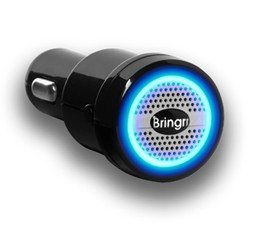 Bluetooth enabled Smartphones and most feature phones from 2008 and later will work with the Bringrr. The Bringrr is available now for $29.95. There are also versions that has the ability to charge micro USB phones, iPhone and other phones that can be charged with a USB cable.
Posted 12/20/10