Guide to mobile broadband and Broadband Genie
—There's no doubt that the growing availability of cheap mobile broadband has been a great thing for any of us who travel around a lot. Thanks to the increasing competition, this also means that there is a wealth of cheap broadband deals available too.
One of the best ways to choose the best mobile broadband package for your needs is to use a free comparison website, such as Broadband Genie. Inside here you'll find all of the latest cheap mobile broadband deals, along with guides and reviews on all aspects of high-speed internet.
What to look for
Mobile broadband providers always have lots of deals and offers available, and there's invariably something for everyone. This includes laptop or netbook users, who will need a dongle to get them connected to the mobile broadband network.
These small plastic USB devices are available from all of the mobile providers, and come in an array of different packages. A pay-as-you-go mobile broadband dongle is a good idea if you don't want a contract and also need to keep an eye on what you spend.
Contract dongle deals are often a little more flexible in the amount you can use them online, and mobile providers will often give you more generous data allowances with a contract option too. This means that your deal will allow you to download lots more content.
Explore other options
However, alongside laptops and netbooks, there is now also the Apple iPad, which is a tablet style device that has become hugely popular and inspired a whole selection of rival products. An Apple iPad needs a special micro SIM card in order to work.
To get one of these you can also employ the services of the comparison website and you'll find that there are a whole selection of options for this gadget too, Choose from pay-as-you-go deals or contract packages, starting from one month on a rolling basis.
Of course, the smartphone has become an integral part of the mobile communicating world too, and it's now very possible to do pretty much all of the things you'd normally do on a laptop, but within the confines of a smaller smartphone. Granted, keyboards and screens are compact, but these devices are truly powerful.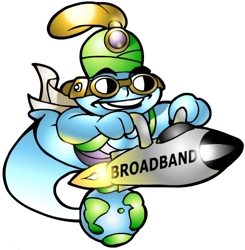 And finally
No matter what gadget or computing device you use to access the mobile internet, it's always wise to carefully scrutinize the terms and conditions of any deal, whether it's contract or pay-as-you-go.
If you spend a reasonable amount of time checking the comparison tables in the aforementioned website then you'll find that it's possible to quickly and easily track down the mobile broadband deal that you're after and all without spending so much as a penny.  
About the author: Rob Clymo writes on behalf of www.broadbandgenie.co.uk, the independent comparison website for broadband, mobile broadband and smartphones
Posted 12/20/10