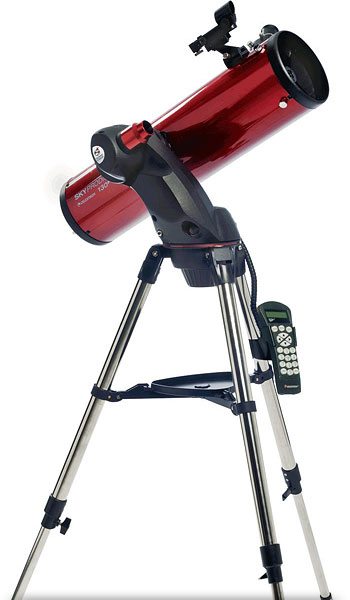 Celestron SkyProdigy Telescope
—The new Celestron SkyProdigy Telescope has a built-in camera that can detect where they're pointed and automatically zero in on one of 4,000 pre-programmed celestial bodies in just three minutes — making them the fastest self-aligning telescopes ever. Thanks to a 130mm lens, and 5″ mirror, the scope is also powerful enough to give users a look at Saturn's rings or the Galilean moons.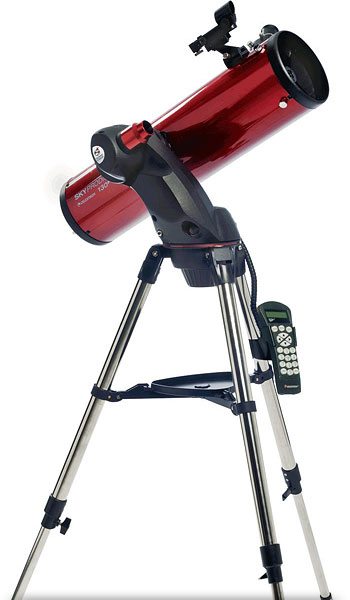 Factor in that the entire line will cost roughly half of what similar telescopes would cost, and it's clear Celestron is a great line for novice astronomers as well as the more advanced.
You can buy the SkyProdigy 70 now for $699, while the the SkyProdigy 90 | SkyProdigy 130 is available for pre-order now for $799.
Here's the release……
CELESTRON UNVEILS SKYPRODIGY, WINNER OF 2011 CES INNOVATIONS HONOREE AWARD FOR DESIGN AND ENGINEERING EXCELLENCE AT CES 2011

TORRANCE, CA – (January 4, 2011) – Celestron, the #1 telescope maker in the world, media darling for the SkyScout™ Personal Planetarium™ at CES 2006, and winner of product innovation awards from CES, Reader's Digest, Popular Science, PC Magazine and Popular Mechanics, today unveiled its next award-winning telescope product — the SkyProdigy at the 2011 International Consumer Electronics Show (CES).The SkyProdigy features patent pending StarSense™ Technology, which provides a dramatic evolution in telescope alignment technology. Unlike most other telescopes which require a user to select and manually center known stars in the telescope to align it, StarSense makes the aligning process easier and faster. With StarSense users turn on the SkyProdigy, push a button and are ready to view the universe in less than three minutes.

With an aligning process of three minutes, the SkyProdigy is the fastest automatically aligning telescope on the market today."StarSense completely circumvents the frustrating alignment process of current "Go-To" telescopes by allowing the telescope to automatically align itself without any user intervention whatsoever once it is turned on," said Joseph A. Lupica Jr, president and CEO of Celestron. "Our SkyProdigy and StarSense technology redefines how users can view the universe. For the last 50 years, Celestron has been the world.s leading telescope manufacturer. We've developed industry-changing products such as Sky Scout Personal Planetarium and the SkyProdigy is further evidence of our continued commitment to being the world .s leading telescope maker."

Additionally, the SkyProdigy includes a "Sky Tour" feature which automatically moves the telescope to the best astronomical objects currently visible at that time.The SkyProdigy, along with Celestron.s new products also introduced at CES, including CoursePro™ Golf GPS, reTrace™ Tracking GPS and SkyWatcher AllView™ Panorama Mount, will be displayed during the 2011 International CES, January 6-9, 2011 in Las Vegas at the Celestron booth #14736, located in the Central Hall at the Las Vegas Convention Center.SkyProdigy will be available summer 2011 in three models:

Refracting telescope – SkyProdigy 70 (Suggested Retail: $699)
Maksutov-Cassegrain design -SkyProdigy 90 (Suggested Retail: $749)
Reflecting telescope – SkyProdigy 130 (Suggested Retail: $799)

Visit Celestron's website for more information and a list of dealer locations and updates, at

http://www.celestron.com

.

About Celestron

Celestron, is a leading designer, manufacturer and importer of high-quality optical products including computerized and non-computerized telescopes and related accessories, weather stations, GPS devices, binoculars, spotting scopes and microscopes. Since manufacturing its first telescope in 1960, Celestron has grown to become one of the world.s leading telescope makers, and enjoys brand-name recognition among serious amateur astronomers for superior optics, outstanding design, and innovative technology. Celestron's innovative products continue to receive numerous industry and consumer media accolades, adding to an already impressive list that includes awards for product innovation from Reader.s Digest, Popular Science, PC Magazine, Popular Mechanics, the Consumer Electronics Association and more. Celestron is a privately held company with corporate offices and manufacturing facilities, in Torrance, CA.
Posted 1/14/11