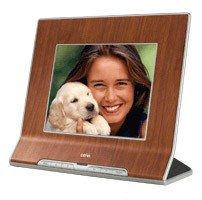 The CEIVA Pro80 is an 8″ WiFi enabled digital picture frame that hooks up wirelessly to your network or via a phone line. It sports a 640×480 pixel resolution screen with a 4:3 aspect Ratio, and can retrieve new photos automatically for a new slideshow every morning.  The magic here is that it lets your 'homies' send photos straight to the frame.
Photos can be sent from anywhere.  You simply create an email address for your frame, attach a photo, and send. Photos can be scheduled for delivery in advance, you can make greeting cards and the frame can get weather or news updates as well. It's a photo frame that thinks it's a tablet.  Other features include photo customization, gallery cards, free CEIVA Channels (like 'Flower a Day') and photo sharing applications for the iPhone, Facebook, Picasa and more.
Star Rating: 


Where to Buy: CEIVA
Cost: $119.95
The frame is extremely easy to set up and register.  Instructions were easy to follow, and a toll free number is available for you to call if you want someone to walk you through the process. It's basically plug-and-play. The WiFi adapter plugs in the back, and the menu buttons on the frame navigate the rest of the set-up.  You then activate your CEIVA account on your PC, and send out invites to family and friends so everyone can upload digital photographs to the picture frame.  You can also upload images from your own PC to the frame, so there can be some images already loaded for setting preferences.  The whole process takes about 20-minutes.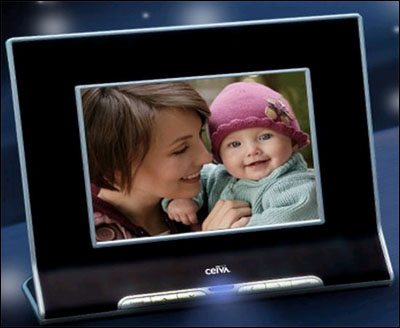 The CEIVA frame uses a technology called "PicturePlan® Photo Delivery Service" that enables the owner of the frame to enjoy digital slide show images that have been uploaded from friends and family from anywhere around the world, without having to upload them to their own computers or USB.  This way, photos are fresh, current, and can be delivered anytime, anywhere.  You can upload images from your computer at your house to a CEIVA account, and they go into a queue to be placed directly on the frame.  You can set how often the frame checks the queue in the settings as well.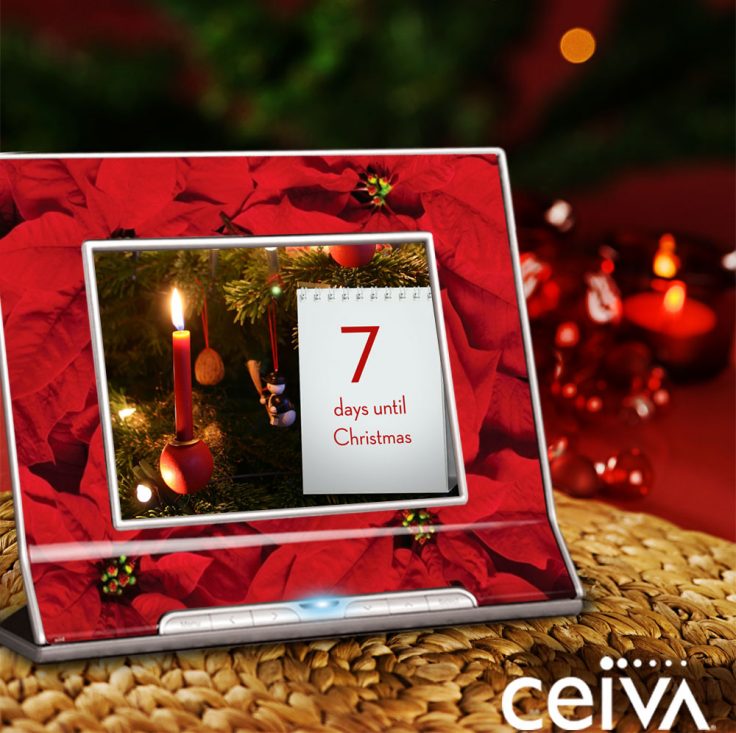 CEIVA frames are perfect for virtual vacation postcards, holiday messages, etc… and there are a lot more features included.  For example, CEIVA has an iPhone app and an Android App that allows you to upload photographs from your handset and send them right to the digital photo frame.  CEIVA frames also allow you to set the digital photo frame to sleep at night and wake in the morning so you can save energy.  The Pro80 will sync every night and will upload images from the queue at that point.  There is a manual sync function as well that lets you sync anytime you want.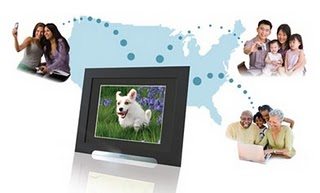 Image quality is exceptional, and the 8-inch active matrix digital LCD screen really lends well to color, contrast and white balance. The frame also comes with two stylish interchangeable face plates, rich wood and classic black finishes, to complement any home decor.
The Pro80 includes one year of CEIVA PicturePlan service for free, however, to access the online features, you have to pay $7/month (if paid annually) for the service after the free year expires. The PicturePlan photo delivery service is what allows photos to be sent from authorized computers or camera phones to the frame.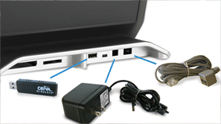 One drawback is that the frame always needs to be plugged in.  There is no battery. However and overall, the frame is a great gift, and a unique one at that.
The CEIVA Pro 80 sells for $147.99 and if your frame ever breaks, CEIVA will fix it for free.  CEIVA I believe is running a special at $119.95 for the Pro80.  You can buy it here.
Here's some  tech info, and check out the video below that:
Media Server Support: PC with Vista, Windows Media Player 11, Macintosh with additional media server software
Memory Card Support: CF. MS, SD, MMC and xD
http://youtu.be/vpVSCxpwauU