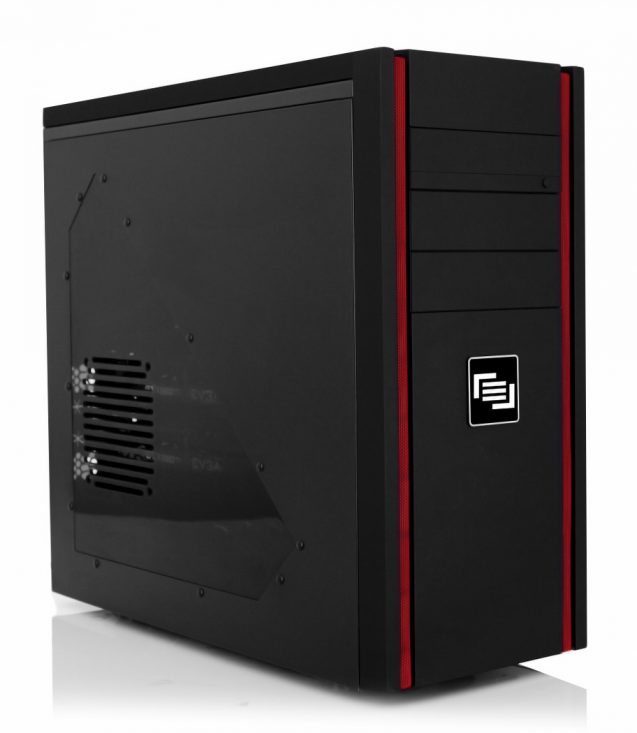 Maingear, manufacturer of some pretty blazing PCs, recently announced their upgrade to the Vybe family of desktops.  The new Vybe gaming PC sports the latest Intel® Core™ i5 and i7 Overclocked processors with Turbo Boost.  Maingear's exterior design is always a head-turner, and the updated Vybe is no different.  It's  matte-black exterior and case markings are gorgeous, and an all-new chassis design reminds us of MAINGEAR's efforts in refined design aesthetics.  It also showcases a soft touch outer coat with a roomy, full-ATX interior capable housing whatever hardware you throw at it.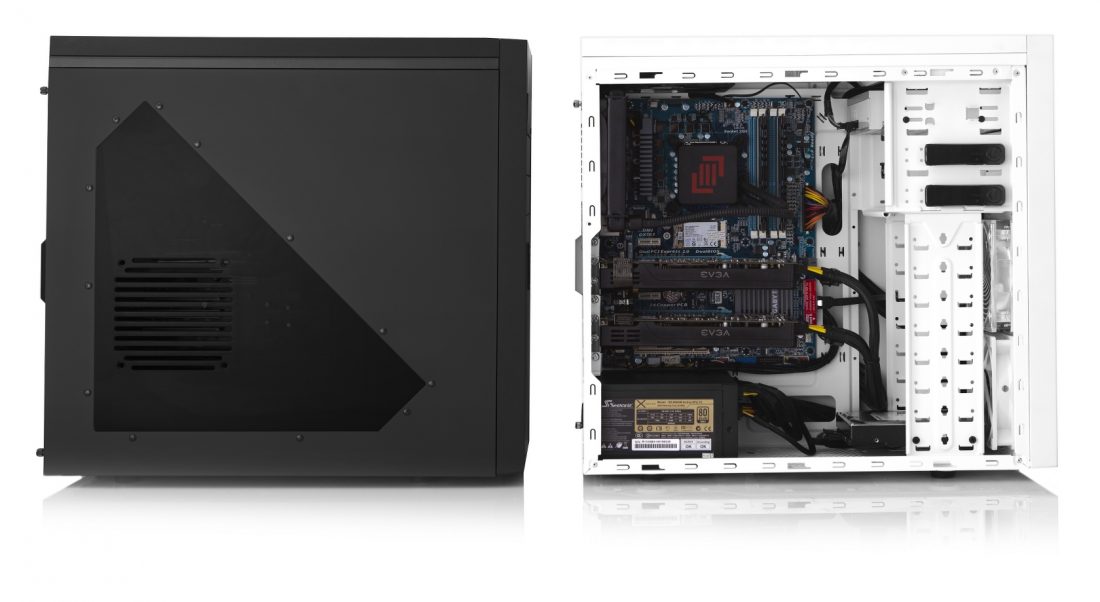 The Vybe family is also equipped with the latest motherboards from Intel and Gigabyte,  supporting USB 3.0, SATA 6G, and available hardware options including NVIDIA® GeForce GPUs in single and SLI (multi-GPU) configurations, SSD caching drives, and top of the line second generation Intel® Core™ technology – which is also water-cooled and overclocked.
The updated Vybe starts at $949, a pretty cheap price for specs that mirror a high-end gaming PC.  It has a traditional internal-access hard-drive cage, and the application performance is way above average.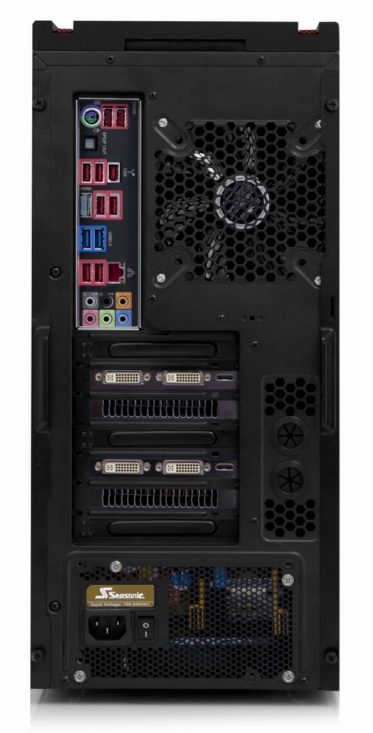 The Maingear Vybe is also pretty energy efficient, consuming little energy for a PC of its stature.  Maingear's service plan gets you lifetime parts, labor, and phone coverage, and one year of what the company calls "Angelic" service.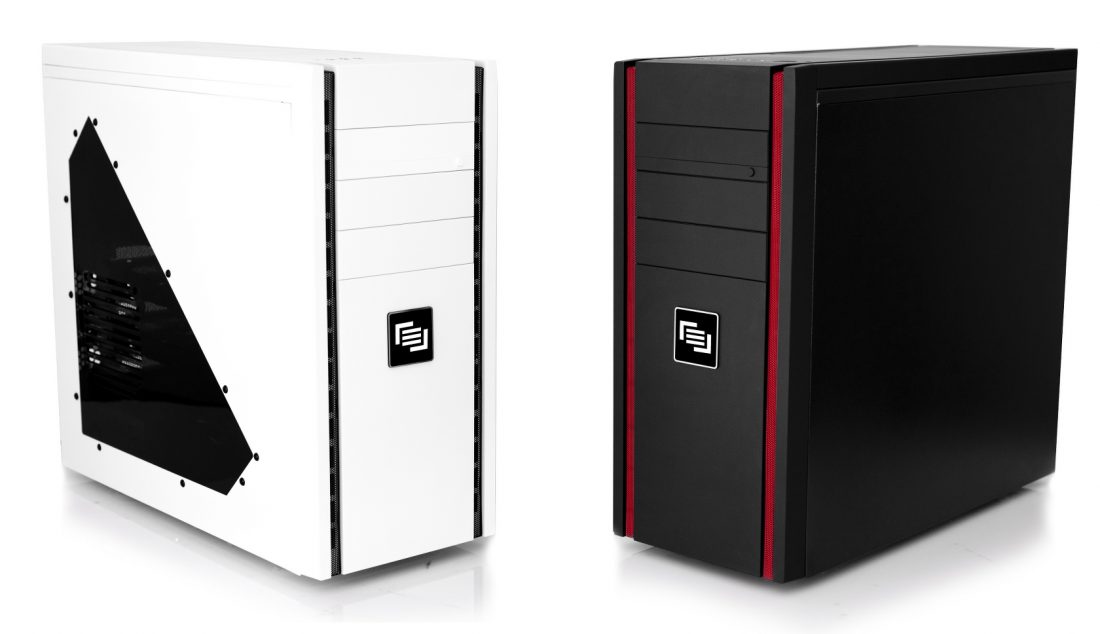 The $949 Vybe S starts has an overclocked 2.9GHz Intel Core i5 2310 rated at 3.3GHz (capable of turbo-boosting to 3.7GHz). It's also loaded with a 1GB NVIDIA GTS 450 GPU, 4GB of RAM, a 1TB 7,200RPM HDD, 7-in-1 card reader, 7.1 surround sound support and a 24x DVD burner that's all hooked into a USB 3.0 / SATA 6G Intel DP67BA motherboard. The $1,129 SE ramps it up a bit with an overclocked i5 2500 rated at 3.7GHz (boosting up to 4.1GHz) and a 1GB GTX 560 GPU that's connected to an SSD-toting Gigabyte Z68XP-UD3 motherboard. Lastly, there's the $1,699 Vybe SS, packing an overclocked and water-cooled 4.5GHz+ Core i7 2600K.  You can opt to customize the SE and SS rigs with more powerful parts, although you'll be waiting a bit longer for shipping.
Check out the full press release…
MAINGEAR'S GOOD VYBE-RATIONS GIVES GAMERS AFFORDABILITY AND LOYALTY

Combining the best in quality, performance and support, the all new MAINGEAR VYBE offers affordable pricing, same-day shipping options and a loyalty trade-in program never before seen in the boutique PC market.

Kenilworth, New Jersey – 
MAINGEAR, an award-winning custom PC builderknown for performance, reliability, and customer satisfaction updates their smaller but powerful VYBE gaming desktop computers with a new chassis design that offers pre-configured specifications for faster turnaround time as well as a 30-day, No-Fail Guarantee and a loyalty trade-in program while still offering flexible customization options for customers at very aggressive price points.

The all new, redesigned VYBE is a high performance custom pc unlike any other on the market. The new VYBE offers features and benefits to make it easier and faster for customers to get the MAINGEAR experience. Below are the key areas that make the all new VYBE a compelling option for those looking for a quality price to performance PC:

Design:
The new VYBE is based around an all-new chassis design that stays true to MAINGEAR's refined design aesthetic and features a soft touch outer coat with a roomy, full-ATX interior capable housing the most powerful hardware on the market. Available hardware options include NVIDIA® GeForce GPUs in single and SLI (multi-GPU) configurations, SSD caching drives, and top of the line second generation Intel® Core™ technology – which is also water-cooled and overclocked.

Faster Turnaround:
There will be three stock models for customers to choose from, one of which will be available for same- day shipping and all of which offer performance and value without sacrificing quality. Unlike other quick ship solutions on the market, the new VYBE high performance PC is not without customization options for those looking to take their hardware up a notch. Customization options include hardware upgrades on CPU, hard drive, memory and optical drives as well as choice of custom color schemes.

30-day No-Fail Guarantee, 1 to 3 Year Comprehensive Warranty:
Indicative of MAINGEAR's commitment to quality, MAINGEAR is offering a 30-day No-Fail Guarantee of these new custom VYBE computers. If a VYBE system arrives or develops any critical issues not remedied quickly and over the phone, MAINGEAR will, at no charge to the customer, build and ship a brand new system upon receipt of the faulty unit. Furthermore, MAINGEAR warrants all parts and workmanship for a period of up to 3 years.

Loyalty Trade-in Program:
Never before seen in the boutique industry is MAINGEAR's new customer loyalty trade-in program. Returning customers who purchase any MAINGEAR custom built pc within 18 months of their original VYBE purchase are eligible to receive a credit on their original VYBE based on its condition, evaluated after the sale of their new system. Customers who choose to purchase a new VYBE will continue to receive this offer. This program makes ownership of the latest and greatest hardware easier for a wider range of MAINGEAR customers.

The VYBE is available in three pre-configured system options to choose from: S, SE, and SS.

VYBE "S" (Same day shipping)
• Intel® Core™ i5 2310 2.9GHz Overclocked to 3.3GHz/3.7GHz Turbo Boost
• Intel® DP67BA motherboard supporting USB 3.0, SATA 6G
• 4GB DDR3-1333 memory
• NVIDIA GeForce GTS 450 1GB graphics
• 1TB 7200rpm SATA HDD
• 24X DVD burner
• 500 Watt Seasonic 80 Plus power supply
• Windows 7 Home Premium 64-bit
• Microsoft Office 2010 Starter
• $949

VYBE "SE" (Configurable, 3-day quick ship)
• Intel® Core™ i5 2500 Overclocked to 3.7GHz/4.1GHz Turbo Boost
• Gigabyte® Z68XP-UD3 motherboard supporting USB 3.0, SATA 6G
• 4GB DDR3-1333 memory
• NVIDIA GeForce GTX 560 1GB graphics
• 1TB 7200rpm SATA HDD
• 24X DVD burner
• 520 Watt Sea sonic 80 Plus Bronze power supply
• Windows 7 Home Premium 64-bit
• Microsoft Office 2010 Starter
• $1,129

VIBE "SS" (Super Stock configurable, 3-day quick ship)
• Intel® Core™ i7 2600K Overclocked to 4.4GHz+
• MAIN GEAR EPIC 120 Liquid Cooling Solution
• Gigabyte® Z68P-ID3-Issi motherboard Supporting USB 3.0, SATA 6G
• 8GB DDR3-1600 memory

Dual NVIDIA® GeForce™ GTX 560 1GB graphics in SLI configuration
20GB Intel 311 mSATA Smart Response Technology
1TB 7200rpm SATA HDD
660 Watt Seasonic X-660 80 Plus Gold power supply
Windows 7 Home Premium 64-bit
Microsoft Office 2010 Starter
$1,699

Any of these pre-configured VYBE systems are perfect for back to school use, home or for as a gift for the holidays with its fast delivery, grade A US based customer support and warranty. To learn more about these new VYBE custom gaming computers, visit: http://www.maingear.com/custom/desktops/vybe/index.php

"MAINGEAR customers are always looking for the perfect combination of performance and reliability, and NVIDIA GeForce GPUs are the perfect choice to play this year's hottest PC gaming titles with all of the eye candy turned on," said Drew Henry, general manager of GPU business at NVIDIA

"Businesses are demanding more value and power for their hardware buys and the MAINGEAR's new VYBE powered by Intel second generation Core processor technology delivers on both counts." said Michelle Johnston, General Manager, Channel Platforms & Strategy Division "The updated VYBE systems provide MAINGEAR customers the ability to get top of the line performance at different price points."

"As a strategic system builder, MAINGEAR continues to develop innovative new products on the Windows 7 platform to meet customers' expanding and diversifying needs," said Eddie O'Brien, Microsoft U.S. OEM vice president. "MAINGEAR's ability to offer affordable form factors has enabled the company to grow as it continues to meet consumer demand."

"Our new pre-configured VYBE options will provide our customers with a fast and easy solution to finding the system they want while not limiting their customization." said Wallace Santos, CEO and Founder of MAINGEAR. "Not only will customers get their VYBE faster, they will rest assured they will have the support of our 30-day no-fail guarantee and advance replacement warranty that put their mind at ease."