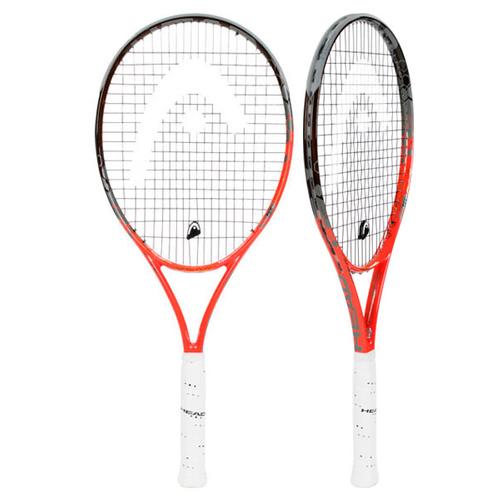 If Andre Agassi can play with it, so can you. The Radical Oversize continues their impressive Radical line with the new YOUTEK IG Radical Oversize.  This puppy provides power, finesse and an enormous 107-square inch racquet head-size that offering plenty of sweetspot .  If you have a fast swing and a lot of spin, the IG Radical is your new best friend.
While power is its main selling point, the YOUTEK IG Radical Oversize gives you very nice touch and feel as well.  What does this equate to?  Well, you can be aggressive, accurate and powerful at the baseline, while also coming to net for those allusive drop shots.
Star Rating:


Cost:$189.95
Where to Buy: [amazon_link id="B002LH7EY0″ target="_blank" container="" container_class="" ]Amazon[/amazon_link]
In order to increase the comfort of the frame, Head has integrated Innegra fibers into the frame. (A full description of this technology is below).  These fibers feature unique flex characteristics that give the YouTek IG Radical OS a new level of stability and vibration dampening, for all-around better performance.  Even with the oversized head, the Radical line remains one of the most versatile around,  thanks to the d3O material, (information below.) This smart material adjusts to the swing of the player, providing stability and power when needed, but also touch and feel when demanded.  When I played with this stick, the frame offered a large sweet spot with good access to spin and power from the baseline.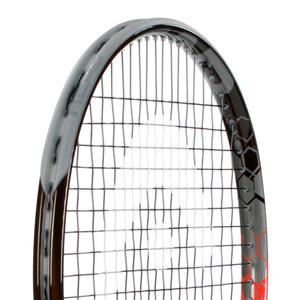 So during my test, "groundies" were more powerful with the Head Youtek IG Radical OS than with Mid and Midplus counterparts.  Shots were landing deeper, and connecting with the ball really produced a "pop".  I was also able to generate significantly more spin than usual.  This racquet is really good for players who have more compact strokes, or whose swing speed is moderate.  It has much better hand and arm feedback than most oversize frames, as well as great control.
On the volley, I found the Youtek IG Radical OS an incredibly easy racquet to volley with. It's maneuverable and agile, has really good feel, and the 107 sq in head and large sweet spot means that even off center shots, you can still be controlled quite easily. Also, I liked the effortless amount of power that the racquet offered.  I was impressed with the racquet's combination of power, accuracy and feel at the net.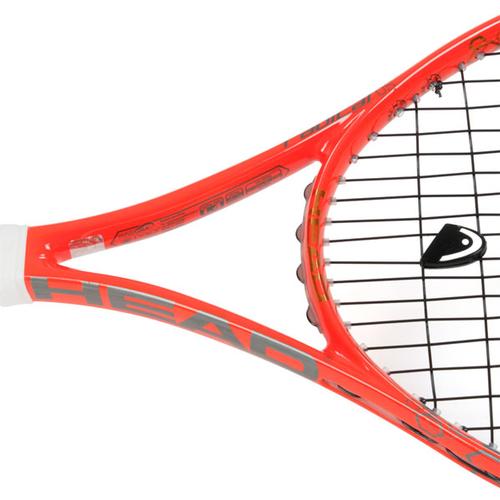 While serving,  I found the Head Radical Youtek IG OS works better at flat serves versus slice.  You get a lot of power behind a flat ball, and for a thin beamed oversize racquet that has the characteristics of a real player's racquet, the power level at moderate swing speeds is excellent.   On overheads, the racquet performed awesomely.  I would say that the racquet would compare very favorably as a serving racquet with all racquets in the oversize racquet category.
When you have a racquet that is really good off the ground and equally at home at the net, you've also got an excellent racquet for returning.  The Head Youtek IG Radical OS racquet is great at this.  I could generate good power and control without feeling I had to either hold back because I was scared of losing control or overswing because I wanted more pace.  And for wide balls, the racquet's maneuverability and power meant I was able to get my racquet to the ball quickly and hit a solid return at full stretch.  The Head Youtek IG Radical OS let me hit pretty crisp, controlled and powerful returns against all types of serves.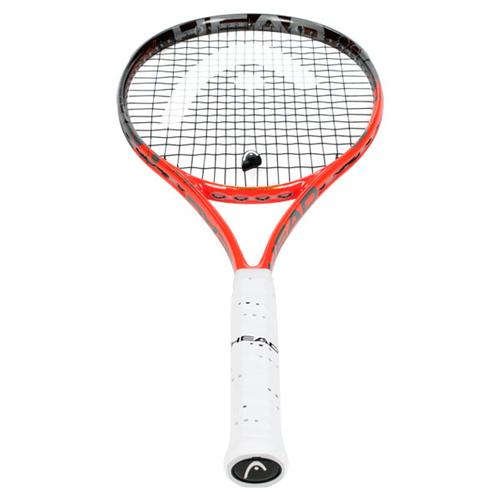 The [amazon_link id="B002LH7EY0″ target="_blank" container="" container_class="" ]Head Youtek IG Radical OS[/amazon_link] is an ideal racquet if you're an intermediate level player looking to develop your game, or if you're an advanced player looking for a light players racquet that offers terrific control and feel.  Love this racquet.
Check out the Head Technology descriptions and Radical OS Specs….
d30
d3o belongs to the "smart materials" category, which is a futuristic material with abnormal behavior characteristics. More specifically, d3o belongs to a subcategory of "dilatant foams", which dramatically change their behavior under dynamic loading or impact. Integrated in the lay-up and positioned in the shaft of the racquet, d3o offers new possibilities for tennis players.The d3o technology is able to sense the needs of the players during different strokes (it's able to adapt to you). On high-speed impacts (aggressive shots), the smart molecules lock together within nanoseconds and dramatically increase the stiffness of the whole racquet frame to provide maximum power. On slow-speed impacts (slice or drop shots), the d3o molecules absorb the impact to provide a softer touch for better feel. What does this mean to a tennis player? Passing shots are even harder and drop shots more precise, rewarding your spontaneity and supporting your courageous decisions.

Innegra
Innegra is the world's lightest high performance fiber. Its extreme toughness together with Head's advanced carbon composite technology leads to an ultra tough hybrid composite.

This Head Innegra hybrid-composite structure is integrated into the racquet for shock absorption and improved stability. As a result vibrations are reduced by up to 17% on ball impact for improved control and precision — protecting the player from the forces of a ball impact. On top of this, Head's new hybrid-composite structure with the ultra tough Innegra fiber considerably extends the performance of a Head racquet. With Innegra, racquets remain in perfect condition without losing any performa
Specs
Head Size:
107 sq. in OS
Length:
27 inches
Weight:
Strung — 11 oz Unstrung — 10.4 oz
Tension:
48-57 pounds
Balance:
4 Pts Head Light
Beam Width:
21.5mm
Composition:
d3O/Graphite/Innegra
Flex:
60
Grips Type:
Hydrosorb Tour
Power Level:
Low-Medium
String Pattern:
18 Mains / 19 Crosses
Mains Skip: 8T, 10T, 9H
Two Piece
No Shared Hole
Swing Speed:
Moderate-Fast
Swing Weight:
313